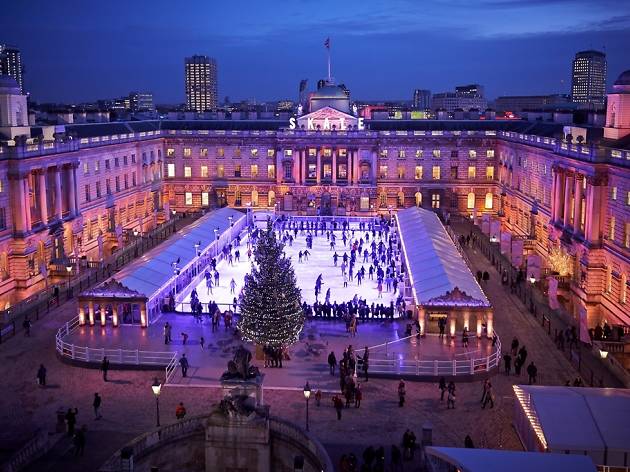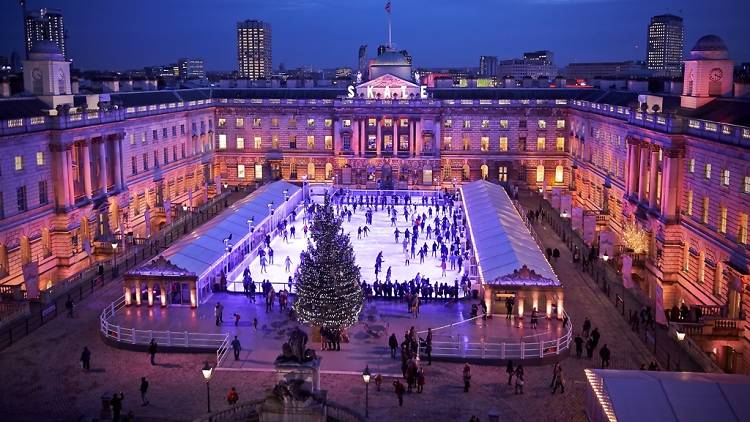 1/8
Life After Print Ltd.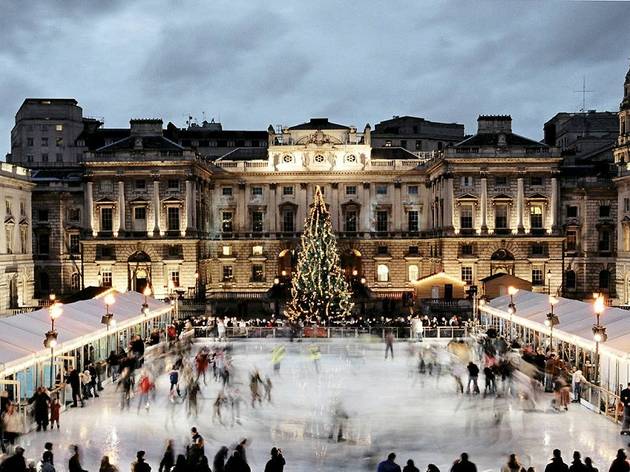 2/8
© Somerset House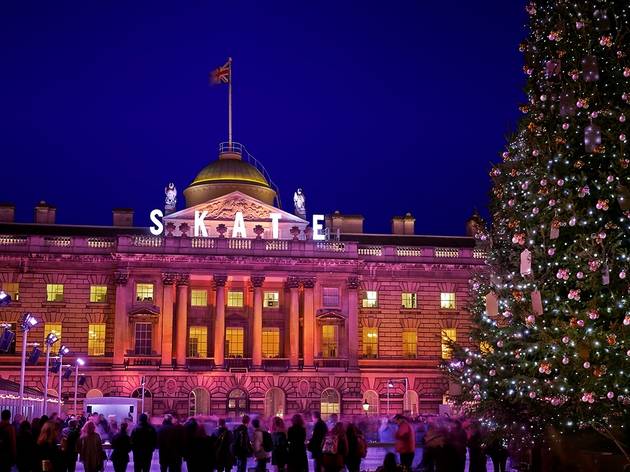 3/8
Life After Print Ltd.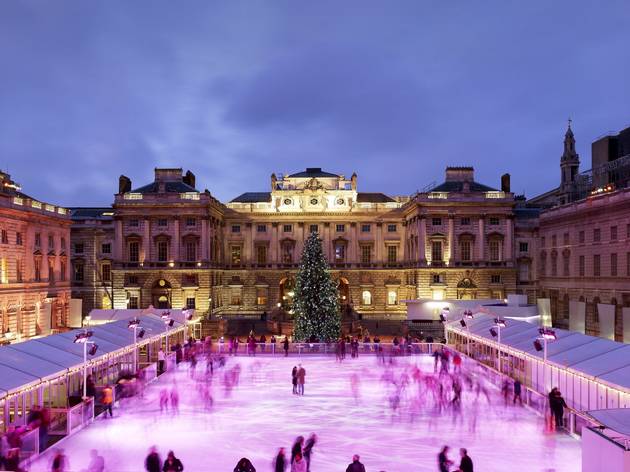 4/8
© Somerset House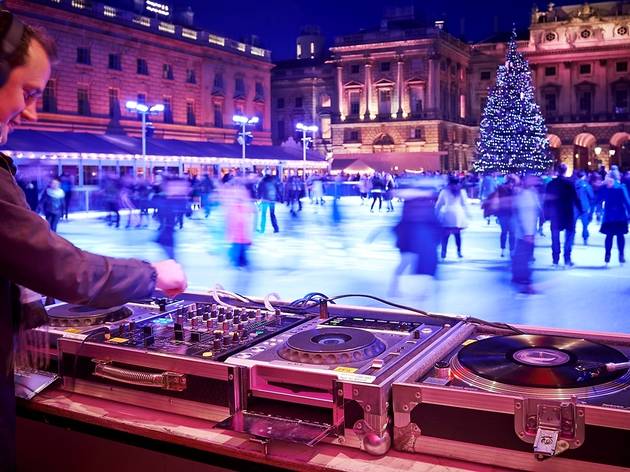 5/8
Life After Print Ltd.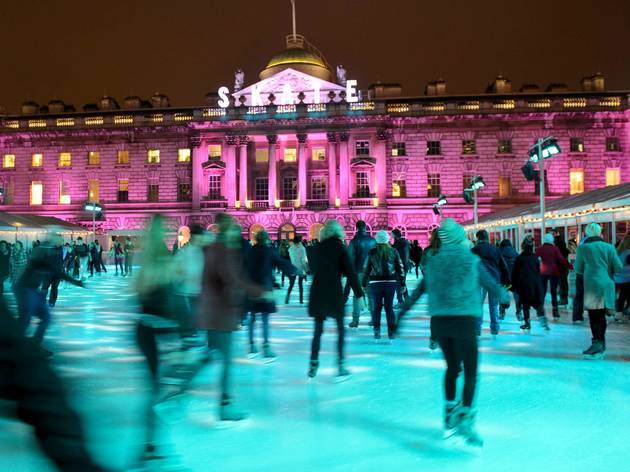 6/8
© Ben Pruchnie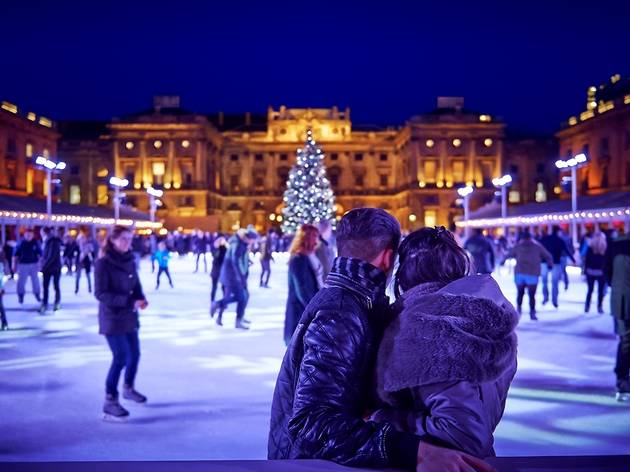 7/8
Life After Print Ltd.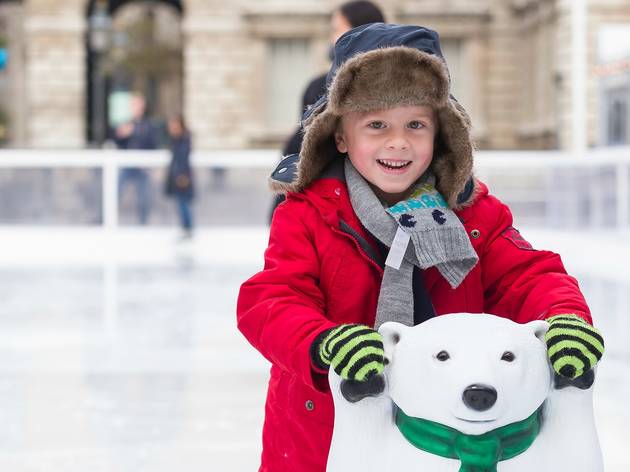 8/8
Life After Print Limited
Time Out says
A glorious backdrop and special events help make a trip to this outdoor rink one of the capital's most festive outings.
Now in its twentieth year, the arrival of the ice rink in Somerset House's grand eighteenth-century courtyard is something of a festive institution. The 900-square-metre outdoor rink returns to the spot from November 13 to January 12, and is a great way to spend the day no matter how impressive your skating skills are. Plus, once you've enjoyed your time on the ice, there are plenty of tempting extra to sink your teeth into (literally) too: the Fortnum's Lodge offers winter classics like raclette, cheese fondue, smoked salmon and mince pies alongside champagne and mulled wine; and Skate Lates will feature top-notch DJs and music nights.
The Christmas Arcade will bring posh shopping from Fortnum & Mason. Tickets are available from mid-September.
Find more places to go ice skating in London
Details
Average User Rating
4.5 / 5
Rating Breakdown
5 star:

13

4 star:

11

3 star:

1

2 star:

0

1 star:

0
This is the second time I have been ice skating at Somerset House. It is a beautiful setting inside and the layout is well thought out. As an Australian living in London I was so excited to disocver that this ice rink is feautred in one of the opening scenes of Love Actually! It was only after ice skating at the rink in my first cold Christmas that I realised it was feautred in the movie. I have since been ice skating at other rinks in London and have found that they have a larger rink size and the skates are easier to put on at other rinks I have found as well, however I still enjoy having a glide around at this spot.
I've never really enjoyed ice-skating before because I was always so terrible but this all changed when I went skating at Somerset House. The staff were super friendly and helpful and were working hard to get everyone round the rink successfully. Turns out its all about confidence so after a few goes round, me and my friends got really into it and enjoyed the absolutely bangers they well blasting out. You get a solid hour on the ice, which if anything is a little too long, but definitely means you can go from complete beginner to intermediate during your time slot. If you're looking for something to get you in the Christmas spirit, this is it!
Skating at Somerset House was on my bucket list for years and when I eventually got to go it was everything I imagined it would be and more. I love ice skating and the whole set up was so magical. I really enjoyed the fact that they didn't overcrowd the rink and we were given plenty of time on the ice. Tickets book up so quickly so you need to be on it if you want to go before Christmas.
Its very beautiful, pretty small i would say but really lovely and nice to go with a partner, on a date or with your friends! :) loved it!
Very nice experience to come here and feel the wonderful atmosphere with the others enjoying the ice rink with lights everywhere. Is a must go
How brilliant to have the ice rink at Somerset House. What a beautiful picture of it. My daughter and I were talking about going ice skating. We live in Brighton and have the ice rink at the Pavilion. I said what about going to London and we were trying to think of a skating rink there, when I remembered that one year you showed Somerset House ice rink on Seeing A New Year show. We can't wait to come up to London to take a turn on the ice in such beautiful surroundings. We are Londoners so it will be a trip down memory lane for us as a family. See you soon
Beautiful setting, maybe the best one in London
Having not been skating for years a friend and I decided to tick this one off the bucket list. Although I was probably one of the worst ones there I had an amazing time. The setting was beautiful, the staff were incredibly friendly and the smell of mulled wine was an incentive to make it round the rink. Everyone seemed to be having a fantastic time, even the spectators.