The seven wonders of the Hunterian Museum
From a human-cockerel hybrid to a reusable condom made of sheep's guts, here are seven things to hunt at the Hunterian Museum
If you've already heard of the Hunterian Museum, you're probably into some weird shit. If you haven't and are faint of heart, beware. This eclectic collection of all things pickled (onions excluded) is one of the oldest anatomical and zoological collections in the country. It's a constantly expanding compilation of artefacts that was initially curated by the surgeon John Hunter. Luckily for lunch–break explorers, the museum is both small and free. And if time is really tight, don't miss these most remarkable specimens.
Read more about London's hidden museums and libraries or delve into quirky and unusual things to do.
RECOMMENDED: the seven wonders of London's museums and attractions

1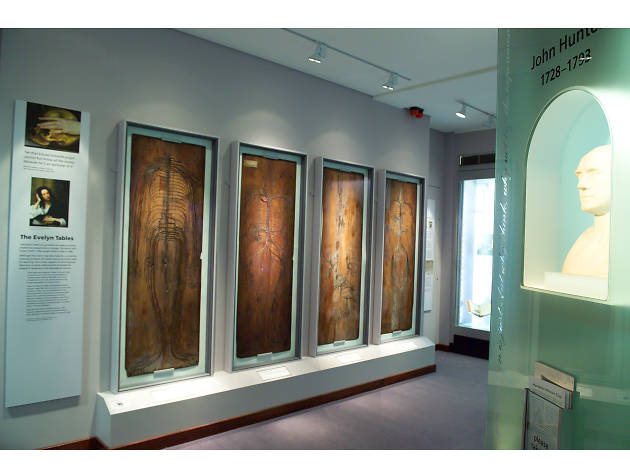 The Evelyn Tables, early 1640s
These displays, thought to be the oldest anatomical preparation in Europe, were acquired by the writer John Evelyn on a visit to Padua, Italy – presumably because his idea of a good souvenir was a bit dodgy. Individually showing the nerves, veins and arteries of the human body, the pine tables (obviously not matching the decor in Evelyn's house) were initially donated to the Royal Society. They then changed hands many times before reaching their final resting place in the Royal College of Surgeons' Hunterian Museum, where they have been for the past 200 years.
Find them in the museum entrance
2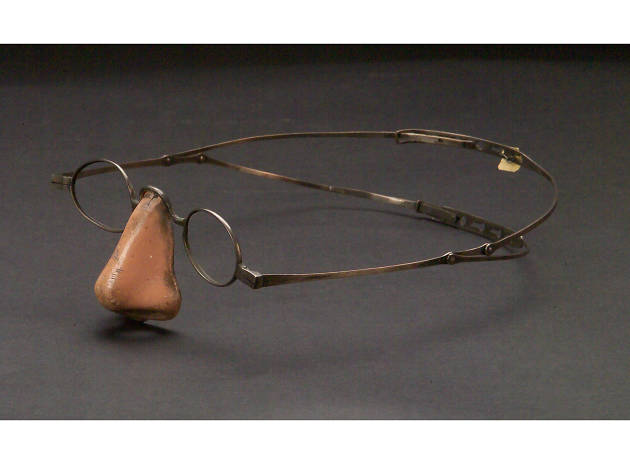 Silver prosthetic nose mounted on spectacle frame, 1850s
Like something out of a Marx Brother's prop kit, this odd-looking piece of gear is a replacement nose from the mid-1800s, used by a woman who had lost her own to syphilis. Interestingly, the woman returned the prosthetic to her doctor when she remarried, claiming her new husband preferred her without it. Syphilis is a bacterial disease that can eat away at the nose and mouth in a similar way to leprosy, so you have to hand it to the husband: he knew how to make a girl feel good about herself.
Find it in the Upper Gallery
3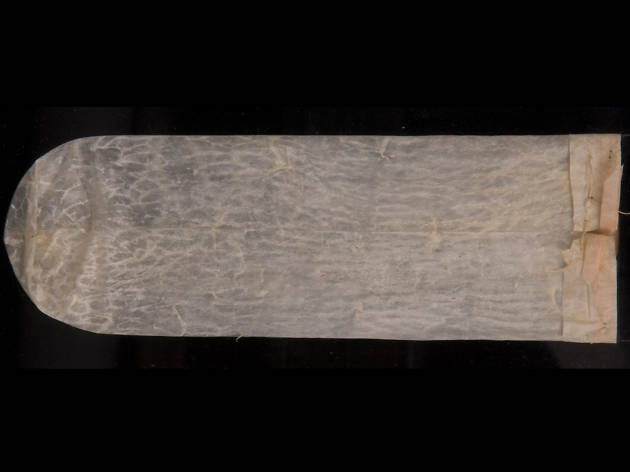 Sheep-gut condom, late eighteenth century
In the eighteenth century, condoms made from the intestines of sheep were all the rage as they were thought to prevent venereal disease. Surprisingly, a modern equivalent of them can still be bought online today, although they are now known not to defend against sexually transmitted diseases. Bummer. Still, at least someone was thinking about the environment: the eighteenth-century version of the product was advertised as suitable for washing and reusing!
Find it in the Crystal Gallery
4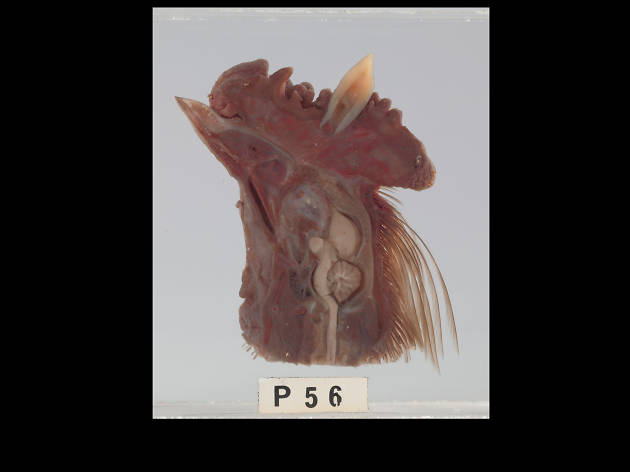 Section of cockerel head with human tooth transplanted into the comb, 1760-93
On rainy days, some people play Scrabble, some watch TV and others build perfectly scaled-down replicas of ships to put in bottles. None of that for Dr Hunter. In moments of boredom he'd implant human teeth into cockerels' combs. This section of the bird's head seems to suggest his experiment was successful as the vascular tissue has grown into the pulp cavity of the tooth – although the point of the exercise remains unclear. It's a bit like knitting a jumper with Chucky's face on it: sure, it proves you have skill, but the result is still unsightly, comical and a bit disconcerting.
Head to the Crystal Gallery
5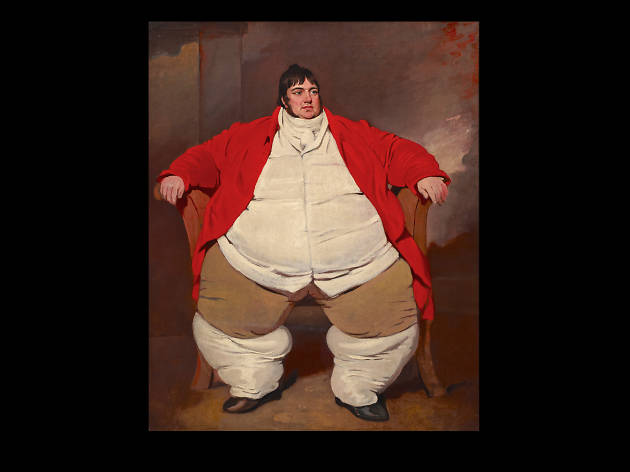 Daniel Lambert by Ben Marshall, 1806
As well as artefacts, the Hunterian contains drawings and paintings collected for the purposes of scientific research. If Daniel Lambert were alive today, he'd be the kind of guy you see outside McDonald's first thing in the morning, waiting for it to open and blaming his massive arse on a glandular disorder. At the age of 39, Lambert suddenly dropped dead. By then, he weighed a colossal 52 stone and it took 20 men to drag his coffin to his grave. Heavy stuff.
Find him in the Art Collection
6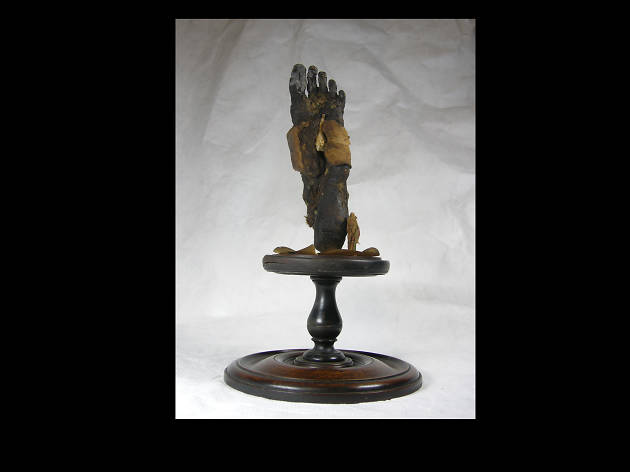 Mummy's foot (dissected), 1763
We're talking the bandaged, embalmed, brain-removed-through-the-nose kind of mummy, not the bedtime-story-reading kind. This mutilated limb is testament to the ingenuity of the Ancient Egyptians. The foot has survived not only the test of time but also being interfered with by a surgeon morbidly fascinated by dead things in jars. It might not look like much, but up close it is truly impressive.
Hot foot it to the Crystal Gallery
7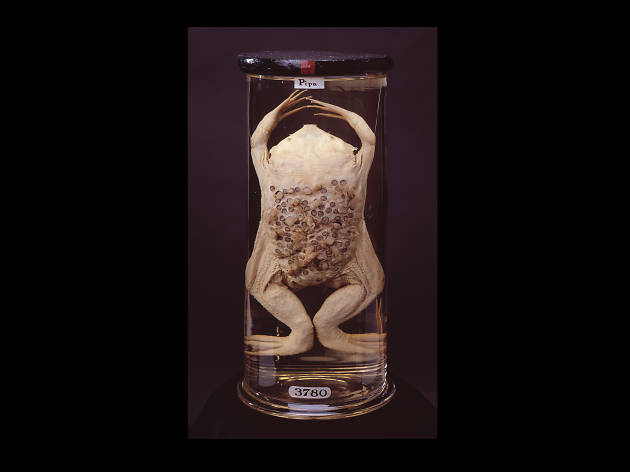 Surinam toad, eighteenth century
The Surinam toad has the oddest reproductive habits – the likes of which cannot be seen anywhere else in the animal kingdom. When mating, the male and female perform backwards somersaults, during which the eggs are implanted in the back of the lady toad. After about three months, in an 'Alien'-esque turn of events, the froglets hatch out of holes in her back, as depicted in the version displayed at the Hunterian. We've heard of children getting under your skin, but this is a horribly literal example.
Find it in the Crystal Gallery
Discover the best of London's museums
London is packed with top attractions and museums, but once you've decided which cultural hotspot to explore, where do you start? By reading our guide to the seven essential things to see at some of London's best institutions.
Read more
Sponsored listing
The Phoenix
This popular central London boozer is a good place to drink and an even better place to party. The venue hosts numerous club nights and nightlife events that are focused firmly on full-fat fun, from quirky karaoke, indie nights and live music to comedy, awards shows and even storytelling. And if you need sustenance? There's a food menu influenced by the USA. That means wings, burgers, a range of mac 'n' cheese, steamed buns with black treacle bacon belly and ancho relish, oak-smoked brisket chunks and nachos, served with all the trimmings. 
Venue says: "Don't forget London's best new material comedy night. Old Rope. Every Monday with acts incl Rich Hall, Katherine Ryan and James Acaster!"