Heads up! We're working hard to be accurate – but these are unusual times, so please always check before heading out.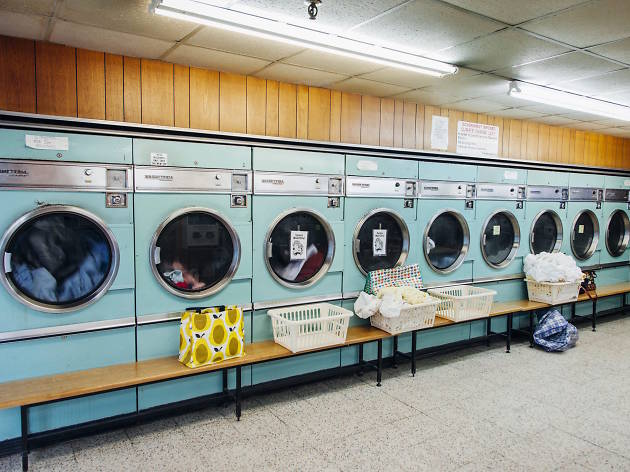 13 timewarp places in London that time forgot
From a grandiose game restaurant to a psychedelic bingo hall, some places in London never change – and that's why we love them
Ever wandered into a launderette and ended up in the 1970s? Ever tried to do a bit of shopping only to find yourself transported back to 1920 – or is it 1990?
If so, you may have accidentally seen some of timewarp London, those bits of the city that look and feel like they've been frozen in a decade long ago – and have no plans to move into the twenty-first century any time soon, either. And that's exactly what makes them so valuable. From a blinging ballroom to a truly vintage tobacconist, here are photos of our favourite bits of forgotten London.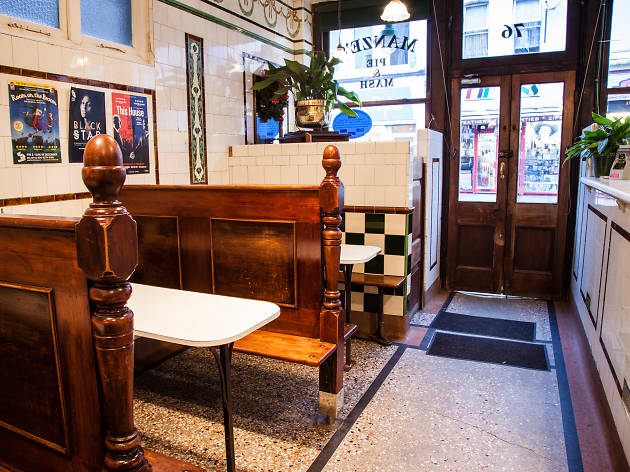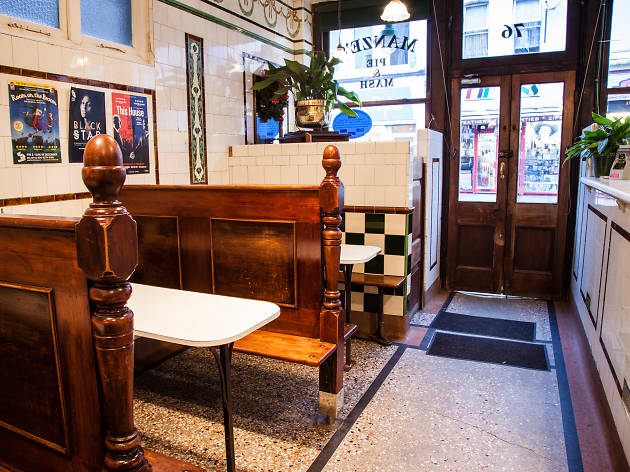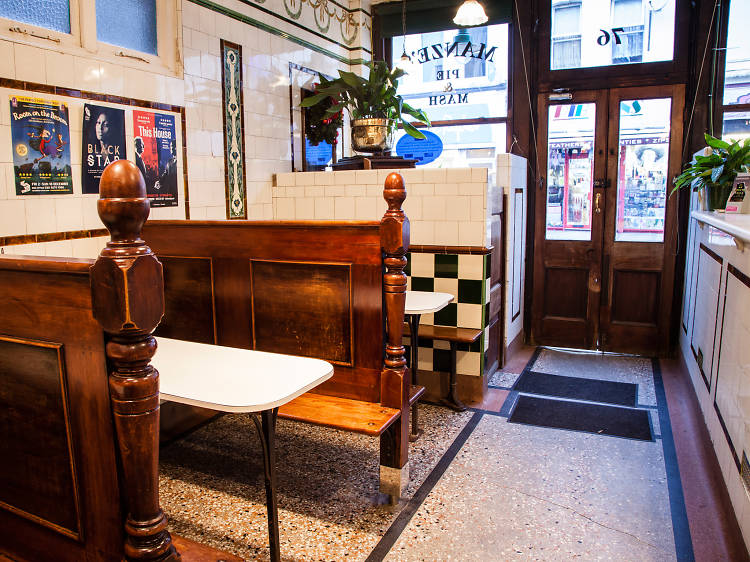 © Andy Parsons
1. The 1920s in a pie and mash shop in Walthamstow Market
Before KFC and kebabs, there was lumpy mash and minced beef encased in buttery pastry all swimming in glutinous parsley liquor and lashings of vinegar – to be added once you've settled on the shallow benches of L Manze's Mahogany, high-backed booths. The recipe hasn't changed since the place opened in 1929 to fill the bellies of London's dockworkers and market stall holders – it's easy to imagine their gruff cockney rhyming slang bouncing around the beautifully-tiled interior. This is one stubborn East End establishment still holding its own among the hodgepodge of international supermarkets, fabric shops and discount stores that now make up Walthamstow Market.
Transport: St James Street Overground
© Andy Parsons
That psychedelic carpet is the first gaudy giveaway that you've travelled back in time at this spectacularly groovy bingo hall in Elephant's famous shopping centre. On a Sunday it's packed, with enthusiastic yelps still ringing out from locals who gather under the glitzy chandeliers in hope of winning some serious cash money. Palace Bingo is one steadfast local institution – refusing to close its doors even when the smoking ban threatened to deter its regulars and the dreaded 'regeneration' looms ever closer.
Transport: Elephant & Castle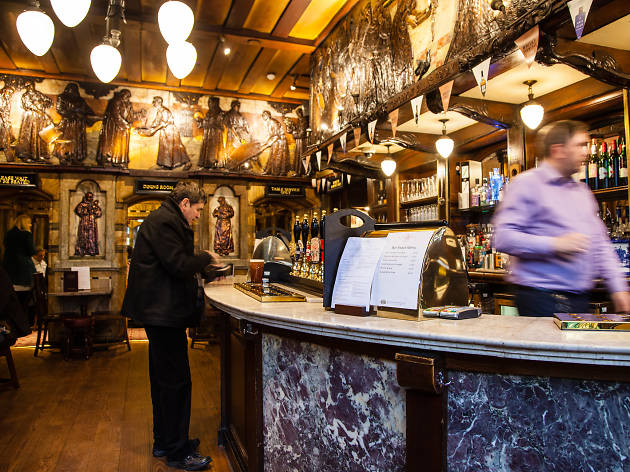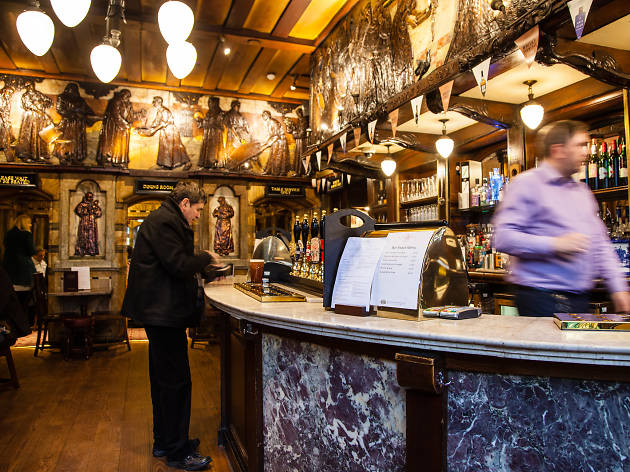 © Andy Parsons
3. The 1870s in a Friary-themed Nicholson's pub in Blackfriars
Wedged into a corner opposite Blackfriars tube station is a kind of medieval temple to excess and overindulgence, and not much has changed since 1875. On a rammed Friday night punters down pints and jostle for space under the wood-beamed, nicotine-stained ceiling. Surrounding them on the walls are podge-faced friars in cloaked garb, who feast, laugh and strum musical instruments (in homage to the friary that once occupied this spot). Original engraved signs above the bar and dining entrance reassure drinkers that 'tomorrow will be Friday' and 'Saturday afternoon', because even the Londoners of yesteryear were living for the weekend.
Transport: Blackfriars
Andy Parsons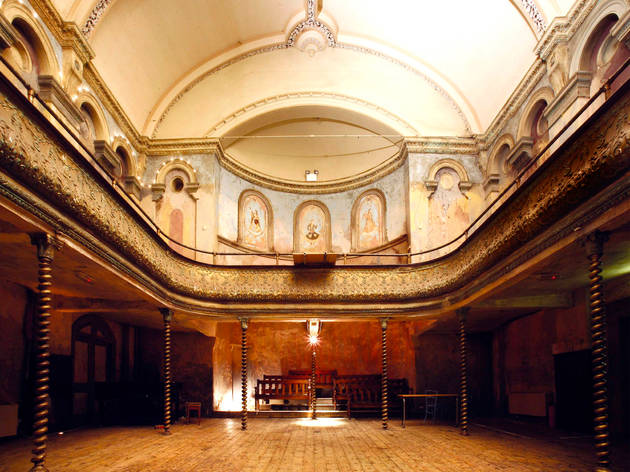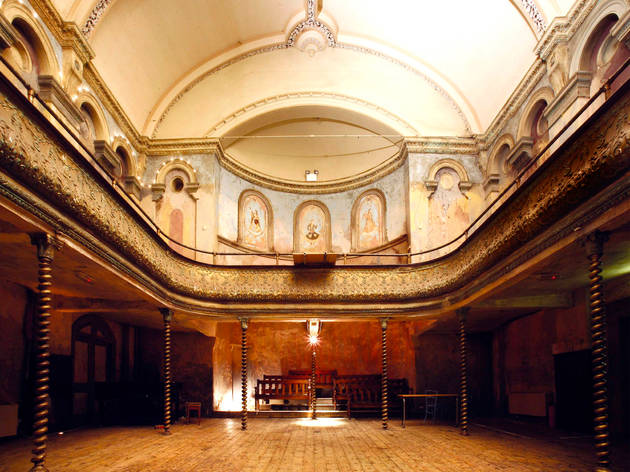 4. The nineteenth century in a Victorian music hall in Whitechapel
Tucked down a Whitechapel side street is London's oldest music hall. Passing through Wilton's grand old door, with its peeling paint, it feels like stepping into Miss Havisham's dilapidated mansion. All the dances, drinks and general debauchery of the past seep out of the exposed brick walls, permeating the rotting window frames and giving the place an air of faded grandeur. In the cavernous auditorium, spiraling cast iron pillars draped in fairy lights support the carved balcony above. Wilton's is a striking receptacle for all tomorrow's parties and, to think, it might have become a Wetherspoons.
Transport: Tower Hill
Behind an unassuming exterior on a drab high road in SE4 is the splendid Rivoli Ballroom, where quiffs, flared polka-dot frocks and killer dance moves never went out of fashion. On a Saturday night, the sprung maple dancefloor is filled with wriggling couples jiving under the red glow of Chinese lanterns and crystal chandeliers. Plush red velvet hugs the walls of the barrel-vaulted auditorium, while the more intimate golden ballroom has a showstopper of a ceiling, making the Rivoli a sought-after film and TV location.
Transport: Crofton Park rail
Once, lots of upmarket blocks of flats in London had their own restaurant. The one in Oslo Court (built 1937) is one of the last. Today it's a riot of plush carpet and frou-frou. Waiters in bow ties take your coat and slide out your chair, butter arrives in curls and everything is doused in a glug of brandy and topped by a mound of cream. Welcome to London dining circa 1977. Much like the decor – beige walls, net curtains, salmon-coloured tablecloths – the menu hasn't changed much since Abba were in the charts. On a packed Friday night, renditions of 'Happy Birthday' ring out among the diners enjoying steak diane served up with heaps of old-school charm.

Transport: St John's Wood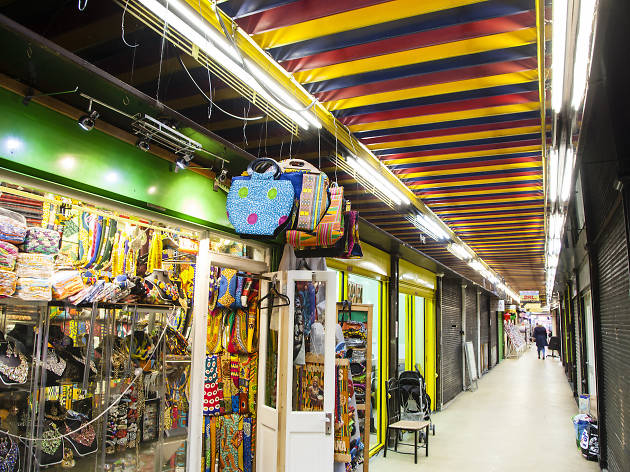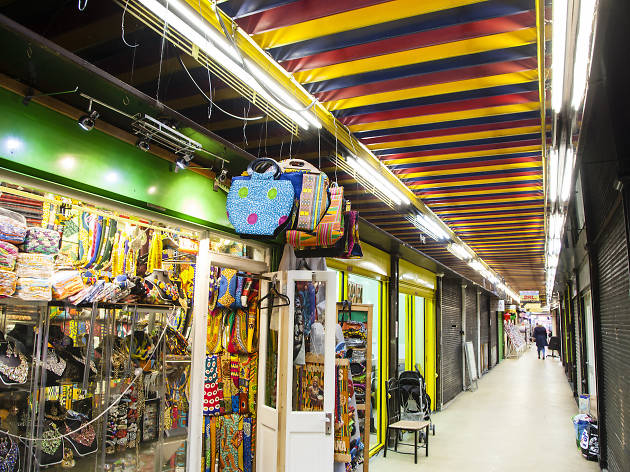 Andy Parsons
7. The 1920s (with a '90s vibe) in a Brixton shopping arcade
There's not a 'gluten-free' or 'craft beer' sign in sight in this narrow covered passage. Despite being just a few metres from the famous Brixton Village covered market, Reliance Arcade feels like it's a world away. You can browse CDs, pick up hair extensions (real) or buy designer leather bags (probably fake) while the smell from a popcorn stand fills the air. Recently added to Historic England's 'at risk' register, this arcade – with its Egyptian-style art deco façade – will hopefully continue to serve Brixton locals for many years to come.

Transport: Brixton
8. The 1970s in an antique emporium in a former department store in Marylebone
This affluent corner of London somehow, miraculously, missed the memo that said out with the old and in with Ikea trolley races and flat-pack furniture. At Alfies', piles of silverware, cabinets of cocktail glasses and a dizzying array of lamps and chandeliers to suit every style and era are stacked to the rafters. Anyone visiting this multi-storey shrine to antiques will notice the pungent, waxy scent of furniture polish as they wind their way around the warren of treasures. Yes, there's some ancient loot here too, but overall, you'll want to throw on a vintage frock and pretend you've got a hot date with the 1920s.
Transport: Marylebone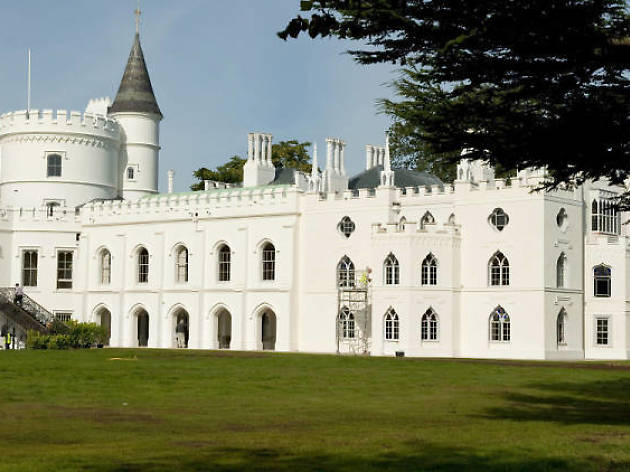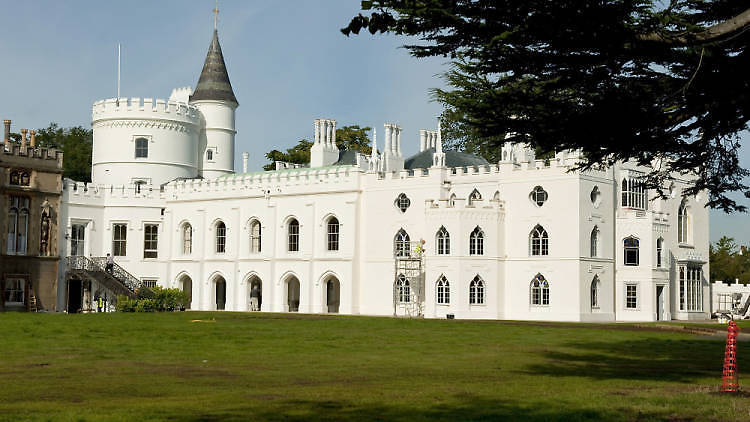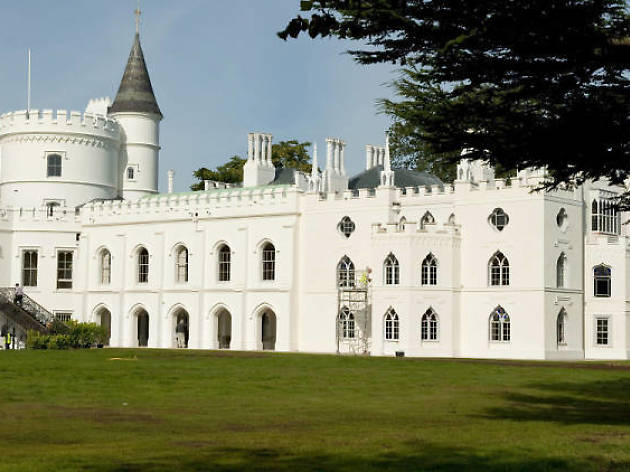 © Lisa Payne
9. The eighteenth century in a gothic castle in Twickenham
This leafy corner of suburbia is an unlikely spot for a gothic castle, but back in the day Strawberry Hill was a bit of party destination for the aristocracy, whose coaches and horses sometimes backed up all the way to Twickenham station. Tomb-inspired Trompe l'oeil wallpaper lines the shadowy entrance hall and the twisted heads of antelope watch visitors climb the ornate staircase. While Horace Walpole's ancestors and biblical scenes glare down from the dark walls, fan-vaulted ceilings and stained glass windows – it's no wonder he dreamt up the plot of the first ever Gothic novel here.
Transport: Strawberry Hill rail
© Lisa Payne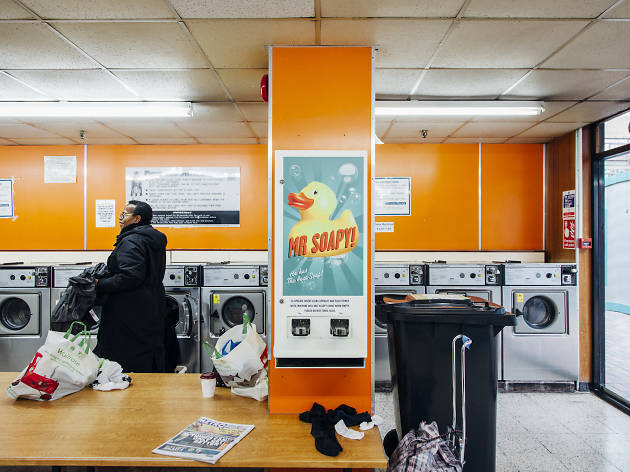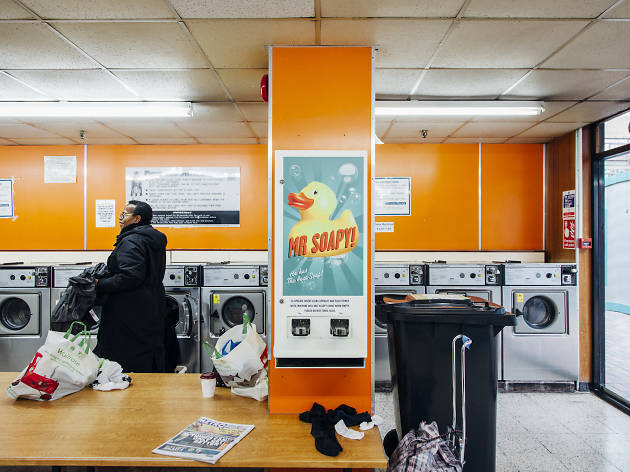 Photo: Andy Parsons
10. The 1970s at the Barbican launderette
Doing your wash down the local launderette is one of the few things that still requires a pocketful of change. Pam, who leaves notes in block capitals Blu Tacked to the orange-and-turquoise walls of the Barbican Launderette, has been serving residents around Fann Street for the last 40 years or so. It's hard to feel that nostalgic while you're fumbling for coins and heaving washing back and forth between out-of-order machines. But at least here, amid the whir of the tumble dryers and the smell of damp clothes tinged with Mr Soapy washing powder, the age-old art of conversation is alive and kicking.

Transport: Barbican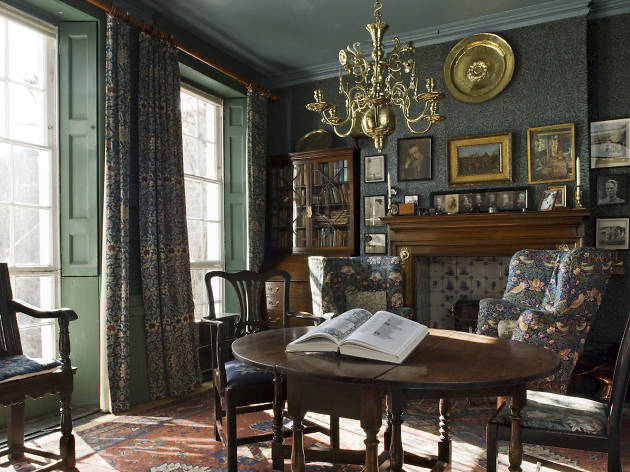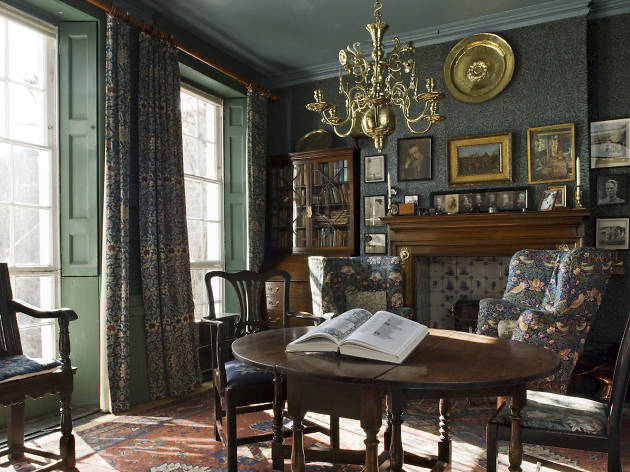 © Matt Clayton
11. The early twentieth century in a Hammersmith house with an original arts and crafts interior
If it wasn't the for blue plaque, you'd never guess the brown-bricked exterior of No 7 Hammersmith Terrace was harbouring a time capsule for the arts and crafts movement. Preserved exactly as it was 100 years ago when the typographer Emery Walker lived here, its four storeys are filled with ceramics, silver snuff boxes, hand-carved furniture and the pièce de résistance – original William Morris hand blocked wallpaper. It'll put your patchy hallway paint job to shame. Upstairs in the pale blue floral-papered drawing room, you half expect to see Walker himself sitting at the Edward Barnsley desk, quill in hand, obsessing over the weight of a font.
Transport: Ravenscourt Park
Oscar Wilde's scrawled smoking debts and other paraphernalia fill the cabinets at James J Fox, one of the few public places where you can still smoke indoors. The stench of centuries' worth of singed cigar ends hits as soon as you step on to the parquet floor of number 19 St James's Street, one of the oldest tobacconists in the world. Upstairs, past the walls lined with pipes, is the smoking lounge, where middle-aged men sink into studded-leather sofas and puff away on Cuban cigars like Churchill used to – you can even take a selfie in the chair reserved for his visits.


Transport: Green Park
Oft cited as London's oldest restaurant, Rules has been serving up game dishes to actors, writers, tourists and royalty since 1798. Upstairs, some mismatched wallpaper in the hallway marks the location of a secret doorway once used for private high-society dining. Charming bow-tied bartenders expertly mix cocktails using vintage jiggers. They call each other 'Sir' and stick firmly to the long-established house 'rules' of no beer, hot drinks or music. This is service as it was when Dickens was wont to plonk himself down next to the fireplace, probably thinking about orphans or something.

Transport: Covent Garden
More weird and wonderful London locations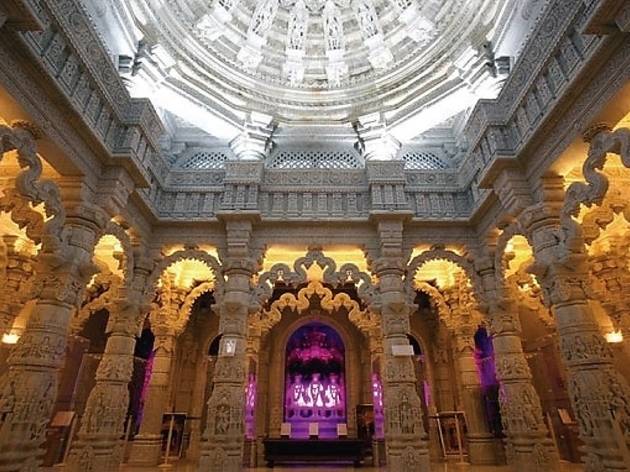 Love living in London but also want to pretend that you're not in London occasionally? Feast your eyes on these incredible and bizarre bits of the capital that could be a million miles away...
Support Time Out
We see you're using an ad-blocker. Ad revenue is Time Out's main source of income. The content you're reading is made by independent, expert local journalists.
Support Time Out directly today and help us champion the people and places which make the city tick. Cheers!
Donate now