Heads up! We're working hard to be accurate – but these are unusual times, so please always check before heading out.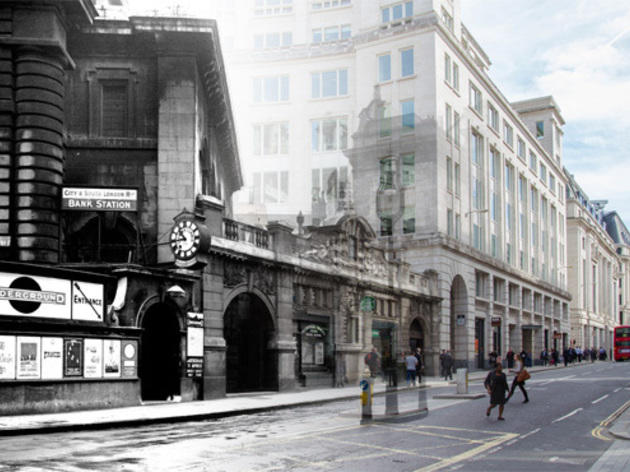 Tube stations: then and now
Travel back in time with our interactive gallery and see what the London Underground looked like back in the day
The London Underground network is the oldest urban subway system in the world. Naturally, then, it's had a few different looks over the years. And while some stations (and the high streets they sit on) have morphed beyond all recognition, some are just as reassuringly handsome as they were over 100 years ago.
Use the slider handle on the images below to flick between past and present. Got an old photo of London we should re-shoot for our next gallery? Tweet at @TimeOutLondon.
Many thanks to London Transport Museum for supplying the majority of the images below.
Hampstead, 1907
Now, we know Hampsteadites enjoy a gentler pace of life, but this is, quite frankly, ridiculous. Since its grand opening on June 22 1907, the Northern line station, which features the distinctive red tile stylings of architect Leslie Green (and features the deepest tunnels on the entire network, fact fans) has barely changed a bit. 'Before' image © London Transport Museum
Earl's Court, 1880
Earl's Court got its place on the London transport network on April 12 1869, when it joined the Metropolitan District Railway (now the District line). Fast forward 133 years and it's barely recognisable, those roomy platforms slimmed down to make room for Piccadilly line trains and thousands of commuters (disappointingly few of whom still wear top hats). 'Before' image © London Transport Museum
Holborn, 1959
Holborn tube station opened as Holborn (Kingsway) back in 1906, at which time you could hop on a train to the now defunct Aldwych station. During World War II, the tunnels to Aldwych (as well as the station itself) were used as an air-raid shelter, before the Aldwych branch closed for good in 1994. The remaining platform is now used to test new signage and advertising systems. 'Before' image © London Transport Museum
Old Street, 1970
Decades before the tech firms and brand agency folk moved in, Old Street station looked a little bit like this. While footfall was undoubtedly lower, you can bet your life the challenge of picking the right exit was just as baffling. 'Before' image © London Transport Museum
South Kensington, 1957
While a few modern flourishes have crept in, South Kensington is one of few tube stations proudly hanging on to its design heritage. Whether the hoards of tourists trudging along to the nearby museums appreciate or not is another question. 'Before' image © London Transport Museum
Bank, 1920
Now home to a charmless chain pub and a coffee shop, the original station buildings of Bank station were some of the most impressive on the network when they opened back in 1884. 'Before' image: Press Association
Oxford Circus, 1969
While these days it's the fourth busiest station on the London Underground network, Oxford Circus has always been a bit of a sardine tin. Originally opened in 1906, the station underwent extensive reconstruction just six years later, when operators of the Baker Street and Waterloo Railways that served the station conceded it simply couldn't cope with the load. Even that only eased the crush for a bit – a second expansion took place in 1923. 'Before' image © London Transport Museum
Oxford Circus, 1962
'Before' image © London Transport Museum
Covent Garden, 1966
Long before the Apple store turned Covent Garden into a gadget nerd's paradise, the West End piazza was better known for actual apples, along with pears, oranges, grapefruit and all manner of other fresh produce. Since the fruit and veg folk upped sticks and moved to Nine Elms in 1974, the area has become a hotspot for tourists, who can be seen shuttling along the Piccadilly line between Covent Garden and Leicester Square – the closest two adjacent stations on the entire tube network. 'Before' image: Rex Features
Whitechapel, 1896
You may have found yourself snuggled up to some creepy sorts during your morning commutes, but at least you'll never have to worry about Jack the Ripper's armpit crashing into your mush. After all, a man who spends his evenings digging through prostitutes' innards is unlikely to have particularly high standards of personal hygiene. 'Before' image © London Transport Museum
Brixton, 1980
If you ever need evidence that an area's on the up, just look at the local tube station. A whopping 24.8 million people passed through Brixton station last year, compared with just 20.8 million in 2009. At least half of which must surely be thanks to Honest Burgers, judging by the lunchtime queues. 'Before' image © London Transport Museum
Green Park, 1970
Opened as 'Dover Street' in 1906, Green Park has steadily expanded and grown to become one of the most useful interchanges on the London Underground. Originally served only by the Great Northern, Piccadilly and Brompton Railway (now the Piccadilly line), the station became part of the Victoria line in 1969, and the Jubilee line ten years later. 'Before' image © London Transport Museum
More then and now galleries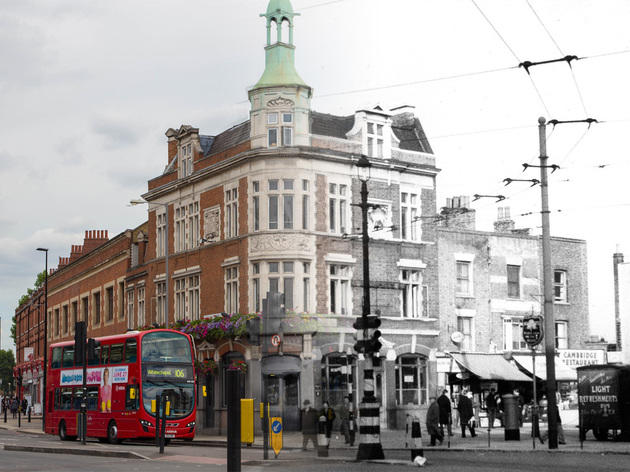 As our interactive gallery illustrates, times are tough for London's cockney boozers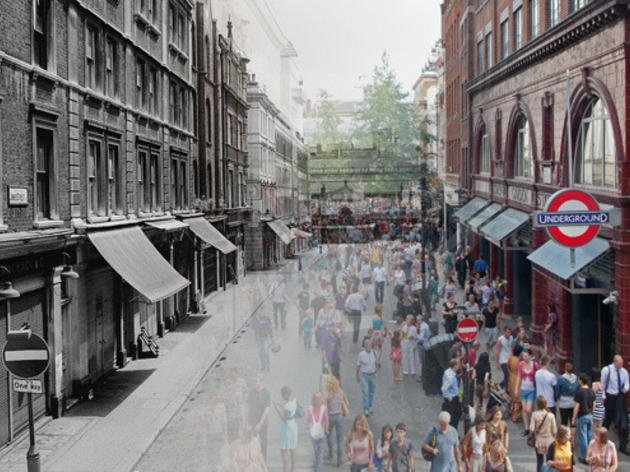 It wasn't always fashion flagships and gawping tourists, y'know. In fact, travel back as little as 40 years and the West End area now known for its shops, museums and theatres becomes all but unrecognisable…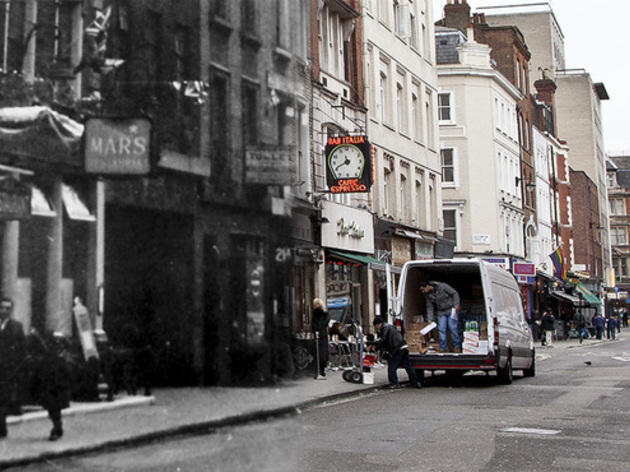 The times, they are a-changin', and nowhere is it more apparent than in the West End's lively grid of food, booze and vice
Show more