Tube stations: then and now, part two
More time-hopping tube geekery, revealing what your commute might have looked like back when top hats and pipes were totally in vogue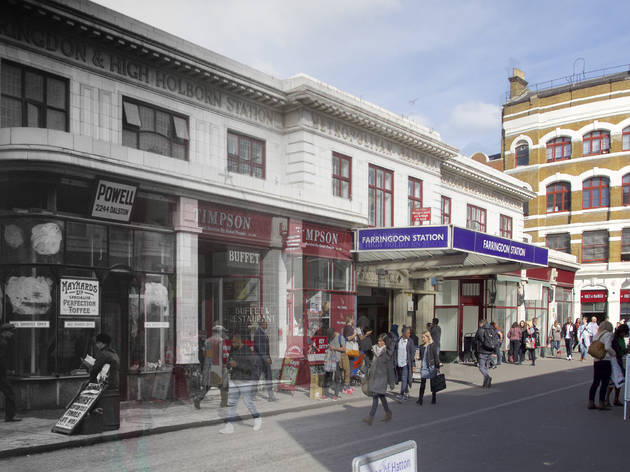 The London Underground network is the oldest urban subway system in the world. Naturally, then, it's had a few different looks over the years. And while some stations (and the high streets they sit on) have morphed beyond all recognition, some are just as reassuringly handsome as they were over 100 years ago.
Use the slider handle on the images below to flick between past and present. Got an old photo of London we should re-shoot for our next gallery? Tweet at @TimeOutLondon.
RECOMMENDED: Tube stations: then and now, part one
Baker Street, 1960s
'Then' pic: Getty
While Sherlock Holmes' local tube station is one of the oldest on the entire Underground network, the current Metropolitan line section of the station dates back only as far as 1925, when it was rebuilt by Charles Walter Clark. He's the same architect responsible for Farringdon station at the other end of the Metropolitan Railway.
Bank, 1976
'Then' pic: Getty
Hate navigating this multi-line mother at rush hour? Don't blame us, blame the clowns who designed the thing back in the late nineteenth century. It's changed a lot since then, naturally, thanks in no small part to a German bomb that killed 111 people when it hit the station during the Blitz.
Charing Cross, 1990
'Then' pic: Getty
Charing Cross has been flinging commuters to and from Kent since 1864. As you'd expect, it's changed a bit in the past 150 years – most significantly the upper floors, which were rebuilt after being damaged in the Second World War, and the addition of the massive post-modern Embankment Place complex to the rear.
Clapham South, early twentieth century
'Then' pic: Getty
Our recent reader survey concluded that Clapham is officially the best place to live in all of London. Props to these seriously early adopters in flat caps, who are presumably on their way to scoff some poached eggs at whatever the old-school equivalent of Brickwood was.
Farringdon, 1924
'Then' pic: Getty
Back in the days when it acted as the final stop on the original Metropolitan Railway, Farringdon station was known as Farringdon Street. The original station, built by John Fowler, was torn down and rebuilt in 1922.
Fulham Broadway, mid-twentieth century
'Then' pic: Getty
Having opened as Walham Green way back in 1880, the old Fulham Broadway station was rebuilt in 1905, renamed in 1952 and closed for good in 2003. These days you can access the District line via a slightly gaudy-looking shopping centre.
Gloucester Road, 1868
'Then' pic: Getty
Opened way back in October 1868 – when it was called 'Brompton (Gloucester Road)' – this is one of the oldest station buildings on the entire network. It's been adapted and extended over the years, but Gloucester Road still exudes a certain old-world elegance.
Piccadilly Circus, 1930s
'Then' pic: Getty
The old Piccadilly Circus station building designed by tube legend Leslie Green was closed in 1929 and demolished in the 1980s. Props, though, to the architect behind the building that replaced it for paying homage to the station's arch-shaped entrances.
Rotherhithe, 1950
'Then' pic: Getty
Rotherhithe station has been in use since 1869, but it nearly met its end in the early noughties during the development of the East London Line, due to its short platforms. You can thank Ken Livingstone – who presumably enjoyed visiting the Brunel Museum and the Mayflower pub – for keeping Rotherhithe rolling.
More then and now galleries
Travel back in time with our interactive gallery and see what the London Underground looked like back in the day
Read more
As our interactive gallery illustrates, times are tough for London's cockney boozers
Read more
Show more
Sponsored listing
Club Gascon
Please note, Club Gascon is closed for refurbishment until Autumn 2017. Time Out Eating editors, Aug 2017. The presence of the three-strong Gascon group (as well as Comptoir Gascon, there's wine at Le Bar) ensures that a small area of east-central London has a flavour of south-west France. This is the most expensive of the trio, a Michelin-starred sanctuary of haute cuisine. Heavy wooden screens shut out the world; inside is a serene and urbane room of greys and golds with marble panels. Head chef Pascal Aussignac is from Toulouse, and the hallmarks of the area's cuisine shine through in his food, although it's given the fancifications this level of restaurant requires. A playful approach means many dishes come with descriptions in inverted commas or feature unusually prepared ingredients. Flavour combinations are bold, which adds to the sense of occasion, and the technique is flawless; perhaps less so the tendency to unorthodox plating. However, everything else was note-perfect.  
Venue says: "Club Gascon is now closed for a major refurbishment, reopening October 14. Please follow our Twitter account to stay informed."