Tiki culture, that kitsch fantasy-driven interpretation of Polynesia, has been an escapist favorite of Angelenos since the 1930s. Though you'll still spot the aesthetic in L.A. today, from Disneyland to tiki bars (lately in traveling shipping containers and at Coachella), much of its past has been bulldozed. But this weekend at La Luz de Jesus Gallery (housed inside of Soap Plant Wacko), you can purchase a physical piece of tiki past as well as contemporary artwork.
"The Art of Tiki" is organized into two parts. "The 21st Anniversary Show" revisits the gallery's 1996 exhibition curated by tiki tastemaker Otto Von Stroheim with works from many of the show's original artists, as well as some fresh voices. In the '90s, all things tiki had fallen out of fashion; La Luz de Jesus Gallery's show was a low-brow outlier. But these days, tiki culture's revival has taken over cocktail lounges, basement bars and high-end galleries (mid-century-inspired designer Shag returns to the show with a trio of acrylic panels that fetch five figures).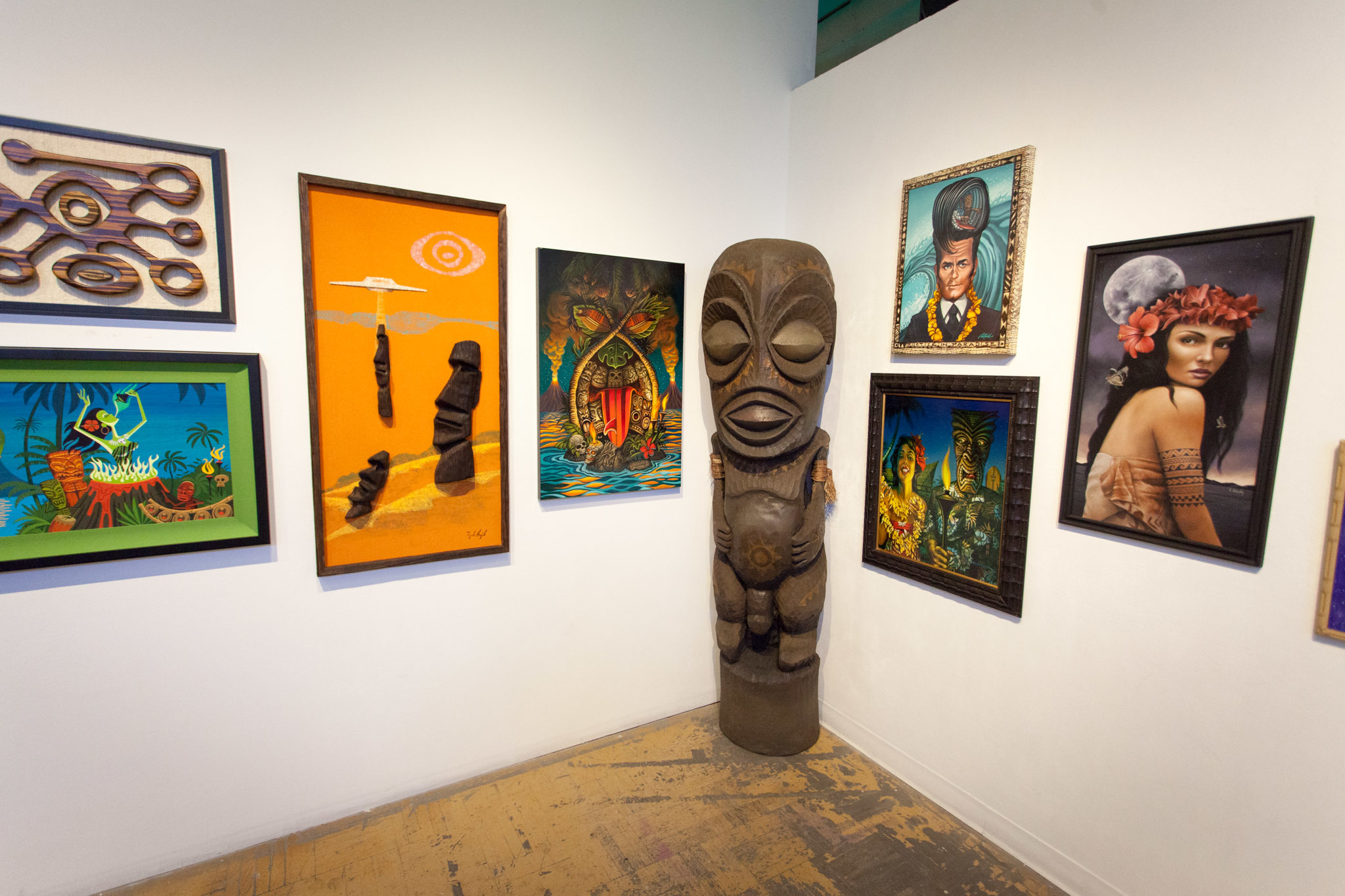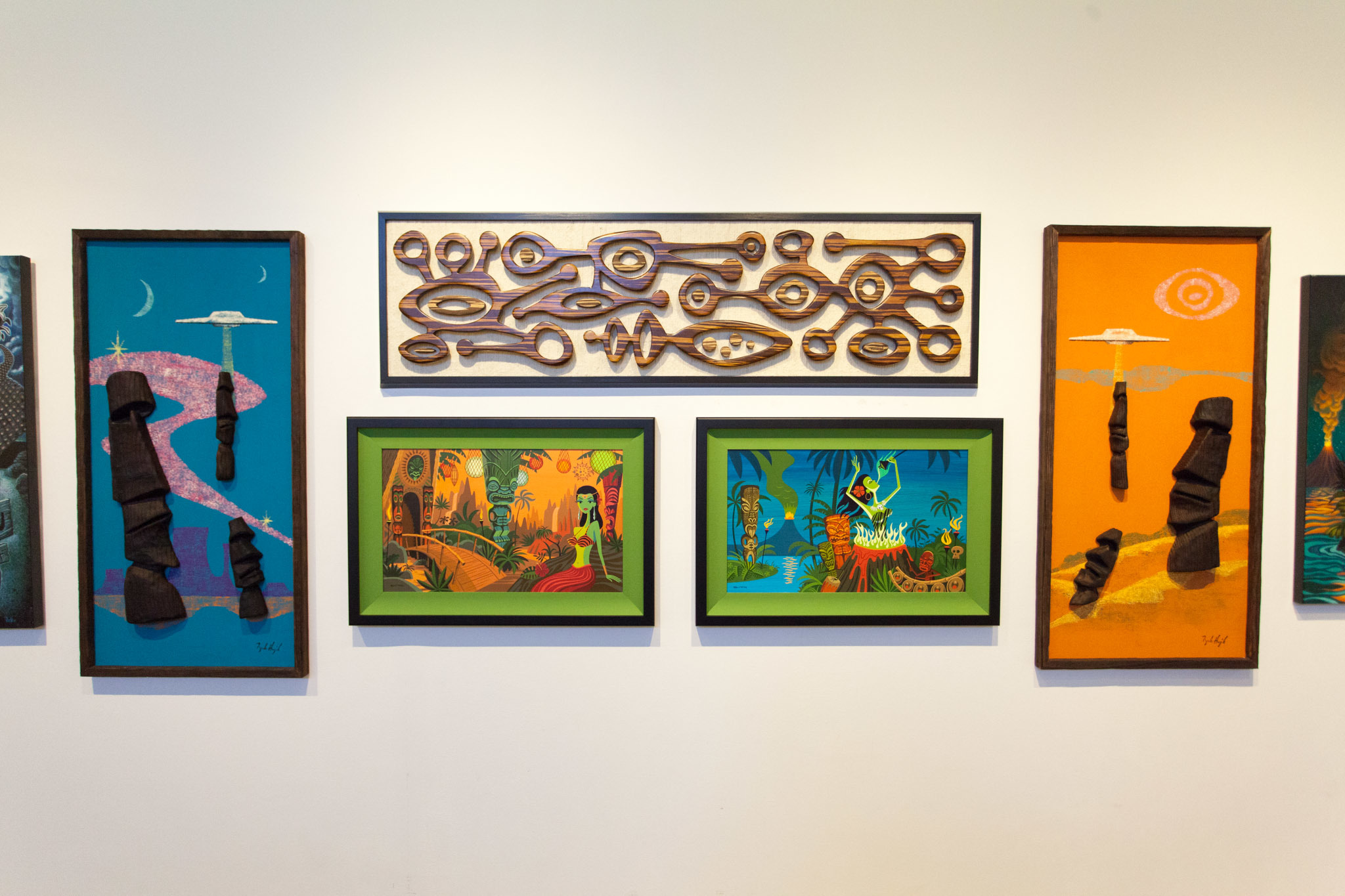 The second part of the show, "No False Idols," has assembled animator Jordan Reicheck's personal collection of mid-century tiki decor, with sculptures, figural poles and architectural features all up for sale. Reicheck has been amassing a haul of tiki items over the last three decades. Through a mix of thrift shop finds and construction site salvages, he decked out a tiki bar in his own home.
"I filled [the bar] with so much stuff and I had all of this left over," says Reicheck. "I was like, okay, I can't hog all of this forever. I wanted to celebrate this collection."
That collection includes wooden carvings from Trader Vic's bars around the world and a colorful bird sculpture plucked from the roof of Philadelphia's now-demolished Kona Kai, a Polynesian-themed restaurant designed by local Googie pioneers Armet and Davis.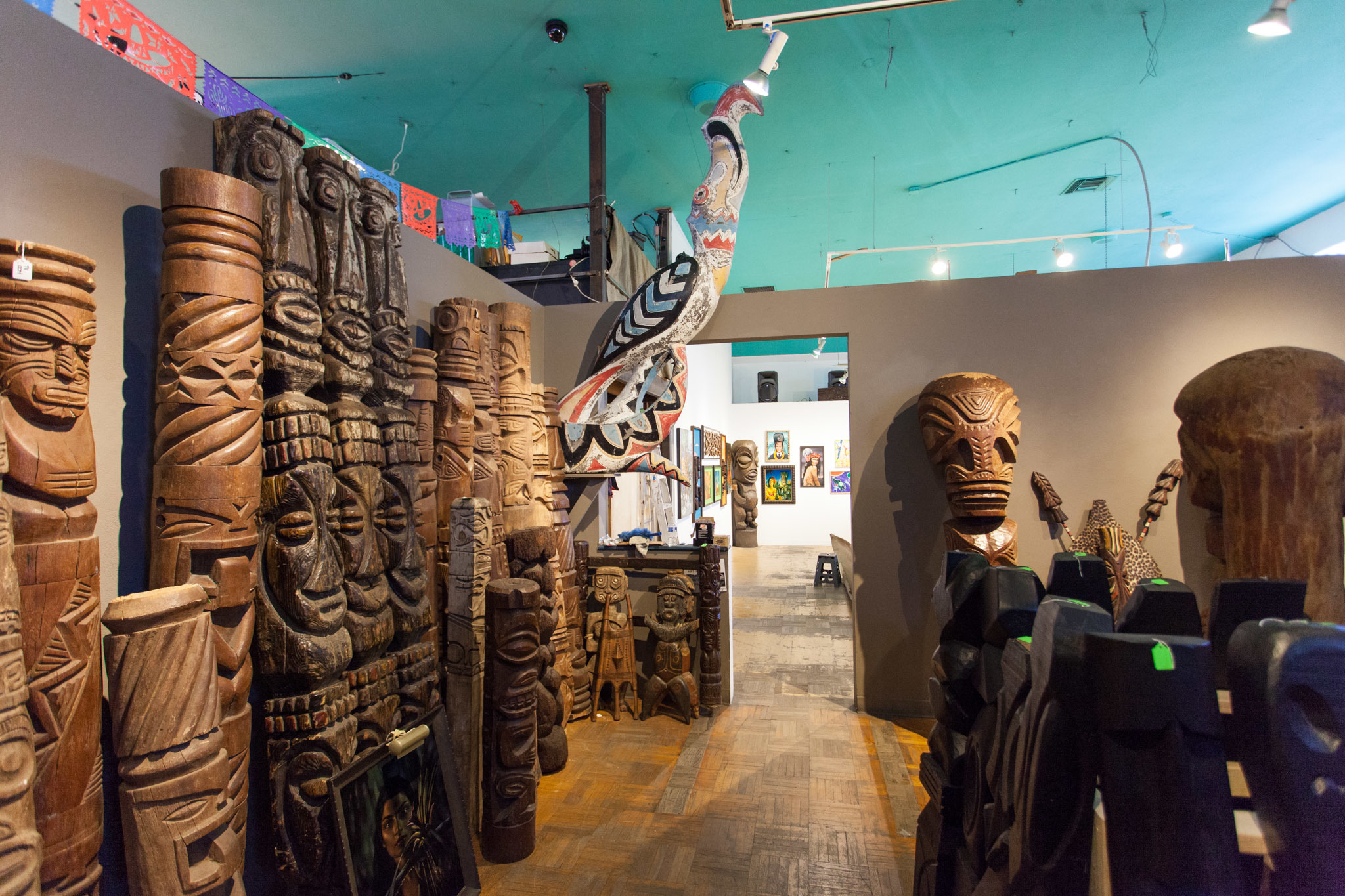 Most remarkably, Reicheck is offloading dozens of 14-foot tiki poles (most seamlessly cut down into more manageable segments) that once adorned the Playa del Rey Polynesian Village Apartments, another Armet and Davis design. When the Westside complex was torn down in the early aughts, a Riverside company doing fumigation work next door decided to save the sculptures. A couple of years later, Reicheck purchased them.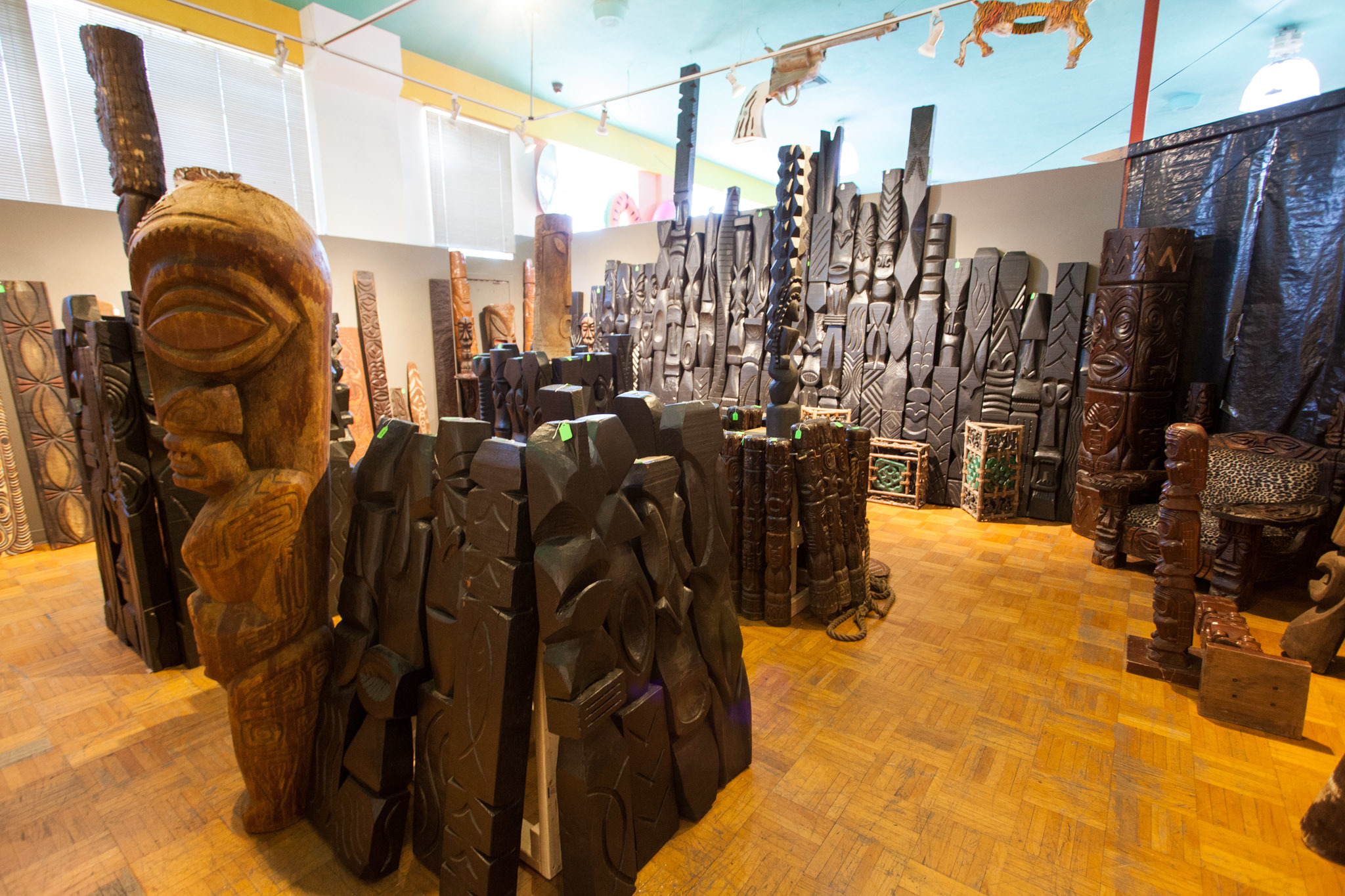 The works come from a variety of sources, including sculptor team Andres Bumatay and Richard Ellis, as well as storied shop Oceanic Arts. While many American-made tiki carvings feature over-the-top faces, some of the understated, more geometrically-composed pieces were made by Oceanic artisans. Regardless of origin, all were constructed in service of a type of fantasy that's allured tiki enthusiasts for decades—"I like authentic fake stuff," as Reicheck puts it.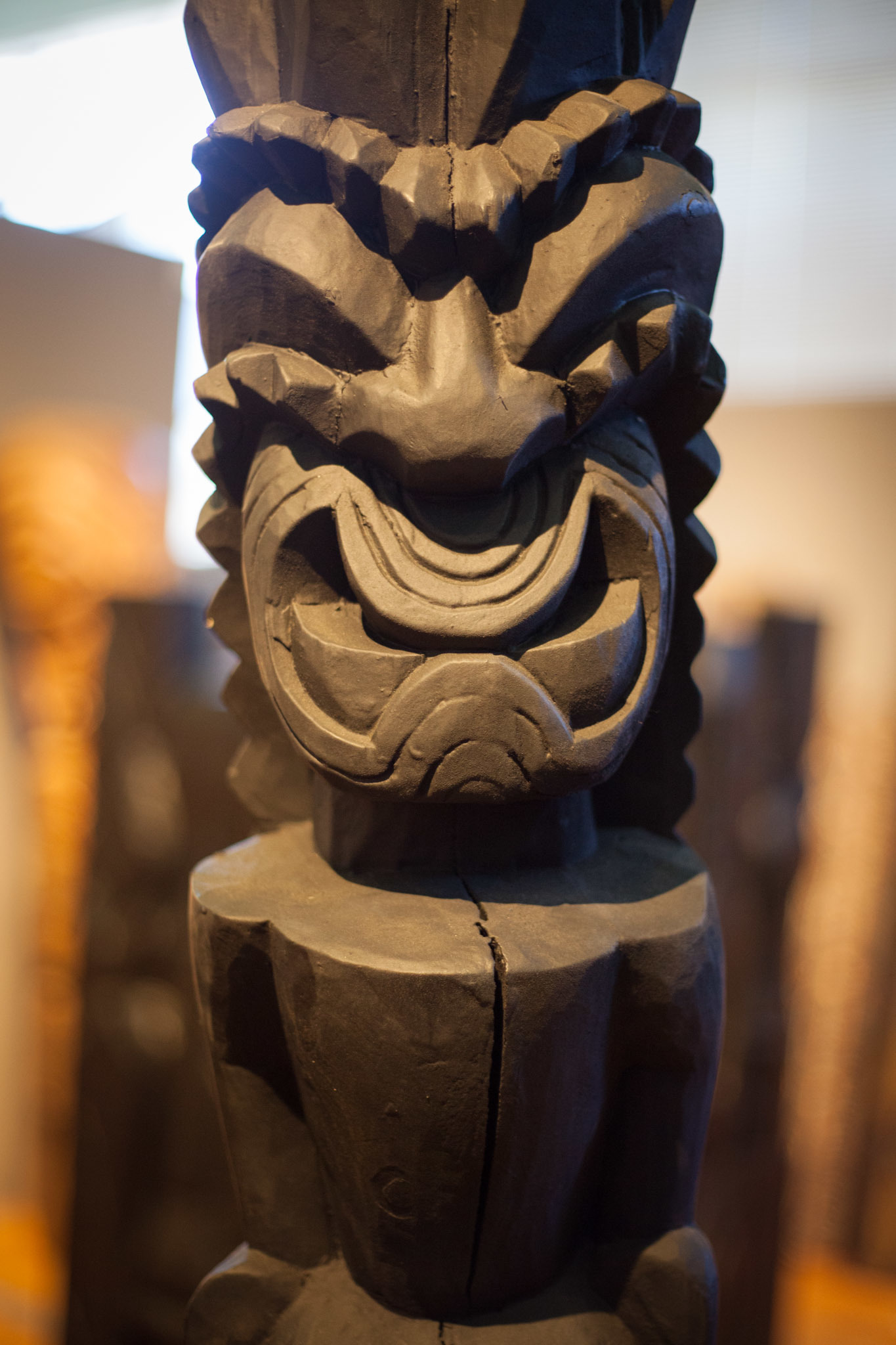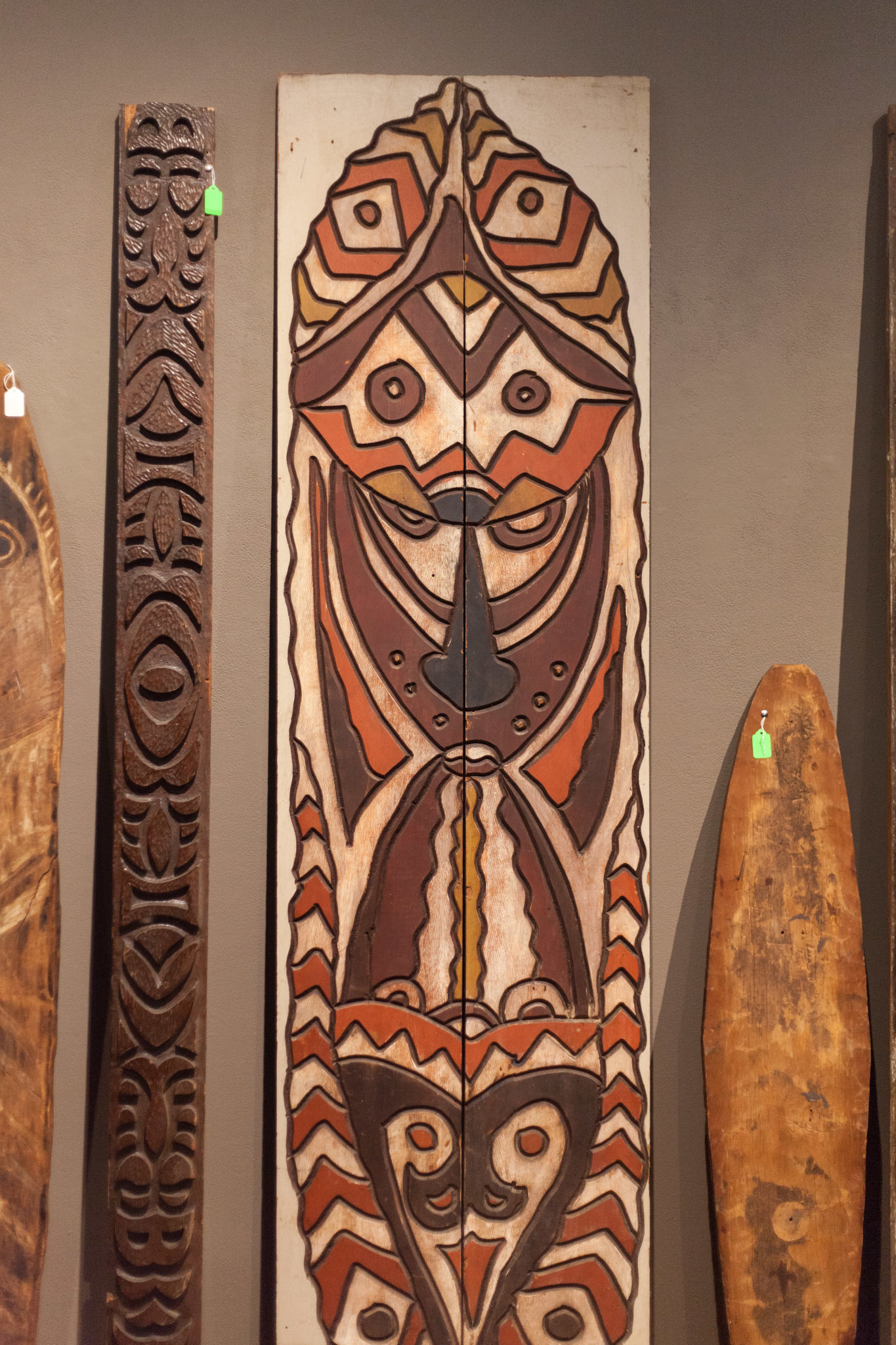 "The Art of Tiki" opens Friday, October 6 with a book signing and release party from 6 to 8pm—Sven Kirsten, Von Stroheim and Reicheck authored a book by the same name—followed by an artist reception from 8 to 11pm. The show remains open through October 29, Monday through Wednesday from 11am to 7pm, Thursday to Saturday from 11am to 9pm and Sunday from noon to 6pm.