Everything you need to know about Comic-Con 2016
Take a day trip to San Diego and brush up on everything you need to know about attending Comic-Con 2016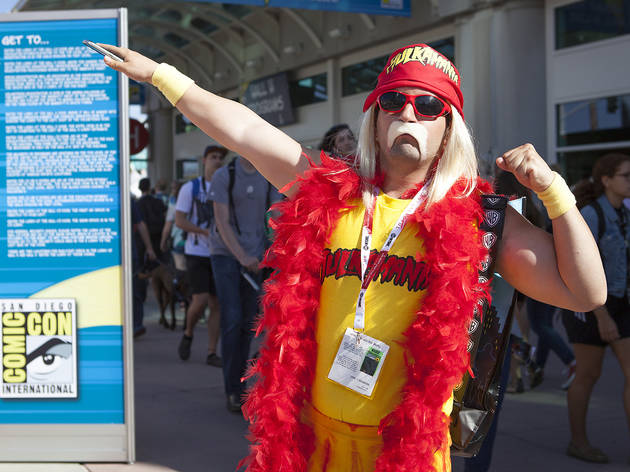 There's no shortage of cosplay-heavy conventions here in LA—WonderCon, Anime Expo, Comikaze—but San Diego Comic-Con is unlike any other expo. The five-day convention has become widely known for its big-name movie and TV panels in recent years. Only a lucky few are admitted into the Hall H panels, but for everyone else, Comic-Con is a playground of pop and comic culture. We say "playground" quite literally, too; in addition to the show floor at the San Diego Convention Center, much of the waterfront and Gaslamp Quarter turns into branded carnivals and pop-up experiences. If you're headed down to San Diego for Comic-Con 2016, here's everything you need to know.
When is Comic-Con 2016?
Comic-Con 2016 takes place July 21 to 24, with Preview Night on July 20.
Who's appearing there this year?
The full schedule isn't released until about two weeks before the convention, but so far we know there will be panels and appearances by the cast and crew of The Walking Dead, Game of Thrones, South Park, Doctor Strange, Guardians of the Galaxy, Star Trek and more—including a '90s Nickelodeon revival.
How much do tickets cost?
Single-day passes cost $55, with the exception of Sunday ($40) and Preview Night ($40). Comic-Con no longer offers multi-day passes. However, passes sell out at Coachella-like speeds, so if you missed out on this year you'll have to wait until next year's passes go on sale in the winter.
How do I get there from LA?
Without traffic, San Diego is just a two-hour drive down the 5 from LA. If you'd rather ditch your car, Amtrak's Pacific Surfliner runs about a dozen times each day; unreserved seats cost $37 each way, while a business class seat costs $56. In addition, Comic-Con operates free shuttles around Downtown San Diego, while the city runs a trolley with $2.50 rides and a $5 day pass.
I'm an Angeleno, so of course I'm driving—where do I park?
Ace Parking, which runs many of the lots near the San Diego Convention Center, opens up a lottery for parking spots in April. While most of the adjacent parking fills up quickly, you can reserve spots in advance here, typically for $25 to $40 per day.
Comic-Con 2015 coverage