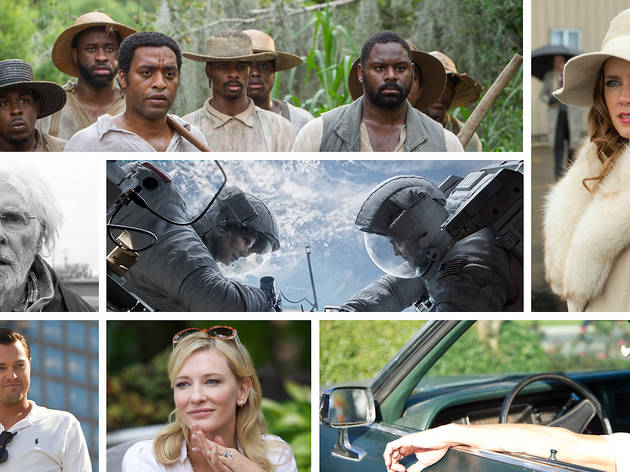 Beyond Ellen's Internet-breaking selfie: The funniest Oscars tweets
Was Twitter the real winner last night? Read the best jokes, snark and burns from the 86th Academy Awards.
The
2014 Oscars
happened.
Gravity
grabbed the most statues,
Pharrell's hat
came back, and host Ellen DeGeneres posted a
selfie
that became the most retweeted tweet off all time in just over 30 minutes. Also, pizza.
From the moment Jennifer Lawrence tripped before even making it inside the building to Steve McQueen's victory dance when
12 Years a Slave
took the award for Best Picture, comedians, critics and commenters were keeping track of every high and low of the evening. Here, a look at the funniest tweets from the biggest night in film.
Alfonso Cuarón, awesome for fighting to keep character of Sandra Bullock female, despite being asked to switch it to a man. #oscars #gravity

— Carla Zanoni (@carlazanoni) March 3, 2014
Perhaps the best moment of the night pic.twitter.com/HWe9RNTrg1

— BuzzFeed (@BuzzFeed) March 3, 2014
And the big news so far is Jennifer Lawrence's first spill of the night. #Oscars https://t.co/PB99YXoM6I pic.twitter.com/IyUCHxxiGI

— lizadonnelly (@lizadonnelly) March 3, 2014
What's under @Pharrell's hat? #Oscars http://t.co/De4Jethpzp pic.twitter.com/JwpNxKWRDF

— Newsweek (@Newsweek) March 3, 2014
Minutes until McConaughhey turns his Oscar into a bong.

— Nathan Rabin (@nathanrabin) March 3, 2014
brad pitt is like a fine wine because every time I want him, I have to settle for soothing my urges with $4 pink champagne instead

— Rega Jha (@RegaJha) March 3, 2014
give me a break! pic.twitter.com/8KMs9fAvR9

— rob whisman (@robwhisman) March 3, 2014
Thanks, John Travolta, for letting me know that this song is performed by Adele Dazime or somebody WTF.

— Matt Zoller Seitz (@mattzollerseitz) March 3, 2014
Saw Kevin Spacey on the red carpet & expected him to look at the camera & say something like "The Oscars are so humiliating" #HouseOfCards

— allison shiffler (@allisonshiff) March 3, 2014
Frozen wins. The movie, not Kim Novak's face. #Oscars

— Tim Siedell (@badbanana) March 3, 2014
March 3, 2014