9 cozy cabins near L.A. that you can rent on Airbnb
Plan a weekend getaway from Los Angeles to one of these rustic Airbnbs just a few hours away
Just because the temperature in Southern California rarely drops below freezing doesn't mean that you can't plan a weekend getaway to one of these cozy cabins near L.A. Whether you're looking for an authentic log cabin experience in a dense pine forest or a desert getaway on a bohemian Joshua Tree homestead, Airbnb has plenty of gorgeous properties for rent within a few hours drive of Los Angeles. You can hit the slopes at the best ski resorts, spy breathtaking views from hiking trails or just cuddle up by the fireplace with a cup of hot cocoa. Any of these cabins would make an excellent weekend getaway from L.A., so cue up a playlist of the 50 best road trip songs and hit the road!
Some of our activity recommendations in this story may be currently closed. Here's what you need to know about traveling in Southern California right now.
Cabins near L.A. on Airbnb
Photograph: Courtesy Airbnb
Authentic Log Cabin Experience in Pine Mountain Club, CA
The aptly named Cabin in the Woods has everything you need for a deliciously cozy weekend: complementary wine, board games, a popcorn maker, a roaring fireplace and plenty of hygge vibes. Surrounded by acres and acres of old-growth forest, this cabin has easy access to countless trails for hikers, snowshoers and equestrians. Whether you spend the weekend exploring the great outdoors or drinking hot cocoa by the fire, you're sure to enjoy your stay in this authentic log cabin. From $161 per night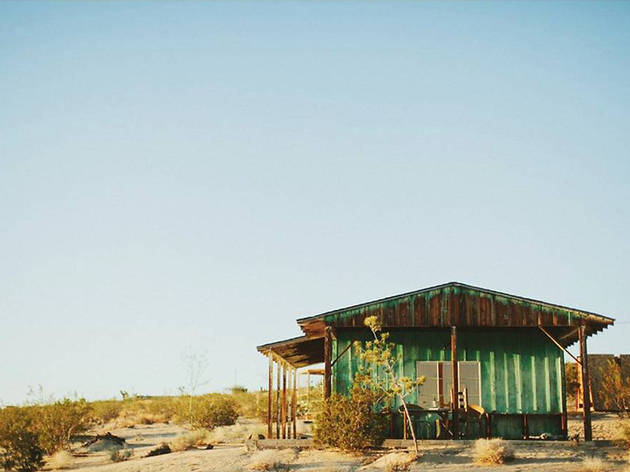 Photograph: Courtesy Airbnb
Joshua Tree Homesteader Cabin in Joshua Tree, CA
If snow's really not your thing, rent out this restored cabin on five acres of desert wilderness. Cant' sit still? Spend the day hiking—keep an eye out for wildlife like cottontails, roadrunners and tortoises. In the evening, build a bonfire to keep warm and watch as a vibrant sunset gives way to a seemingly endless blanket of stars. Though it feels remote, it's just a short drive away from local landmarks like the Integratron, Joshua Tree National Park and Pappy & Harriet's. From $98 per night
Photograph: Courtesy Airbnb
A-Frame Packed With Panoramic Mountain Views in Running Springs, CA
Conveniently located near Big Bear Lake, Lake Arrowhead and Snow Valley Mountain Resort, this A-frame cabin makes an ideal home base for a weekend playing in the snow. Ski or snowboard at Snow Valley, ride tubes or sleds at Grizzly Ridge Tubing Park or soar above the forest floor with Action Zipline Tours. After a day full of activity, you'll be relieved to return to your jazzy bolt-hole and sink into the plush California King bed in the loft. From $82 per night
Photograph: Courtesy Airbnb
Cabin in the Giant Sequoias in Springville, CA
Though this wood-paneled cabin is certainly cute, it pales in comparison to the natural beauty of the giant Sequoias surrounding it. The fifth largest tree in the world—the Alonzo Stagg Tree—and secluded Poppy Lake are both just a short hike away. Strap on a pair of snowshoes or cross country skis to explore the winter wonderland, then return to the cabin to soak your weary muscles in the three-person spa. From $199 per night
Photograph: Courtesy Airbnb
Topanga Creekside Cabin in Topanga, CA
Just on the edge of the Westside, this Topanga hideaway provides a lovely escape for city dwellers who only have time for a short trip. At just 240 square feet, it certainly qualifies as a tiny house, but feels cozy rather than cramped. You'll find a cute little creek and mini farm with chickens, ducks and goats on the property. From $101 per night
Photograph: Courtesy Airbnb
Rock Reach House in Yucca Valley, CA
The contrast between the home's minimalist architecture and perch atop weathered boulders dotted with pinon pines creates remarkable curb appeal—if there were a curb in the desert, that is. If there architecture weren't enough to convince you to visit, consider the four-person jacuzzi, stargazing platform with loungers, outdoor fireplace and enormous steel deck. Just, uh, prepare to break the bank staying here. From $743 per night
Photograph: Courtesy Airbnb
Treehaus Chalet in Big Bear Lake, CA
This renovated 1960s chalet boasts panoramic views of the ski slopes, a rustic stone fireplace, a foosball table and a 4K smart TV. In other words, everything you need for a cozy winter weekend. Snow Summit Resort is right around the corner and there's enough space to camp out in the back yard but we wouldn't blame you for wanting a weekend full of Netflix and chilling by the fire. From $250 per night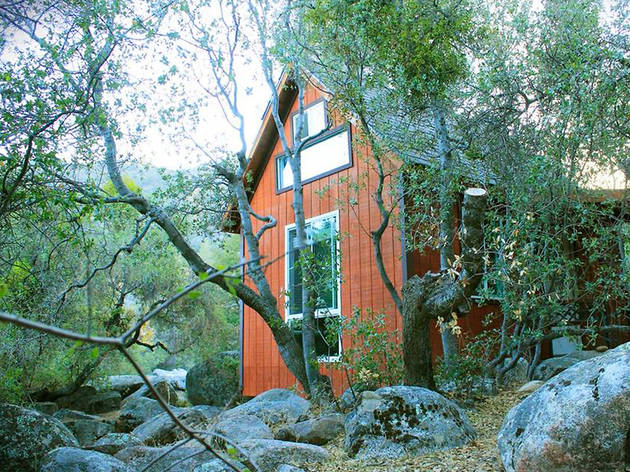 Photograph: Courtesy Airbnb
Off-Grid Tiny House at Spirit Walk in Wofford Heights, CA
This solar-powered tiny house feels almost like camping—just with a more comfortable bed. Sunlight streaming into the lofted bedroom will wake you up in the morning. Spend the day exploring the pristine surroundings, then come back to the campsite to grill your dinner in the communal fire pit and gaze up at the twinkling stars. From $98 per night
Photograph: Courtesy Airbnb
Drive down a private dirt road to find this secluded redwood cabin directly across from the pristine Ojai Meadows Preserve. Rustic design elements like a farmhouse sink, porthole window and hammock swing give the cabin a bohemian feel. Outdoorsy guests might want to hike nearby trails to catch the sun setting over the Topatopa Mountains before sinking into bed in the loft bedroom. From $97 per night
Looking for more getaway ideas?
Itching to escape from Los Angeles? Forget LAX; the best weekend getaways—we're talking easy, affordable weekend trips, day trips and road trips—are just a car (or train, or ferry) ride away. Whether you're looking for adventurous outdoor activities, stellar shopping, beaches off the beaten track or luxurious spa days, we've found plenty of weekend getaways to satisfy your wanderlust.