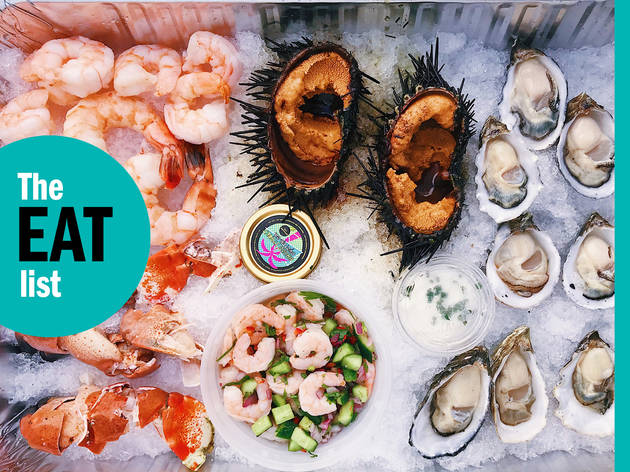 The 32 best restaurants in Los Angeles you need to try
Modern steakhouses, seafood stands, stellar tasting menus and the city's top pasta—we present the best restaurants in Los Angeles
Despite the ups and downs of our city's dining regulations, L.A. is still home to one of the most exciting restaurant scenes in the country: a collection of restaurants and pop-ups and vendors with a reputation built on incredible food trucks and off-the-beaten-path tacos just as much as tasting menus and farmers' market produce.
At its core, L.A. thrives on its diverse blend of genre-bending formats and cuisines, which creates some of the world's best omakase restaurants, fine-dining institutions and French-bistro gems tucked into strip malls. Our experts scour the city for great eats and great insider info. We value fun, flavor, freshness—and value at every price point. We update the EAT List regularly, and if it's on the list, we think it's awesome—and we bet you will, too.
June 2021: With California's full reopening slated for June 15, you'll find more of our favorite spots are returning to dine-in service, such as n/naka and Mélisse, especially when it comes to indoor dining; that's not to say some of the best fun still isn't had outside. New to the list is Anajak Thai Cuisine, a 40-year-old restaurant whose culinary innovations, collaborations and weekly events helped the Valley stalwart reimagine itself over the past year—though the classics are still always worth an order, too. Some of the most fun to be had there is in the alleyway, where Thai tacos and tasting menus under bulb lights provde some of the most memorable nights any L.A. restaurants have to offer.
Up to our number one spot is Broad Street Oyster Co., our favorite destination on a hot summer day. Hit PCH or one of the canyons and head to the modern Malibu seafood shack for lobster rolls, Florida stone crab claws, cheffy daily specials like sautéed razor clams and a bottle of natural wine, for best results this season.
Eaten somewhere on this list and loved it? Share it with the hashtag #TimeOutEatList. Plus, find out more about how we decide what makes the list.
L.A.'s 32 best restaurants, ranked
More top L.A. restaurants