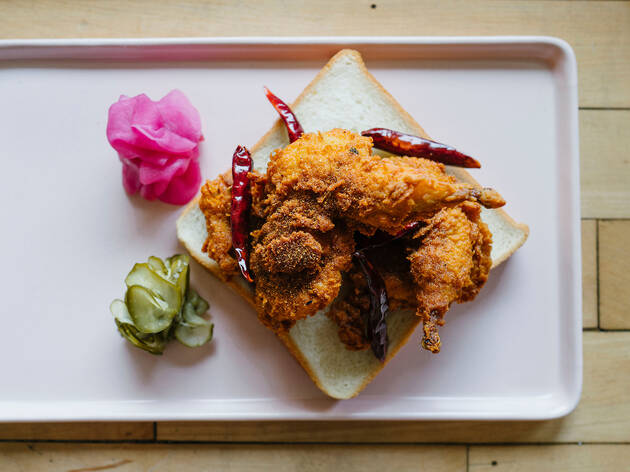 The 24 best restaurants in Los Angeles you need to try
Modern steakhouses, seafood stands, stellar tasting menus and the city's top pasta—we present the best restaurants in Los Angeles
There isn't a more exciting place to eat right now than Los Angeles. While we've built our gastronomic reputation on incredible food trucks and off-the-beaten-path tacos, chefs are flocking to our fair city to take some serious risks, turning L.A. into even more of a culinary mecca. Our expert local critics and editors narrowed down the best of the city's food scene—the freshest, most inventive and most memorable spots—right here in the Time Out EAT List.
At its core, the Los Angeles dining scene thrives on its diverse and welcome blend of internationally inspired and genre-bending cuisines, which creates some of the world's best omakase restaurants, fine-dining institutions and French-bistro gems tucked into strip malls.
Our experts scour the city for great eats, great value and insider info—like $10 bar bites from a James Beard Award-winning chef at his Highland Park happy hour. We value fun, flavor, freshness—and value at every price point. We update the EAT List regularly, plus whenever there's a truly spectacular new opening. It could be a mega-hyped destination restaurant or a pop-up-turned-permanent in a Chinatown plaza: If it's on the list, we think it's awesome—and we bet you will, too.
June 2020: This update of our EAT List includes mention of each restaurant's service format, provided the restaurant is not currently open for dine-in; we will be updating this regularly. Additionally and sadly, our update also includes the loss of two phenomenal restaurants: Bon Temps, Lincoln Carson's artful Arts District brasserie, and Auburn, Eric Bost's modern-yet-approachable tasting menu along Melrose. Both shuttered at the end of April, both were tremendous restaurants, and both made our list of the Best New Restaurants of 2019.
Eaten somewhere on this list and loved it? Share it with the hashtag #TimeOutEatList. Plus, find out more about how we decide what makes the list.
L.A.'s 24 best restaurants, ranked
More top L.A. restaurants