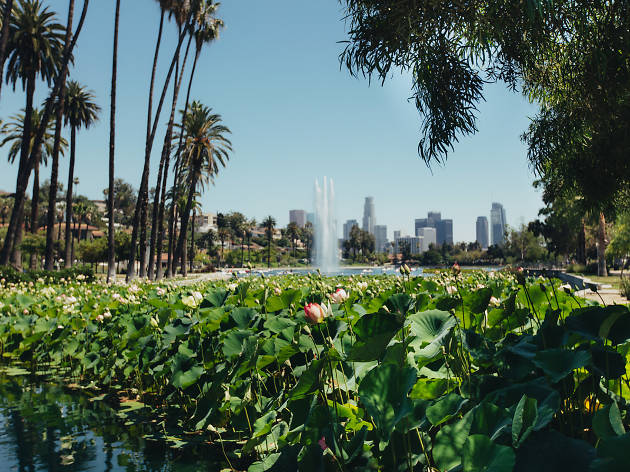 The 25 best parks in Los Angeles
Explore some of the best parks in Los Angeles, from the Griffith Park wilderness to the urban Grand Park
Among the lengthy list of picturesque attractions in this city—who can resist the temptation of a hike through Runyon, an afternoon in a botanical garden or a trip to the beach?—there is a wealth of beautiful parks in Los Angeles. Whether you're an art aficionado or a devoted dog owner, there's a slice of nature that fits your lifestyle. For those days when you're looking for things to do but don't feel like climbing up all 282 steps at the Baldwin Hills Scenic Overlook, roll out a blanket or take a stroll through 25 of the best (and free) parks in Los Angeles.
For art aficionados
Barnsdall Art Park and the Hollyhock House are temporarily closed.
After oil heiress and philanthropist Aline Barnsdall bought this cute little hill after the end of World War I, she enlisted Frank Lloyd Wright to build a group of buildings at its summit. Though the entire complex was never finished, Barnsdall went on to donate the house, guest house and 11 acres of the land to the city on the premise that they be used as a public art park. More than eight decades later, the site still fulfills that role, with exhibitions in a variety of gallery spaces, as well as tours of the stunningly restored Hollyhock House. In the summer, the park hosts alfresco cinema nights, wine tastings and cultural events that bring out a nice mix of singles, couples and young families.
This parking lot turned park is an idyllic and thoughtfully designed ocean-adjacent oasis that harbors a playground, meadows, small waterfalls, walking paths and a conch-like wireframe lookout by the Pacific. Artist Iñigo Manglano-Ovalle's kinetic sculpture Weather Field anchors the park as a minimal, serene and instantly memorable landmark. Most that come to Santa Monica will flock to Palisades Park—for good reason, as the ocean views from the palm and eucalyptus-lined paths are breathtaking—but our allegiances lie with this low-key spot.
For reclaimed green space
A former reservoir turned public recreation area, the historic Echo Park Lake has become a family-friendly destination worthy of its bold backdrop: the Downtown skyline amid the lotus flower blooms, fountains and the Lady of the Lake statue. You can push your way through the lake in a pedal or swan boat ($11 per hour) or stroll around the path that hugs its borders. Make sure to stop at the revived boathouse and its breakfast pit stop Beacon.
Most in-person programming is currently suspended.
The ongoing mission to turn Downtown L.A. into a vibrant cultural hub got a lift when a portion of Grand Park's 12 acres officially opened to the public in July 2012. Dotted with picnic lawns, a fountain, pink benches and plenty of nooks from which to sit and people-watch, Grand Park is a bright urban oasis that proves the city has a sense of romance. The park hosts performances, gatherings and other community events.
For waterfront views
Walk along the palm and eucalyptus-lined paths here and it becomes obvious why tourists flock to this oceanside park in Santa Monica. Nestled between the beach and Ocean Avenue, this bluff-top trail has stunning views of the ocean and Santa Monica Mountains—this is the postcard picture of L.A.'s coastline that lives in most people's heads. Steer clear of the touristy (and sometimes unsavory) section by the pier—though don't pass up a stop at the Camera Obscura—and instead head north past the stately concrete sculpture at Wilshire to the colorful totem pole at San Vicente.
There's a quiet history that pervades the San Pedro coastline through the Point Fermin Lighthouse, Sunken City and the last vestiges of Fort MacArthur, with its decommissioned battery of heavy artillery that once protected the port. But just up the hill, perched over the Pacific, sits one of the most idyllic spots in all of L.A.: the Korean Bell of Friendship. The mighty metallic bell's rusty green finish complements the ornately painted hipped roof—its paint job has seen better days, but that doesn't detract from the beauty of the 1976 goodwill gift from South Korea. The exposed, grassy bluff is an ideal spot to fly a kite or just lounge in the grass of Angels Gate Park.
For Valley dwellers
The Japanese Garden will reopen "soon" with reservations.
Balboa is a large family-friendly park known for its beautiful lake (you can even rent a swan boat) and serene picnic spots. Springtime visitors are treated to the cherry blossom bloom around the lake's perimeter, though the sight doesn't come without crowds. Those simply in search of a workout will find a section that's fitness-centered and removed from the lake, avoiding the crowds entirely. Meanwhile, those more in the mood for grassy wilderness or cultivated gardens can venture next door to the Sepulveda Basin Wildlife Reserve and the Japanese Garden.
Just south of the Arroyo Seco's most famous tenant—the Rose Bowl—this 62-acre park provides a scenic green space for locals and out-of-towners alike. Set against the stunning San Gabriel Mountains, you'll find plenty of open space to run and play among the multipurpose sports fields, along with some shade near Reese's Retreat, the pirate ship-themed playground. There's a proper fitness trail around the park, but you'll find many active visitors running and biking along a path that flanks the entire east side of the park, all the way north past the adjoining golf course. If you're willing to shell out a few bucks, stop by the Rose Bowl Aquatics Center's dual pools or the hands-on Kidspace Children's Museum. Parking isn't an issue, thanks to that 90,000-seat stadium, but note that the Rose Bowl Flea Market sets up shop the second Sunday of each month, while UCLA plays home games on Saturdays during the fall.
For museum lovers
Museums open with timed reservations.
The majesty of past Olympics will meet a bit of future grandeur when a spruced-up Memorial Coliseum plays host to the 2028 Summer Games. But already, Exposition Park stands as one of L.A.'s most significant institutions. You'll find green spaces scattered around the USC-adjacent property, but the most charming section resides in the fragrant Rose Garden. Rest in one of the gazebos or take a stroll around the central fountain, all the while admiring its beautiful brick neighbors. If you're up for the museum shuffle, take advantage of the free California African American Museum and California Science Center as well as the Natural History Museum, which includes a handsome nature walk and a seasonal butterfly garden. With a nearby Expo Line station and the under-construction Lucas Museum of Narrative Art, the park has all the building blocks of a traditional urban museum campus.
Museums open with timed reservations.
Hancock Park—not to be confused with the affluent neighborhood of the same name—sits atop a literal mine of goo-soaked prehistoric bones. You probably know this oily animal trap better as the La Brea Tar Pits, where archaeologists have unearthed fossils from saber-toothed cats to mammoths for more than a century. You don't need to pay for admission to the La Brea Tar Pits Museum to walk around the Tar Pits, and the same goes for the opposite end of the park, where you can pose in the Instragrammable Urban Light sculpture without a ticket to LACMA. The green expanse between the two institutions is picnic and dog-friendly, and overall a wonderful place to enjoy the outdoors within a stone's throw of L.A. cultural icons (not to mention the row of museums on the opposite side of Wilshire).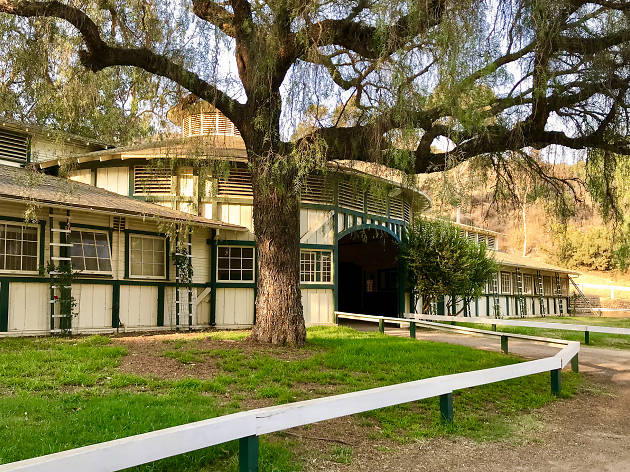 Photograph: Courtesy CC/Flickr/Adam Reeder
BBQs, picnic tables, benches, polo fields and backcountry restrooms are temporarily closed. In addition, parking is currently limited.
Explore the expansive grounds of Will Rogers State Historic Park, which once belonged to the late actor, writer, cowboy philosopher, trick-roper and first honorary mayor of Beverly Hills, Will Rogers. Take a free guided tour of Rogers's preserved 1930s ranch home and explore the surrounding 186-acre grounds, which give access to scenic hikes; one path takes you to Inspiration Point, from where you get a breathtaking view of mountains and sea. Polo matches are held on weekends, and you can also take horse-riding lessons.
For four-legged friends
Carved into the hills above the Hollywood Reservoir's walking paths but below a turnout of sightseeing vans, this grassy field feels like a dog-friendly Shangri-La. You don't have to have four legs to enjoy the scenery, thanks to a small playground, shaded picnic benches and one of the most fantastic views of the Hollywood Sign. But for dog owners, this verdant retreat is the perfect place to mingle with hills-dwelling pooches—just make sure your dog is leashed, lest you get ticketed by the park rangers.
Silver Lake's twin reservoirs have two dog parks (one big, one small), along with a slew of human-centric facilities: a basketball court, playground and field for the kiddies, and a 2.2 mile trail around its entirety. It's a great place to bring kids, dogs, a picnic or a running club. The Reservoir is also home to the Meadow (note: no pups allowed here), a soft, grassy knoll overlooking the water where visitors can lounge, picnic, or throw a Frisbee or play bocce ball.
There's no greater taste of freedom for your four-legged friend than jaunting around the park grounds sans leash. If you're cool with letting your pet meander through the park with leash-free K-9s or if you have a dog that loves catching Frisbees more than life itself, this is your new go-to spot. The sprawling grounds offer designated areas for small dogs, large dogs and even more timid dogs, and is equipped with a decent number of benches and chairs so you can stare lovingly at your dog-child and take plenty of pics.
For quiet neighborhoods retreats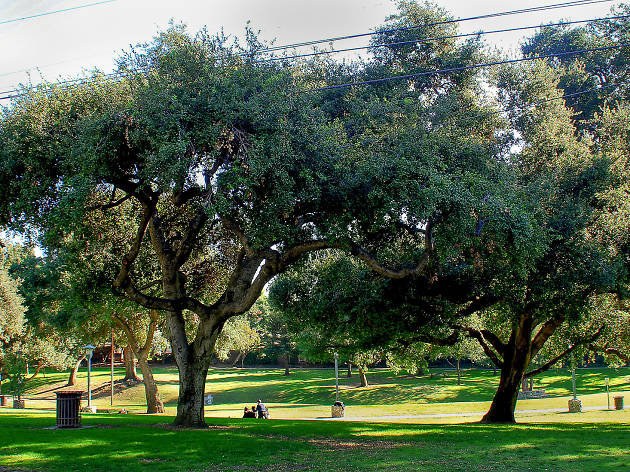 Photograph: Courtesy CC/Flickr/Joe Wolf
As if South Pasadena wasn't already charming enough, Garfield Park practically defines what it means to be a wholesome neighborhood park. You're likely to encounter families celebrating birthdays or kids climbing around the playground, but the modest-sized park never feels swallowed by crowds—with the allowable exception of its summer concert series. Enter through the Mission Street side and you'll first walk through a compact but lovely rose garden. Elsewhere, mature trees and cobblestone details lend a distinctly South Pas feel to the park—that is to say, small town warmth with decidedly L.A. style.
Take the time to walk around the dusty garden trails and rocky adventure areas of this Westlake-meets-Echo Park green space. But the real star here is its grassy central field, which boasts views of the Downtown skyline and a half-dozen dedicated picnic areas around its perimeter (including a particularly photogenic one atop a small hill).
For kid-friendly afternoons
Community center temporarily closed. Picnic tables first-come, first-served.
If you're looking for the kind of park where you can repose on the grassy field, throw some hoops, or frolick on the monkey bars, this is it. It's hard to believe this rather expansive patch of grassland rests amid buzzy Beverly Hills. In fact, you can hardly hear the aggrevated honks of daily commuters or the snaps of paparazzi at nearby celeb haunts. Instead, you'll enjoy the well-kept urban oasis, equipped with a sand volleyball court, a playground, a basketball court, picnic benches and tables, and a large grassy field for soccer, playing catch or what have you. Bonus? An ice cream truck comes rolling around every so often and on a hot summer day, it's the closest thing to heaven.
Playground temporarily closed.
Your head will spin at all the options for fun available at Polliwog, the largest park in the South Bay. Three well-shaded play areas include a lighthouse structure, countless swings and so much more. Nearby, you'll find a picnic area with plenty of tables and barbecues, as well as three gazebos, a nine-hole disc golf course, an exercise area, an amphitheater where concerts and other special events often take place, the city's historical museum and a dog run. At the center of it all is a large pond, home to ducks and geese. When summer rolls around, you can also enroll the little ones in swimming lessons at nearby Begg Pool.
Not to be confused with another park in the Valley, this Beverly Hills retreat is known for its high-profile patrons and polished appearance. That said, it still feels decidedly low-key—downright relaxing, in fact—thanks in part to its small size and the babbling brook on one end of the park, which always invites tiny toe-dipping on hot days. The playground consists of two climbing/slide structures and a half-dozen swings over a sandy surface.
For hidden-in-plain-sight history
L.A.'s oldest park, founded in 1886, is big and beautiful but tends to get a bad rap. Admittedly, some things here have fallen by the wayside, but among the palm tree groves and hilly hikes, you'll find great views of the Valley, Downtown, the Hollywood Hills and Dodger Stadium—which rests on a blasted bowl of hillside that was once home to the pastoral Chavez Ravine neighborhood. On weekends, expect a buzz of activities around bouncy castles and "dog hill," a spot where locals convene to throw balls, sticks, and compliments for each other's canine companions. If you're here in the early AM, you may hear volleys of gunshots—the Police Academy is next door, and you can hear officers practicing at the firing range. Oh, and trying to find that secret swing off Angels Point Road? Last we checked it's gone.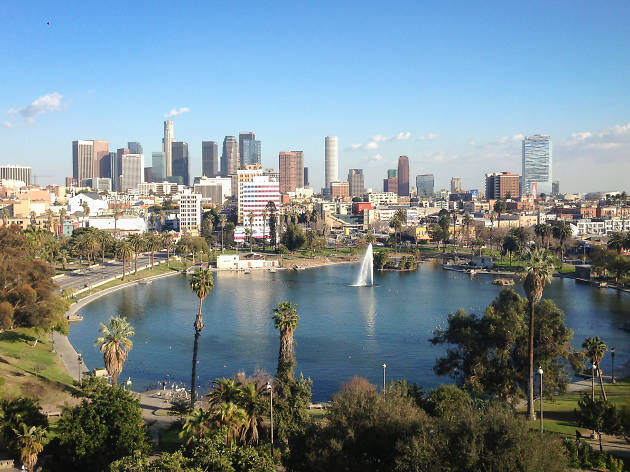 Photograph: Courtesy CC/Wikimedia/Pintsmasher
This Westlake park has found itself in the middle of unsavory headlines for decades now—a temporary drain of its lake in the '70s famously unearthed a trove of discarded knives and guns. It's still not an entirely pleasant place, but the renamed Levitt Pavilion now (in typical years) hosts summertime concerts while surrounding areas face ongoing gentrification, for better or worse. It's the kind of place that every Angeleno should visit at least once—we'd recommend in the daytime—to at least admire some of its historical leftovers: The prominent Westlake Theatre marquee across the street stands as a ghost of the neighborhood's glamorous past, when it was home to Art Deco mansions, luxury high rises and a Manhattan-esque atmosphere. Make sure to stop across the street at Langer's for a pastrami sandwich.
Looking to explore more of L.A.'s great outdoors?
If you're looking to experience the great outdoors while also working in some exercise, look no further than L.A.'s best hiking trails.
Best selling Time Out Offers