L.A.'s dining scene sees a lot of turnover, but a new restaurant at the Music Center is pushing the boundaries of chefs coming and going from a single kitchen.
Inspired by pop-ups and the city's culinary diversity, Abernethy's—now open just off the fountain in Music Center Plaza—will reboot its chefs, menus, art and playlists every three months to keep things fresh for season ticket holders, Downtowners, tourists and culinary-curious Angelenos from all over. The bright and casual indoor-outdoor spot will also serve as a showcase for the carefully chosen chefs, each with their own story to tell in the space.
"As chefs, we share a bit of ourselves in every dish we prepare, so being able to invite diners to explore and taste something personal to each of us is inspiring," Ms Chi chef Shirley Chung says in a news release. "I am honored to be the first to bring the Abernethy's concept to life."
The Top Chef star just kicked off the first three-month run with a Chinese-American menu that's reminiscent of her childhood in Beijing, her contemporary dumpling house in Culver City, and her traditional family recipes gone modern, like you'll find in her cookbook, Chinese Heritage Cooking from My American Kitchen. There are spins on Ms Chi recipes mixed into the menu of primarily unique-to-Abernethy's dishes, and even a reprise of a dish that she created with fellow Top Chef alum Silvia Barban, a Northern China-style take on cacio e pepe made with tofu and pecorino cream.
There's braised, pressed and seared lamb belly with a black vinegar reduction and a fermented leek sesame sauce. There are wontons in chili oil, stuffed plump with wild-caught Gulf shrimp and heritage pork that's ground in-house. There's a gorgeous bowl of kale-dotted jasmine rice peppered with smoked trout caviar, just as there's a comforting Bowl of Hugs, a meat-and-bone herbal "tea" soup served with mochi puffs. Nothing broaches $24, and most dishes on the best-served-family-style menu run about $11.
On the cocktail front, there's a lychee martini and a bourbon spritz, among other summer-into-fall concoctions, as well as Chung's personal favorite cocktail in Beijing: the Green Lantern, a tart and refreshing mix of Chivas Regal scotch, lemon juice and a house-made jasmine green tea syrup.
You'll find a bit of Chung not just on the plate and in the glass, but all around Abernethy's. The chef curated the playful and Britney Spears-heavy playlist, and on the wall, there's a colorful mixed-media artwork that narrates the chef's journey in her Chinese heritage: Paper cranes ascend in streaks of traditional, symbolic color—all shooting through the number 8, in itself symbolic of luck and success—while one crane forges ahead on a path of hot pink. (You guessed it, that's Chung doing her own thing.)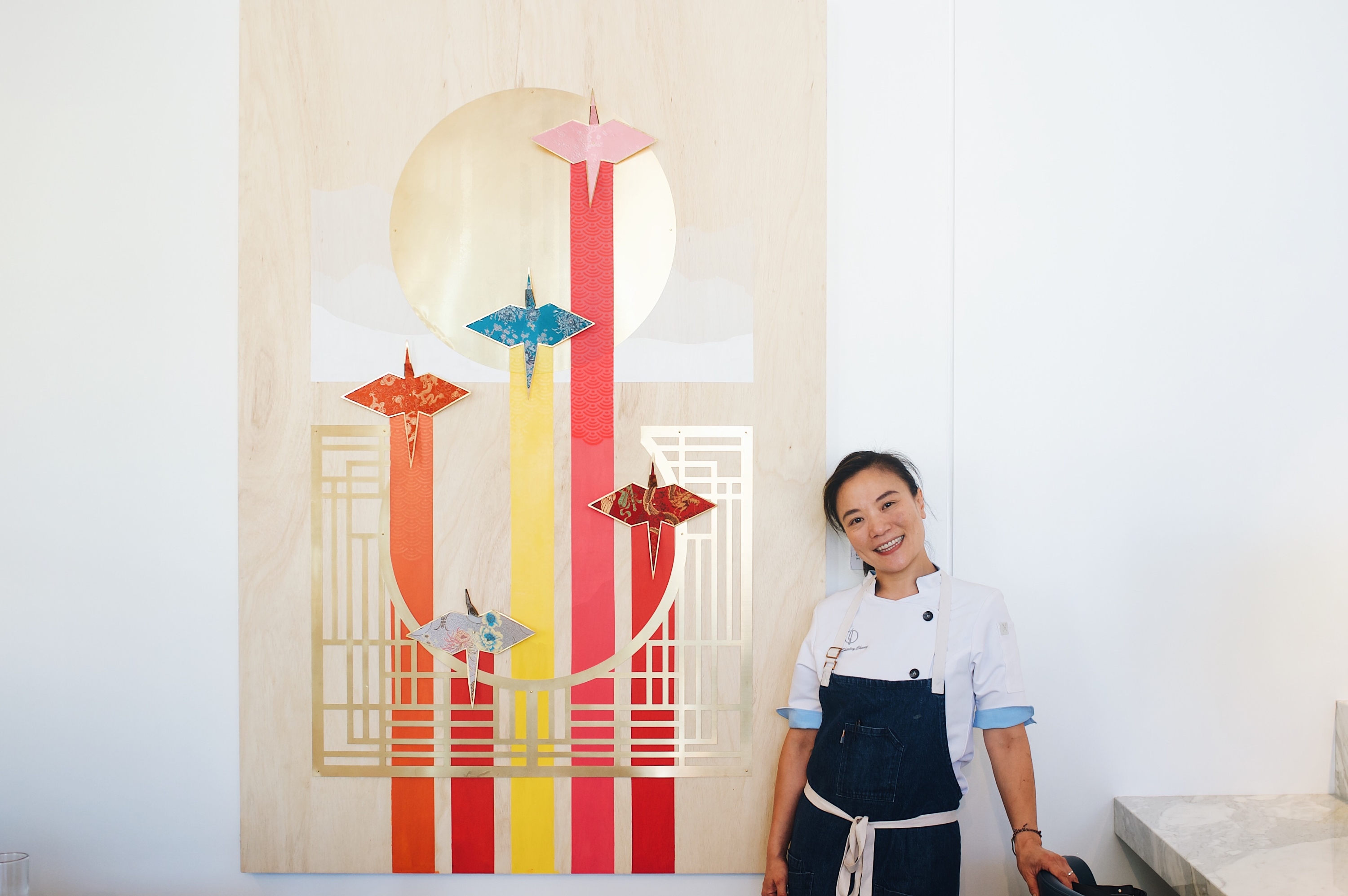 Of course in a few months that art will come down and another chef will take over the space to tell their own story. Next up is chef Jason Fullilove of the Magic Castle and Barbara Jean, and down the line, chefs Ryan Costanza from Freedman's; Pla and Fern Kaewtathip from Noree Thai on Beverly and Luv2eat Thai Bistro; and Geter Atienza from the H. Wood Group and Broken Spanish will close out the year of Abernethy's rotating cast of concepts.
And while the chefs may change every few months, there will be a constant stream of up-and-comers in the kitchen; Abernethy's is working with a handful of groups—Chrysalis and the Veteran's Culinary Arts Program among them—to help underprivileged, homeless and low-income staff (re)enter the workforce with new culinary skills. Maybe someday it'll be their stories we see in the Abernethy's pop-up, too.
Abernethy's is now open at 220 N Hope St, with hours of 5 to 11pm Tuesday to Friday, 11am to 11pm Saturday, and 11am to 9pm Sunday.