Heads up! We're working hard to be accurate – but these are unusual times, so please always check before heading out.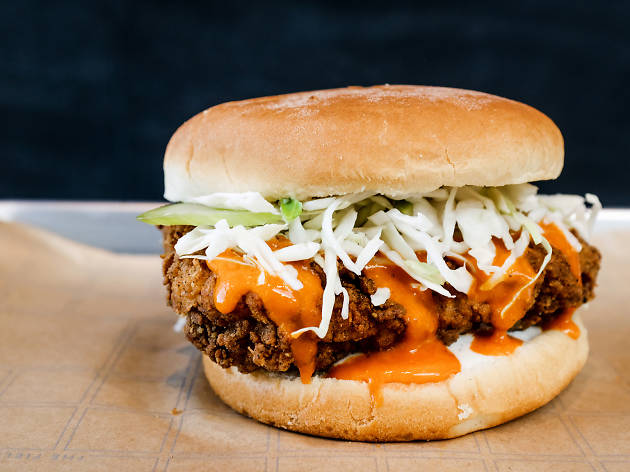 Your complete guide to The Fields LA, LAFC's new food hall
For game days and beyond, here's every vendor you'll find in this sleek food hall—complete with full bar and beer garden
It's no secret that Angelenos love exceptional dining and sporting events. These two pastimes recently combined in one of the city's best spots to cheer and nosh, the Los Angeles Football Club's new Banc of California Stadium, and while there's a wealth of great food within the stadium itself, it now sports its own food hall. Direct your attention to the adjacent and freshly unveiled The Fields LA food hall, where you can get lost in the new 200-seat collection of some of L.A.'s best vendors.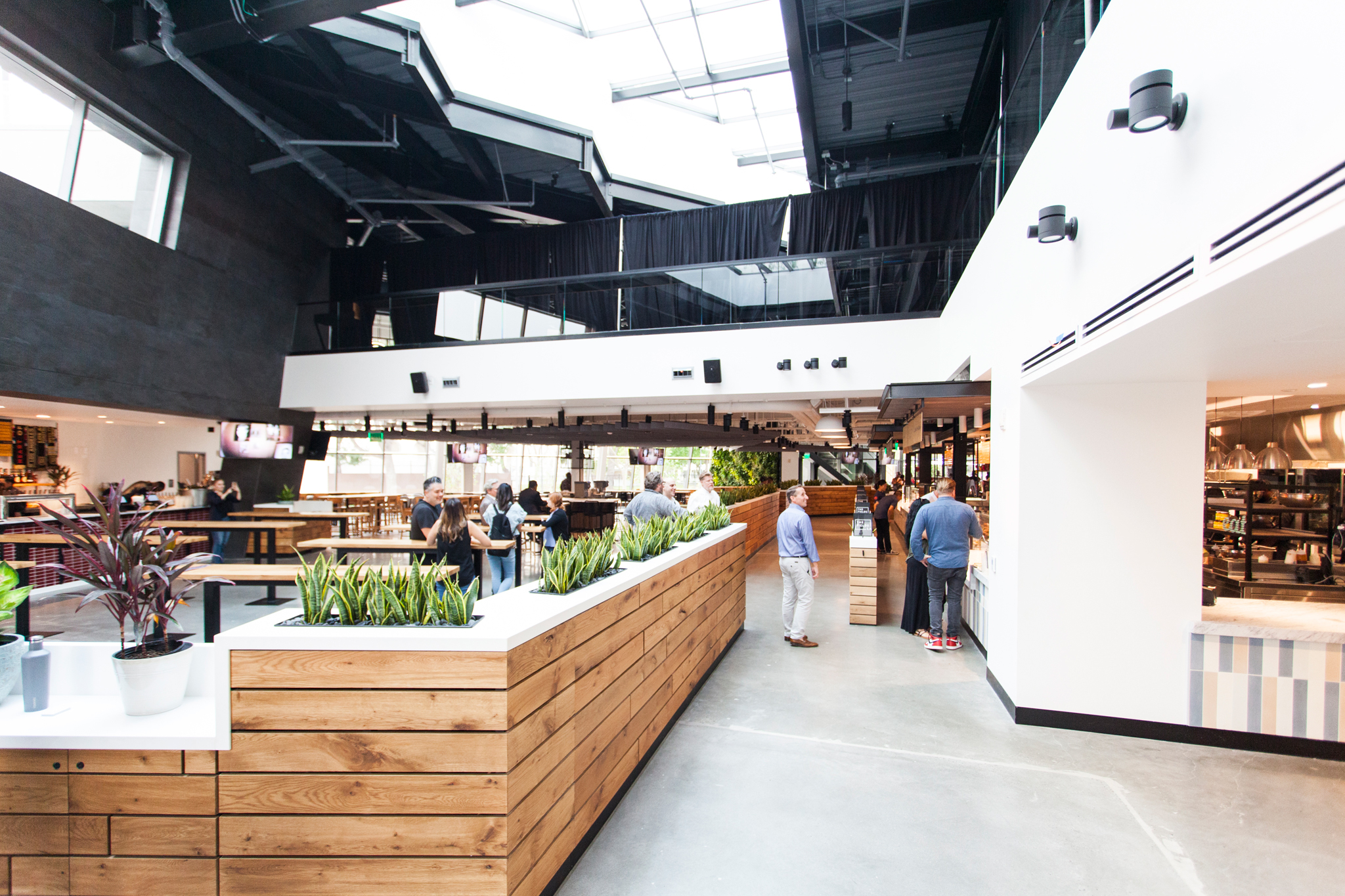 Photograph: Stephanie Breijo
Award-winning full-service restaurants, Top Chefs, mom-and-pop operations and previews of big concepts to come all open up shop seven days a week, from 11am to 10pm, slinging Roman-style pizza, fried chicken, ceviche, baked goods, smoked hummus, frozen cocktails and hearty, steaming potstickers. With all of these options, walking into The Fields LA can feel a little overwhelming; here's our guide to every concept therein, to help you win big—on or off game days.
Here's where you can eat at The Fields LA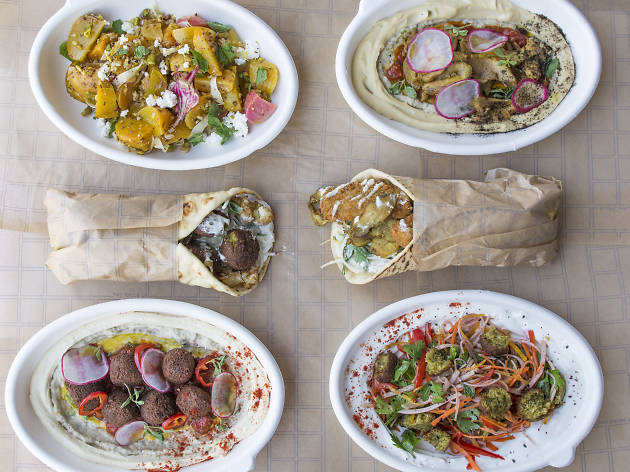 Photograph: Courtesy The Fields LA/Aliza Sokolow
What happens when one of Australia's top Middle Eastern chefs heads to L.A.? You get Roy Ner's take on falafel, braised meats, laffah and salads with a California twist. The lauded executive chef of Sydney's Nour set up a quick-hit menu of vibrant, bright fare that's easy to eat in the stands: laffah rolls with chicken, cultivated yogurt, beet slaw, charcoal eggplant, garlic toum and more, plus organic ancient-grain salads and a smoked hummus bowl so flavorful you'll be thinking about it days later (trust us on this one).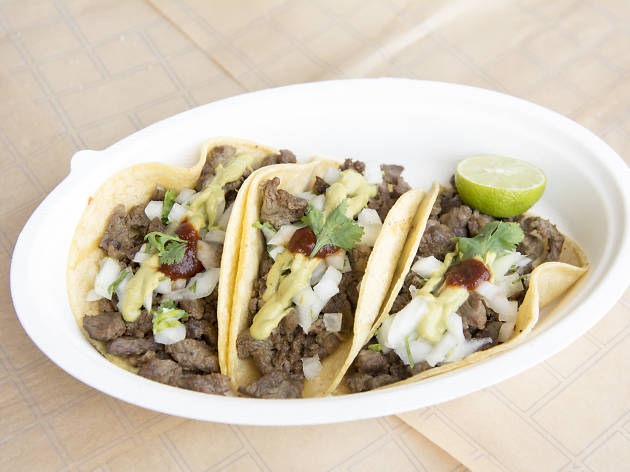 Photograph: Courtesy The Fields LA/Aliza Sokolow
If you don't recognize the name of this stand, the chef's other Mexican-food enterprise might ring a bell: the celebrated Aqui es Texcoco. Francisco "Paco" Perez brings his expertise to The Fields with street-style tacos, plus a "gringa" variety (that's cheese, salsa and meat on a flour tortilla) and his famous Alambre blend of bacon, bell peppers, onions, cheese and salsa. Get your veggies in with esquites, an off-cob spin on elotes—maybe snack on a bowl while you decide between al pastor, chicken or beef for your tacos.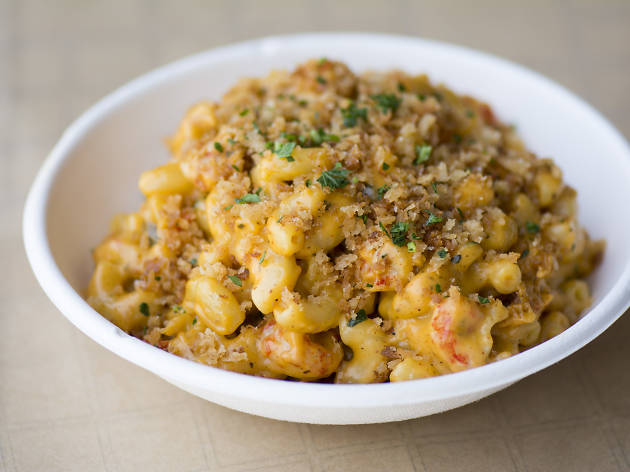 Photograph: Courtesy The Fields LA/Aliza Sokolow
Jason Fullilove's Melrose modern soul-food spot adds some hearty, comforting concoctions to the food hall's roster: We're talking creamy crawfish mac and cheese, tamarind BBQ spare ribs, jambalaya, oyster po' boys, bacon-braised greens and thick wedges of Fullilove's signature dessert, hummingbird cake.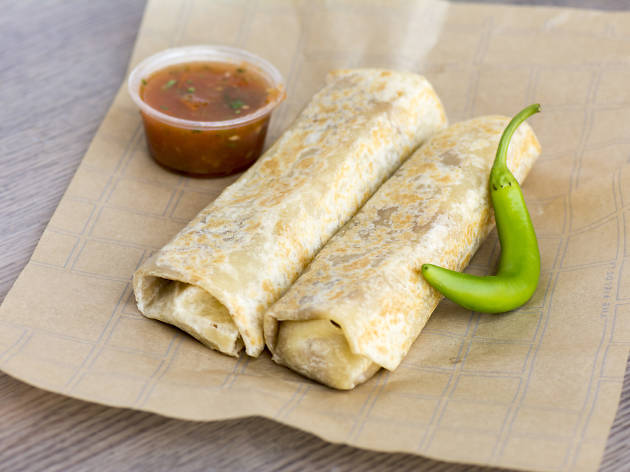 Photograph: Courtesy The Fields LA/Aliza Sokolow
How much do we love Burritos La Palma? Let us count the ways. The husband-and-wife team of Alberto and Lauren Bañuelos have had a busy year ramping up production of their thin, flour-tortilla-rolled burritos to meet growing demand, first expanding beyond their El Monte restaurant with a Santa Ana brick-and-mortar, then a food truck, then a weekly pop-up at Smorgasburg. Now, the duo has an outlet firmly within L.A. city limits, and with it, a larger menu. Their Fields outpost stocks their usual burritos packed with birria de res, tinga de pollo, chicharrones, and beans and cheese, in addition to a special burrito (birria, beans, cheese and green chile pork sauce), quesadillas and even nachos.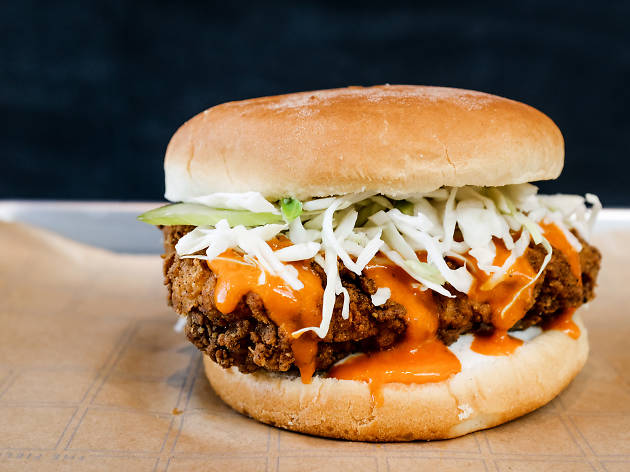 Photograph: Courtesy The Fields LA
C.J. Boyd's Fried Chicken
One of the food hall's heaviest hitters comes, unsurprisingly, by way of one of L.A.'s most-loved chefs: Otium's Timothy Hollingsworth pays homage to his Texas roots and family with C.J. Boyd's Fried Chicken, a new chicken-sandwich concept named for his own grandfather. The sandwiches by and large come inspired by L.A. neighborhoods, with the K-Town topped with chili, ginger, cabbage, daikon and sesame mayo; the East LA packing salsa, cabbage, cilantro and lime crema; and the Malibu stacks tomato, romaine, pepper jack cheese and mayo. There's also a Buffalo chicken variety, as well as the Otium, which comes with aji verde, shishitos, soy, lime and onion—a take on the restaurant's Peruvian chicken entrée. Finish with a cup of silky banana pudding, made using Hollingsworth's grandma's recipe.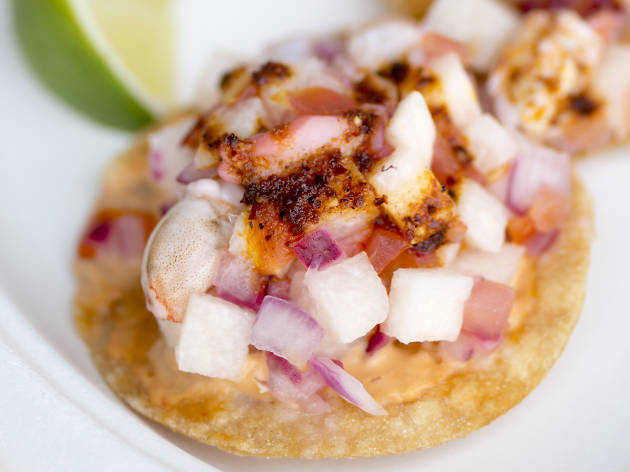 Photograph: Courtesy The Fields LA/Aliza Sokolow
We're down for any excuse to grab some of Coni' Seafood's outrageously fresh ceviches and tostadas, so a more central move to The Fields already has us out the door and en route to the food hall. No, you won't be able to find the famed Pescado Zarandeado that you can snag at the Inglewood and Del Rey locations, but you can enjoy shrimp ceviche, coctel de camaron, shrimp and octopus tostadas, fish tacos, and chips with guac and salsa.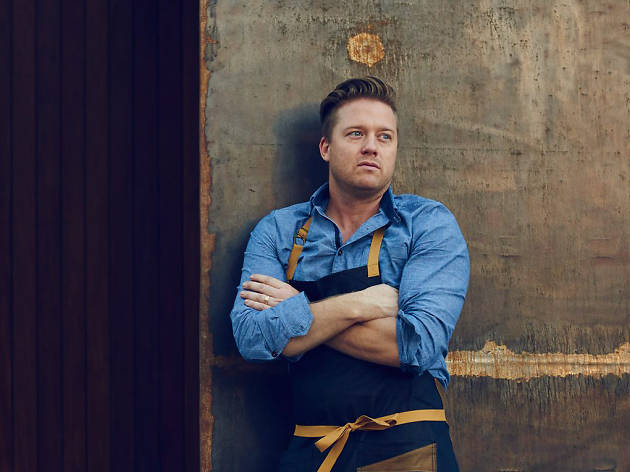 Photograph: Courtesy Otium
If you thought C.J. Boyd's was all Timothy Hollingsworth had up his sleeves, think again. This yet-to-open restaurant, bar and arcade will occupy the second floor of the food hall, and promises "contemporary cuisine and elevated takes on bar snacks." Look out for its launch later this year, when we can also expect it to open with a live-music setup, a DJ booth and more.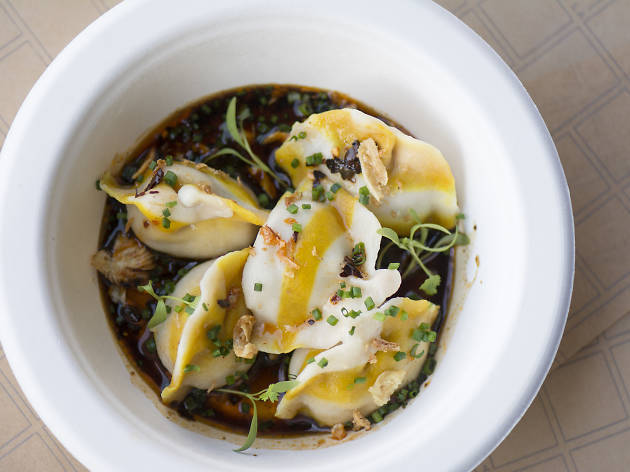 Photograph: Courtesy The Fields LA/Aliza Sokolow
We've been creeping on Shirley Chung's forthcoming dumpling shop and Chinese restaurant, nabbing bites of her hand-pinched potstickers throughout this summer's festival circuit. Now, we can find them at the ready, and in quite the variety: The Top Chef star's Fields stand offers beef-and-carrot potstickers, steamed chicken jiaozi, vegan potstickers, and shrimp-and-pork wontons. There are rice plates with mapo tofu or Hong Kong minced-beef gravy, plus glass noodles, chow mein and radish-and-cucumber salads. Wash it all down with some milk tea, green tea and even cheese tea, and add boba to any for only $1 more.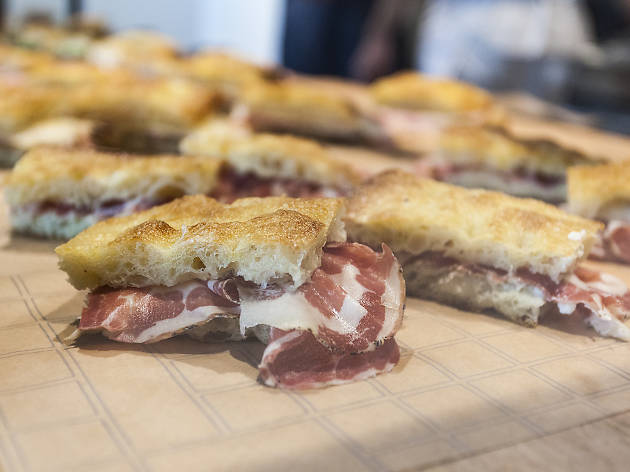 Photograph: Stephanie Breijo
As it stands, chef Chad Colby's pizzeria and focacceria is only signed on as a 90-day pop-up in anticipation of his forthcoming K-town restaurant, Antico—but his Roman-style slices and focaccia sandwiches are so masterful, so craveable, we can only hope he'll extend Piccolo Antico's run. Served by the slice or half-slice, these pizza squares come topped with thin sheens of fresh-tomato sauce along with combinations of olives, sausage, mozzarella, pepperoni, salami, bacon, basil and grilled peppers; there's also a white pizza dotted with sausage, sage and mozzarella. Focaccia sandwiches layer parmesan crema, mortadella, arugula, porchetta, provolone, giardiniera and more, while the adjacent baked-goods counter offers cookies, cakes and other treats.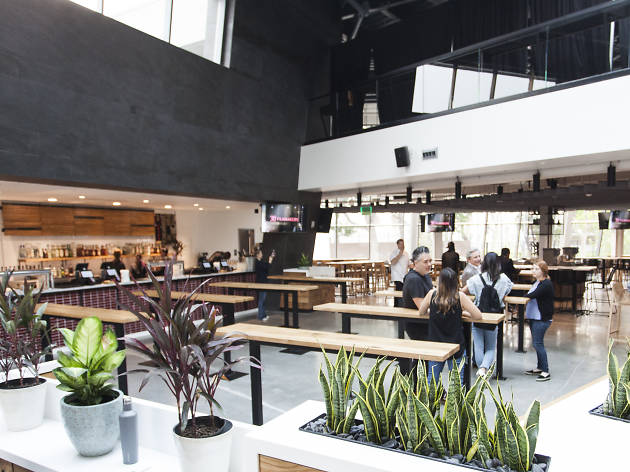 Photograph: Stephanie Breijo
Sure, the stadium itself has a slew of beverage options—including margarita and michelada carts—but the drinks at The Fields are where it's at. Nick Meyer and Julian Cox, who brought you the cocktails at Bestia and, more recently, Tesse, teamed up yet again for a program perfectly tailored to its surroundings. At The Fields LA, this means frozen drinks, kegged cocktails on draft and handmade seasonal concoctions in addition to an impressive craft beer roster curated by cicerone James Mhaoir and a wine selection built by sommelier Taylor Parsons, all enjoyable at the designated bar or throughout the grounds.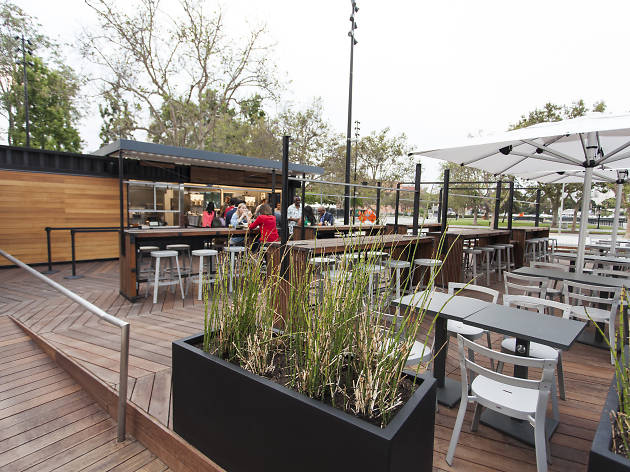 Photograph: Stephanie Breijo
As if The Fields and Banc of California Stadium didn't already give you a wealth of spots to sit and sip, there's now an outdoor beer garden area. This walk-up bar—complete with shaded patio—is where you'll find nearly 20 brews spread across draft lines, bottles and cans, plus a brief rundown of wine, frozen drinks and even some soft serve, because hey, it can get hot out there. Expect L.A. beers—Torrance's Strand Brewing and the Arts District's Boomtown Brewery are on the opening menu, as are others—plus imports like weissbiers from Germany and radlers from Oregon.
The Fields LA is attached to the Banc of California Stadium (3939 S Figueroa St) and open daily 11am to 10pm.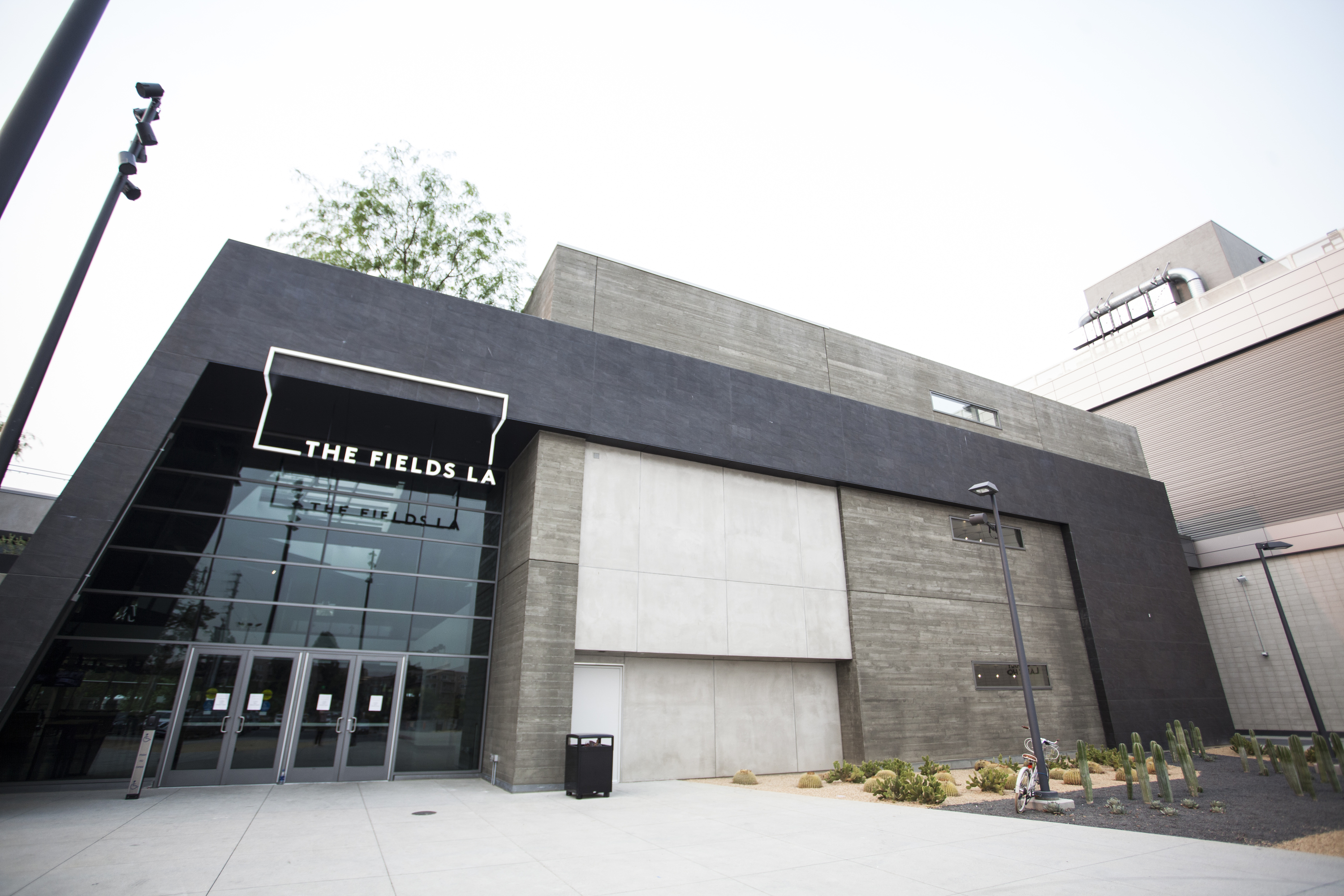 Photograph: Stephanie Breijo