The Original Farmers Market is nearly a century old, but it can sometimes feel like an afterthought for younger Angelenos due to the busier, newer shopping mall next door. In the last two decades, the 89-year-old market has become synonymous with the Grove, and all the traffic and parking headaches that come with it. In fact, many people aren't even aware that the two are separate entities; the grocery and dining destination is still owned by descendants of the late-19th-century entrepreneur Arthur Gilmore, whose acres of dairy-farm-turned-oil-field are now home to Television City, the Original Farmers Market and Rick Caruso's artificial, soullessly commercial "town square."
Whenever I'm waxing nostalgic about old-school L.A. landmarks with amazing food, I'll be honest: the Original Farmers Market isn't anywhere close to my radar. These days, the Farmers Market has morphed into a tourist attraction whose narrow passageways become frustrating to navigate on foot on weekends, when heavy crowds wander over from the Grove (a place with downright mediocre dining options). It's not a place I'd typically recommend Time Out readers visit merely off the food. And if you're mostly looking to bask in the glorious mix of sights, sounds and smells of a food hall, I'd rather direct you to Downtown's Grand Central Market, where the eclectic, high-quality mix of newer, chef-driven eateries and affordable lunch spots manage to cancel out the lack of free parking and equally hectic weekend atmosphere.
Still, the Original Farmers Market offers plenty of charms, even for a jaded L.A. native like me. In the last year, Magee's, the oldest merchant at the Farmers Market, has shed new light for me on just how delicious roasted, salted nuts can be. (After tasting their fancy mix, I'll never buy nuts from the grocery store again.) I've tracked down the only tomato jam within a 10-mile radius at Monsieur Marcel, the gourmet market and bistro on the East Patio. Plus, almost all vendors validate for an hour and a half of free parking in the adjacent lot—an absolute rarity in the area, and an underrated perk locals commuting by car can appreciate.
In the spirit of rediscovering the familiar, I'm pleased to announce the debut of Table at Third & Fairfax, a weekly review series where I'll eat my way through the Original Farmers Market for a whole calendar year and publish a column every Thursday. In other words, I'm committing to the bit; think Grub Street's The Year I Ate New York, but geographically smaller in scope. (I will, after all, still be reviewing other restaurants and keeping you all in the loop about all things food and drink related across the city, and I'm just one person!)
With only 32 official restaurant vendors, 52 weeks seems like ample time to get a run of the place, but that's only if you don't count repeat visits to try other menu items or see what a given eatery is like on different days, at different times and in different seasons. With such a sprawling coverage area, I often don't have the luxury of visiting the same restaurant multiple times a year, but Table at Third & Fairfax will allow me to do the opposite of just that as a regular at the L.A. landmark—and letting you know along the way what is worth ordering the next time you're at the Original Farmers Market.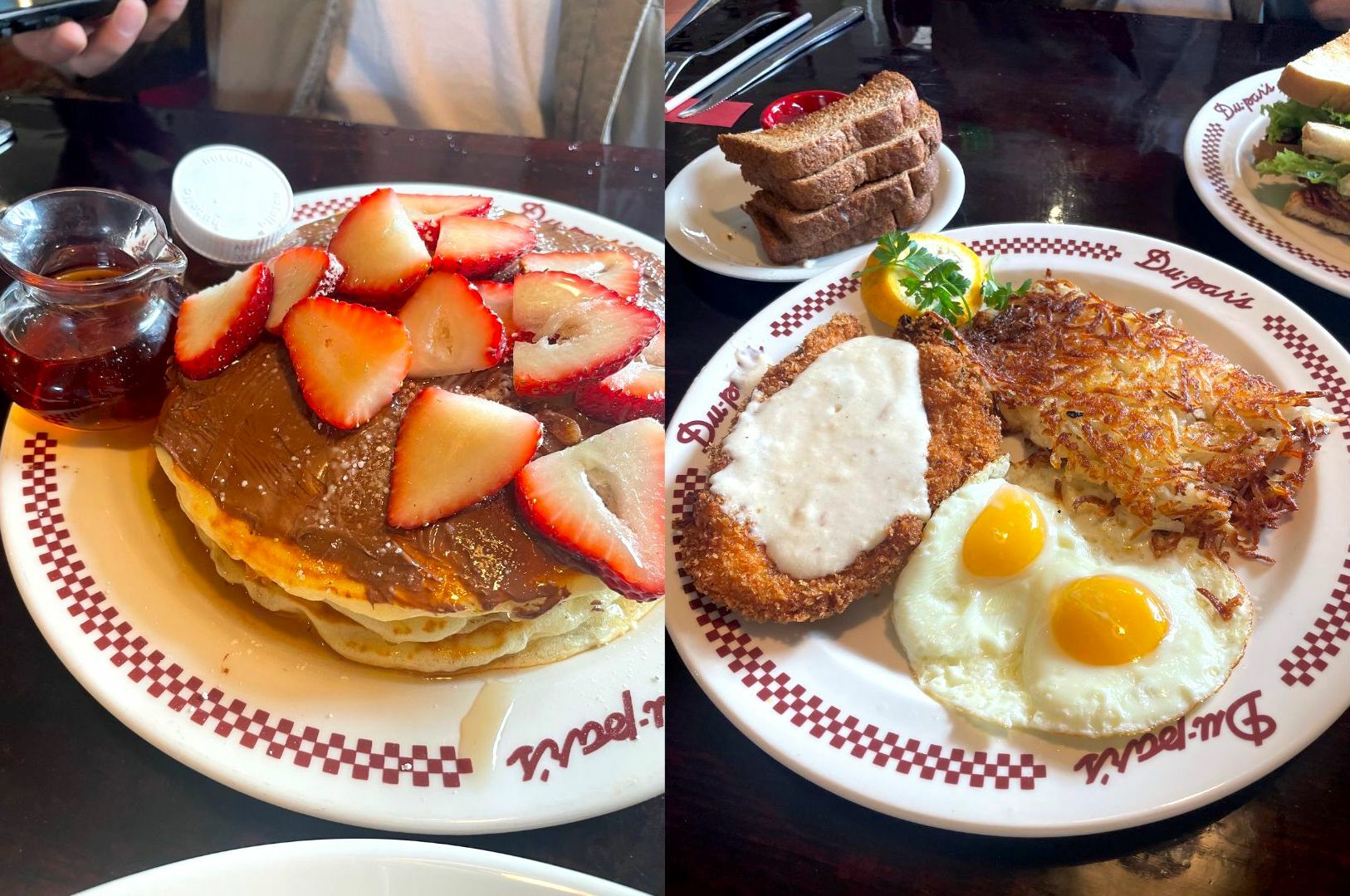 Table at Third and Fairfax: Breakfast at Du-Par's & Waffleshot
On a recent weekday between spells of winter rain, I kicked off my dining column with a late morning stroll through the market, unsure of where to begin. Alongside me was frequent Time Out video contributor, Richard Tranley, to shoot an Instagram Reel to kick off the series. By noon, the market had already begun to swell with foot traffic. The narrow passageway between Farm Boy Produce and the Magic Nut and Candy Company, where we'd tried staging a few shots among the colorful fruit stands, was starting to get congested, and we decided to head to Du-par's.
Open since 1938, the Farmers Market classic is known for its stacks of pancakes, all-day breakfast and pies, whether ordered by the slice while dining in or picked up whole from a separate bakery counter. Despite walking by it countless times over the years, I've never actually managed to make it into Du-par's. For some time, it was a cherished late-night spot, but the pandemic put an end to that. Now, it closes at 7:30pm (or an hour later on weekends). In my fuzzy adolescent memories, there was always some kind of wait at Du-par's, so my friends and I would opt for something quicker.
True to its reputation and popularity, a small line had formed outside, and a host came to inform us that waiting parties would only get seated every 15 minutes or so. The people in line were already visibly disgruntled as an older woman in front of us began loudly complaining about "nobody" wanting to work and children wearing masks, which didn't exactly improve the atmosphere. I decided to fast-walk over to the Grove for a quick shopping errand. By the time I returned, 20 minutes later, it was time to be seated.
Once inside, it was clear the restaurant was short-staffed despite the holiday crowds. A server took our drink orders and promptly informed us any food would take more time than usual to come out, which Richard and I tacitly accepted as part of patronizing the place. Du-par's isn't the only place in L.A. to be shorthanded right now, but it's worth noting for anyone hoping to visit that this isn't your standard get-in, get-out diner experience. I can't deny that the wait for food wasn't frustratingly long, though I tried my best to hide this from our overworked server, who was only doing his best.
After another 20 minutes, our meal finally came out: country-fried chicken breast with a side of hash browns and two eggs, sunny side up; a BLT sandwich with avocado and seasonal fruit; and a short stack of pancakes topped with Nutella and strawberries. "This kind of tastes like a white version of katsu," mused Richard (who, like me, is Asian), as he sliced into the chicken. Topped with a somewhat bland country gravy, the traditional breakfast dish sprang to life with a light shower of table salt, especially when sandwiched in between bites of the perfectly crispy hash browns.
Richard's BLT(A), however, left something to be desired, with sad, pale red tomatoes, overcooked bacon and paltry slices of avocado. Once I'd dug into both savory dishes, I turned my attention to Du-par's famous pancakes. Fluffy, sweet and delicious, they were the platonic ideal of the diner pancakes. Would I wait as long as I did for them again for any old meal? Probably not, but combined with the cozy, old-timey ambience, I wouldn't mind stopping in earlier in the morning or whenever Du-Par's appears far less busy.

After tip, and including two iced teas, the bill ended up being around $35 per head—not exactly the cheapest diner you'll find in L.A. To make the most of Richard's video skills, we decided to head out and buy something photogenic from Waffleshot, the coffee stall best known for its shot-glass-size waffle cones. Each cone is covered in your choice of caramel, chocolate and other sweet toppings and comes filled with drip coffee, espresso or ice cream.
In the interest of #content, we ordered the over-the-top affogato version ($7.75), which promptly came out after the barista pulled a fresh shot of espresso. Even with Richard filming me as I took my first bite, I could barely hide the disappointment on my face. The cone itself was somewhat stale, and even the vanilla ice cream and coffee combination couldn't make up for the edible vessel's poor taste and quality. Throwing the rest of the cone in the trash, I parted ways with Richard, hoping for a better end to my future meals at the Farmers Market.
We'll be sorting meals from Table at Third & Fairfax into three categories: Skip It, Worth Trying and Must Have.
Vendor: Du-Par's
Order: Country fried chicken breast with hash browns and two eggs, Nutella strawberry pancakes and a BLT(A)
Verdict: Worth Trying. If I had time on my hands and I wanted an all-day breakfast, I'd definitely come to Du-Par's and order the pancakes and the country-fried chicken again. (I definitely also want to come back to try more of the lunch/dinner menu.)
Vendor: Waffleshot
Order: Affogato in a chocolate-covered waffle cone
Verdict: Skip It. A tourist trap treat if I ever saw one, though it did deliver a much needed jolt of sugar and caffeine after a heavy meal.
Check back every Thursday for the latest Table at Third & Fairfax dispatch.