Table at Third & Fairfax is a weekly dining column where Food and Drink editor Patricia Kelly Yeo will eat her way through the Original Farmers Market in 2023. Each column will drop on Thursday for a week-by-week recap of her journey through the classic L.A. tourist attraction. Last week, Kelly introduced the column and tried Du-par's and Waffleshot.
Who will you find at the Original Farmers Market on a rainy Monday morning at 9am? Aside from a smattering of diners inside Du-par's and Starbucks, plus workers opening and setting up stalls, hardly anybody. Though awnings throughout the market provide ample coverage from the less-than-ideal January weather, I spy just a handful of people, primarily with gray hair, making their way towards the handful of open vendors selling breakfast, pastries and caffeinated beverages. Most of the signature bright green chairs are still folded up, but there's plenty of seating on the East Patio as I head to Bob's Coffee & Doughnuts (est. 1970).
Though it's not as old as other vendors like Magee's Kitchen and Littlejohn's English Toffees, the doughnut counter is still considered a Farmers Market classic. Founded by the namesake Bob Tusquellas, whose father once ran a meat counter inside the market, the family-run shop offers an early bird special, available daily from 7 to 9am, for any doughnut of your choice and a cup of coffee for just $3.50. The same deal is offered from 6 to 8pm, just before close: A smart business move, since the shop doesn't sell day-old treats as a rule.
I know I'm already too late for the early bird special, but I opt to try one of the apple fritters, which sadly aren't ready yet—the woman working the counter says they'll take 15 minutes. For now, I settle for a half-caf coffee with milk ($2.40) and walk around the market to take stock of what else is up and running. Thus far, it's just Michelina Artisan Boulanger and Nonna's Empanadas. Given that I'm waiting for something sweet, I opt for two of the Argentine meat pastries in beef and chicken alfredo ($5.10 each), though Nonna's also offers sweet versions in flavors like guava cream cheese and banana dulce de leche.
Settled back into a table by Bob's, I first take a bite of the beef empanada. It's meaty and well-seasoned with bits of red peppers, olives, eggs and onions inside. The chicken alfredo, predictably, tastes like alfredo sauce with chicken in it. The crusts of both pastries are flaky and still warm from the heat lamp. The herbaceous chimichurri sauce on the side adds extra flavor, but it's largely unnecessary for both pastries, delicious as they are on their own.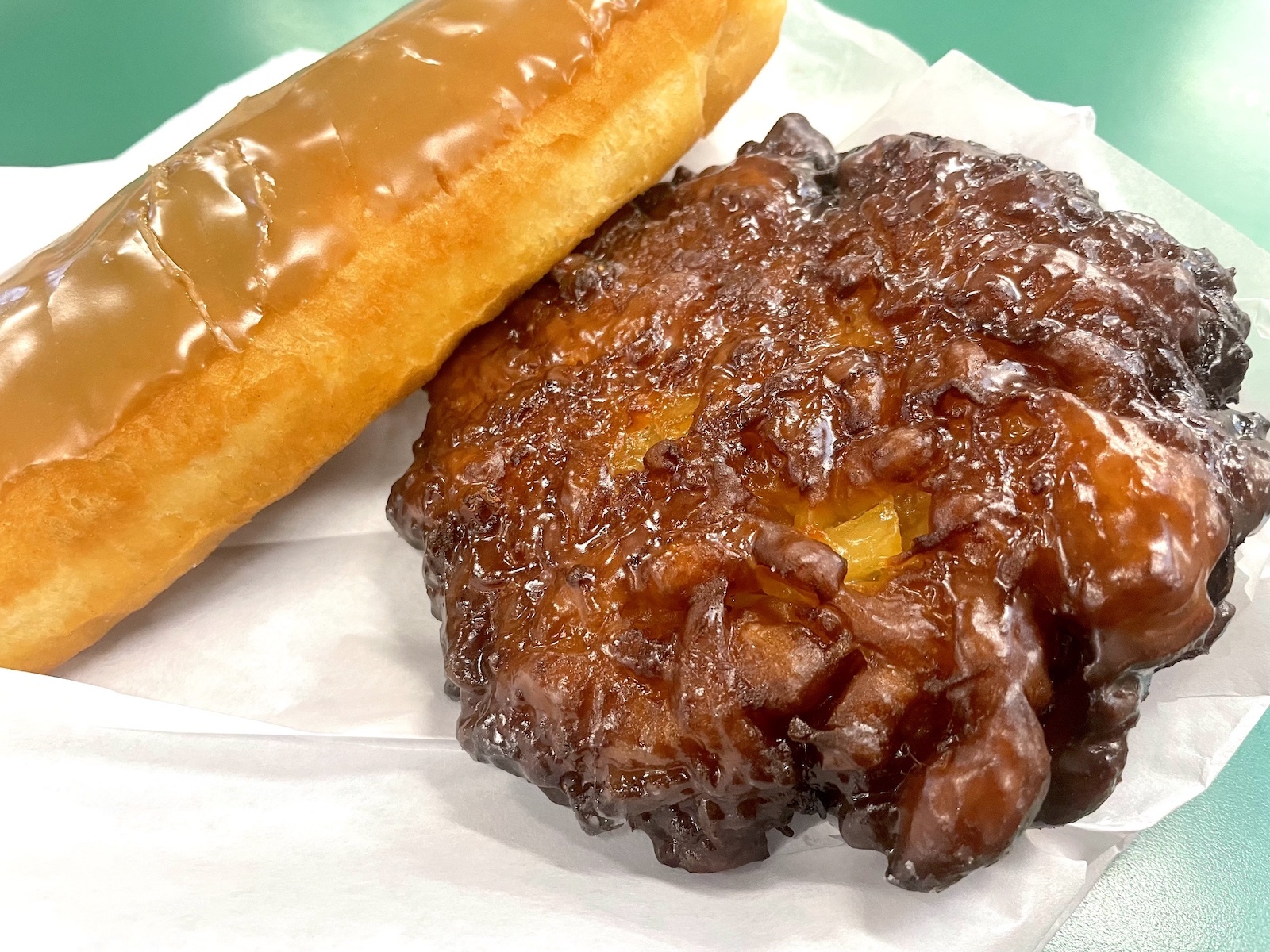 By the time I'm done sampling both empanadas, the apple fritters are nearly ready, and I stand by the counter, antsy with anticipation. In addition to the apple fritter ($3.15), I order a raised maple bar ($2.75). The decadent deep brown fritter, still warm from the fryer, comes with a thick sugar glaze, and is well worth the wait with subtle hints of sweet apple. The maple bar, however, is about average—nothing out of the ordinary, but a tad bit pricier than the type you'd find from a pink box doughnut shop or Randy's Donuts, another L.A. classic.
Relatively speaking, the doughnuts at Bob's cost more than other non-artisan shops, but I do think the slight premium is a small price to pay for their unflagging consistency. I've had truly terrible stale doughnuts at random pink box shops in L.A., but you won't have that problem at Bob's. Then again, they're not the best ones you'll ever have either. If you don't live or work in the area, I still wouldn't recommend going out of the way for them, though the discount coffee and doughnut deal is a nice touch. On the other hand, I would suggest Nonna's for those craving a perfectly crafted empanada. It's not the market's flashiest offering, but the handheld snack is elegant in its simplicity. As of late, Nonna's has also opened a freestanding location on West 3rd Street—if you'd rather avoid the crowd situation at the Original Farmers' Market.
Meals from Table at Third & Fairfax fall into three categories: Skip It, Worth Trying and Must Have.
Vendor: Bob's Coffee & Doughnuts
Order: Half-caf coffee, apple fritter and raised maple bar
Verdict: Worth Trying. The apple fritter is definitely a Must Have, but the standard varieties here likely won't impress as much as the ones from Sidecar Donuts just across the street.

Vendor: Nonna's Empanadas
Order: Beef empanada, chicken alfredo empanada
Verdict: Must Have. In my eyes, these empanadas are worth the premium—though I know plenty of folks who will scoff at a $5 empanada when cheaper ones exist elsewhere.