After months of preparation and anticipation, it's finally here: Konbi, Echo Park's sleek Japanese-inspired café, is now open along the edge of Angeleno Heights with a walk-up window, a dine-in counter and a whole lot of care.
It's been a big year for Japanese restaurants hitting L.A., including an onslaught of fast-casual spots that range from takoyaki octopus balls and kara-age fried chicken to house-made tsukemen ramen noodles—not to mention painstakingly prepared bento boxes and spots that skew toward the fine dining spectrum. But the latest addition is something altogether different, a 10-seat counter and katsu-sando outfit that overlooks a buzzing and streamlined kitchen from the likes of two David Chang alumni.
"We went around Tokyo just to understand the hospitality of Japan and the design," says Akira Akuto, who's opening Konbi with fellow chef and longtime friend Nick Montgomery. "Obviously you can't recreate the pace—people take coffee very slowly there, it's not like you roll up, get a coffee and go. It's just the care that they put into making everything is high-level, the ingredients are high-level, and the availability of great sandwiches at a good price are what really inspired this."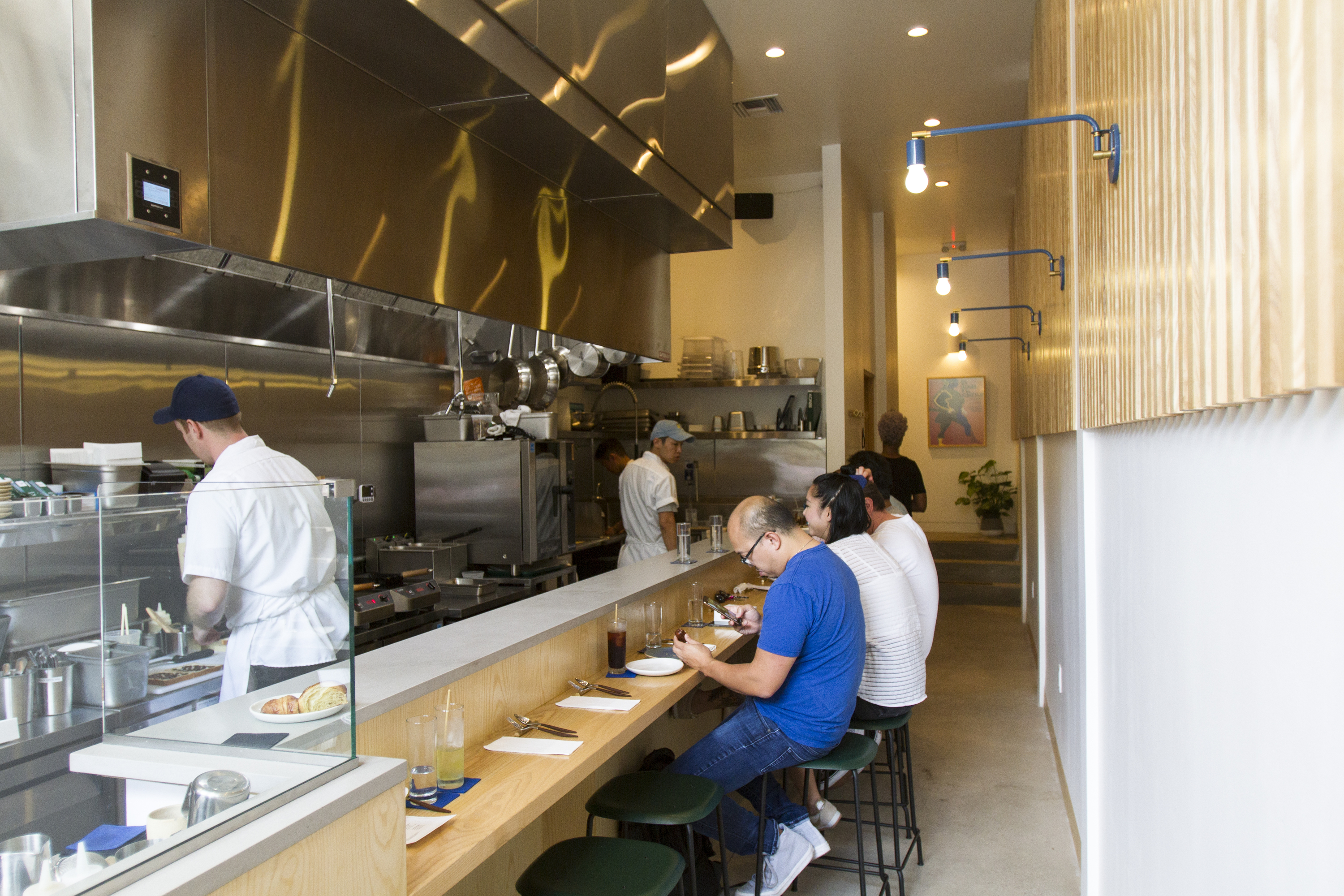 Much like you'd find in Japanese kissaten, there's a focus on both quality coffee and tea. Konbi serves the same menu at its dine-in counter as it does its walkup window, meaning you can snag sustainably sourced espresso and drip from the full coffee program—which includes cortados, lattes, cappuccinos and cold brew—whatever your pace, as well as herbaceous and unique teas shipped directly from Japan. Iced sencha and a roasted green tea are on the opening menu, as is the Konbi Chata, a vegan and Japanese-leaning take on horchata of sesame seeds, rice and soy beans, all toasted, with the addition of burnt ginger.
The food menu, while limited, is a masterclass in efficiency. The cramped kitchen space—all of which is visible to patrons seated at the counter—manages to pump out four simple-seeming but technically-challenging katsu sandwiches in addition to a handful of roasted and pickled seasonal vegetables and an impressive daily pastry offering.
"There are definitely limitations to what we can do, mostly based on size," Akuto says, adding that much of the food—such as the layered omelettes—rely on advance preparation to streamline productivity. When the café opens at 7am each day, the eggs are already ready for their dashi simmer over an induction burner and gentle formation via wooden press. Then there's the pork katsu, whose patties are prepped and breaded before the doors open, later frying and getting layered onto Bub and Grandma's milk bread along with cabbage slaw and Bulldog sauce.
Another egg option, the egg salad, features an entire jammy egg, while an eggplant katsu marinates the vegetable in a burnt-onion dashi before it's breaded and fried, then served à la the pork sandwich.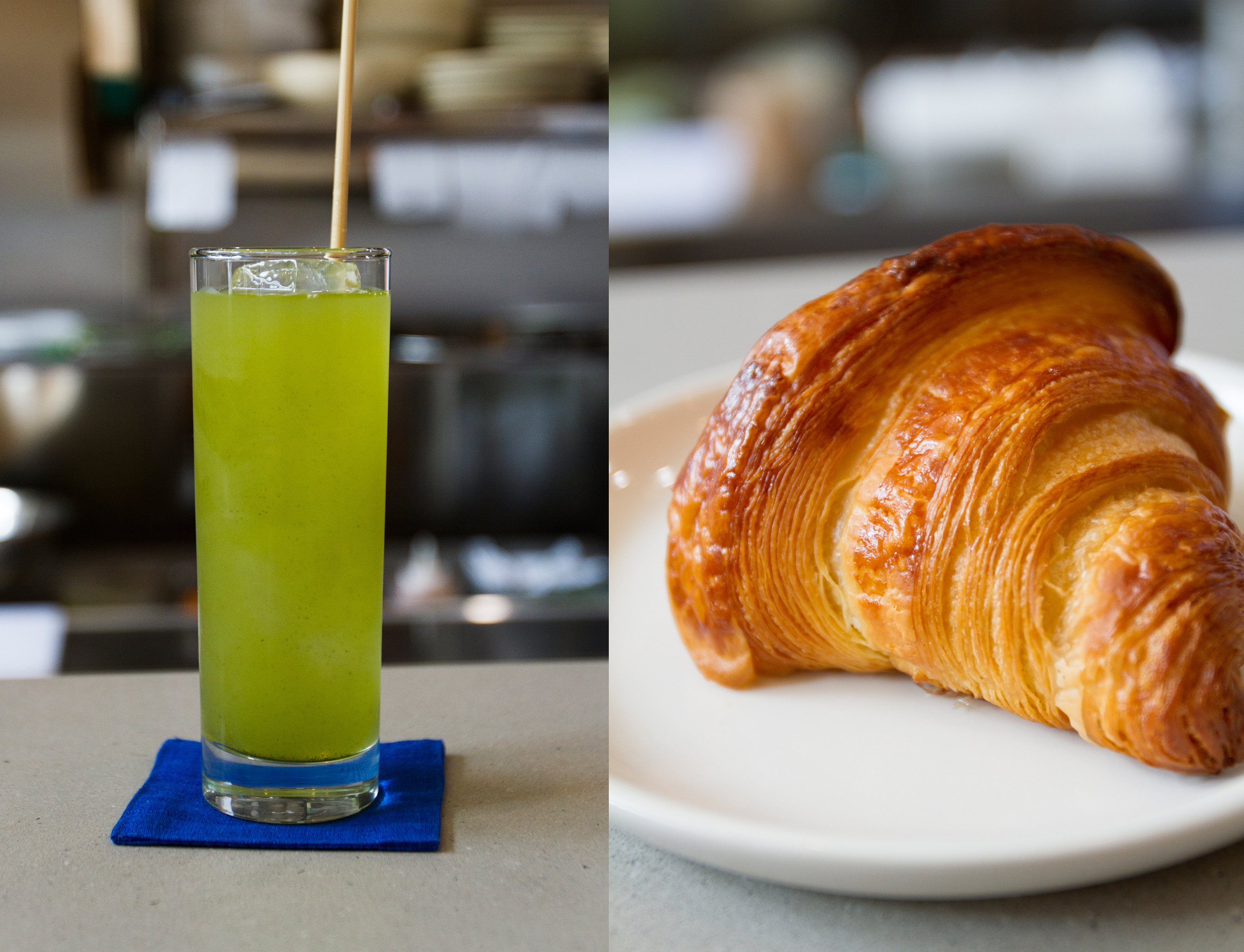 Iced sencha, left, with a classic croissant
Vegetable small plates include pickled cucumbers, shiitake mushrooms and kombu; a vegan dish of roasted sunchokes with pistachio dip and nori; honeynut squash salad with pear, walnuts and a miso dressing; and turnips with Meyer lemon, sesame and toasted rice, among other options.
The pastry selection is "super-French," in Akuto's words, a brief handful of hand-laminated croissants, and mocha craquelin and canelé, all baked fresh in the morning and served until they run out.
"We'd done a couple of pop-ups and, surprisingly, some of the stuff was good," says Akuto. "Some of the stuff we made as throwaways were Japanese breakfast things people were really into." The success is of course unsurprising to anyone who's tasted Akuto and Montgomery's cooking—or knows their pedigree.
The now-longtime friends met roughly a decade ago while working in New York's Ssäm Bar, Akuto with additional experience in NYC's Italian kitchens and the original Momofuku Noodle Bar, and Montgomery who'd worked his way through the South and Frank Stitt's kitchens, later moving on to Chicago's Blackbird. Both eventually arrived in Los Angeles—as it feels all New York and Chicago chefs now do—and began a series of pop-ups and projects, including the lauded and since-shuttered Osso in Little Tokyo.
Take a peek at what you can expect from Echo Park's newcomer here, then stop by and order a croissant or four for yourself: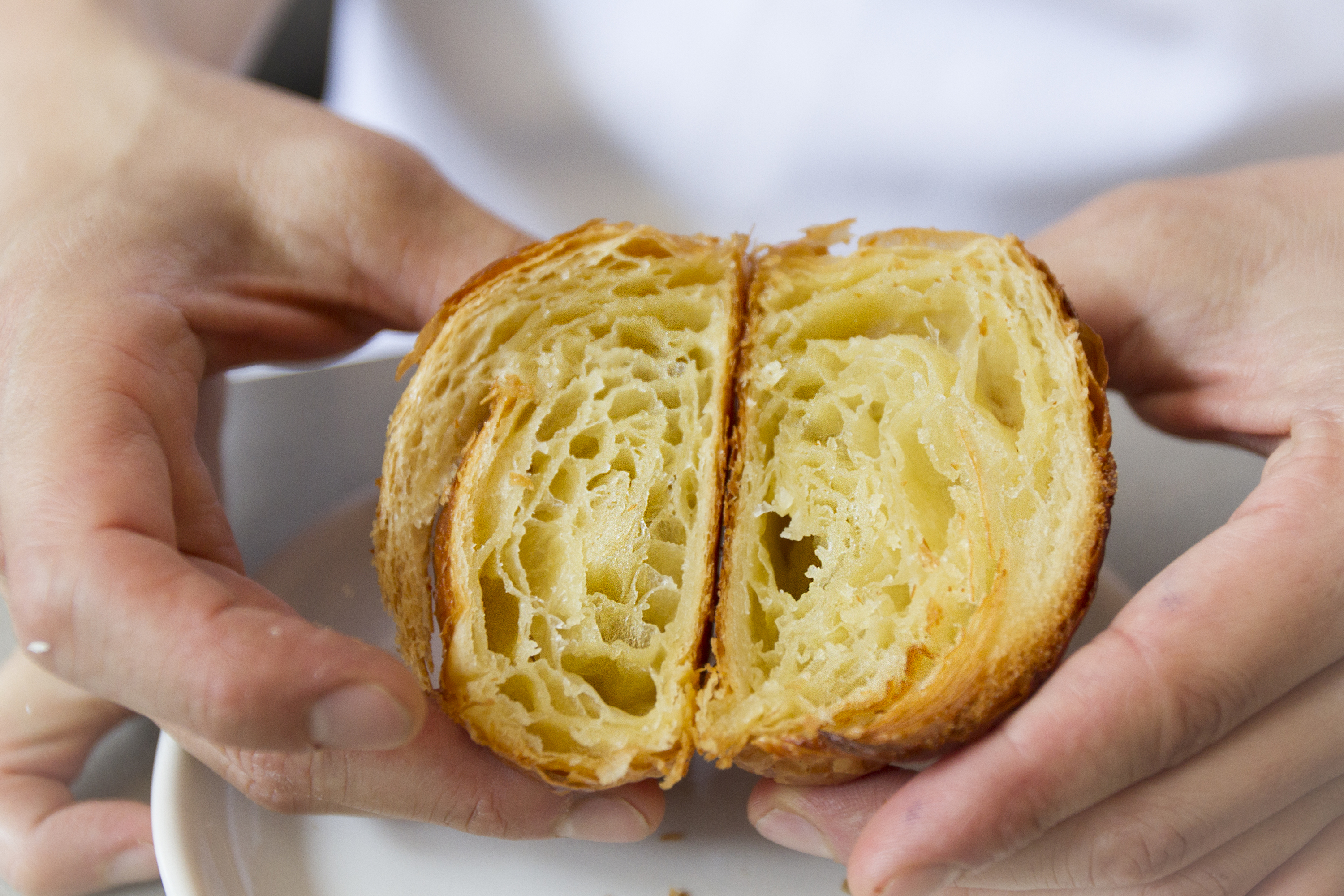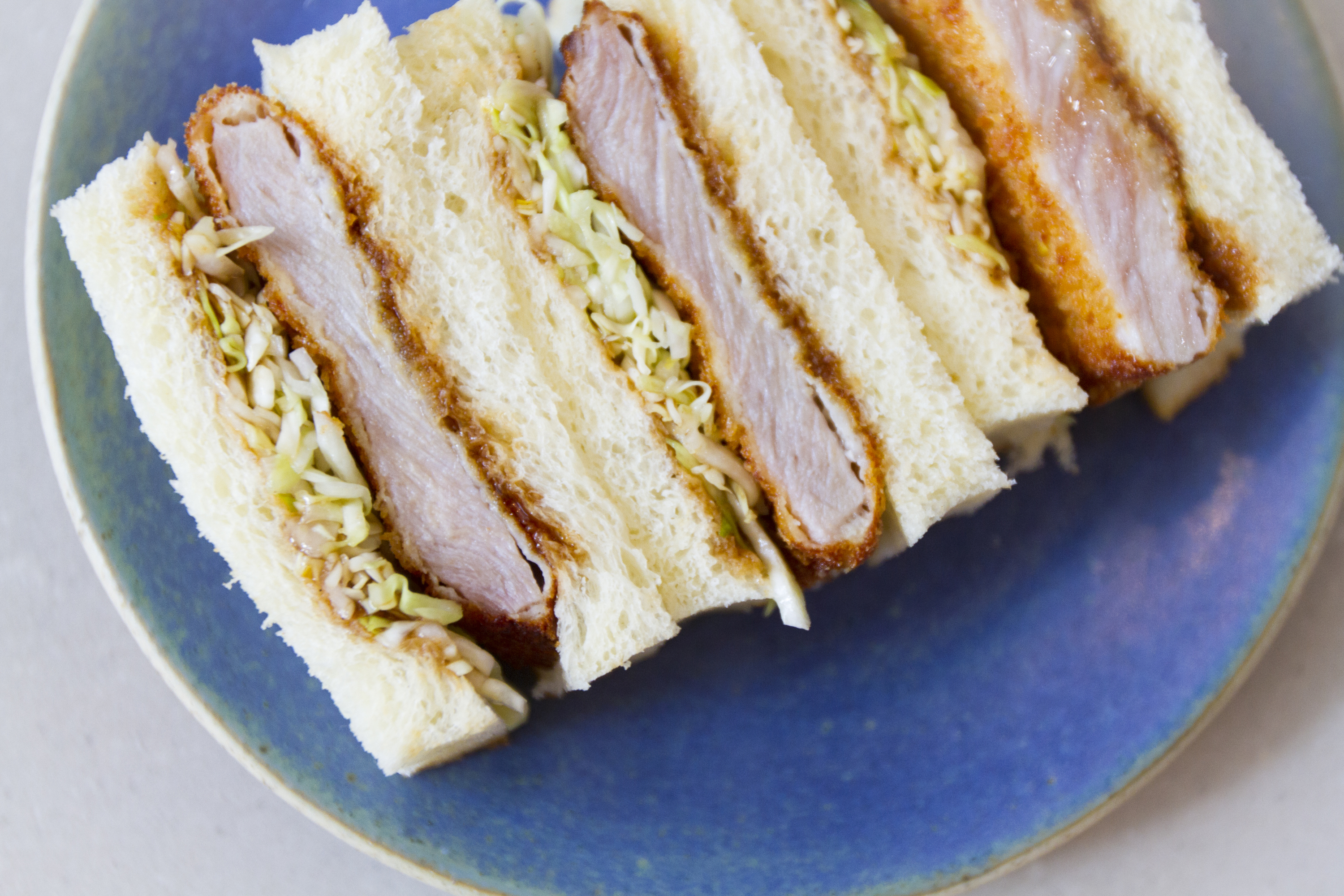 The pork katsu sandwich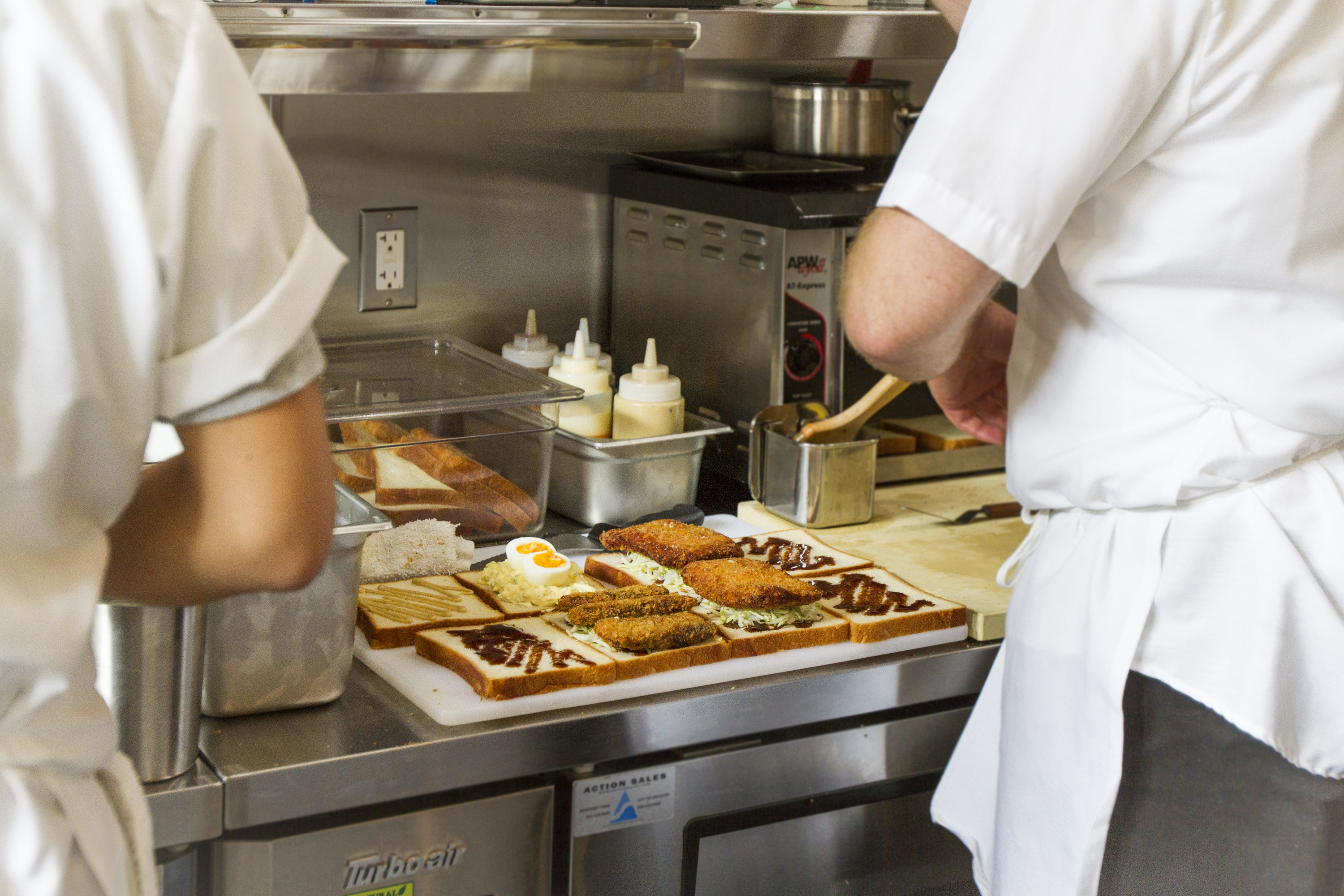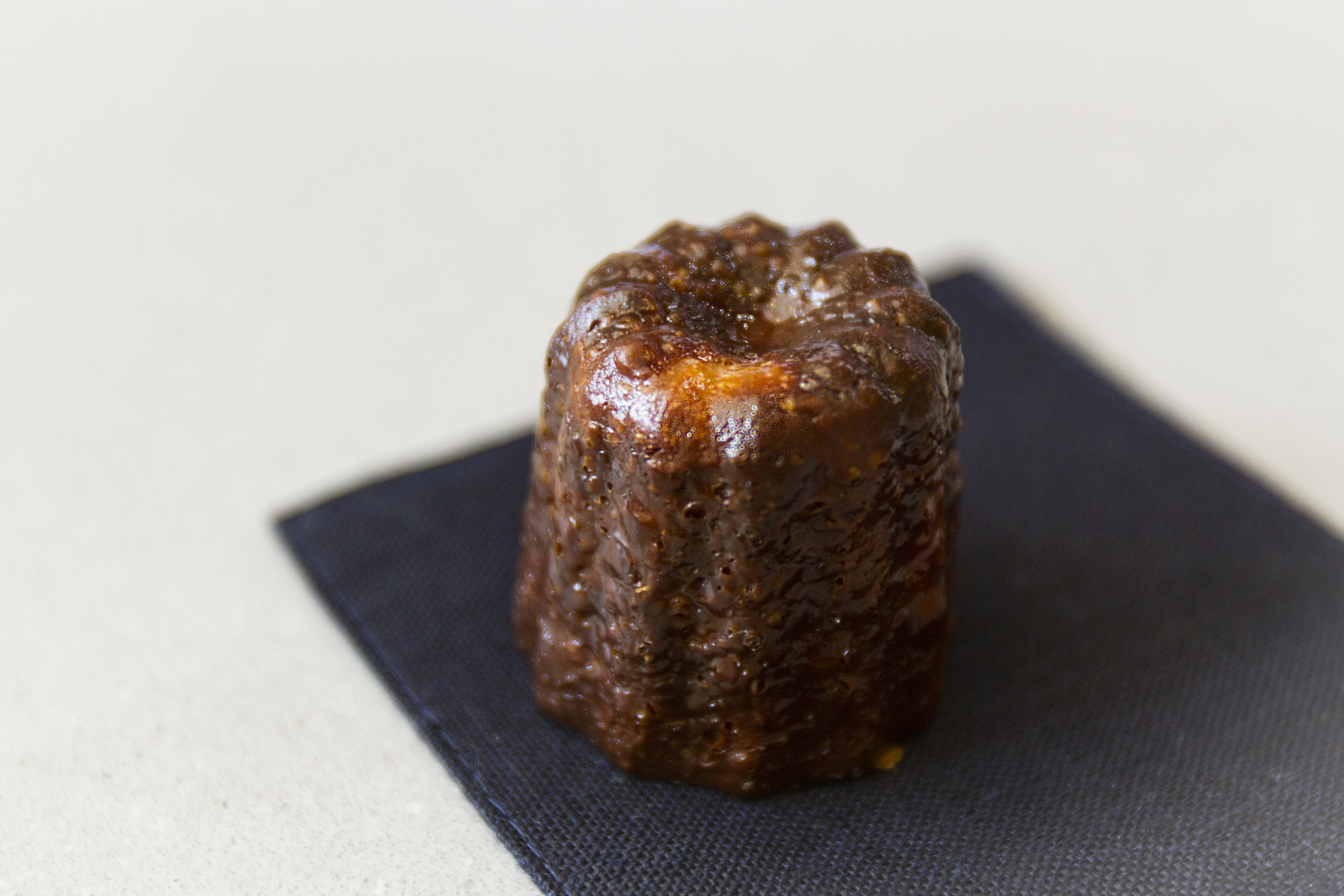 A classic French canelé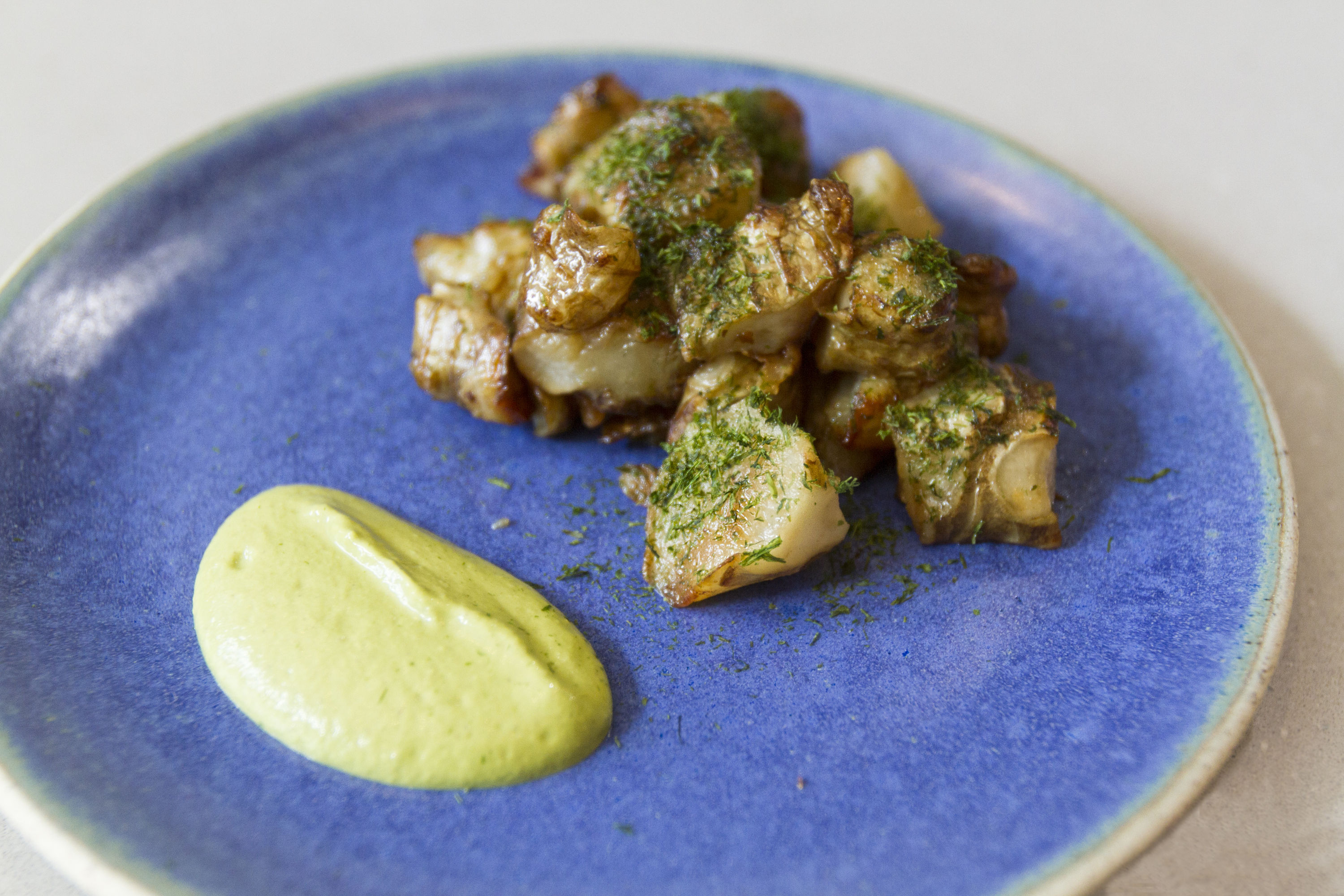 Nori-topped sunchokes with a pistachio dip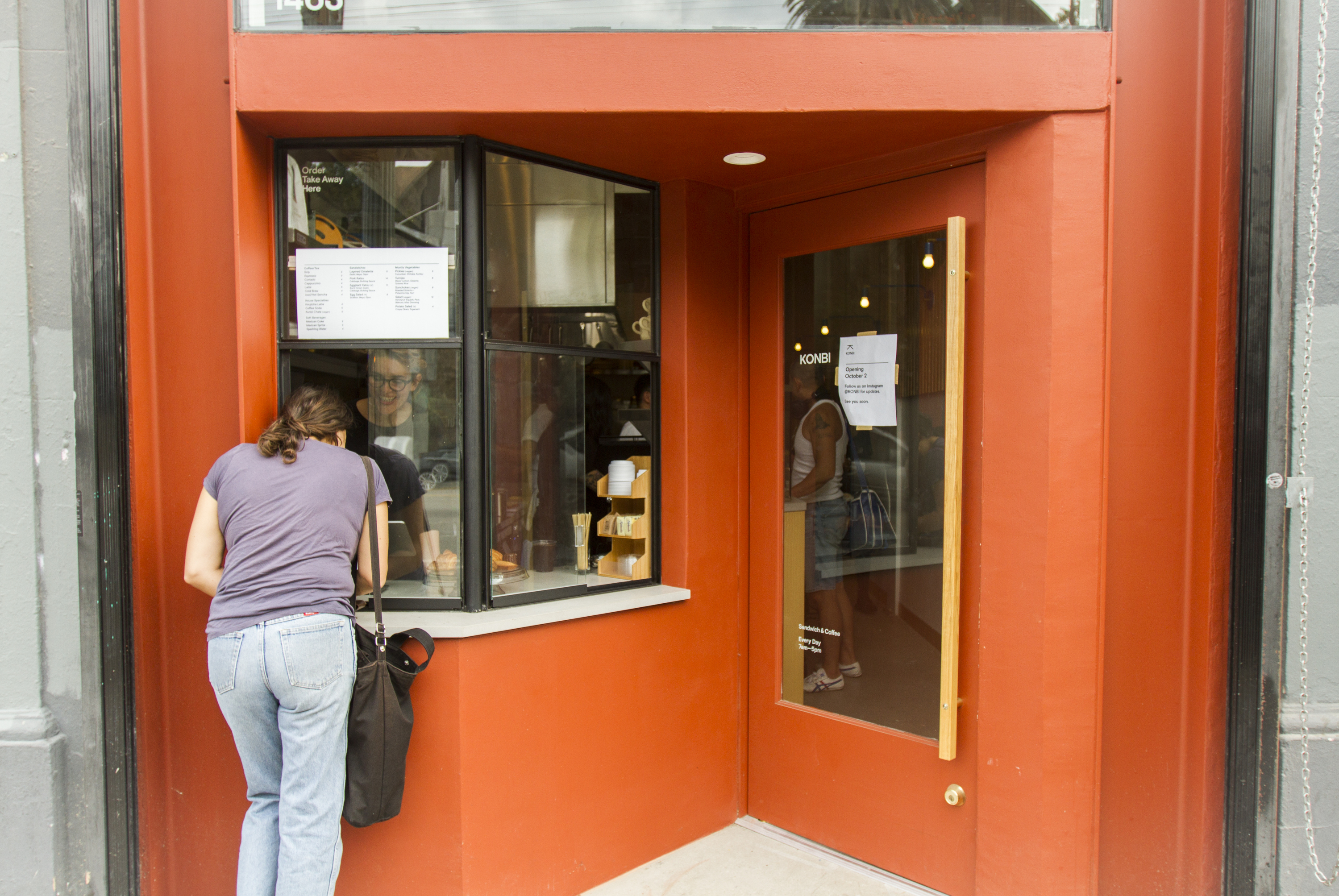 Konbi is now open at 1463 Sunset Blvd, with daily hours of 7am to 5pm.