You should already be planning to vote, but if it takes a little extra incentive to get you to the polls, have we got news for you: Every year, restaurants, bars and shops across L.A. offer discounts and free items when you flash that "I VOTED" sticker. On November 6, 2018, that's no exception, and a little civic pride this year can net you cheap cocktails, free wine, one-cent beers and so much more—although we all know there's nothing sweeter than the taste of democracy.
1933 Group's $1 cocktails
One of the city's largest bar groups is going all-out across town, so whether you're a vodka or a whiskey fan, you'll find something near you when you provide proof that you voted. Culver City's Oldfield's Liquor Room, West L.A.'s Bigfoot Lodge West, West Hollywood's Harlowe and HLP's Highland Park Bowl will all be offering $1 old-fashioneds, while Hollywood's Sassafras, North Hollywood's Idle Hour, Silver Lake's Thirsty Crow, Highland Park's La Cuevita and Atwater's Bigfoot Lodge will all sling $1 Moscow mules made with house ginger beer. The number of drinks you can purchase is unlimited, but the deal only runs from 5 to 7pm or until the bars run out. Fair warning.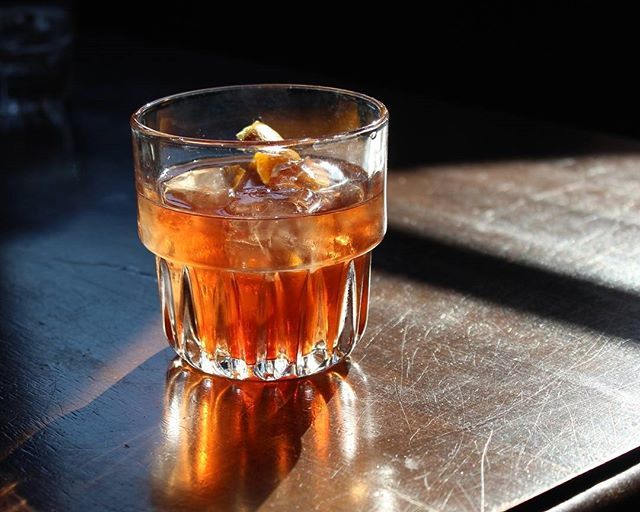 The Abbey's $5 shot and free viewing party
Looking for a spot to sip while the results roll in? West Hollywood institution and bastion of liberal lifestyle The Abbey has you perfectly covered with the $5 Blue Wave shot special, which is made with Tito's, blue curaçao and Sprite. (Soda? Domestic vodka? What could be more American?) Find the shot on offer from 11am to 2am, and the TVs tuned to election coverage in both the Chapel and the Abbey; the special and screening party are open to all, even those without the sticker. (Go vote anyway.)
Artisanal Brewers Collective's BOGO one-cent beers and apps
Craft-beer lovers, this one's for you: At nearly every Artisanal Brewers Collective-owned bar—and there are a lot of them—you can snag a one-cent beer with the purchase of any bottle or draft. Burbank's Tony's Darts Away, Marina del Rey's Brennan's, Miracle Mile's 6th & La Brea, Sherman Oaks' Bluebird Brasserie, Echo Park's Mohawk Bend and Downtown's Spring St. Bar, Beelman's and Corner Cantina will all sell you a beer of your choice for only a penny once you've already ordered a beer at regular price.
In fact, only a couple of ABC's properties aren't offering BOGO one-cent beers, but that's because they're slinging BOGO one-cent appetizers: Head to Westwood's Stalking Horse Brewery & Freehouse for vegan and non-vegan British fare (we're talking apps like Yorkshire pudding and Welsh rarebit), and to the nearby Broxton public house for options such as biscuits, buffalo cauliflower, and ham with hush puppies.
Note: For both beer and apps, there's a limit of one special per guest, and you must bring your "I VOTED" sticker.
Bacari's free sangria
This Italian-leaning collective will give you free wine at any of its four locations and all you need to do is vote—which you were going to do anyway, right? Whether you're hitting up Playa del Rey's Bacari PDR, Glendale's Bacari GDL, Exposition Park's Bacaro L.A. or the latest, Bacari W. 3rd along West Third Street, you can expect a free glass of house-made red sangria made with lime, orange, apple, orange liquor, pineapple juice and spice.
Bird & Bees' $5 cocktails
While many hope for lawmaking and representation that's not reminiscent of 1950s America, we still recommend you head to DTLA's 1950s-themed bar. Bird & Bees, a midcentury–inspired speakeasy hidden at the corner of a parking lot, will sell you $5 old-fashioneds and $5 daiquiris when you show them you've exercised your right to vote.
Granville's free bites or sweets
Have a sweet tooth? What about a craving for something savory like, say, fresh hummus, toasted rye bread with salmon spread, or some gruyère mac and cheese? West Hollywood's Granville has you covered either way with a free appetizer or dessert when you show 'em that sticker. We can already hear that banana brownie and the lemon-and-yuzu mousse calling our names.
The Greyhound's cheap wings
Highland Park's neighborhood pub is giving the people what they want: cheap wings, in both chicken and veggie varieties. Provide proof you voted, and if you're a traditionalist, you can snag chicken wings for half-off—which means as many as 20 wings for only $10, and in a range of sauces such as BBQ, cajun, garlic parm, jerk, honey sriracha, tandoori, and chile con limón. Those looking for something a little less meaty can turn their attention to buttermilk-marinated, fried cauliflower "wings" tossed in all the sauces that can get poured on their poultry counterparts.
Lemonade's free drink
All of that voting can really work up a thirst, and every location of the fast-casual, citrus-loving café Lemonade knows how to quench yours. Simply show up with sticker in hand (or on clothes, as the case may be), purchase any item and you'll be treated to a cold-pressed lemonade, on the house.