If you've ever spent a night at Koreatown's Break Room 86, or Good Times at Davey Wayne's, Harvard & Stone or No Vacancy in Hollywood, you already know firsthand about the work of Mark and Jonnie Houston—the twin brothers behind many of L.A.'s best nightlife experiences mixing live entertainment, theatrics and booze.
Now, inside Downtown's brand-new Moxy and AC Hotel (scheduled to open April 4), the pair will debut their most ambitious project yet: Level 8. Taking over the hotel's eighth floor, the multi-concept restaurant, lounge and nightclub will lead visitors on a journey told through the eyes of the venue's fictional founder, Mr. Wanderlust—which is also the name of the entrance cocktail bar. Located barely a block from the Crypto.com Arena and across the street from the Los Angeles Convention Center, Level 8 is definitely geared towards event-goers, travelers and tourists in the area.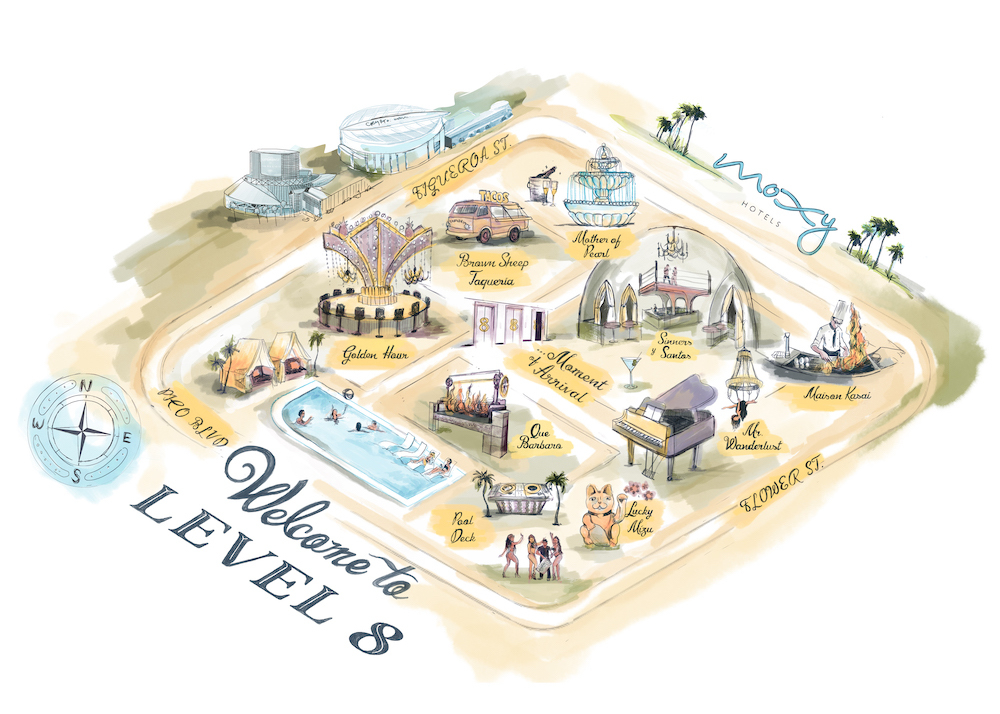 Inspired by the Houstons' various travels, Level 8 will pull from destinations as far-flung as Buenos Aires and Tokyo in the form of three sit-down restaurants, two more casual eateries, two cocktail bars, a pool deck and a nightclub. From the elevator, guests will enter Mr. Wanderlust, which faces east towards Flower Street. Next door to the cocktail bar will be Maison Kasai, a Benihana-style teppanyaki restaurant, with Lucky Mizu on the other side, which will serve globally-inspired Japanese hot pot.
On the Figueroa side, which overlooks both the arena and convention center, the eateries Brown Sheep Taqueria and Mother of Pearl will serve tacos and oysters and champagne, respectively, next to what will likely become one of L.A.'s most unique rooftop destinations: Golden Hour, a rotating carousel bar with tropical cocktails next to a Miami-meets-Brazil open-air deck. Poolside, Que Barbaro will serve more casual eats. Lastly is Sinners y Santos. Inspired by old Roman Catholic cathedrals, the nightclub will have its own speakeasy-style entrance close to the elevators.
While no exact opening date has been announced, reps for the pair's group, Houston Hospitality, say to expect Level 8 to debut by the end of June.
Level 8 at the Moxy and AC Hotels 260 S Figueroa St, Los Angeles, CA 90015