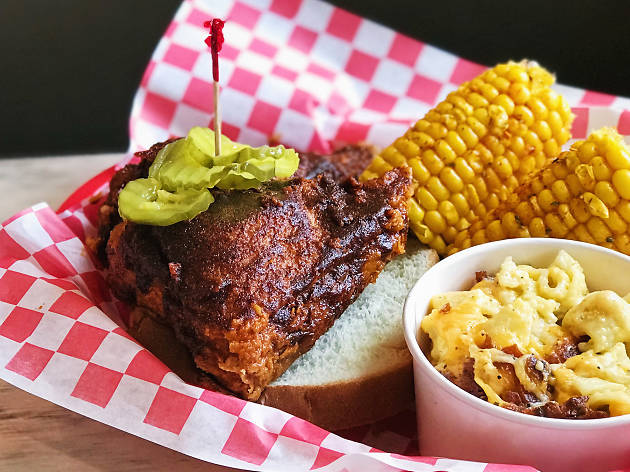 These apps and maps find black-owned L.A. restaurants near you
Find new and nearby spots to try with the push of a button.
Posted: Friday June 5 2020, 4:05pm
From donating to marching to spreading the word, there are a number of ways to help L.A.'s black community and the Black Lives Matter movement. One of our favorites? With food, of course.
L.A. is home to a wealth of cultures and cuisines, so if you're not sure where to start, a number of new apps and websites can help you find nearby black-owned restaurants, coffee shops, tasting rooms and retailers across the county. Some can pull up restaurants using your smartphone's location, while others simply provide an overview, and there's even one that serves as a virtual marketplace spotlighting sauces, spice rubs and other goods you can order with the click of a button. Here are a few new methods for finding L.A.'s black-owned restaurants, now and always.
View this post on Instagram
Kat Hong + UCLA's The Menu: Last weekend L.A. food writer Kat Hong created and shared a spreadsheet of the names, locations and descriptions of black-owned restaurants located across L.A. County. The guide now details nearly 300 restaurants to support, and is a growing, loving effort with contributions from restaurant fans and chefs alike. "I'm really proud that this is truly a community document," Hong told us at the top of the week.
In the vein of that community spirit, UCLA food-focused, student-run radio show The Menu lent a hand this week to build a map based on Hong's list. No, there's no app for it, but thanks to the combined efforts of Hong and The Menu co-hosts Henry Haprov and Beliz Urkmez, finding black-owned restaurants to support near you is easier than ever.
View this post on Instagram
EatOkra: While a number of apps will help you find black-owned business in general, the free app EatOkra is entirely about finding food. You can browse through cuisines including African fare and Caribbean spots, or scroll your way through vegan- and vegetarian-friendly options such as Leimert Park's Hot and Cool Cafe or Windsor Hills' Simply Wholesome (hello, spinach patties). If you want to find what's closest, simply hit the "Local Eats" tab and you'll find restaurants within around five miles of your current location, or search by all of Los Angeles. Each venue lists hours, the services they offer (takeout, delivery, etc.), their contact info, website link and even a user review rating system, denoted by pieces of okra, naturally.
What's more, EatOkra includes a marketplace that highlights food items by black-owned companies and makers from all over the country, which means you can order bottles of SF Sause from San Francisco; some smoky-sweet Riley's Ribz BBQ sauce out of Chicago; and jars of yam coconut curry sauce from Nafis Originals in NYC. Have a restaurant you want to get listed? Fill out this online form. From within the app you can also suggest your favorite restaurants you'd like to see added, and if you want to say thanks to the app and its team for unlocking so much good food, you can donate here.
View this post on Instagram
Got Soul?: More map-driven than EatOkra, the brand new Got Soul? is all about location, location, location. The free app helps you find black-owned restaurants that are nearest to you, listed in order of proximity. The app lists spots within 35 miles of you, with their corresponding number listings clearly labeled on the map at the top of the screen. There's no way to search by cuisine as of now, but there is a tab for "deals," where you can find digital coupons for discounts up as much as 50 percent off (though none are currently listed for L.A. just yet).
There's also a tab for "Food Experiences," which include travel packages and food tours both domestic and international—there's even a virtual class you can book, where you'll learn how to make Ghanaian dishes via Naomi's Firepot. Once you're in the app, you can suggest your favorite restaurants through the "add business" button, too, to help grow the new database.
View this post on Instagram
Eat Black Owned: There's no app for Eat Black Owned, but it's one of the more thorough and longer-running resources for finding black-owned restaurants—with listings in the U.S., Canada and London. The website lets you adjust your search radius as well as search criteria: Simply browse, or narrow it down by "American," "breakfast," "Caribbean," "comfort food," "seafood," "vegan/vegetarian" and "other," which is where you'll find the likes of coffee shops, bakeries and wine shops, all black-owned.
The site also offers recipes from black chefs, caterers and food bloggers for dishes such as honey-baked chicken, tomatoes with okra, and pan-fried fish. Have a restaurant you'd like to see added? You can fill out this form, and if you're a restaurateur you can upgrade your listing for a monthly fee.
View this post on Instagram
Black Nation: This handy tool isn't just about restaurants, so its food listings are more limited than the other options in this guide but it's robust in just about every other category you can name. There are listings for independent skincare stores, hand-poured–candle companies, travel agencies, salons, realtors, photographers, tea sellers, doctors, media companies, plumbers, graphic designers, event planners, fitness coaches, contractors—you get the idea. If you want to support black business generally, Black Nation is a perfect resource.
When it comes to food or any other businesses you'll want to use "map view" and zoom in on L.A., then take a look at those red drop pins for local bakeries, coffee houses, restaurants and beyond. Black Nation also makes it easy to add your favorite spots to the app: Just click "add business" from the main dropdown menu, fill in the info and you're good to go.
Most popular on Time Out
–Thousands of Angelenos marched peacefully across L.A. on Tuesday afternoon
–How to support Black Lives Matter and other groups protesting in Los Angeles
–You don't have to worry about street sweeping tickets in L.A. until July 6
–Your food orders donate to black causes at these L.A. pop-ups and restaurants
–This spreadsheet details over 100 black-owned L.A. restaurants to support
Share the story