Your guide to L.A.'s Impossible Foods and Beyond Meat burgers
Posted: Monday April 2 2018, 2:43pm
Anyone who's bitten into a veggie burger knows that not all meatless products are created equal, especially here in L.A. As the country's de facto health-food trendsetters, Angelenos are often the first to try and embrace non-meat "meat" products—and its restaurateurs aren't afraid to stock their businesses with stacks of patties (see also: Astro Burger's groundbreaking offering of veggie burgers in a fast-food chain as early as the '80s).
Last year, two lab-grown veggie burgers shook the meatless marketplace, providing veggie burgers that replicate beef—perfect for those looking to cut down on meat intake for health, moral or environmental reasons. Unsurprisingly, L.A. was one of the first test markets for both—and turned out to be one of the largest adopters of both companies by far.
Impossible Foods, a heavy-hitter with a burger that "bleeds" like real beef, won the hearts of celebrities like David Chang and Chrissy Teigen and touts that it uses 1/20th of the land, 1/4th of the water, and produces 1/8th of the greenhouse gas emissions that traditional cattle farming does. Beyond Meat, backed by the likes of Leonardo DiCaprio and Bill Gates, advertises its pea-protein blend as more effective and nutrient-packed than beef, and is sponsoring multiple pro athletes who swear by the stuff.
Each month, it seems a new L.A. restaurant adds one or the other to their menu—so, how do you choose which to chew? Here's a quick rundown of the contenders, and where to find them around town. May the best plant-based burger win.
Impossible Foods
What it is
It's a lab-grown veggie burger that "bleeds," sizzles and smells like beef, and the science behind this meatless marvel is truly fascinating: Food scientists spent roughly five years testing and fermenting yeast to achieve higher levels of heme, a naturally occurring molecule found in blood and plants. It helps give meat that iron-packed flavor, and when implemented in higher doses in a veggie burger, what you get is a taste not too far from the real thing. The texture of beef isn't totally replicated, especially when this wheat-and-potato-protein patty is less cooked, but when griddled a little longer, it develops an almost caramelized crust that adds char and structure to the product.
Impossible Foods bills its product as free of cholesterol, though note the fat content: 13 grams, with 10 of those grams being the saturated-fat variety—fairly high as compared to an 80/20 serving of ground beef, which rings in around 15 grams (and only six of those are saturated fat). It's slightly lower calorically, at 220 per serving, while an 80/20 burger patty will cost you around 231 for a puck of the same weight. But while fat content is comparable, so is protein and iron.
Where to find it
Silver Lake's 33 Taps serves an Impossible patty with gastropub flair ($16.95), stacking it with spicy tomato jam, grilled onions, mixed greens, tomato and herbed goat cheese on a brioche bun—proving you don't have to order a full-on meatfest or suffer thoughtless vegetarian food at a sports bar.
Artisanal Brewers Collective partner Tony Yanow is vegan, and all of his restaurants and bars offer at least something for those who also avoid meat and dairy. Impossible pops up in a number of ABC's branches, like Tony's Darts Away, where it's the standard for burgers—including one that's sandwiched between a vegan doughnut croissant bun ($17). You'll also find it at the all-vegan Beelman's, where it takes the traditional place of ground beef in a loco moco bowl ($16); and perhaps best of all in the Stalking Horse, where it's the only version of shepherd's pie this pub serves ($15).
With the exception of airport outposts, all of the Counter's locations now serve Impossible patties as an option in their ambitious build-your-own-burger format. It's a bit more pricey than standard beef, turkey and veggie patties, but winds up pricing the same as the bison or mahi mahi: $15 for 1/3 pound, $18 for 1/2 pound, $24 for a full pound. Stack it with dozens of toppings, sauces and other extras, or opt for one of the Counter's two Impossible creations: the Impossible Burger, made with herbed goat cheese, tomatoes, greens, grilled onions, balsamic dijon and tomato jam on an English muffin ($15); and the Impossible Salad, with quinoa, alfalfa sprouts, almonds, roasted tomatoes, grilled onions and lettuce in a sesame-and-ginger vinaigrette ($16).
Leave it to Crossroads Kitchen, one of the country's first groundbreaking vegan restaurants, to come up with some of the most exciting uses for this meat substitute. Sure, you can find it as a fairly standard burger ($14), but it's also the filling for the delectable Impossible cigars—seasoned and fried in crispy pastry dough, and served with almond yogurt ($14). At brunch, it's also formed into a sausage patty on the breakfast sandwich ($10).
California institution Fatburger just launched its own Impossible collab ($9), now claiming it's the first "national fast-casual chain" to offer the product. Their take comes vegan, standard, and includes lettuce, tomato, relish, onion and mustard—but of course can include extras like chili, cheese and even bacon, for those who like meat with their non-meat.
The usually-pretty-vegan-friendly Golden Road Brewing Co. serves this patty breakfast-style during brunch, topping it with fried egg, hash browns and sriracha aioli ($12), then in a standard cheddar/tomato/lettuce/pickle/special sauce form throughout the rest of the day ($15).
Hit up any Mendocino Farms and find Impossible meat in chorizo form—okay, so it's chorizo-spiced "beef" and not "pork," but you get the idea. Here, it's the centerpiece of Mendo's seasonal, vegan Impossible Taco Salad ($10.95), which involves tomato, avocado, black beans, cilantro, roasted corn, jicama slaw and a house-made cashew chipotle ranch.
Umami Burger launched one of the first nationally-available Impossible products when it released the Impossible Burger ($16)—a stack of two thin Impossible patties topped with caramelized onions, American cheese, miso mustard, house spread, pickles, lettuce and tomato—and is arguably the country's biggest Impossible Foods-friendly brand. Just last week, all Umami Burger rolled out three new Impossible burger variants—not a shock, as Daniel del Olmo, CEO of Disruptive Restaurant Group and Umami Burger, told us one in five Umami customers is now ordering the Impossible Burger—and they're probably only the first of many more Impossible Foods collabs. Now you can nab the Impossible Classic (with house sauce, American cheese, lettuce, onion and tomato on a vegan bun, $13), the Impossible Trufflemaker (with truffle fondue, truffle aioli, a port-and-truffle glaze, plus lettuce and tomato on a vegan bun, $14) and the Impossible VBQ (an espresso-rubbed Impossible meat patty with BBQ sauce, coleslaw, jalapeño and grilled onions, $13).
Find the full list of spots carrying Impossible Foods here.
Beyond Meat
What it is
You've more than likely spotted Beyond Meat in the grocery store, perhaps without even realizing you weren't staring at a package of ground beef. Unlike Impossible, you can already find this uncanny plant-based product available for retail in the refrigerated sections of Whole Foods, Ralphs and even Target. When you're biting into the Beyond Burger—a product pre-shaped into raw patties and also sold to a number of L.A. restaurants—you're mostly enjoying pea protein, coconut oil and yeast extract. The lack of extreme heme makes this less beefy in taste than the Impossible Foods product, but the Beyond Burger also tends to hold its form better when cooked less.
These non-GMO, gluten-free, soy-free, cholesterol-free burgers net roughly 270 calories per patty and 20 grams of fat, but with only five grams of saturated fat and 25 percent of your daily iron intake, we're beginning to wonder if we can count these as a superfood.
Beyond also slings Beast Burgers (with no coconut oil), beef-inspired crumbles, "chicken" strips and, most recently, some pretty convincing varieties of "pork" sausage.
Where to find it
BOA Steakhouse may specialize in pasture-raised, organic and dry-aged steaks, but that doesn't mean it turns a blind eye to vegan guests. During dinner at both the Santa Monica and West Hollywood locations, grab the decadent Wild Mushroom Burger ($28), with a variety of wild mushrooms, truffle, arugula aioli and of course a Beyond Burger, all on a potato bun. Looking to power lunch on meatless Monday? Head to the West Hollywood hub for the Vegan "Bacon" Guacamole Burger ($17), which layers Beyond Burger, guac and faux bacon on a house-baked vegan brioche bun.
Modern Times Beer's Dankness Dojo is a 100-percent vegan tasting room and gastropub, with a menu that's just as fun as its retro-inspired setting. For its one and only burger, this spot doubles up and makes one massive meatless meal ($15): two thin, seared Beyond Meat patties get topped with smoked mushrooms, shallot jam, melty coconut-based American cheese, pickles, roasted tomato spread, sandwiched between house-baked sesame buns. It's messy, and so enormous it gets served with a steak knife through the top. Who said veggie burgers aren't filling?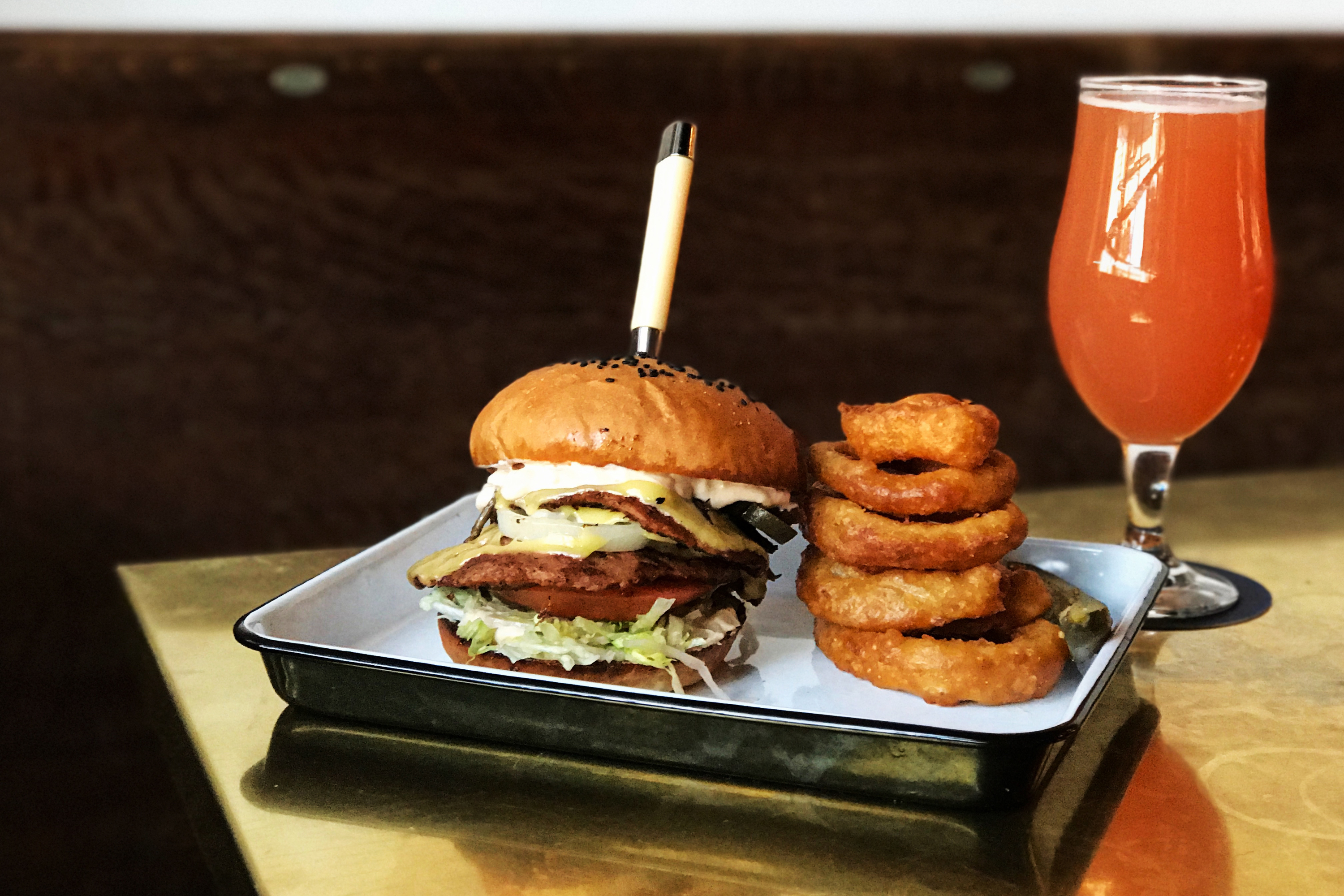 All Plan Check locations now offer Beyond patties as a substitution for their standard burgers at no additional cost, and they've been so popular, the chain recently created an all-vegan version. PCB is currently running a naming contest on Instagram for the new burger ($17), but for now, just order a "Plan Check Beyond Burger"—which comes with ketchup leather, butter lettuce, mustard, shaved onion, mixed pickles and sliced tomato on a vegan bun—and your server will know what's up.
Veggie Grill offers three takes on the Beyond Burger and even one of the brand's new sausages. The classic and first on the menu, the VG Beyond Burger ($12.95), is almost an "animal-style" interpretation: American cheese, tons of grilled onion, lettuce, tomato and special sauce. Then came the Lucky Star Burger ($13.25), with vegan gouda, balsamic onions, blue "cheese" sauce, arugula and sriracha ketchup on a pretzel bun. Newest yet is the Steakhouse Burger ($13.25), with vegan bacon, vegan provolone, steakhouse sauce, blue "chees" dressing, cracked black pepper and a brioche bun. Rounding it all out is the Wunderbrat bratwurst sausage ($13.50), here served with caramelized onions, pickled cabbage and vegan beer cheese; for now, it's only available at the Hollywood Dome and El Segundo locations, but by the end of this month you'll be able to find it at all VG outposts.
Leave it to the sausage-brilliant brains at Wurstküche to offer the full lineup of Beyond Sausage, and with all the trimmings. Beyond Sausage relies on similar technology and ingredients as you'd find in the Beyond Burger—namely coconut oil and non-GMO pea protein—and at an alleged 43 percent less fat than you'd find in pork sausage. At $7.50 apiece, these sweet Italian, hot Italian and bratwurst links sizzle, smell and even taste like real sausage. The texture is starchier, but it's also far less greasy. There's even a plant-based casing, made from alginate (derived from algae), and while it won't snap quite like the cooked skin on a meat-based sausage, it does the job. Order these topped with roasted peppers, caramelized onions, gourmet mustards, sauerkraut and more, then wash it down with some of Wurstküche's Belgian or German beer, for best results.
Find a list of Beyond Meat retailers right over here.
Share the story