The 100 best dishes and drinks in Los Angeles 2016: Breakfast and brunch
Start your day with the best breakfast and brunch dishes we tried this year—coffee optional (but highly encouraged)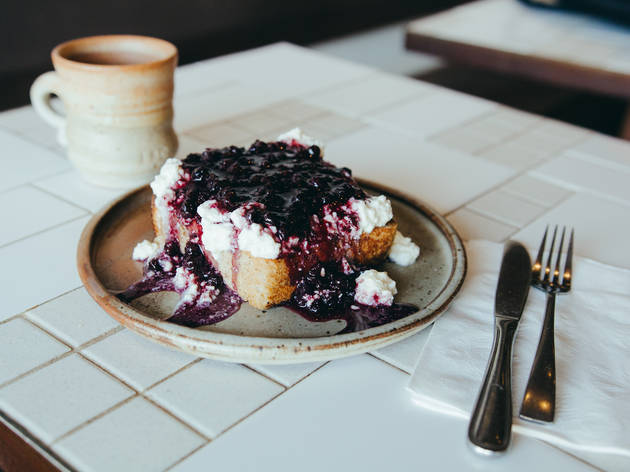 Breakfast might be the most important meal of the day, but in L.A., we're all about brunch. Bottomless mimosas, pancakes stacked high and beautiful plates of eggs Benedict are what dreams are made of in this city, but we found nirvana in some more unique breakfast and brunch options this year. From Korean latkes to Filipino breakfast bowls, here are our favorite rise-and-shine dishes of 2016.
RECOMMENDED: The best dishes and drinks in Los Angeles
L.A.'s best breakfast and brunch of 2016
This airy Venice restaurant from Top Chef alumn Nyesha Arrington prides itself on playful dishes, from their adult frosted flakes to this unique dish: Korean latkes, a delightful hybrid of potato pancakes and kimchi. A dollop of crème fraîche tempers the heat from the kimchi, though you can also balance it out with a bite from Leona's excellent brown butter pancakes. I mean, go ahead and order the entire menu. $9. - Erin Kuschner
Chef Tal Ronnen has the uncanny knack of bringing vegans and non-vegans together at Crossroads, where you'll find a meat-less brunch that includes the outstanding Jann's bagel. Nope, that's not lox—it's smoked heirloom carrot, shaved so thinly that you might mistake it for the salmon. Almond cream cheese, red onions and capers are also spread across an everything bagel. $12. - Erin Kuschner
Echo Park's neighborhood restaurant Ostrich Farm serves some great dinner options, but their blueberry lemon ricotta pancakes are worth a separate trip on their own. The fluffy discs are topped with a spoonful of blueberry compote and accompanied by infused syrup and whipped butter. Swoon. $14. - Erin Kuschner
One of the most Instagrammable breakfast delights you can find at the moment, the coconut acai bowl from Amazebowls (which garnered a massive crowd at Smorgasburg this year) is almost too pretty to eat. Just kidding, we're totally downing it. Packed with a refreshing medley of fresh fruits and edible flowers atop a delicious acai base, the bowl is perfect for either breakfast or an afternoon snack. $8.50. - Rozette Rago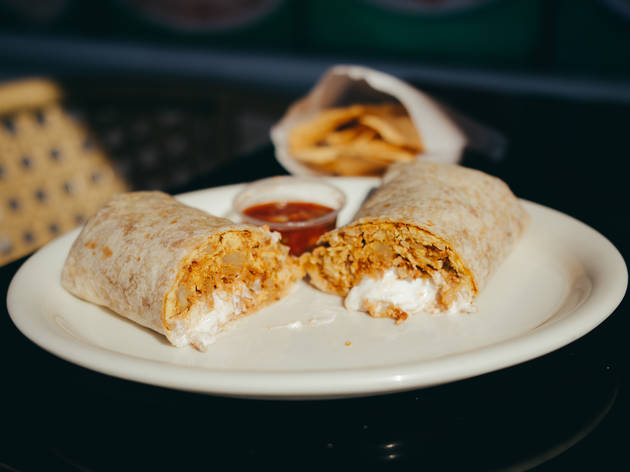 Breakfast burrito at Hermosa Mexican Cuisine
The build-your-own burrito situation at Hermosa Mexican Cuisine is a fantastic one: start with a protein (bacon, asada, chorizo, carnitas and more), then add on up to four additional ingredients, like eggs, potatoes, bell peppers, guacamole and beans. Portions are huge, which is perfect for when you're looking for a hangover cure. Starts at $7.50. - Erin Kuschner
Descanso Gardens' new restaurant, Maple, specializes in brunch, and among the egg dishes and avocado toast that are offered on the menu, the brioche French toast has risen to the top. It comes with whipped bacon butter, which already makes it a star, but also chantilly cream and Vermont maple syrup. Dusted with powdered sugar and a drizzle of chocolate, the French toast is more like dessert—which is just the way we like it. $12. - Erin Kuschner
Everything—absolutely everything—at Lodge Bread Co. in Culver City is fantastic, especially if you're a bread fiend. The selection of seasonal toasts has switched up a couple times this year, but the next time you see the blueberry and ricotta toast on the menu, order it. An incredibly thick slab of brioche is smothered in blueberry jam and creamy Bellwether ricotta. It's a massive portion size, but you'll still wish you had another bite left once you've finished the last one. $4.50. - Erin Kuschner
L.A. isn't exactly known for its bagel options, but with Maury's, the future of bagels and shmear is looking up. The pop-up and baked-on-demand company is looking to set up shop in Silver Lake or Echo Park; in the meantime, they served some seriously great bagels at Smorgasburg this year. I especially loved the Whitefish & Cukes with cream cheese, a lighter option that left room to sample more dishes at Smorgasburg (bagel sandwiches include half or full portions). Prices vary. - Erin Kuschner
In this southern-inspired brunch bowl, browned prawns sit atop a bed of rich, creamy cauliflower pureed with smoked paprika butter to the consistency of grits. The blend melts on your tongue in a way that suggests this dish is not nearly as healthy as the "veggie grits" make it sound, but you'll be too busy going in for another bite to care. $12. - Kate Wertheimer
Created by the Rooster Truck's Rouha Sadighi—and now available at both the truck and Downtown's Wake & Late (though it is known simply as the Rico at the latter)—this breakfast burrito is quite possible the best of its kind in the city. Stuffed with eggs, tator tots, bacon, avocado, cheddar and cojita cheese, it's a well-balanced wrap that makes for a solid meal at any time of day. $6. - Erin Kuschner
RiceBar has won hearts across L.A. since opening their tiny Downtown L.A. shop, but it took me a while to get on board—dishes I tried for lunch seemed to be hit or miss. I finally became a full-fledged fan after they launched their $5 breakfast bowl. Grab a bowl and hit RiceBar's buffet on weekdays, where you can load up on garlic fried rice, porridge, cherry tomato salad and a made-to-order egg. Chef Charles Olalia will be there with his usual smile, ready to answer any questions you have. $5. - Erin Kuschner
The trendiest treat at Mr. Holmes Bakehouse is their croissant-muffin hybrid known as the cruffin, but for a pastry chimera that doesn't require waiting in a designated line, the churro croissant will do nicely. The flaky, cinnamon-sugar dusted croissant has a creamy center comprised of dulce de leche, which combines into a decadent flavor and texture combination. $4.50 – Brittany Martin
Belle's Bagels finally landed a permanent shop in Highland Park, at a takeaway window attached to the HiHat. You'd be wise to get there early—lines usually form on the weekends for their fantastic breakfast sandwiches like the McB. Made with lox, tomatoes, red onion, capers and cream cheese, the bagel sammie is the best way to start your morning on the eastside. $7. - Erin Kuschner
This fantastic breakfast sandwich at Eat.Drink.Americano features perfectly scrambled eggs with crispy semi-thick strips of bacon in a pillowy brioche bun—and it's not kidding around with its more than generous serving. This cute space in the Arts District is a hidden gem for great brunches with friends—plus, they have a bomb coffee selection as well. $9.95. - Rozette Rago
Plan Check has been making crullers at all of their locations for a while now, but this year they bumped it up a notch with a breakfast cruller that'll take you back to childhood. Sprinkled with Cap'n Crunch cereal and cereal milk frosting, the decadent, sugar-laden treat had us rolling out the door (in a good way, of course). $8. - Erin Kuschner
In the mood for eggs Benedict?
It's brunch time, and these Benedicts are calling your name.