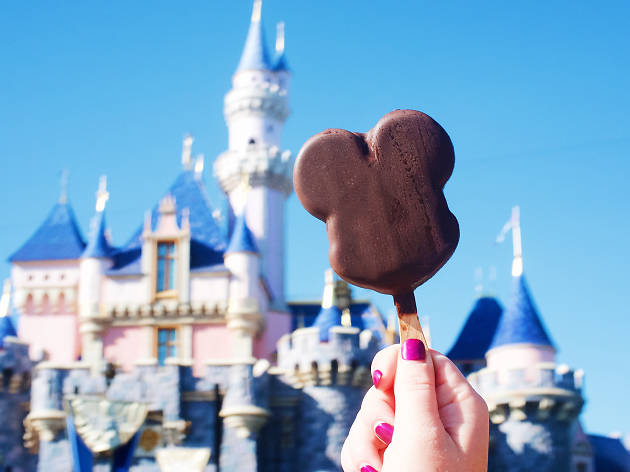 The best food to try at Disneyland
Dine on Walt's favorite chili, track down cult-classic lobster nachos and more with our guide to the absolute best dishes in California Adventure, Disneyland and beyond
Disneyland's known as the happiest place on Earth, but when it comes to finding the best Disney food, well, it can suddenly become the most overwhelming. With more than 160 full-service restaurants and quick-and-casual spots to find a bite—and more than 14,000 recipes in rotation—the House that Mickey Mouse Built hasn't just become a destination for some of the best rides in California; it's become Anaheim's go-to for award-winning wine programs, whimsical pastries, freshly made pastas, an intergalactic cantina and everything with mouse ears that you can imagine.
We ate our way through the parks to find the best of the best, so whether you're looking for hidden food finds, cult classics, top-notch sweets or the best-tasting deals and dishes in Disneyland, California Adventure and Downtown Disney, you'll track them down with our guide to the 30 items you need to try.
Disneyland is reopening on April 30—but not all restaurants will be at first. The theme park has a list on its site of which food and drink offerings will be available (reservations are open now) though it notes that all plans are subject to change. We've indicated which of our picks below are currently closed.
Really make it the happiest place on Earth with these top 30 food finds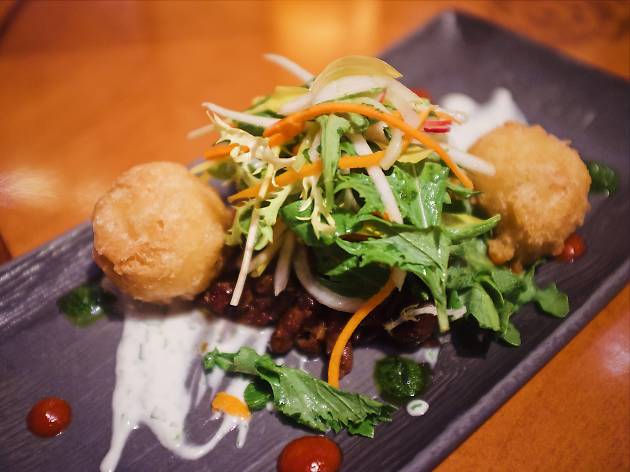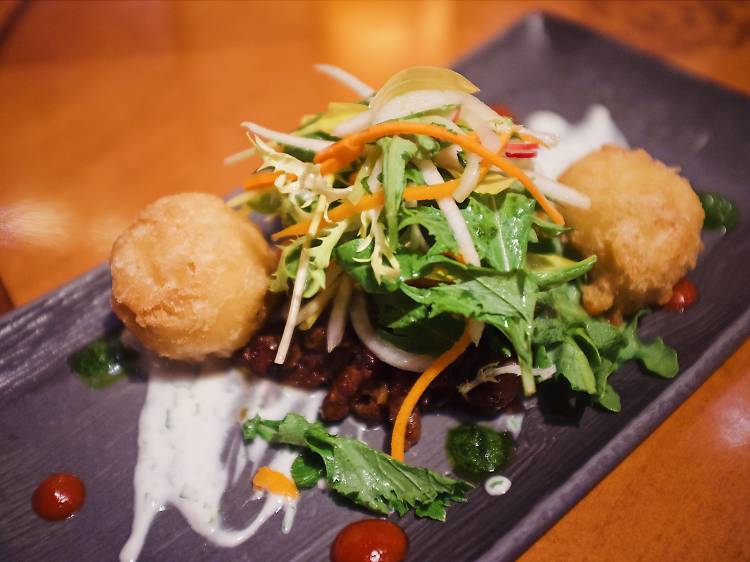 Photograph: Stephanie Breijo
1. Smiling Tiger Salad with Mushroom Cappuccino at Napa Rose
Reopens May 28.
There are quick, do-the-trick restaurants in Disneyland, and then there are the restaurants you should reserve for a capital-M meal. The gem of them all is Napa Rose, not only one of the best restaurants in Disney's park and in Anaheim, but one of the best restaurants in Orange County. The lauded California-cuisine affair boasts nearly 20,000 bottles of Californian and European wines on offer (complete with tastings), plus an always-booked chef's counter, making this a destination not just for park-goers. It also offers a lounge, a bar and its standard dining room for a more casual experience. Given the extreme focus on seasonality, the menu is ever changing, but you'll always find two items here, both fantastic: the Smiling Tiger Salad, where spicy Thai-style marinated beef meets lobster-and-shrimp fritters with greens tossed in a coconut vinaigrette; and the portobello mushroom "cappuccino," an earthy, silky, luscious bisque under thyme froth. Order one, order both, order anything here.
Location: Grand Californian Hotel & Spa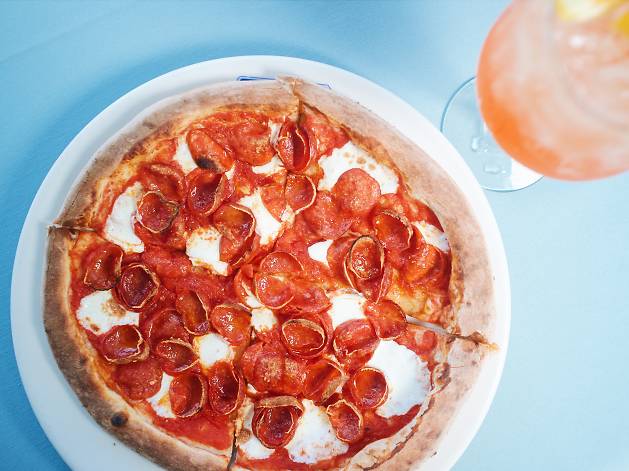 Photograph: Stephanie Breijo
2. Pizza at Naples Ristorante e Bar
If this full-service Italian spot in Downtown Disney appears to know what it's doing, that's because it absolutely does. After all, it's a Patina Group restaurant, one of L.A.'s most established hospitality groups and caterers. At Naples Ristorante e Bar, the team keeps a heavy focus on their Neapolitan-style wood-fired pizzas—though the pastas aren't too shabby, either, and you can round it all out with spritzes, wine and beer. The bottoms of these pies are firm but foldable, and the centers are gooey (though not so much that you have to use a knife and fork). You can order classics such as pepperoni (we stan) and margherita, or go wild with gorgonzola and roasted-pumpkin varieties. These are pizzas we'd be happy to order outside of a theme park's shopping district—in fact, hey Patina Group, can you open a standalone a little closer to L.A.?
Location: Downtown Disney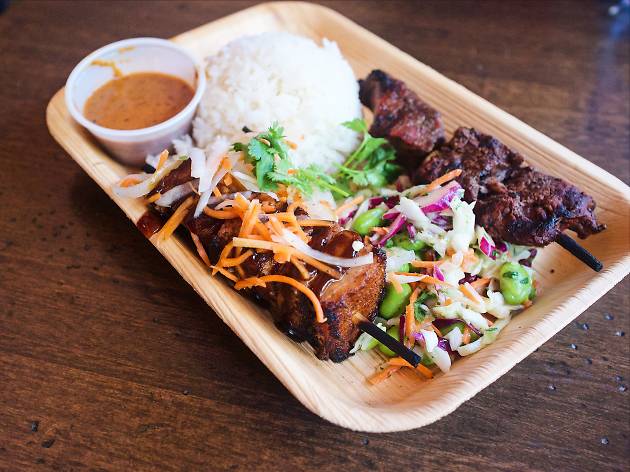 Photograph: Stephanie Breijo
3. Jungle Skewers at Bengal Barbecue
In the spirit of adventure and, of course, Adventureland, Bengal Barbecue offers vibrant food to eat on the go, located right across from the Jungle Cruise ride. Just make your way past the jungle vines and follow the tantilizing smell of barbecued meat and you'll find it: The menu here is simple and straightforward—marinated, grilled meat skewers—but it's executed perfectly. The pork belly is succulent and the "hot and spicy" beef skewers thankfully keep things spicy; there's also charred chicken, bacon-wrapped asparagus and a veggie skewer, if you want to change things up. Our advice? Order the plate, which adds fluffy jasmine rice and a refreshing miso-and-citrus slaw to brighten it all up.
Location: Disneyland's Adventureland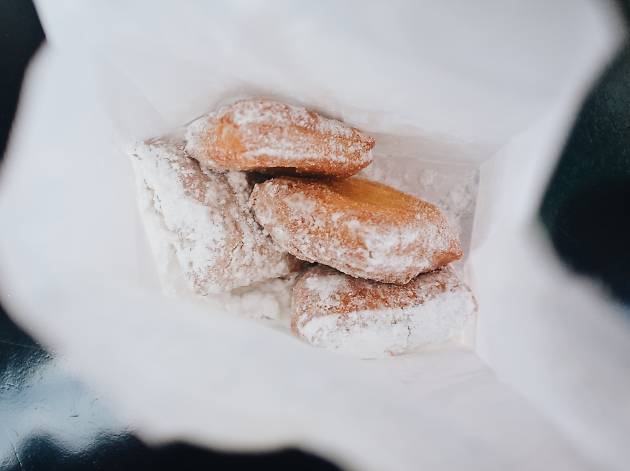 Photograph: Stephanie Breijo
4. Beignets at Ralph Brennan's Jazz Kitchen
Disneyland's beignets in New Orleans Square have somewhat of a cult following, but we've got to break our silence: The beignets in Downtown Disney are superior not just to the in-park options, but to just about any beignets we've ever tasted. This probably has something to do with the fact that they're made in an outpost of Ralph Brennan's, a prominent New Orleans restaurant chain, and the team methodically and precisely rolls out the famous Cafe du Monde beignet mix from behind a glass window—so really, you're getting beignets and a show. The pillowy bayou doughnuts get fried to order, while a server scoops mounds of powdered sugar into a white paper bag, then adds the cooked beignets, and shakes it all together. Piping hot, savory and sweet, these are a must-order on any trip to Disneyland, ideally eaten with a steaming cup of Cafe du Monde's chicory coffee.
Location: Downtown Disney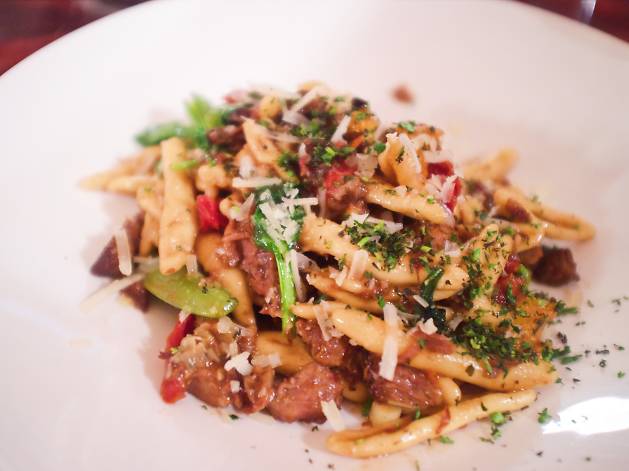 Photograph: Stephanie Breijo
5. Fresh Pastas at Carthay Circle
This gem inside California Adventure is all about Old Hollywood glamour, designed after L.A.'s now-demolished 1920s Carthay Circle Theater and sporting a star-quality menu. Steaks, chops and some of the best cocktails in the park can be found here, but you'd be remiss to skip the fresh pastas, made in-house and decked out with seasonal vegetables, braised lamb and truffle butter, or as ravioli stuffed with roasted mushrooms and surrounded by braised turnips and English peas. You might be tempted to order a steak dinner à la an Old Hollywood exec, but trust us on the pastas.
Location: California Adventure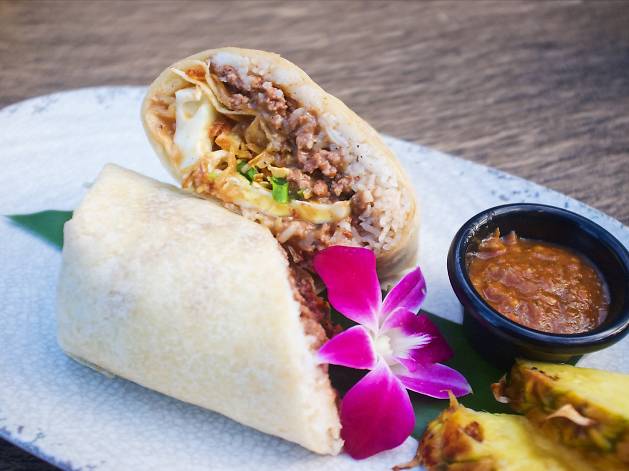 Photograph: Stephanie Breijo
6. Loco Moco Breakfast Burrito at Tangaroa Terrace
Temporarily closed.
If you're going to need anything to get through a day of lines at Disneyland, it's stamina—which means starting your day with a solid breakfast. And the best breakfast to do the trick? Well that can be found just outside the park, at Disneyland Hotel's Tangaroa Terrace café, just next to the pool. The loco moco breakfast burrito is hearty, fun and flavorful, giving you the best of the traditional Hawaiian dish—ground beef, yolky egg, steamed rice and plenty of deeply rich gravy—all tucked into a burrito with crispy fried onions.
Location: Disneyland Hotel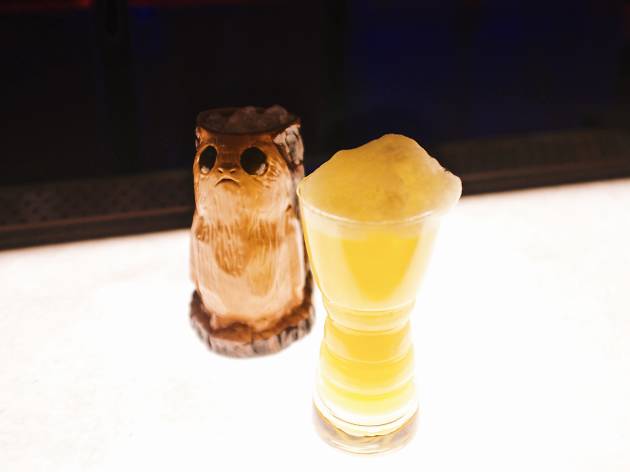 Photograph: Stephanie Breijo
7. Fuzzy Tauntaun cocktail at Oga's Cantina
Temporarily closed.
Easily our favorite attraction in Disneyland's transportive Star Wars corner of the park, Oga's Cantina is like stepping straight into the seedy, party-packed drinking dens of a galaxy far, far away. This is also the only spot selling alcohol inside of Disneyland proper, though Oga also slings non-boozy concoctions for little ones and adults keeping sober—you know, in case they're approached by the First Order. There are porg-shaped tiki mugs and flights of beer served in rancor teeth, but we can't get enough of the Fuzzy Tauntaun, a peach-vodka concoction with peach schnapps, orange juice, tangerine and a theatrical layer of "buzzz" foam, which tingles your lips.
Location: Galaxy's Edge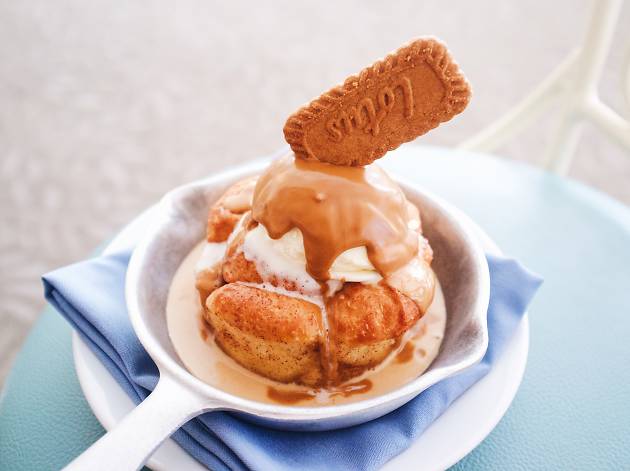 Photograph: Stephanie Breijo
8. Cookie Butter Monkey Bread at River Belle Terrace
Frontierland's premier dessert split our lives into two periods: before the cookie butter monkey bread, and after it. The Speculoos-cookie–inspired sundae is salty, sweet, hot and cold, piling ice cream onto warm, buttery monkey bread and covering it all with hot cookie butter. There's plenty to love in the Southern-leaning River Belle Terrace restaurant, but nothing can compare to the monkey bread, which pulls apart in doughy, sweet pieces.
Location: Disneyland's Frontierland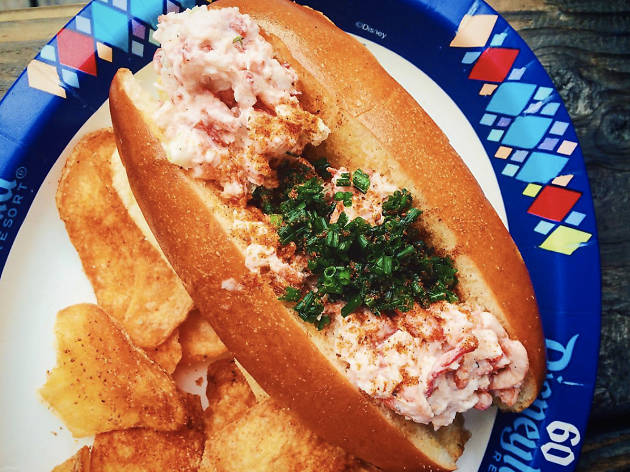 Photograph: Stephanie Breijo
9. Lobster Roll at Harbour Galley
Temporarily closed.
Real ones know: The lobster roll at Disneyland is, honestly, very good and worth seeking out, the quality is nowhere near what you'd probably expect from fast-casual theme-park seafood. Critter Country's pint-size fish shack, which sits right along the edge of the Rivers of America, offers a handful of order-worthy items but the best of them all is the New England-style lobster roll. The seasoned, chilled lobster meat is plentiful and tossed with celery and onions in mayonnaise, that gets wedged into a buttered roll, then sprinkled with a hefty helping of fresh chives. Refreshing and a good deal, this lobster roll is a Disney sleeper hit.
Location: Disneyland's Critter Country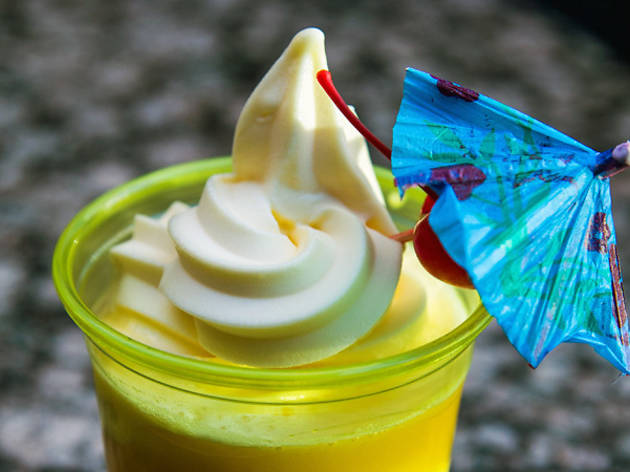 Photograph: Leslie Kalohi
The icon, the legend, the dramatic tropical swirl so tantalizing it can wrap lines around a corner: We're talking about the one and only Dole Whip, the most beloved and copied item on this list. The Tiki Room classic is a dairy-free Dole pineapple dessert, light and tart and first served right out front of Disneyland's own temple to singing animatronic birds. As one of the most popular items to ever come out of the park, it's spread to Disney World and beyond, with celebrity chefs such as Christina Tosi and Roy Choi paying their respects to the treat. In Disneyland you can still find it in its original form, as well as in float form (served in a cup with pineapple juice). Around the corner at Tropical Hideaway you can find it as sundaes and flavors like raspberry, while at Tangaroa Terrace, you can even add a shot of dark or coconut rum to your Dole Whip. Try one or try them all, we can't pick a favorite. (OK, maybe we like the rum.)
Location: Disneyland's Tiki Room and Tropical Hideaway in Adventureland; Tangaroa Terrace in Disneyland Hotel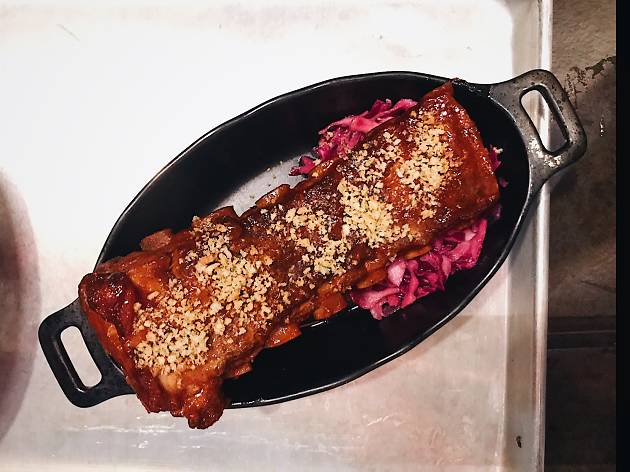 Photograph: Stephanie Breijo
11. Smoked Kaadu Pork Ribs at Docking Bay 7 Food and Cargo
Temporarily closed.
It takes much more than just some snazzy scenery to bring the world of Star Wars to life, and at Galaxy's Edge, every detail is accounted for—especially when it comes to dining. The industrial ship-port–themed restaurant, Docking Bay 7, goes so far as to "source" its items from far-off planets and creatures like, say, serving kaadu ribs. This rack of succulent, smoky ribs are actually pork, but the meat is sliced horizontally across, as opposed to between each bone, so as to not break the illusion that you're eating, well, an alien. Served with a thick and sweet-savory blueberry corn muffin, as well as a vinegar-happy cabbage slaw, this quickly became our Galaxy's Edge go-to time and again.
Location: Disneyland's Galaxy's Edge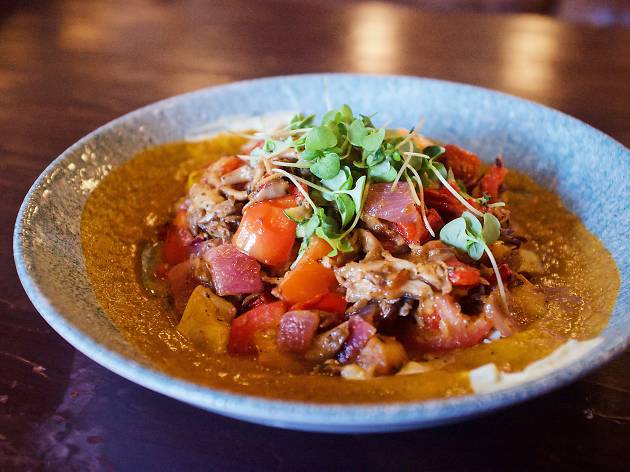 Photograph: Stephanie Breijo
12. Ratatouille at Lamplight Lounge
Disney's vegetarian options aren't just for quick-and-casual meals; in fact, one of the best dishes in all of California Adventure can be found on the waterfront, a sizable ratatouille—a nod, of course, to Pixar's famed rat with major kitchen aspirations—and it's full of roasted eggplant, pepper and mushroom seasoned to perfection. The bowl is lined with a smoked-tomato sauce, and underneath all of those roasted veggies and zuchini noodles is a large sphere of creamy burrata to liven it all up. Seriously, who needs meat?
Location: California Adventure's Lamplight Lounge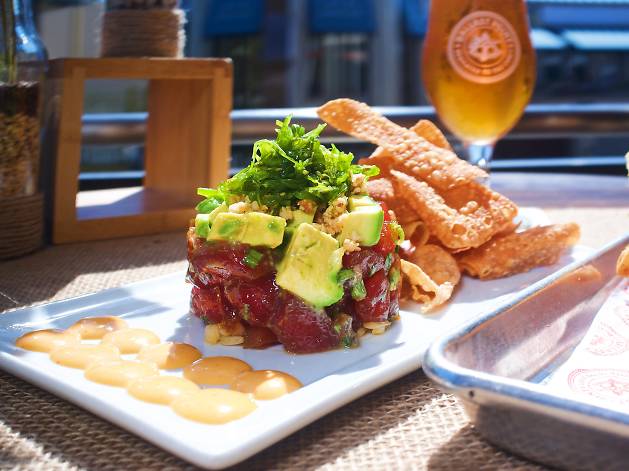 Photograph: Stephanie Breijo
13. Ahi Poke at Ballast Point Brewing Co.
Ballast Point's Disney outpost should be the first stop for beer fanatics, but even if you're not into the brewery's award-winning IPAs and stouts, its gastropub offers plenty of food that's also worth a visit. Plenty of the dishes involve beer in glazes, marinades and even a stellar Sculpin beer cheese, but it's hard to beat the beer-free poke, a pile of large soy- and pineapple-vinaigrette–marinated ahi pieces piled together under wedges of avocado, seaweed salad and a crumbling of macadamia nuts. Use a fork or, even better, some of those accompanying fried wonton chips to scoop it all up.
Location: Downtown Disney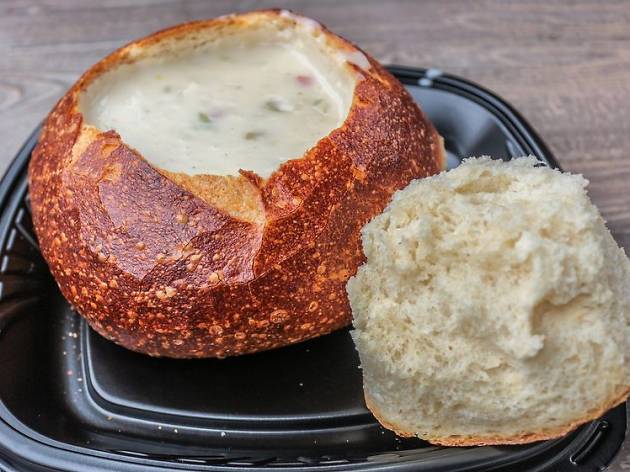 Photograph: Courtesy Yelp/Mark L.
14. Sourdough Bread Bowls at Pacific Wharf Cafe
On an overcast day, Pacific Wharf sort of almost kind of feels like you're strolling around San Francisco's famed waterfront, and if you happen to be in this part of the park on a particularly brisk day (bonus points if there's some NorCal-like fog), you can further the illusion with chowder in a bread bowl from one of SF's most famed bakers, Boudin. Pacific Wharf Café gives you the option of clam chowder, broccoli-and-cheese soup, or a bacon-and-cheddar ale for a stick-to-your-ribs meal in a chewy, delightful crusty hollowed-out bread bowl.
Location: California Adventure's Pacific Wharf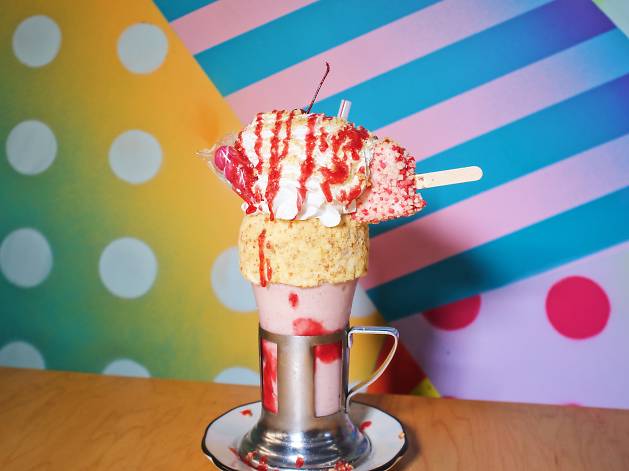 Photograph: Stephanie Breijo
15. Milkshakes at Black Tap Craft Burgers & Shakes
Abandon all caloric concern, ye who enter here: Black Tap's shakes are some of the most colorful and stacked we've ever tried, and they come laden with the likes of candy, freshly baked cookies, whipped cream, caramel and even entire slices of pie. You can tackle the signature CrazyShakes while seated inside or on the patio (the burgers and snacks like fried pickles are also solid), or simply walk up to the to-go window designated for the over-the-top dessert drinks.
Location: Downtown Disney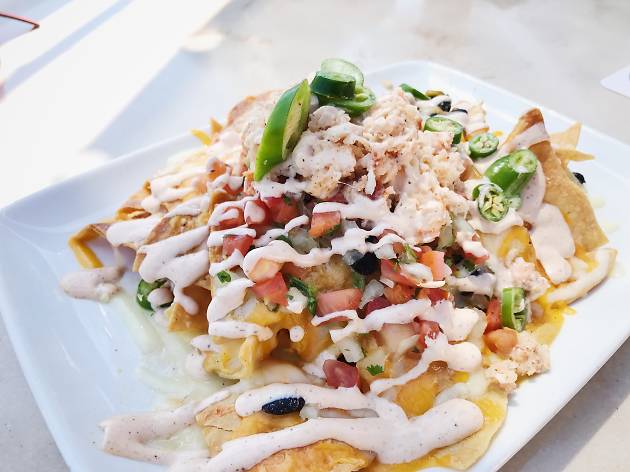 Photograph: Stephanie Breijo
16. Lobster Nachos at Lamplight Lounge
When Disney announced that Cove Bar would flip to the Pixar-themed Lamplight Lounge, the question was almost deafening: "What about the lobster nachos?!" Park-goers beelined for the pile of thick, crunchy tortilla chips smothered in warm lobster, black beans, aged-cheddar cheese sauce, crema and pico de gallo, and blessedly, this dish stuck around as the area transformed into Pixar Pier. Vibrant, flavorful and an upscale twist on the bar-food favorite, the lobster nachos are blessedly here to stay.
Location: California Adventure's Pixar Pier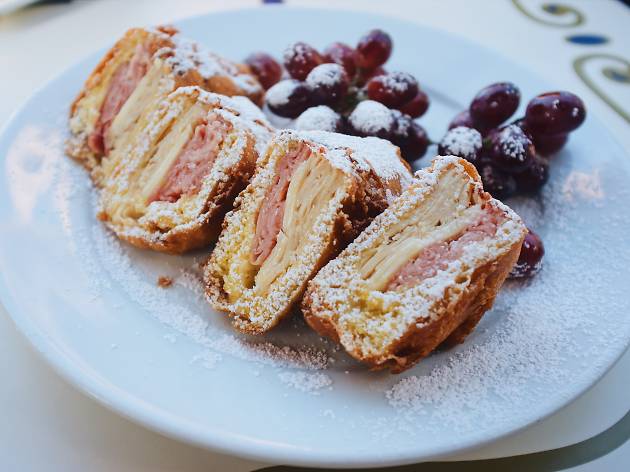 Photograph: Stephanie Breijo
17. Monte Cristo at Cafe Orleans
This is a sandwich so decadent that it might knock you out for a bit, but it's a sandwich so good that we don't even care. Disneyland's take on the classic deep-fried, meat-and-cheese beauty comes packed with layers of turkey, ham and Swiss cheese that's all battered, fried and heavily dusted with powdered sugar for that ideal sweet-savory balance that makes this a sandwich hall-of-fame legend. In lieu of jam this version comes with berry purée, perfect for dunking. Looking for a meat-free version? There's a three-cheese spin that involves Swiss, mozzarella and brie for equal indulgence.
Location: Disneyland's New Orleans Square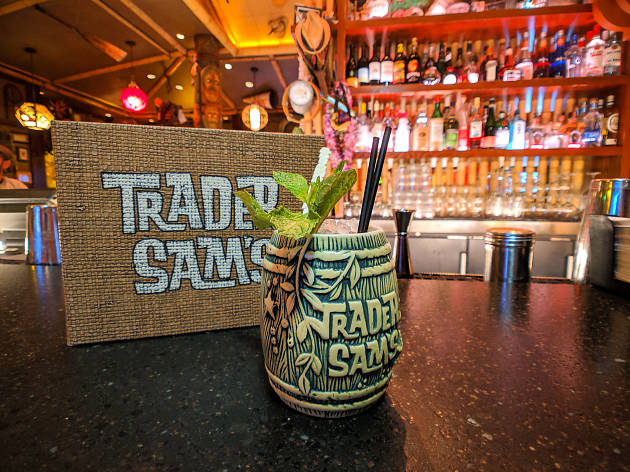 Photograph: Michael Juliano
18. Shipwreck on the Rocks Cocktail at Trader Sam's Enchanted Tiki Bar
Temporarily closed.
The Tiki Room gets all the glory, but Disneyland Hotel's tucked-away tiki bar is where the fun really is. A far cry from the sunny pool it sits next to, Trader Sam's is a dark cave of a bar in nod to California's classic tiki bars of yore, such as Trader Vic's and Don the Beachcomber. Nautical and tropical bric-a-brac hang on the walls and from the ceiling, and if you know which cocktails to order, some of the decorations even spring to life. We're partial to the theatrics of the Shipwreck on the Rocks, a clean, straightforward drink made with bourbon, agave nectar and freshly-muddled lemon and mint, because upon ordering it, the large ship in the bottle behind the bar magically animates, sailing through clear skies and into a storm. A brass bell rings and it's all hands on deck, until lightning strikes and the ship goes under.
Location: Disneyland Hotel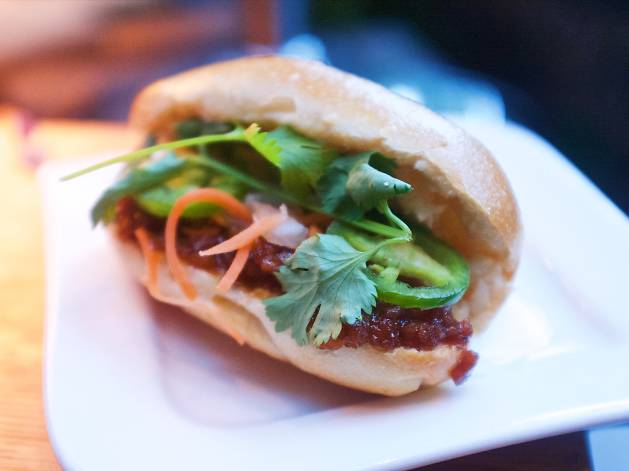 Photograph: Stephanie Breijo
19. Vegan Bánh Mì at Lucky Fortune Cookery
Temporarily closed.
Disney is leading the charge on theme-park vegan and vegetarian dining, and that's especially clear when you bite into Lucky Fortune's fantastic vegan bánh mì. The plant-based protein is sauced in a sweet, umami-rich marinade, while plenty of the Vietnamese sandwich's trademark garnishes—cilantro, pickled carrots, jalapeño slices—brighten it all up to replicate the classic dish. Even omnivores can fall in love with this one. We sure did.
Location: California Adventure's Pacific Wharf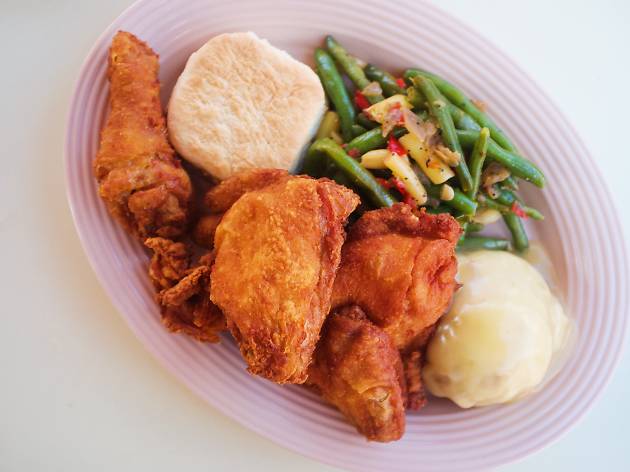 Photograph: Stephanie Breijo
20. Fried Chicken at Plaza Inn
Plenty of Disneyland's dishes have grown their own cult followings over the years, but one of the most enduring is the fried chicken at Plaza Inn. The crackling and crispy shell is so thick and excellently fried that you can hear the crunch with every bite, while the meat stays succulent beneath it. Served with gravy, mashed potatoes, a biscuit and vegetables, it's a down-home American classic done right, right near the front of the park.
Location: Disneyland's Main Street, U.S.A.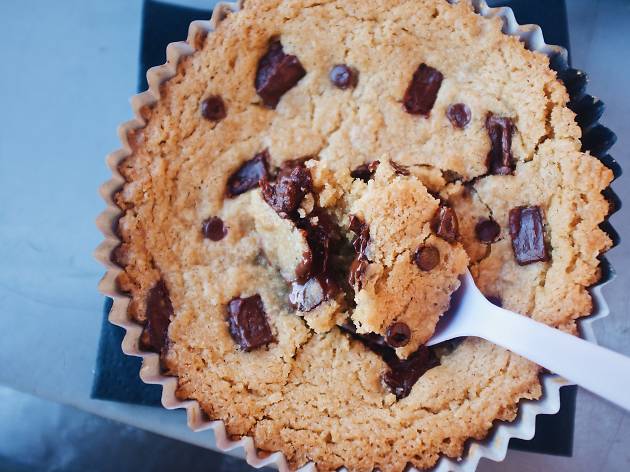 Photograph: Stephanie Breijo
21. Jack-Jack Cookie Num Num from Jack-Jack Cookie Num Nums
Temporarily closed.
Disney's food teams do some next-level planning and design work when it comes to integrating rides and characters into their snack carts. The best of the bunch might just be Jack-Jack's Cookie Num Nums, a food stand dedicated to The Incredibles' cookie-obsessed superhero's favorite treat—which, by the way, features prominently on the Incredicoaster ride next door. The cookie itself is thick, deep and studded with not one but three types of chocolate chips hand-placed in the dough so that every bite of this warm, gooey cookie is chocolatey and rich.
Location: California Adventure's Pixar Pier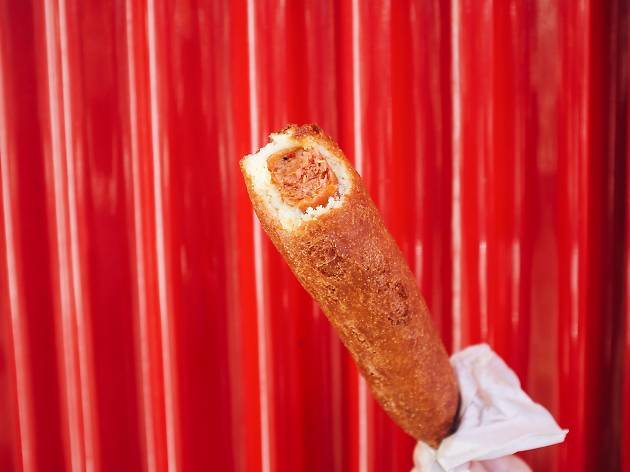 Photograph: Stephanie Breijo
22. Hot-Link Corn Dog at Corn Dog Castle
Temporarily closed.
Amusement-park food can start to add up over the course of a day, so when you find a good deal—and one that's filling—hang onto it. In the case of the goods at Corn Dog Castle, we mean that literally: These girthy, hefty corn dogs are so big they're almost unwieldy, so hold on tight. Priced at $10 and under, these bad boys come fresh from the fryer, a perfectly crisp crust over fluffy cornflour breading. They've got a veggie option and a standard dipped hot dog, but the best is the hot link, a spicy and fennel-flecked sausage that isn't afraid to bring the heat.
Location: California Adventure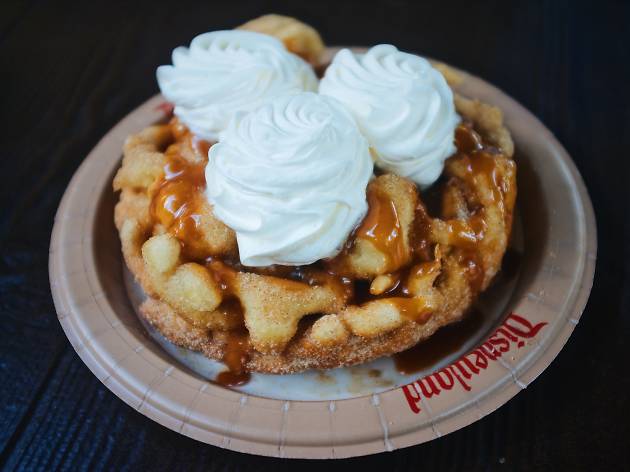 Photograph: Stephanie Breijo
23. Churro Funnel Cake at Hungry Bear Cafe
Temporarily closed.
Critter Country's Hungry Bear Cafe is all about Americana—and when we're here, we're all about the funnel cake. The log-cabin restaurant along the river is home to a few takes on the midway staple, but of the deep-fried dough desserts here, the churro spin has our heart. The funnel cake itself gets fried to order, then dusted with cinnamon sugar and a luscious caramel sauce dripping from the edges before it's all topped with a Mickey-shaped helping of whipped cream, naturally.
Location: Disneyland's Critter Country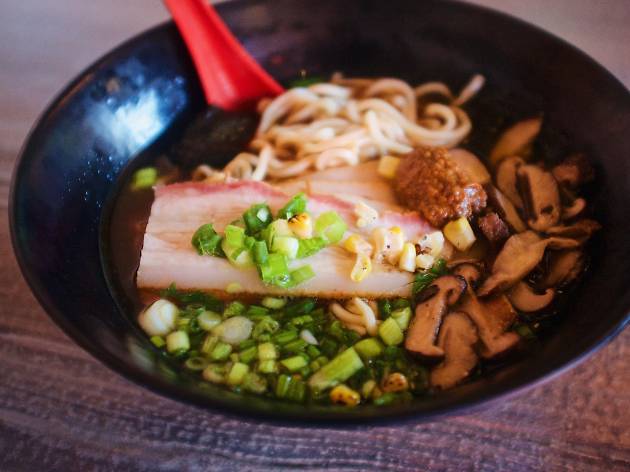 Photograph: Stephanie Breijo
24. Ramen at Lucky Fortune Cookery
If you're in the mood for soup but not for a sourdough bread bowl, the move at Pacific Wharf is Lucky Fortune's pork ramen. This substantial meal doesn't feel too heavy—we're not talking a true tonkatsu broth, after all—and the noodles have a surprisingly on-point chew to them. Roasted corn, nori sheets, ample green onion and mushrooms complete the package for a filling and satisfying bowl of ramen that fuels more strolling withought weighing you down.
Location: California Adventure's Pacific Wharf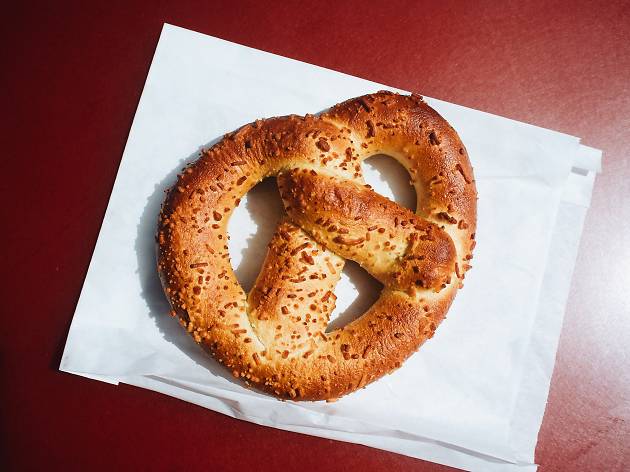 Photograph: Stephanie Breijo
25. Stuffed Jalapeño Pretzels at Refreshment Corner
Temporarily closed.
One of the joys of Disneyland is finding a portable bite to snack on while you roam between lands and, let's face it, hop into lines. Main Street is colored with vendors and shops all selling quick bites, but when you want something beyond popcorn and candied apples, you must try the stuffed pretzels, specifically the jalapeño option, whose mild spice gets cooled by warm, rich cream cheese. You can tear off portions to share with friends, but why would you want to?
Location: Disneyland's Main Street, U.S.A.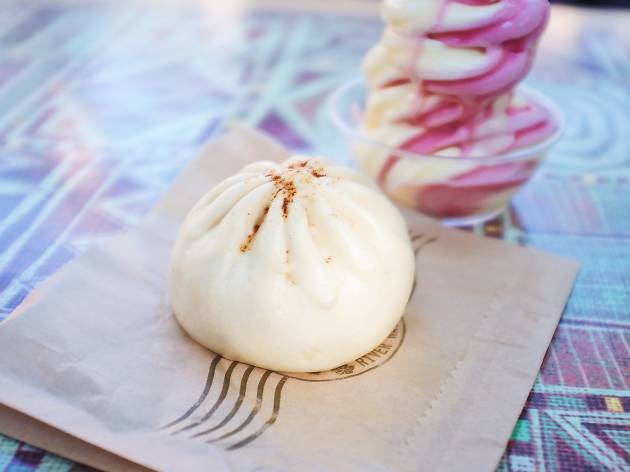 Photograph: Stephanie Breijo
26. Bao at Tropical Hideaway
When Disney announced its new restaurant along the banks of the Jungle Cruise, we knew we'd be in for something worldly, exciting and perhaps a menu that's a little bolder than your usual popcorn and fried-chicken fare (not that we don't love those, too). Enter Tropical Hideaway's cafeteria-style eatery that lets you pick and choose, and you should always choose the bao. Available in vegetatian and beef bulgogi options, these steamed, stuffed buns are well-spiced, flavorful and an ideal snack (or meal, if you order a few). Enjoy with a side of Dole Whip—especially considering you can only find flavors like raspberry in this restaurant.
Location: Disneyland's Adventureland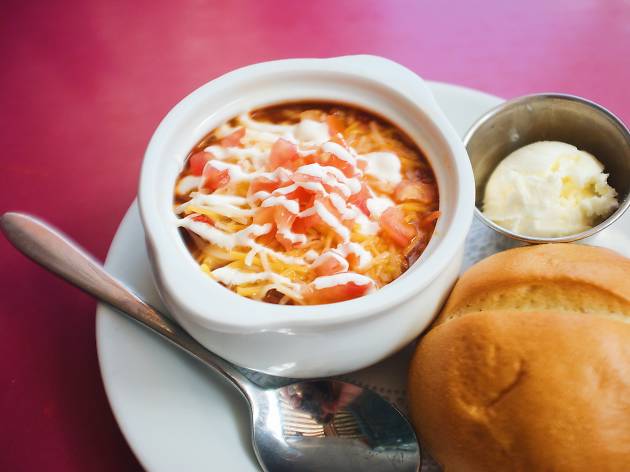 Photograph: Stephanie Breijo
27. Walt's Chili at Carnation Cafe
Temporarily closed.
Main Street, U.S.A. is like peering into the childhood of Walt Disney, and in one restaurant there, you can actually dine like the Mickey magnate himself. Carnation Cafe is a popular but tucked-away little spot serving American standards, including one of Walt's favorite foods. But Walt didn't just love chili—he loved this specific chili: Carnation Cafe uses the same chili recipe that Walt would eat when he was alive, and it's a straightforward, meaty, tomato-heavy classic that comes topped with cheese, sour cream and chopped fresh tomatoes.
Location: Disneyland's Main Street, U.S.A.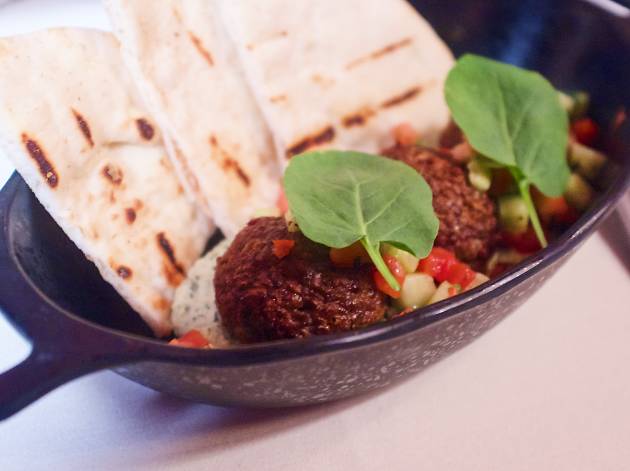 Photograph: Stephanie Breijo
28. Felucian Kefta & Hummus Garden Spread at Docking Bay 7 Food and Cargo
Temporarily closed.
Sure, we're all about the ribs in Galaxy's Edge, but plant-eaters landing on Black Spire Outpost still have it good: Docking Bay 7 stocks a fantastic Mediterranean-leaning mezze dish, where vegan kefta—sourced from the verdant planet Felucia, so we hear—sit alongside herbed hummus, a tomato-and-cucumber relish and a few slices of pita. It's one of the most refreshing meals in the park.
Location: Galaxy's Edge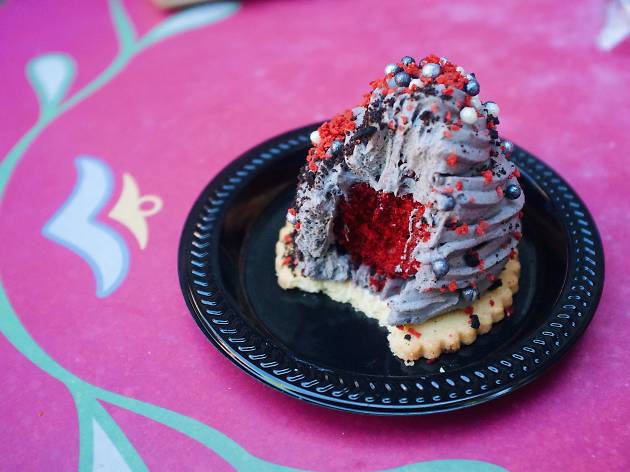 Photograph: Stephanie Breijo
29. Gray Stuff Gâteau at Red Rose Taverne
It doesn't take much work to find movie references scattered across Disney parks' menus, and at the edge of Fantasyland, one of these references is so popular and sought-out, it sells out nearly every day. Named, of course, for the nebulous item in the tune "Be Our Guest," now we know what the Lumière-touted "gray stuff" actually is: a creamy dessert that covers red velvet cake with gray cookies-and-cream buttercream frosting, and at the center, there's raspberry filling. And yes, it's delicious.
Location: Disneyland's Fantasyland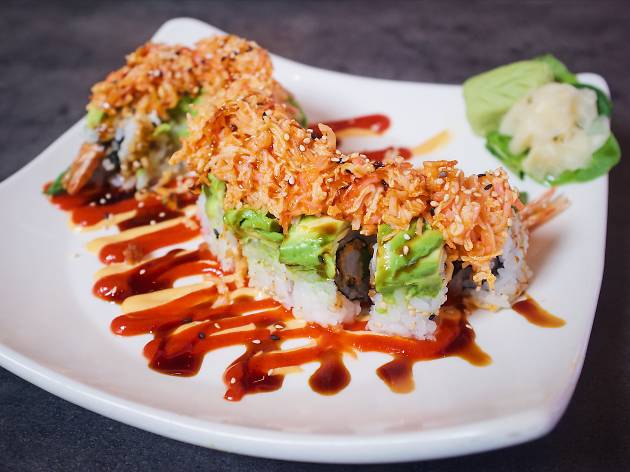 Photograph: Stephanie Breijo
30. Sushi at Splitsville Luxury Lanes
Sushi's abundant for hundreds of miles outside Disneyland's walls, but if you get the craving while visiting the park, you're almost out of luck. Fortunately Downtown Disney's bowling-alley–cum–restaurant Splitsville has you covered with utilitarian rolls that should sate your needs, and with a full bar and bowling on deck, too. This isn't omakase-quality, high-end sushi, but it's the ideal spot to sit on a patio and nosh on volcano rolls, nigiri, spicy tuna and some seaweed salad—throw in one of those cocktails on draft and you're good to go.
Location: Downtown Disney