Heads up! We're working hard to be accurate – but these are unusual times, so please always check before heading out.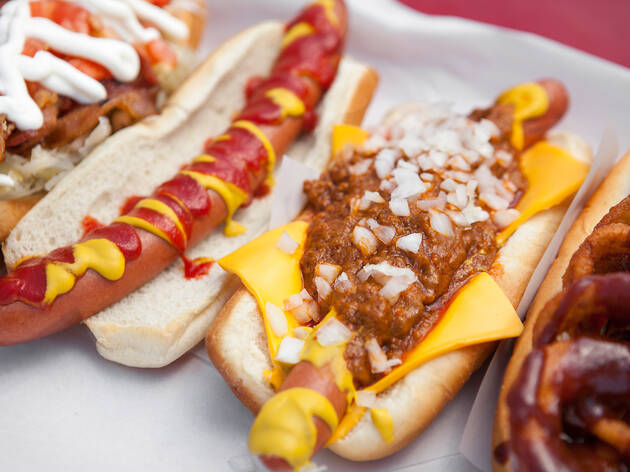 The best hot dogs in Los Angeles
Mayo, mustard, relish—whatever you douse your links with, we found the very best hot dogs in L.A. for prime summer grub
What is a backyard barbecue without a hot dog? Alongside burgers, watermelon slices and beer, hot dogs are as necessary during the summer as fireworks and trips to the beach. So what if you don't have a backyard? L.A. is, thankfully, rife with restaurants, stands and food carts offering excellent versions of this national dish, however you like it—topped with a pickle spear, slathered in chili, fried in pastry dough. Check out our guide to the best hot dogs in L.A.—it's basically your civic duty.
L.A.'s best hot dogs
Founded in 1939, Art's Famous Chili Dog Stand is a South L.A. staple and a mecca for those wanting one of owner Art Elkind's decadent dogs. Elkind claims to have invented the chili dog; in its original iteration, the stand sold separate hot dogs, chili, tamales and more, until one fateful day when Elkind decided to spoon some leftover chili onto a hot dog. The rest is history—today, people flock to the simple stand on Florence for its namesake, no-frills dish. Art's maintains its old-school vibes in every way—remember to bring cash, since they don't accept cards here.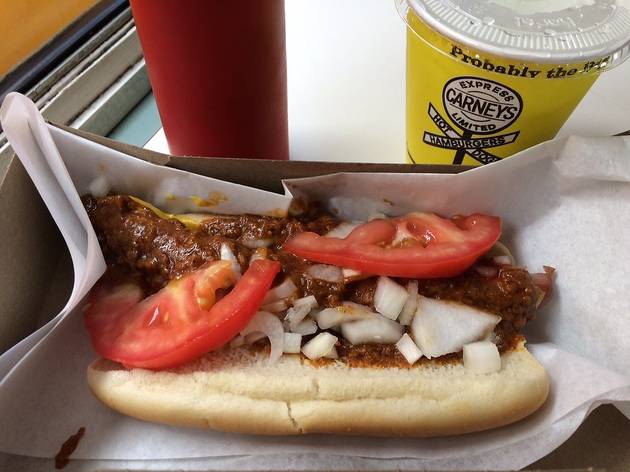 Photograph: Courtesy Yelp/Travis T. 
For those nights when only a chili dog served in a train car will do, there's Carney's. Since 1975, this Pacific Railroad passenger train (stationed in both Studio City and Hollywood) has been serving up burgers and hot dogs to comfort food-craving patrons. The classic Carney's dog is a chili version, topped with ground meat, tomato, mustard and onions, though diners can mix it up with the Red Baron (red cabbage, mustard, jack-cheddar cheese) or turn up the heat with the Spicy Style—a dog that's been split and grilled with griddled sauerkraut, chili peppers and grilled onions.
Cupid's Hot Dogs has been owned and operated by three generations of the Walsh family, starting in 1946 when Richard and Bernice Walsh opened their first stand (originally named Walsh's Hot Dogs) in the Valley. Today, Angelenos hankering for a chili dog can visit any of their three locations—Northridge, Simi Valley and Canoga Park—for a top-notch, chili-smothered dog. The menu is short and sweet, with the signature item being the Cupid Dog (mustard, onions, chili) followed by the Triangle (mustard, onions, relish) and the Reuben (mustard, cheese, sauerkraut). There's also a pastrami sandwich on the menu, but you'd be remiss to skip out on a dog here.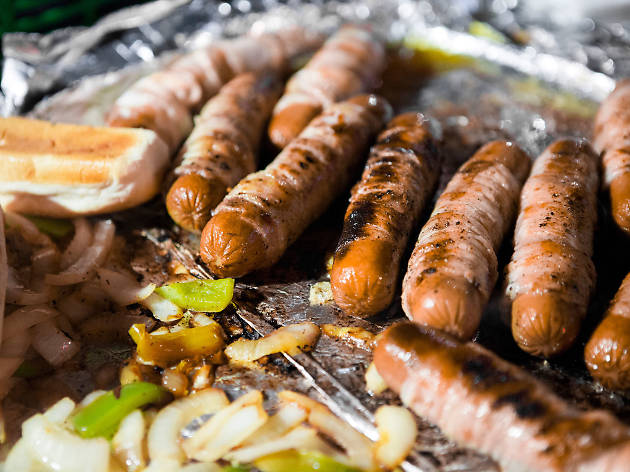 Photograph: Jakob N. Layman
You know about Danger Dogs. The unofficial dish of Los Angeles can be found outside of a Koreatown music venue or a Silver Lake bar as you make your way out of Dodger Stadium, or move from the boardwalk to the beach. To take a bite of a Danger Dog is to relish in the dribble of bacon grease running down your chin, the snap from a hot dog, the crunch of brusquely sautéed peppers and onions, the spicy jalapeño or poblano and avocado that tickles the back of your throat on the way down. You will face the consequences later, but at 2am on a sidewalk scattered with drunken bar hoppers, it will taste only of perfection.
In any other city, a restaurant named "Dirt Dog" might be considered a poor marketing decision. But in L.A.? We live for dirt dogs, the bacon-wrapped street dogs grilled on a cart that seem particularly enjoyable at 2am, when we're already three sheets to the wind. The brick-and-mortar Dirt Dog isn't open that late—and it costs a little more than our $3 street options—but the dogs here are just as delicious. Located just down the street from USC, the small storefront offers a few signature options made with Nathan's beef 5/1 dog, from the classic House Dirt Dog with onions, bell peppers and house-made bacon thousand island sauce to the Red Dirt Dog with spicy tomato chili sauce and chipotle aioli spread. For non-meat eaters, a soy-based veggie dog is also on the menu. Choose from traditional, Portuguese or lobster buns all made fresh at Melrose Bakery, then settle into a booth and get dirty.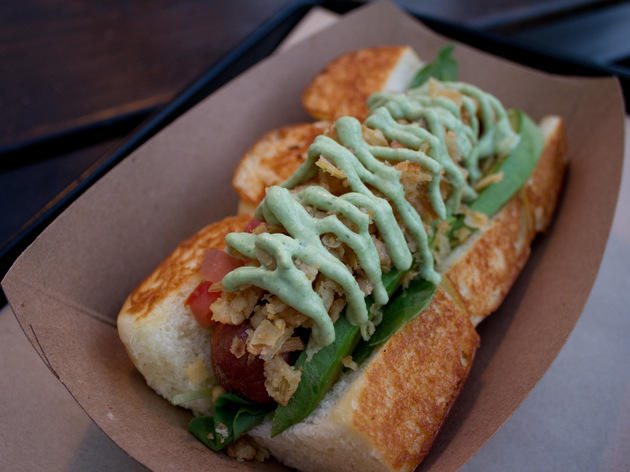 Though the Dog Haus menu reads like a drunken cookbook of street dogs and Denny's breakfasts, the plump, flavorful hot dogs show more tact and restraint than their sloppy inspirations, thanks in part to the sweet, soft Hawaiian bread buns. Whether you're visiting one of the many Dog Haus locations around town or the beer-focused Dog Haus Biergarten, there are plenty of standout options to choose from: the bacon-wrapped Old Town Dog, the Classic Corn Dog in its root beer batter, or our personal favorite, the Sooo Cali, with thick slices of avocado, crispy onions and spicy basil aioli. Pair with some tater tots and a beer, and your day is made.
We're not always on board with Guy Fieri's recommendations, but this one is an exception. Fab Hot Dogs made an appearance on Diners, Drive-ins and Dives in 2010, and soon after the Reseda location exploded with a newfound appreciation for the hot dog stand. A sizeable menu of house specialty dogs lets visitors indulge in a curated construction of hot dog, bun and toppings, though you can always build your own if you know exactly what you want. We're partial to the Chicago Dog, an all-beef masterpiece topped with neon relish onions, sport peppers, tomato, celery salt and a pickle spear on a poppy seed bun.
You can't miss Larry's—the old-school hot dog stand is as yellow as a bottle of Heinz mustard. Portions are large here, and while there are a number of dogs you can choose from, you'll want to go for the namesake dish, a hot dog that comes served in a traditional bun oozing with melted cheese and a generous ladling of house-stewed chili. Be prepared to make a mess.
On the off chance that you're craving a hot dog on your next date, Meea's may very well be the perfect place to snag one. Their cute outdoor courtyard is lined with picnic tables and umbrellas, where you can grab a seat while you're waiting for one of the many gourmet dogs to choose from here. Try the Seattle Street, with bacon, grilled onions, sauerkraut, brown mustard and cream cheese, or the incredibly flavorful Mushroom Dog, piled high with mushrooms and onions and dripping Swiss cheese. Meea's portions are massive, so we wouldn't fault you for sharing—it's kind of romantic, even with all that dripping bacon grease.
A hot dog wrapped in a tortilla? Sure, why not—anything is possible in L.A. This eclectic hot dog stand on Fairfax serves a standard menu of hot dogs—chili cheese, bacon-wrapped—but ask for an Oki-Dog and your links will come wrapped in a tortilla, along with a healthy dose of chili and cheddar cheese. Opt for the $6 special and you'll get your dog with fries and a soda.
You can argue over L.A.'s best hot dog, but Pink's is certainly the city's most famous. The stand, open since 1939, most notably serves up hot dogs named after local legends and Hollywood heroes, from the Huell Howser Dog to the Brando Dog. But it made its name with a chili dog, a simple weiner smothered in chili, onions, cheese and mustard. Prepare for a long line stocked with tourists by day and clubgoers at night.
The Slaw Dogs is a small eatery hidden inside a Pasadena strip mall, a compact spot where diners choose from a slew of custom and build-your-own dogs. There's a small selection of hamburgers here, too, but the hot dogs are where it's at. Our favorite pick goes to the Picnic Dog, a quarter pound of Vienna beef covered in potato salad, onion rings, BBQ sauce and a pickle spear. Take one bite and you've got an entire picnic in your mouth. Farther east, in Duarte, there's a full-on cafe, and there's even a new Slaw Dogs in Woodland Hills (though the menu's different).
Don't let the name scare you; Vicious Dogs is more bark than bite, a ragtag hot dog joint on Lankershim Boulevard that serves some fantastic, unique weiner variations. From the Hot Chick (a bacon-wrapped beef dog with melted mozzarella and a chicken tender) to the Green Hornet (a Louisiana link with spicy habanero green sauce and guac), there's a dog here for every diner. Vicious's most popular option is the Sweet and Spicy, a kielbasa link with house-made sweet and spicy Thai chili glaze on a massive poppy seed bun. Dive into your meal at one of the tables scattered around the small space while you gaze at the mouthwatering photos of hot dogs that hang on the walls.
Looking to wash down that hot dog?
Whether you're seeking an in-your-face local IPA or international sudsifaction, L.A.'s microbrew gems are in it for the long haul. From dive bars to biergartens, here are the city's best beer bars to check out now.