Kid-friendly restaurants in Los Angeles
Going to a restaurant with kids can be challenging, but these kid-friendly restaurants in Los Angeles make it easy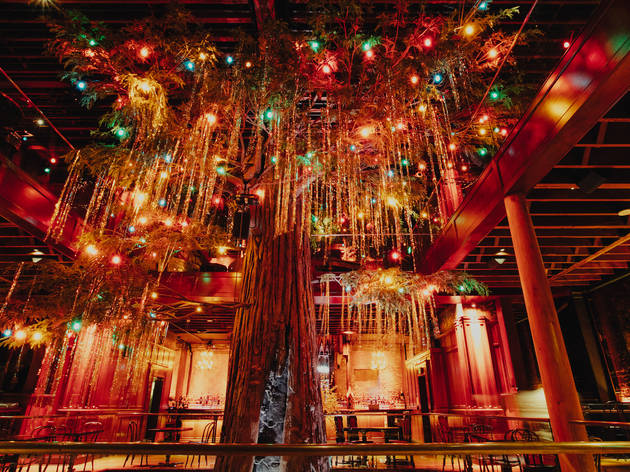 Los Angeles is a fun place to live, not just for adults but for children as well. There are kids museums, playgrounds and other fun things for the little ones to explore throughout the city. But when it comes to dining out, it can be hard to find a kid-friendly spot among all the hip and fine-dining restaurants in L.A. To help, we've put together a list of all the kid-friendly resturants for when you're looking to eat out with the kiddos in tow!
Kid-friendly restaurants in L.A.
The unique creation of owner Jessica Biel, Au Fudge is an exclusive kid-friendly restaurant that serves organic dishes in an upscale setting. Designed to put the fun back in taking kids out, the restaurant's menu features a mix of healthy and indulgent fare. Treat your kid to rainbow cheesecake, mini burgers and crispy mac and cheese, all while enjoying a delicious salad.
Read more
This is shoe-free dining! Lemon Tree Family Restaurant serves pizza, pasta and Korean cuisine in a playful, kid-friendly atmosphere. To keep the kids entertained, there's a 2,000-square-foot playground for children up to 10 years old that includes a mini train, carousel, ball pit, jungle gym and more.
Read more
This family-friendly Italian restaurant has a full menu that includes calamari fritti and bruchetta to start, as well as pizza and a wide array of pasta options. The restaurant's bolognese sauce is a favorite among regulars, as is their original pink sauce. The best part of the menu? Children can make their own pizzas, customizing their own toppings. Kids are given coloring papers and crayons for entertainment and can nibble on homemade cookies for dessert.
Read more
There are more than 10 locations of Rock and Brews around the country and most of the locations have play areas for children. Though adults come to the El Segundo location for its beer garden and vast beer selection, kids will enjoy coming here too thanks to its kids menu of hamburgers, grilled cheese, chicken kabobs and pizza. To make sure the kids are always entertained, they also provide rock-themed coloring templates!


Read more
After four years and over $10 million in renovations, Clifton's Republic has reopened Downtown, bringing back a beloved institution that was once a landmark of Downtown's bustling Broadway. New owner Andrew Meieran has filled the five floors with intricate detail, from vignettes of famous L.A. sites to taxidermy to a massive tree that shoots up through the building, meaning there's plenty of eye candy to keep your kids' attention. The first floor cafeteria offers plates of comfort food and that famous Jell-O that the little ones are sure to love.
Read more
Whether you're coming for a bite to eat from the Snooknuk Cafe or to let your kids run and play in the playground, Snooknuk is an indoor facility that has it all. With beautiful fairytale-like murals on all the walls, kids can get lost in their imaginations here. The menu includes salads, sandwiches and snacks like Pop Chips and Welsh Fruit Snacks.
Read more
This family-friendly restaurant also includes a play area for kids to run amok, but the main draw here is actually the food. The restaurant's menu includes fresh, organic ingredients and its pizza has been named the best pizza in Los Angeles by Nickelodeon. The venue also includes nightly entertainment, including magic shows, puppet shows and more. 
Read more
Looking for more kid-friendly activities?
There are plenty of things to do outside in Los Angeles, but even with all our beautiful beaches and parks, sometimes you just want to be indoors. Whether it's because of L.A.'s occasional rain or those nasty Santa Ana winds—or maybe because your little one is just an indoorsy person—check out the best indoor activities for kids in Los Angeles.
Read more