Five brand new brunches to try in August
Dig into the newest bottomless mimosas, brunch by the bay and more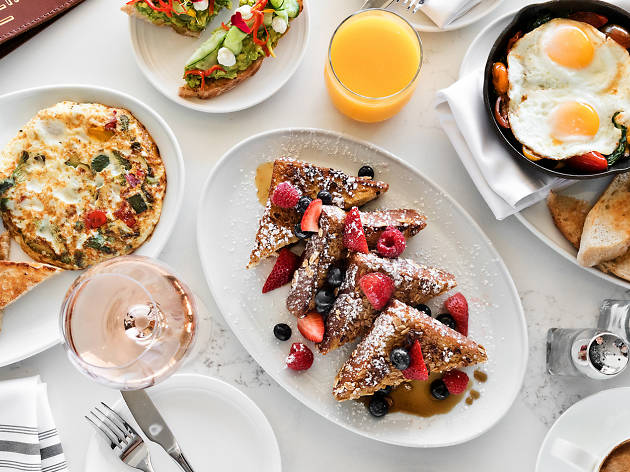 Forget the half-hearted scramble you thought about rolling out of bed to make—this weekend, leave it to the pros because they're got chicken and waffles, Italian skillet hashes, seaside latkes and chorizo-gravy biscuits with a mood-ring–inspired cocktail menu. If that's not worth leaving the house on a weekend we don't know what is.
If you prefer your brunch bayside, this Marina del Rey stalwart just revamped its menu thanks to new executive chef Job Carder—who just so happened to dine here as a child with his grandfather. Today, he's adding more modern classics to the spot, including smoked-salmon clubs, seafood towers, lobster mac and cheese, boar bolognese and, of course, brunch. Seafood lovers, this one's for you: Carder's brunch menu means lobster hash with sweet peppers, asparagus, shallots, Tuscan kale, poached eggs and a lobster hollandaise sauce; a house-smoked–salmon Benedict over latkes with dill hollandaise; and a plate of shrimp-and-chicken chilaquiles with house-made tortilla chips, crème fraîche and tomatillo sauce, all in addition to the usual suspects like breakfast sandwiches and French toast. Kick it up a notch with the $22 boozy upgrade, which gets you bottomless sparkling wine, mimosas or bloody Marys.
Sat 11:30am–2:30pm, Sun 10:30am–2:30pm
Rick Caruso's made a name in L.A. building some of the city's largest shopping enterprises (hello, the Grove), while restaurateur Tancredi Deluca's been dotting the landscape with various spins on his Italian concept, Amici. The two have teamed up for a few Deluca-fronted restaurants in Caruso's Americana at Brand mall in Glendale, but now, they're taking on Beverly Grove. Meet Emilia, a new all-day restaurant that's focused on Northern Italian cuisine done with Californian and Italian ingredients: At brunch, expect fresh pastries made daily; an Italian take on avocado toast with house-made bread topped with avocado, ricotta, pickled cucumber and lemon zest; omelettes filled with grilled zucchini, carrots, peppers and broccoli; uova al tegamino, two organic eggs atop a bed of braised kale, leeks and heirloom cherry tomatoes; and French toast with fresh berries, for a dolce mattina.
Sat, Sun 8am–4pm
Jeremy Fall is back at it again, and this time, some of the world's biggest celebrities are in the mix. The Nighthawk and Easy's restaurateur just launched another themed, eclectic concept, and while Mixtape just opened in Fairfax with another menu full of Fall's elevated takes on comfort food, this spot promises "an immersive art experience" by way of visual-art collabs and playlists from entertainment-industry vets such as Quincy Jones, Jaden Smith, Brandon Boyd, Serj Tankian and Robin Thicke. The glam restaurant is diving right into brunch service with shakshuka with lentils; pastrami hash with house-made pastrami, root vegetables, eggs and chives; chorizo gravy and eggs over drop biscuits; buttermilk pancakes with blueberry-and-ginger syrup; breakfast sandwiches sporting bacon jam; and challah French toast drizzled with rye-whiskey maple syrup. Don't forget the mood-ring–inspired cocktail program, where bartenders whip up cocktails depending on how you feel (fiery, playful, mischievous, serene, energetic—you know, basically your entire range of emotions when you reflect on life in the '90s when you actually wore mood rings).
Sat, Sun 10am–4pm
Part patio, part lounge, part neighborhood hang, Venice's beachy, boho Neighbor has a new brunch menu and a breezy atmosphere where you can enjoy it. Settle in at a table or a couch under the hanging vines and dig into the likes of fried chicken with cornbread, honey and jalapeño; buttermilk pancakes with blueberry, walnut, coffee butter and maple syrup; avocado atop seeded toast with pistachio, lime, radish and chive blossom; radicchio salad littered with anchovy, parmesan, dijon and croutons; fingerling potato poutine with five spice, sausage gravy and cured egg yolk; and cardamom-scented granola with mint. If that patio dining room makes you want to linger, we can't blame you. Our advice? Linger over $45 mimosas for the table or a solo mezcal bloody Mary.
Sat, Sun 10am–3pm
Hatchet Hall already cooks up some of our favorite food in Los Angeles, and now the live-fire restaurant is dipping its toes into brunch service—or, we should say, its rustic watering hole, Old Man Bar, is the one giving us our new dose of rugged American cuisine. The Culver City restaurant's adjacent bar now serves chicken and waffles on Sundays, and it's the only dish on the menu—not that you won't find some special cocktails there, too (again, this is Old Man Bar we're talking about). The massive, plump, succulent fried chicken comes Louisiana-style (think: buttermilk-brined and cornmeal-crusted) and served over a large pecan waffle that's there to absorb all of the honey butter, maple syrup and house-made hot sauce you can throw at it. Wash it all down with their new whiskey-and-coffee cocktail, for best results.
Sun 11am–3pm
Looking for more new menus?