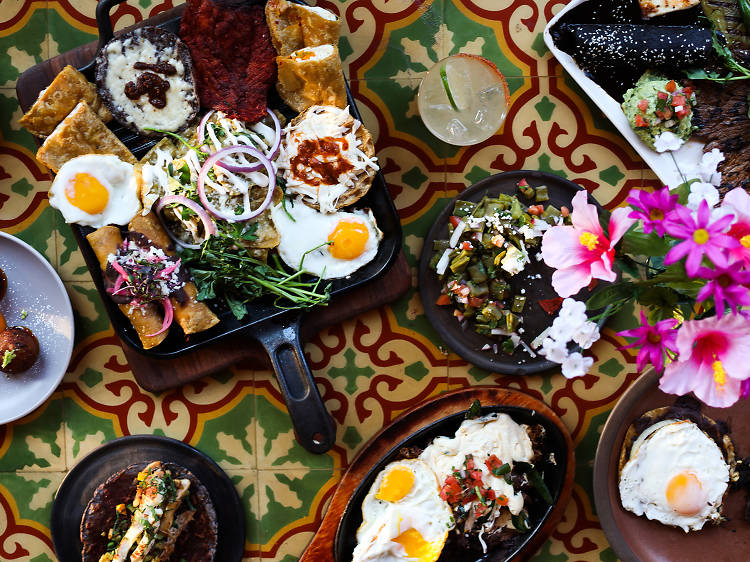 Photograph: Courtesy Madre
Five brand new brunches to try in February
Sometimes "new" means revamping a stalwart, and Josiah Citrin's been on a roll lately. In addition to completely renovating and reimagining his tasting-menu destination, Mélisse, he's also recently redone the brunch menu in his Venice temple to smoke, Charcoal. The new menu is a sprawling trek through griddled goods (pancakes, waffles and the like) and, of course, plenty of eggs, meats and veggies that've hit the grill. Entirely new dishes include the Charcoal Benedict, made with tomato compote and a charcoal-infused, jet-black hollandaise; persimmon pancakes with pomegranate and lemon; cornflake-crusted French toast with blueberry compote; and overnight oats with blackberry molasses. If you were looking for an excuse to try Citrin's expert hand at brunch, now's the time.
Sat, Sun 10:30am-2:30pm
One of the Arts District's favorite watering holes is brighting up our weekends just a little bit earlier, launching brunch to round out its usual evening menu of thoughtful bar bites, burgers and loaded fries. Now you can find morning fare such as egg-topped mushroomy black-rice bowls; a vegan Benedict; a gruyere-gooey breakfast sandwich; habanero-tinged chilaquiles; bagel-and-lox plates; blueberry-and-ricotta pancakes and more, not to mention kimchi bloody Marys, a mulled wine frappé, and a $20 option for bottomless mimosas. Good morning, indeed.
Sat, Sun 11am-4pm
Torrance and Culver City's premier mezcal spots and Oaxacan-food destinations just overhauled their brunch menus, which means a whole lot of new, delicious ways to wake up on a weekend in two separate neighborhoods. Whichever location you pick, look for $15 bottomless micheladas or mimosas (note: the clock is running—you've only got 75 minutes), plus new dishes such as carne asada with fried eggs and Coloradito mole; bistec with eggs, poblano peppers and melted quesillo; and the hangover cocktail—as in seafood cocktail—which involves octopus, shrimp, avocado, green salsa, jalapeño and more.
Sat, Sun 10am-2:30pm
Noodles may be the specialty at Mid-City's new "friendly neighborhood pasta bar," but at brunch, it's all about pancakes. The team behind Met Her at a Bar recently launched a casual next-door restaurant, Met Him at a Bar, and its brunch menu leans into chipper Italian-inspired morning plates (sorry, no egg-topped brunch pasta in sight) and a range of flapjacks such as matcha pancakes, lemon-tart pancakes, tiramisu pancakes, plain pancakes, and pantella pancakes, which involve strawberries, bananas and nutella. You can continue the sweetness with house-made lemon doughnuts and crème brûlée French toast, or lean savory with a sausage-and-peppers sandwich, some eggs Florentine, or the Italian breakfast of eggs with pesto sourdough and confit tomatoes.
Sat, Sun 11am-4pm
Downtown's got a bright and airy new restaurant tucked into its bustling events center: Cal-Italian spot Savoca is now open within LA Live's JW Marriott, and it's built on house-made pastas and other Mediterranean fare, especially when it comes to breakfast. Sure, yes, this is a brunch roundup, but every morning you can dive into a breakfast take on cacio e pepe featuring scrambled eggs and pecorino cheese—which I think most of us, if not all of us, can get behind—or more a.m.-familiar dishes such as poached eggs in a sausage-studded tomato sauce, or some fresh market berries with ricotta.
Daily 6:30-11am