Five brand new brunches to try in January
Say farewell to 2019 with the best new brunches in L.A. for bottomless drinks, rooftop dining and more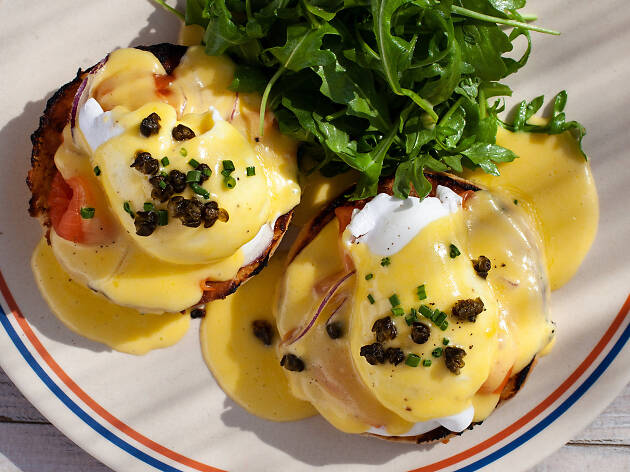 You know the old adage: new year, new brunch. Or at least that's how we're choosing to remember it. Just because we're all grinding back into our workweeks and daily routines, that doesn't mean we can't treat ourselves to something new. Use these new brunches to spice up your January—or help ease yourself back into non-holiday life. Whether you're looking for a sky-high brunch or a Bloody Mary or six, here's where to find great new weekend dining in L.A.
With a semi-secluded patio just off Vermont and an interior that boasts velvet booths, skylights and plenty of greenery, Atrium is a darling neighborhood spot for weekend mornings, inside and out. The menu is as eclectic and as globally-inspired as the dinner service, which means you can expect dishes like the mountain of crispy fingerling potatoes drizzled with salsa taquera and chipotle queso topped with a sunny egg; a cauliflower hash with poached eggs, bacon and a honey mustard glaze; and a fried-egg bành mí with pork belly, house-pickled vegetables and cilantro. This is a neighborhood restaurant, so don't be surprised to see plenty of strollers—but parents need a drink, too, so expect cheeky brunch cocktails like the bright and herbaceous Tequila Cleanse. Don't pass up Gregory Baumgartner's pastries, either.
Sat, Sun 10am–3pm
Studio City's new gastropub may be tapas-oriented in the evening, but at brunch—"a.k.a. you woke up at lunchtime!"—they've got an annotated menu that features multiple takes on avocado toast ("Not pretentious! I swear!"), stuffed French toast, a chorizo aioli burger ("Nothing wrong with a burger for breakfast!"), salmon Benedict and "#HangoverFoods" like Kurobuta pork belly hash with crispy potatoes, Brussels sprouts, a fried egg and some honey dijon. There's a comfy back patio, if you're looking for a little privacy, but if you're into people-watching, the seats overlooking Ventura Boulevard should do the trick.
Sat, Sun noon–4pm
Looking for brunch with a view? The team behind Norah brings us Culver City's gorgeous new rooftop restaurant, Margot, which perches atop the Platform complex and features sweeping views of L.A. The brunch menu here is as light and breezy as the atmosphere: salads with hazelnut vinaigrettes and citrus; a crudo bar where the likes of puffed black rice and anchovy sauce mix with sea bream; and vegetables like charred broccoli arrive topped with pistachios and feta. Those craving heartier fare will find a handful of focaccia sandwiches, not to mention L.A.-brunch classics like grain bowls, decked-out avocado toast—plus some fried chicken with Calabrian honey and a dish of poached eggs with polenta and roasted-pepper sugo. (And yes, there are cocktails.)
Sat, Sun 11am–2:30pm
Bloody Mary fans, meet your new weekend hang. This Arts District restaurant not only launched brunch service last month, it launched a whole menu of Bloody Mary variants, all designed by Kaiko Tulloch—who just so happened to win a Bloody Mary championship in the U.K. There's the Little Tokyo Mary, made with vodka, wasabi oil, gochujang, tomato, black vinegar, cucumber, chili and sesame, and the Clarified Mary, with dill Aquavit, Dolin dry vermouth, tomato seed water, chili oil and mushroom, and a handful of others (including, yes, a more classic take). All that sipping is sure to work up an appetite, so look to chef Jessica Largey's brunch menu, which includes short rib porridge with grilled broccolini, soft egg and her insanely good macadamia salsa macha; polenta-and-plantain hot cakes with caviar and shallot crème fraîche; and buttermilk fried chicken with radish slaw and poblano aioli. Take note: Simone's brunch service is only available in its front bar, Duello.
Sat, Sun 10:30am–3pm
Enjoy your eggs with a bit of salt air at the Waterfront, a Venice institution freshly reopened after a year-long renovation. The new space includes a handful of spots perfect for brunching: Front bar for cocktails? Ideal. The beachy back lounge for couch seating? Sounds good to us. But the gem of them all is the back patio, all trellised and right off the Venice Boardwalk. The food is bright and simple at this all-day café, with breakfast tacos on house-made flour tortillas; acai bowls; multigrain waffles; and a breakfast burrito all on offer; non-brunch plates, also available, include burgers, fish tacos, farmers' market salads and a grain bowl with tahini-and-ginger dressing. Stop by between 10am and noon and find bottomless mimosas, but a real draw here is the cocktail menu: all fruity and tropical and including frozen margaritas—perfect for a day at the beach, don't you think?
Sat, Sun 10am–3pm
Looking for more new menus?