Five brand new brunches to try in October
Dig into breakfast pizza, pumpkin spice doughnuts and rooftop views.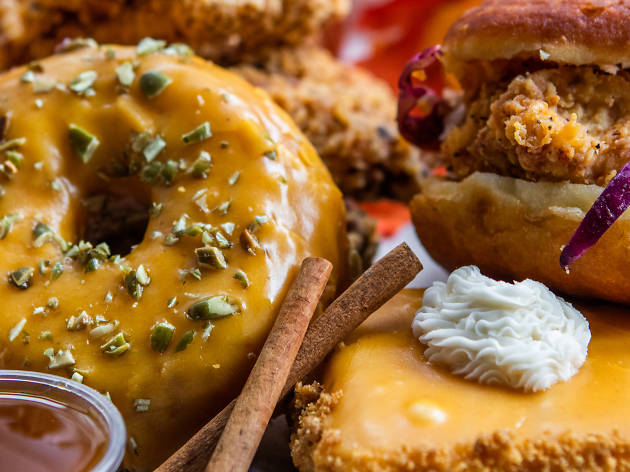 As we head deep into fall, it's time to embrace the finer things in life—pumpkin spice everything, obviously—and to do this, have we got the brunch for you. No? Well even if you're not into waking up with some pumpkin doughnuts—and you'd rather soak up L.A. weather and pretend it's still summer—we've also got new rooftop brunches, breakfast pizza, honeycomb pancakes and everything else to sweeten your weekend, with or without the dose of pumpkin spice.
Pumpkin spice fans, this one's for you: What could very well be our favorite doughnut shop is going all out this month and diving into pumpkin-flavored treats at its Westside location. Head to Santa Monica's Astro Doughnuts & Fried Chicken for an autumnal takeover, which means a back patio that's been transformed into a pumpkin patch, not to mention a handful of limited-time menu items.
There's of course a pumpkin spice doughnut, which tops a classic yeast doughnut with pumpkin spice glaze and toasted pumpkin seeds, but there's also a pumpkin pie doughnut that pipes a yeast variety with pumpkin spice pastry cream, then covers it in pumpkin spice glaze, graham cracker crumble and spiced buttercream. Looking to start your day on the savory side? Check out the Autumn Fingers—fried chicken tenders served with a pumpkin spice beer dipping sauce—or the ultimate fall sandwich: fried chicken with a pumpkin-chutney slaw, served on a savory pumpkin spice doughnut, of course. Lest ye start the day or fall season without a drink in hand, they've also got you covered with pumpkin spice lattes on draft, along with pumpkin spice craft beer and sparkling wine.
Sat 7:30am–9pm, Sun 9am–6pm
Less a brunch-specific spot and more a luxurious all-day café, Brooklyn export Five Leaves is the kind of place we want to wake up in: elegant spins on basics, trendy booths, stylish lighting and other decor touches, a menu with something for everyone, a solid coffee program. Fortunately, we can find these things every day of the week, which means weekend brunch or treating yourself to a killer breakfast on, say, a Wednesday morning before you roll into the office. The avocado toast comes topped with preserved Meyer lemon, the breakfast sandwich involves tomato jam and fresh basil, and the ricotta pancakes are light and fluffy and topped with honeycomb butter. Yes, we will take a side of grilled fennel with our Moroccan scramble, and we'll add a rum canelé, while we're at it.
Daily 8am–around 3pm
What's that? One of the best rooftops in L.A. is launching a new brunch menu? Look, we know Hotel Erwin's lofty restaurant and bar is already in high demand, but that's what reservations are for. So snag a table up top in advance and you can dig into a new selection of weekend staples: chilaquiles, acai bowls, avocado toast, Benedicts, fried chicken and waffles, breakfast burritos—you get the picture. Couple it with mimosas, bellinis, bloodys and that view of Venice and you'll be riding high all day, even after you come down.
Sat, Sun 11:30am–2:30pm
Chef Brendan Collins has proven time and again that he knows his way around a brunch menu—ahem, Birch and the Wilshire—and at his latest, Fia, he's still very much on top of the weekend-eggs game. Settle in on the stellar patio for classics and a few originals that'll hit the spot: The pastries are all made in-house, including the English muffins beneath the Benedict. There's a section of the menu dedicated to toasts, which is where you'll find challah French toast; an otherworldly-good truffled cheesy scramble; and short-rib grilled cheese with egg. There's also corned beef hash loco moco, not to mention chicken and biscuits, shakshuka and what might be the best steak and eggs on the Westside—in short, just about anything you could crave is here. Round it all out with brunch cocktails and—we can't stress this enough—that perfect patio.
Sat, Sun 11am–3pm
Santa Monica's Hotel Shangri-La is celebrating a glorious 80 years of Art Deco splendor with a brand new restaurant, and fortunately for us, that also means a sky-high new brunch option. The gem of the stylish building is, of course, its rooftop lounge, Onyx, but now that gem has its own gem: Terrace, a handcrafted-pizza concept featuring local ingredients and morning-friendly cocktails. Head to the rooftop to check out the new restaurant and its wood-burning oven that spits out brunch pizza (hello, toppings like kurobuta-pork sausage and fried eggs), or opt for dishes such as buttermilk waffles with marshmallow fluff; brie omelettes; bananas Foster French toast; and eggs Benedict with Black Forest ham, all while taking in the ocean views that stretch as far as Malibu.
Sat, Sun 11am–3pm
Looking for more new menus?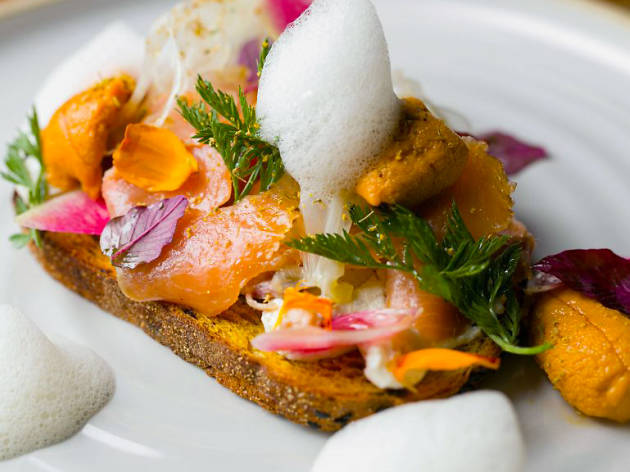 Photograph: Courtesy Le Grand
Five brand new brunches to try in September
Downtown's got plenty of restaurants, but when it comes to full brunch spreads, the neighborhood's almost completely lacking options. Fortunately there's the spacious new California-meets-Mediterranean spot, Le Grand, where you can nosh on mezze, eggs, house-made pastas, bourbon pancakes and refreshing crudos on weekends. Chef-brothers Alex and Chris Manos—collectively of Providence, Gwen and Mélisse—developed a brunch menu that runs the gamut: vanilla beignets with warm salted caramel sauce; smoked-salmon tartines with cucumber, ricotta, fennel and turmeric; superfood bowls; decadent brioche Benedicts sporting house-made bacon; lamb-shank hash with mustard béarnaise; healthful dragon fruit bowls; and Maine lobster bucatini in a saffron bisque, to name just a few. What's more, if you opt for a seat on the patio (great people-watching), you'll also probably catch live music.
Sun 11:30am–3pm
There's plenty of seafood to be had by the seashore at one of Venice's new hot spots: The draw at Pier House is the kind of breezy boardwalk fare you can imagine visitors nibbling along the boardwalk in the 1920s and beyond (lobster rolls, poached shrimp, calamari), and that's especially true on the brunch menu. We recommend you start with some poached shrimp, which comes clicked in quality olive oil and coated in fresh dill; from there, there's the tarragon-studded lobster roll; spaghetti pomodoro with mussels, shrimp and clams; fish tacos with avocado crema—you get the idea. If you're craving more straightforward morning fare (or a reprieve from seafood), there's coconut chia seed pudding; brioche French toast with market berries; a croque madame with truffle comté mornay; and a handful of bright, breezy salads to match the setting. (Did we mention the patio? Sit on that patio.)
Daily 9am–2:30pm
If Downtown's Le Grand is a bit too far, the Valley has its own new Cal-Med restaurant. Santuari, tucked into the Toluca Lake Tennis & Fitness Club, is plating up European-inspired resort fare right by the tennis courts—which means you can enjoy those Benedicts in a fantasy that you're on vacation somewhere breezy and exotic. Lighter bites from executive chef and Wilshire vet Brendan Mica include Greek yogurt with honey, persimmons and mint; rice-and-quinoa salads with sunchokes and carrot; fresh fruit with a saffron sabayon; and roasted carrot hummus with grilled flatbread. Meanwhile, heartier fare means crab Benedict with crispy leeks and grilled focaccia; shakshuka with eggplant, feta and green harissa; short rib hash with poblano peppers and hollandaise; and grilled-prime steak frites with chimichurri. Top it all off with $5 "Santimosas"—available in an array of juice options—or the $8 strawberry gelato served with Spanish sparkling wine. See? Just like you're on vacation.
Sat, Sun 11am–2pm
San Francisco's Tartine continues its takeover of L.A.'s bread and baked goods scenes. First came the behemoth Manufactory complex in the Arts District, and now Tartine Sycamore, a sunny, modern Hollywood café sporting house-made bread, sandwiches, pastries, quiches and, of course, Tartine's signature smørrebrød toasts. The newest member of the Tartine family also has a few tricks up its sleeves: The charmer's location-unique dishes include a Japanese-style chicken katsu sandwich; a gingery bowl of chicken rice porridge; a BLTA sandwich (that's bologna, lettuce, tomato and avocado, to you); a fig tartine; and a tomato-and-beet tartine, with more seasonal specials to come. And there are still new Tartine outposts headed for Santa Monica and Silver Lake, both due to open later this year, because, like we said, they're taking over. (We, for one, welcome our new bread overlords.)
Mon–Fri 7am–3pm; Sat, Sun 8am–4pm
One of our favorite new restaurants of 2019 recently launched brunch service, which means we more than endorse a trip to Venice just to try Vartan Abgaryan's cooking in the morning. Thankfully the brunch menu includes some of his already cult-classic dishes—the cacio e pepe fingerling potatoes, for instance, and the whipped avocado hummus with salsa macha, too—as well as a few weekend-a.m. exclusives: crab Benedict served over house-made biscuits; a savory Dutch baby with peas, parmesan and morels; smoked salmon with scallion pancake, lemon, soy and smoked roe; and the chef's Nashville-style hot shrimp, here served with cheesy grits, honey and chives, as opposed to dinner service's milk bread and cabbage slaw. Who's down for a day in Venice now?
Sat, Sun 11am–3pm
Show more