Five brand new brunches to try in April
Jump into spring with the best new brunches in L.A., including rooftop Benedicts, fizzy weekend cocktails and more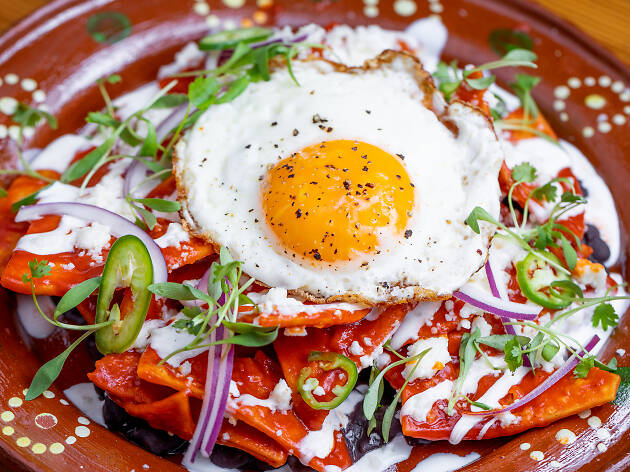 Some of L.A.'s most exciting and diverse newcomers are rolling out brunch service, which means your weekends are about to become a whole lot more delicious. Whether you're looking for Peruvian eggs, some German vegan schnitzel and waffles, chilaquiles from some of the city's best chefs or one of the best burgers we've had this year, there's a little something for everyone this April.
Highland Park's buzzing and buzzy all-vegan beer hall just added brunch to its roster, which, as we all know, is the perfect meal to enjoy alfresco. The dairy-free, meat-free menu involves classics both American and German, plus a few mash-ups and modern interpretations as well. There's the American, a plate of tofu scramble with house-made bratwurst, potato pancakes and toast; the German Farmer's Breakfast, an open-faced vegan omelet with fried potatoes, onions, smoky tempeh and pickles, plus your choice of broetchen rolls, toast or gluten-free toast; and even their own take on chicken and waffles, here with a house-made fried seitan cutlet, waffles, poached pear, maple syrup and an arugula salad. On the sweeter note, there's pretzel-bread French toast, not to mention waffles and pancakes topped with coconut whipped cream—and, of course, there's plenty of beer.
Sat, Sun 8am–3pm
Los Balcones' Gorge Rodriguez teamed up with Rosaliné's Ricardo Zarate late last year to open a new, more ecclectic branch of the Los Balcones Peruvian restaurant family. The result? A vibrant menu devoted to mestizo—the cultural blending so pervasive throughout Peru's peoples, food and art—and now, the restaurant's opening up its mestizo ethos to brunch service. The offerings include flank steak with green pesto, salt-baked crispy potatoes, and eggs cooked to your choosing; a porchetta sandwich on pan con chicharron with arugula, sweet potato, salsa criolla and a salsa madre aioli; and grilled tiger prawns in bouillabaisse served with creamed Corn, scrambled eggs, salsa madre and amarillo sauce. Of course, with all of that vibrant, spicy food, you're going to want a cocktail, and Los Balcones has a handful just perfect for the occasion. (Cava with fresh ginger and passion fruit, anyone?)
Sat 11am–2:30pm, Sun 11am–4:30pm
OK, so this brunch is a couple months old, but believe us when we say it's great. The midcentury-modern–inspired decor provides a stylish setting for chef Oscar Torres's imaginative American cuisine in the heart of Studio City, meaning you might enjoy a killer fresno-topped smashburger in the lounge; some bold chilaquiles topped with scrambled eggs, crème fraîche, charred tomatoes and cheddar on the patio; or the deceptively simple Green Eggs & Ham scramble near the fire pit. Our advice? Snag a spot indoors or outdoors, because you're going to need a table's surface area to hold all of the dishes and brunch cocktails you're going to want to order. (And with most dishes hovering around $12, you can order away.)
Sat & Sun 11am-3pm
République's brunch is one of the best in the city, so when chef-owners Walter and Margarita Manzke announce a new brunch, listen up. This weekend, their taqueria is launching a menu of Mexican-inspired morning fare such as wild-mushroom sopes with jack cheese, black beans, avocado and fried egg; a Mexican breakfast sandwich with chorizo, potatoes, cheese and eggs; and that perennial favorite, steak and eggs, here made with poblano rice, carne asada, hoja santa and fried eggs. And because Petty Cash is also a killer watering hole, expect strong brunch cocktails, to boot: We're talking the Champurrado, with chocolate, hazelnut and corn atole, served with a mezcal shot, the Verde Chelada with celery, tomatillo, pasilla, poblano, Mexican lager and salt, and more.
Sat, Sun 9am–3pm
Perched high above the Westfield Century City and Santa Monica Boulevard, Eataly's rooftop Italian restaurant, Terra, is now serving brunch. The menu skews toward the flavors and ingredients of Italy, and relies on Terra's wood-fired grill—because why wouldn't it? This means you can expect Terra's take on avocado toast, topped with wood-fired local spicy prawns, crispy chickpeas, herbs and lemon, plus dishes like eggs with creamy polenta, ciambotta (stewed vegetables) and ricotta salata; ricotta-filled Italian crepes with tomato, parmesan and basil; and pork fritters with hard-boiled eggs, caper berries, cucumber, lemon aioli and Calabrian chilies. Don't forget the handful of fresh pastas on offer, nor the arrosticini, little melt-in-your-mouth skewers of meat fresh off the grill. Finish with a customized drink from the bloody Mary bar, plus that great view from the roof, and you've got yourself the mixings for a great brunch.
Sat, Sun 10:30am–3:30pm
Looking for more new menus?