Five brand new brunches to try in May
Jump into spring with the best new brunches in L.A., including perfect new patios, fizzy weekend cocktails and more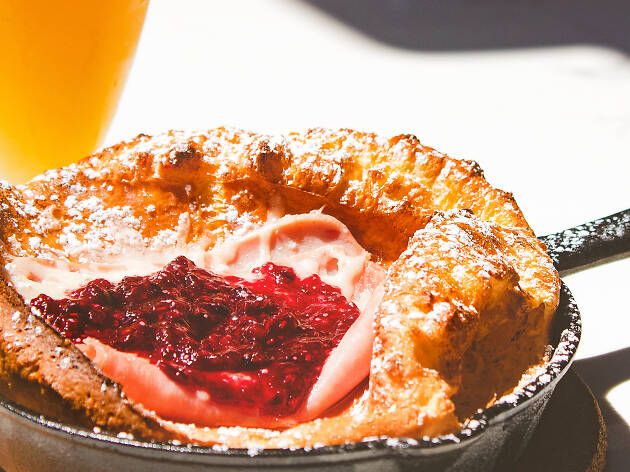 Just when you think brunch is over, some of the city's best chefs and newest spots pull you right back in—and as we enter patio weather, so do some of the city's newest alfresco options. In Silver Lake and in Highland Park, some of the freshest pastas are on the menu along with eggs, biscuits and bacon, while across the city, there are sunny patios full of mimosas just waiting for you. Here's your guide to May's best new brunches. You can always swear off the meal next month. (No you can't. We'll have more for you in June.)
The allure of Zach Pollack's Italian bistro is impossible to ignore: in the evening, low lighting and ideal date-night vibes, and in the daytime, a chipper, cheerful neighborhood lunch spot—and, of course, some of the best food in the city. Now, five years in, Pollack's unveiling another option to fall in love with. Starting May 11—right on time to honor thy mother with a fantastic meal—the chef is launching brunch service, complete with new items such as ricotta doughnut holes with blueberries and mascarpone; crispy polenta tartines with whipped dry salted cod; a potato waffle with pulled brisket; plus sides like house English muffins. Looking for the Alimento classics? Pollack promises they're not going anywhere—which means you can still order a few of them at brunch, including that insane, stacked-high Chicken Milanese sandwich dripping with pepperoncini slaw.
Beginning May 11; Sat, Sun 10:30am–3pm
As if we needed another reason to spend hours on that perfect patio, the Hammer's new sunny spot at the center of the museum just added brunch service to its indoor-outdoor, modern-Californian restaurant. Of course, one of the trademarks of this type of cuisine is a focus on hyper-seasonal and local produce, and here, chef Lisa Giffen weaves in "micro-regional" touches to complement the goods: a soft scramble with squash blossoms and hojas santo; crab chilaquiles with peas, Panela cheese, guajillo salsa and fried egg; and braised pork with beans, tomatillo and poached egg. If you're looking for something bright to match the setting, try the coconut chia bowl with cherimoya and passionfruit, or the grain bowl with forbidden rice, soft egg and Meyer lemon vinaigrette. Wash it all down with a brunch cocktail—like the Rise & Shine spritz, with cold brew spiked with vermouth and cherry-cardamom bitters—and you might find yourself comfortably there for hours, too.
Sat, Sun 11am–4pm
WeHo's Conservatory complex is easy to get lost in, in a good way. There's a coffee stand and small patio out front, then, inside, there's the main bar, a front dining room, a fire pit, a back patio and even Society Room, the restaurant's hidden cocktail bar. You're welcome to sit almost anywhere (save the coffee patio and Society Room) to enjoy the new brunch service. Make yourself at home and dive into the menu, which is split into two sections: "Nibbles & Toasts" and "Sweet & Savory." You can dig into toasts covered in ricotta and berries; tuna and caviar; honey, mint and walnut labneh; and smoked salmon and avocado; or opt for tableside caviar bumps, if you're really looking to ball out (they're actually only $10, so you can ball on a budget). Craving more substantial fare? There's a Monte Cristo Dutch baby with ham, gruyere and berries; a double bacon cheeseburger sporting Hook's cheddar; chilaquiles with two eggs, cotija and salsa verde; and that age-old brunch classic, steak and eggs. Don't forget the mimosa flights or the coffee old-fashioneds.
Sundays only until May 25; 10:30am–3pm
Highland Park's new pasta go-to serves much, much more than noodles—former Mozza chef and James Beard Award winner Matt Molina's more than seen to that. But it wouldn't feel like Hippo if we couldn't have the option of pasta all the time. Enter this spot's new mix-and-match brunch, which involves a little of everything you crave on a weekend: morning fare like fluffy gluten-free hotcakes, and baked almond brioche with berry compote and crème fraîche, or eggs with hash browns, toast, house-made sausage, and roasted cherry tomatoes in a garlicky pool of olive oil, not to mention lunchy items (yes, chicken meatball burger, with fresh mozzarella and black-olive aioli on brioche)—and especially pasta. What's more, Molina's trademark so-flaky-it-hurts biscuits from sibling spot Everson Royce Bar can also be found on this brunch menu, which is a godsend to anyone east of the river on a Saturday or Sunday morning.
Sat, Sun 10am–2pm
Whether you're looking for a bit of Hollywood, a bit of kosher or a bit of family-friendly hospitality, Pico-Robertson's freshly reopened the Milky Way—the cozy restaurant from the Spielberg family (yeah, that Spielberg family)—launches Sunday-only brunch on May 5, and it should cover all the bases. Sure, there are framed personal photos of the puissant director and his relatives all around the space, but try not to get distracted. You're here for dishes like the latkes with eggs, sour cream and house-made apple compote; the smoked-salmon Benedict with capers and red onions; the huevos rancheros with feta and fried eggs; the smoked-fish platter; and even the Impossible burger topped with roasted green chillies and a runny egg. The setting also feels like you're in someone's home, so settle in and pretend you're a guest of Mr. Spielberg himself (and in a way, you are).
Sun 10am–2pm
Looking for more new menus?