Five brand new brunches to try in December
We're talking breakfast pizzas, fine dining, chilaquiles with wine and more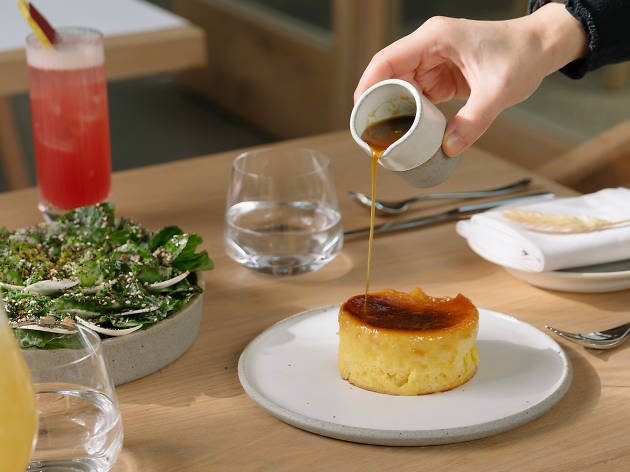 It's cold and stressful and the holidays are here, but this December, you can warm up and relax with some ultra-comforting dishes. (Brunch pasta, anyone?) Whether you're looking for decadent French toast, a fine-dining chef's take on a grain bowl or some chilaquiles from one of our new favorite taquerias, here's where to brunch this month.
Fine-dining concepts rarely launch brunch service, but if we could've pick one to start, chef Eric Bost's Auburn would've been right at the top of the list. Fortunately Bost launched brunch without us having to beg, which is very kind, and he did us one better: He's even offering the brunch menu on Fridays. Three days a week, the tasting-menu spot goes fully à la carte—though you can always get the dinner menu à la carte at the bar in the evening—and switches from the restaurant's procession of artful, imaginative small plates to equally beautiful dishes, but just done a bit more casually: There are baked pancakes with smoked late-season figs, earl grey and toasted hay cream; there are bowls of yogurt with charred persimmon, chewy carrot, granola and buddha's hand fruit; there are burnt-cinnamon croissants; and there are poached egg yolks atop the bowls of charred broccoli and brioche with an aged beef-fat vinaigrette. What's more, if you go at brunch, you can sample Bost's fantastic cooking for a fraction of the dinner price. No reason not to jet to Melrose this weekend.
Fri–Sun 10am–2pm
One of our favorite new taquerias can be found in the kitchen of one of L.A.'s best wine bars—a win-win for weekending. The husband-and-wife team of Metztli Taqueria usually pop up at Melody in Virgil Village from Sunday to Tuesday, but on Saturday and Sunday mornings, they serve their totally creative tacos with a brunch twist. Local produce such as squash, sweet potato and tomato—and long-braised tender meats—often wind up under the likes of black-garlic salsas in fresh blue-corn tortillas, but on weekends, head to Melody for chilaquiles, churro waffles, Mexican egg-topped hot chicken sandwiches, and other killer ways to wake up. (Of course, if you really want to do it right, take a gander at Melody's wine list and sip some natural wine with those tacos on that luxurious, spacious patio.)
Sat, Sun 11am–3pm
Looking for an Italian brunch on the Westside? Santa Monica's Stella Barra just expanded its menu and concept, rebranding to Stella Barra Pizzeria & Wine Bar. Now the pizza spot offers a focus on antipasti, its first-ever pasta program, and few other wine-pairing–perfect bites—plus a fuller wine list—in addition to its already robust pizza menu. On weekends, catch the new antipasti, pasta, the full pizza menu and a mix of old and new brunch staples: a weekly breakfast pizza; oversize cinnamon rolls; breakfast sandwiches with the likes of spicy Italian sausage and provolone; and caramelized brioche French toast, among others.
Sat, Sun 11am–3pm
When one of L.A.'s primo pasta joints launches a new brunch menu, you pay attention—because yes, at Union, there is now brunch pasta on weekends. The charming Pasadena spot now offers morning fare, and on Sundays this includes baked cannelloni with black kale, young pecorino, egg and brioche breadcrumb; and lasagna with guanciale, DiNapoli tomatoes, red bell peppers and egg; plus more traditional brunch goods like smoked ham with fried egg, beans and a charred-herb vinaigrette; Jersey-style sticky buns with spiced rum and pecans; and decadent apple pie French toast with apple butter and cinnamon gelato. Even the avocado toast gets the Italian treatment, as it comes topped with giardiniera, and we are not complaining.
Sun 10am–2pm
One of our favorite coffee spots recently opened an L.A. flagship in the Arts District, and now it's quickly become one of our favorite spots to grab a morning bite. Outposts for the Santa Cruz-based Verve Coffee Roasters can already be found around Los Angeles, but in its gleaming new 7,000-square-foot café and roastery, you can snag an extended menu of both coffee concoctions and full meals. Every day offers an all-day menu and a few house-baked pastries studded with fresh fruit, nuts, chocolate and other enticing bits and bobs, and on the weekend, there's even more on offer. Look for a savory take on French toast with organic eggs, kale, parmesan and house-made maple bacon; steak and eggs with Calabrian-chili chimichurri, halloumi and salad; smoked-trout Benedicts with everything-seasoning hash browns, kale, horseradish hollandaise and trout roe, and more. Absolutely snag one of those pastries, too.
Sat, Sun 8am–4pm
Looking for more new menus?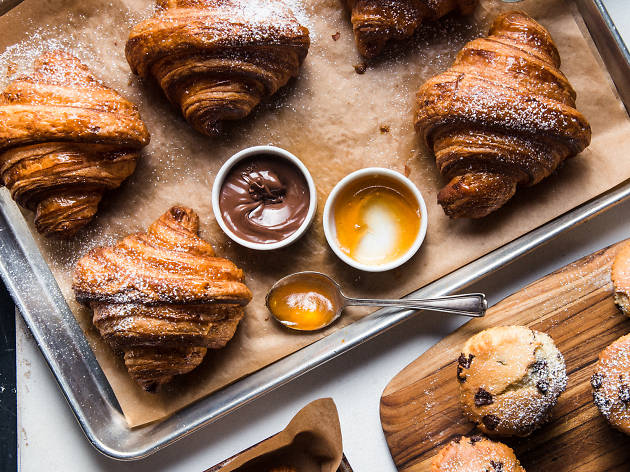 Photograph: Courtesy L'Antica Pizzeria da Michele/Rossella Pisano
Five brand new brunches to try in November
There's a gag restaurant in Portlandia, the kind of food-from-everywhere, something-for-everyone spot, "a culinary voyage across the Seven Seas of flavor," and in the best way possible, the brunch menu at Echo Park's new Adamae feels a lot like that (but, you know, far less complicated). The overarching theme is California cuisine, but local ingredients and brunch tropes take a worldly turn in the shape of Medjool date French toast with baked orchard fruit, whipped mascarpone, tahini and pistachio; a cola-braised pulled pork hash with crispy potatoes, pepperonata and eggs; shakshuka verde with green harissa and queso fresco; the daily quiche; and a "Pacific morning" salad of shrimp, market greens, chopped egg and shaved fennel. (And, unlike that Portlandia restaurant, they won't ask you to "breakfastize" anything, because it's already brunch.)
Sat, Sun 10am–2:30pm
Michael Mina and Adam Sobel's coastal-Italian restaurant within the Beverly Center just dropped one of the best brunch deals in town: Every weekend at Cal Mare, $35 now gets you an all-you-can-eat buffet of antipasti, shellfish, pasta, eggs and more, not to mention four-hour parking validation, so you can really take your time with the charcuterie boards and pizzas and salads and you-name-it. You can expect the likes of fennel-dusted olives; baked mussels; cacio e pepe; egg-and-spinach lasagna; frittatas; porchetta and just about everything else we'd like to wake up to, including a $25 bottomless-spritz add-on. Seriously, somehow all of this is only $35. See you there?
Sun 11:30am–3pm
One of Hollywood's most popular newcomers is firing up its world-famous oven to bring us plenty of breakfast pizzas, baked goods and beyond. The lauded Neapolitan-style pizzas—yes, as seen in Eat, Pray, Love—are usually the draw at L'Antica, but on weekends, now you can settle in on the gorgeous outdoor patio for 'nduja omelettes with caramelized onions; a breakfast salad featuring prosciutto-wrapped asparagus and poached eggs; steak and eggs with roasted potatoes; and toasted sourdough topped with truffle cream, hame egg and cheese. Those aforementioned breakfast pizzas? Well, they come in porchetta-and-egg and truffle-egg-and-sausage varieties. More of a weekday person? The first U.S. outpost of the iconic Italian pizzeria just launched weekday breakfast service, and the menu is packed with tartines, scone sandwiches and freshly baked pastries—and, oh yeah, there's Wi-Fi, which should go perfectly with that dreamy back patio.
Sat, Sun 9am–3pm, Mon–Fri 8–11am
The patriarch of the Panda (Express) empire completely revamped its Chinese brunch buffet which, to be entirely honest, we can't wait to try. Serving Yangzhou "comfort food," the brunch at the very first Panda Inn location is the stuff Northern and Southern Chinese-food dreams are made of: shredded tofu; the famous Lion Head Meatballs (a favorite of Panda founder Andrew Cherng); honey-and-walnut shrimp; that signature orange chicken; and an entire dessert spread sporting items such as cheesecake and Taiwanese-inspired snowflake cookies. If you're thirsty, the buffet somehow includes bottomless mai tais and mimosas. And, like the new Cal Mare brunch, this buffet is somehow only priced at $35: a total steal. Get thee to Pasadena.
Sun 11am–3pm
Downtown's new Hoxton Hotel offers a number of darling flourishes—including soft serve at the coffee bar, plus a fun rooftop restaurant—but our absolute favorite has to be the pancakes. Transported from a New York sister restaurant, Sunday in Brooklyn, the pancakes reached cult-classic status on the other side of the country thanks to light, fluffy breakfast cakes and their absolute smothering in a hazelnut-and-praline sauce. You can find these and other modern-diner staples at the Hoxton's lobby restaurant, Sibling Rival, which happens to serve breakfast all day long. Breakfast burritos, egg-topped tater tots, bang-up pastries and more can all be found in the Hoxton now, best enjoyed with espressos served from ornate, delicate teacups. Once more, with feeling, phenomenal pancakes late into the night.
Sun–Thu 7am–10pm; Fri, Sat 7am–11pm
Show more