The best Thanksgiving restaurants in Los Angeles
Visit one of these Thanksgiving restaurants with friends and family for a memorable holiday dinner—no cleanup required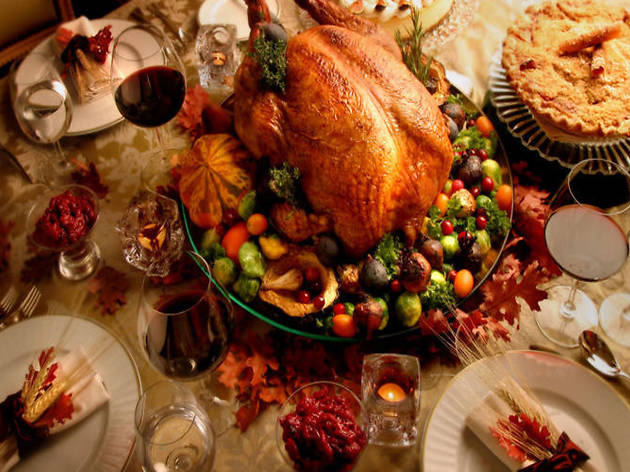 For some, the thought of hosting Thanksgiving dinner at home is enough to prompt a full-on turkey tantrum (No? Just us?). This year, celebrate Thanksgiving without the hassle of DIY cooking and cleaning by dining at one of LA's Thanksgiving restaurants for brunch, lunch or dinner on Thanksgiving Day. From buffets to prix-fixe menus, turkey-centric feasts to vegetarian meals, everyone will be glad they opted for one of these Thanksgiving restaurants—and left the cooking to the professionals.
RECOMMENDED: Thanksgiving in Los Angeles
Your Thanksgiving restaurants guide
Menu: The buffet features a carving station with roasted turkey, turkey roulade and house cured honey baked ham; truffle mac and cheese, Yukon Gold potato puree, green bean casserole, roasted brussels sprouts, candied yams; and a dessert station with pumpkin cheesecake, pecan pie and pumpkin crème brûlée.

Hours: 10am-3pm
Price: $30, plus $10 for bottomless mimosas

Reservations: 212-622-6333
Book now
Read more
Menu: Come early for a full—and free!—plate that includes red lentil butternut squash holiday loaf, stuffing, mashed potatoes with mushroom gravy, roasted vegetables, mixed greens, pumpkin pie and apple and pomegranate spritzer.

Hours: 11am-3pm
Price: Free

Reservations: First-come, first-serve
Book now
Read more
Menu: Mixing American tradition with French influences, the Thanksgiving menu at Esterel features salmon and short ribs, along with a turkey carving station, creamed Kennebec potatoes and salad with butternut squash and pickled cranberries.

Hours: 6pm-close

Price: $55

Reservations: 310-358-3979
Book now
Read more
Menu: A buffet includes traditional Thanksgiving fare such as roasted turkey, sweet potatoes, cranberry sauce and more, as well as breakast and brunch items like Belgian waffles, Alaskan crab legs, eggs Benedict and omelets. A dessert section offers a selection of pies, homemade ice cream and fresh donuts.

Hours: 11am-6pm

Price: $109 per adult, $54 per child (5 to 12)

Reservations: 310-860-4000
Read more
Menu: Playa Provisions is offering a downright steal of a meal—just $30 to feast on turkey or ham, chicory salad, cranberry sauce, green beans, maple yams, stuffing, roasted acorn squash and pumpkin pie.

Hours: 3-8pm

Price: $30

Reservations: 310-683-5019
Read more
Menu: Head to the rustic mountain lodge for a four-course meal that lets you choose from hearty dishes like pumpkin soup, roasted baby beets, Spanish octopus salad, turkey breast, New Zealand elk tenderloin, spiced pumpkin pie and banana-huckleberry bread pudding.

Hours: Noon-8pm

Price: $95 per adult, $45 per child

Reservations: 818-222-3888
Book now
Read more
Menu: Sambar's Indian fusion buffet includes butternut squash and onion fritters, roasted turkey breast porchetta, chestnut stuffing, basmati rice biryani, mashed Yukon Gold potatoes, candied yams, curried cauliflower, cranberry chutney, mango cheesecake and more.

Hours: 2-7pm

Price: $48 per adult, $12 per child (12 and under)

Reservations: 310-558-8800
Read more
Menu: Scarpetta's decadent buffet treats diners from start to finish, with a selection of crudi (oysters, salmon and snow crab legs, to name a few), followed by sausage stuffing, cornbread, root vegetables, turkey, leg of lamb, Scarpetta's famous spaghetti and more.

Hours: Noon-5pm

Price: $108 per adult, $38 per child (5-12), plus $22 for bottomless mimosas, bloody marys and bellinis

Reservations: 888-860-0788
Book now
Read more
Menu: The prix-fixe holiday meal lets diners choose from turkey or seabass, along with a bevy of sides like cranberry sauce, giblet stuffing, vegetable stew and sweet potatoes. To finish, select either the pumpkin cremosa or a pecan tart.

Hours: 4-9pm

Price: $75

Reservations: 310-246-5555
Book now
Read more
Menu: Both a prix-fixe menu and à la carte items from the raw bar are available at The Hungry Cat's Santa Monica and Hollywood locations. Feast on a roasted persimmon salad, deep fried turkey, roasted sweet potatoes, spiced cranberry sauce and pumpkin pie, or opt for the vegetarian option that offers house-made rigatoni with chanterelle mushroom ragu.

Hours: 1-7pm

Price: $70 per adult, $35 per child (12 and under), plus $13 per cocktail

Reservations: 323-462-2155 (Hollywood) or 310-459-3337 (Santa Monica)
Book now
Read more
Menu: The pub's turkey dinner includes a slow-roasted turkey breast with baked onion, buttermilk biscuits, classic green bean casserole and gravy or a deep fried turkey leg with corn bread, hot sauce and two sides. The Pikey classics, vegetarian options and other à la carte items are also available.

Hours: 1pm-2am
Price: $40 for turkey dinner; à la carte items for $3-$20

Reservations: 323-850-5400
Book now
Read more
Menu: The newly opened restaurant in Beverly Hills is kicking off its first Thanksgiving with a prix-fixe menu that begins with a selection of canapes. Share plates of turkey, roasted sugar pumpkin, smoked potato purée, brioche with wild mushroom, French green beans and cranberry compote, followed by caramel pear tartine and cookies. Cocktails are available for purchase, including spiced mulled cider with rum.

Hours: 11am-9pm

Price: $68 per adult, $25 per child (3 to 12)

Reservations: 310-407-7791
Read more
Show more