The best bike tours in Los Angeles
Join one of the best bike tours in Los Angeles to see the city from behind the handlebars of a beach cruiser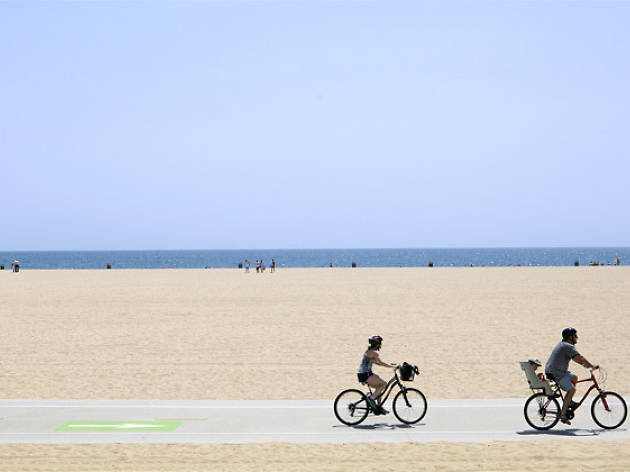 You don't have to try too hard to find a reason to take the best bike tours in Los Angeles. First of all, these cycling outings allow you to avoid the notoriously bad L.A. traffic. Since you don't have to brave congestion on the 405 or 101, it's an incredibly efficient way to see all the top Los Angeles attractions and best beaches in Los Angeles. Plus, pedaling your way around the city is a particularly satisfying workout. Our list of the best bike tours in Los Angeles offers something for every kind of cyclist, whether you want to sneak a peek at celebrity homes, taste some of the best tacos in Los Angeles or work up a sweat cycling the Hollywood Hills.
Best bike tours in Los Angeles
1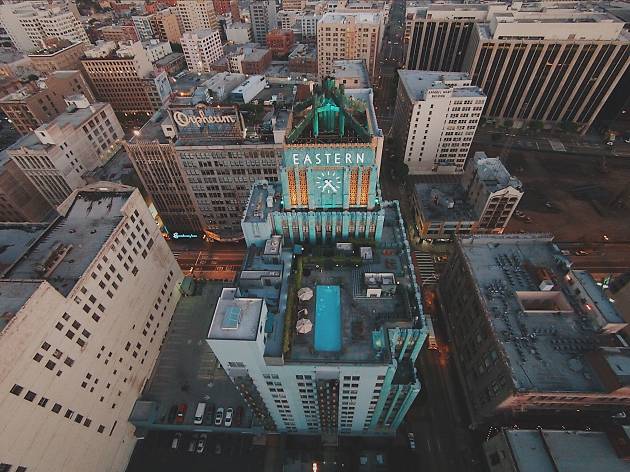 Photograph: Jordan Rubin
Downtown Los Angeles Historic Bike Tour
Forget about exploring Downtown L.A. by car: All the one-way streets and packed parking lots make it an absolute nightmare, especially at commute time. Instead, cycle around the district's landmarks on this three-hour guided tour. You'll spot iconic buildings like Union Station and City Hall, check out street art in the Arts District and even learn some of the little-known history behind street names. $65
2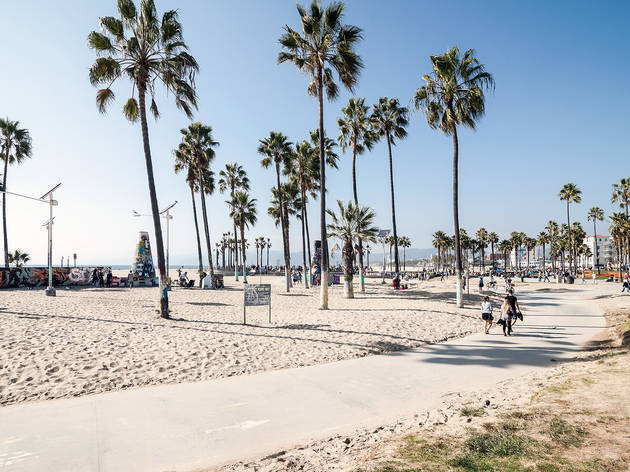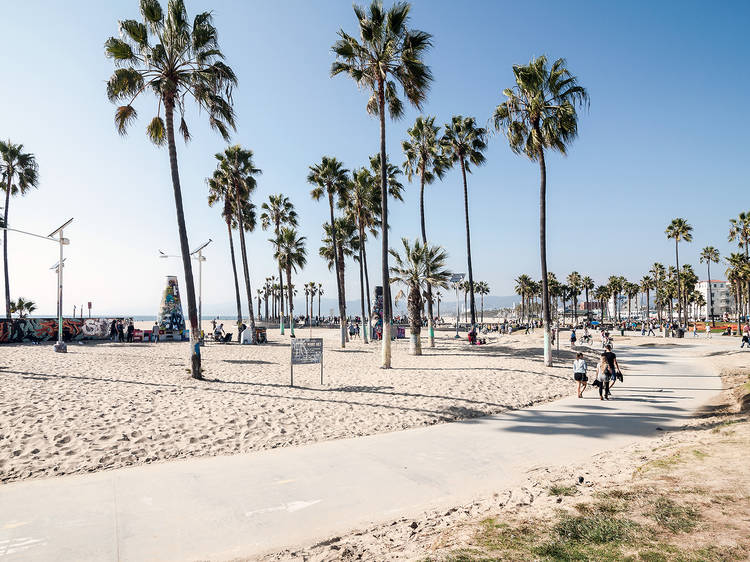 Photograph: Shutterstock
Los Angeles Ride to the Beach Tour
Only serious bikers should sign up for this six-hour, 53-mile trek from Downtown to the Westside. Though this ride will undoubtedly wear you out, it's the best way to see a wide swath of the city in one day. You'll bike past countless sights, including the Los Angeles Memorial Coliseum, the Venice Canals, Third Street Promenade and Echo Park. It's basically a Tour de Los Angeles! $125
3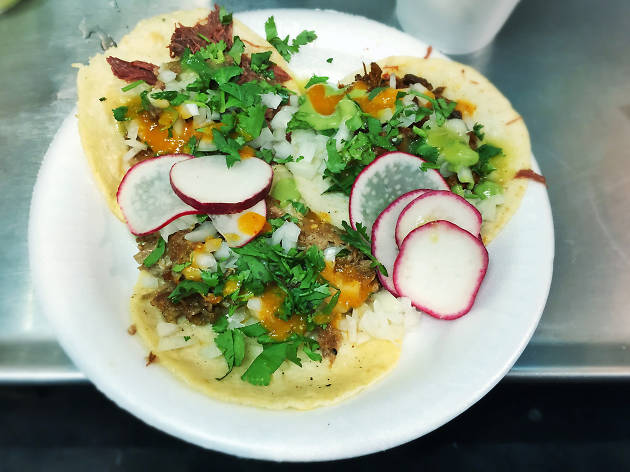 Photograph: Courtesy CC/Flickr/T.Tseng
Los Angeles Taco Tour by Bike
If you go to the gym so you can eat whatever you want, this food tour by bike will certainly appeal to you. Instead of landmarks, you'll cycle to six of L.A.'s best roadside taco trucks for top-notch carne asada, al pastor, lengua and more. And since the cost includes both the bike rental and all the tacos you can eat, it's a pretty sweet deal. $100
Photograph: Courtesy CC/Flickr/T.Tseng
4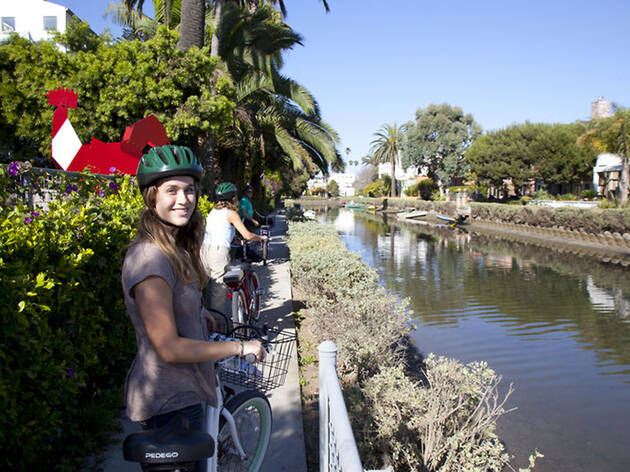 Photograph: Courtesy Viator
Electric Bicycle Tour of Santa Monica and Venice Beach
Worried about your legs giving out? Opt for an electric bike tour, like this three-hour excursion from Santa Monica Beach. Just flip a switch on your bike to transition from a pedal power to the electric motor. However you choose to ride, you'll cruise south along the beachside trail from the touristy Santa Monica Pier to the eccentric Venice Beach Boardwalk and Venice Canals. $68
With its vibrant murals, renowned galleries and hip boutiques, the Arts District offers plenty to explore. Take a two-hour ride through the trendy 'hood to gain an understanding of the arts and culture of the city. It's an ideal opportunity to explore a side of the city often overlooked by tourists—and snap some dynamite Instagram photos along the way. $40
Photograph: Courtesy CC/Flickr/Passion Leica
6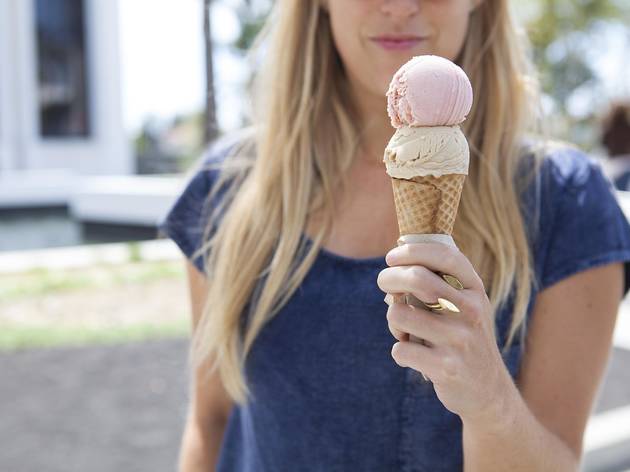 Photograph: Jakob N. Layman
Santa Monica Sweet Spots Dessert Bike Tour
Sample some of the best desserts on the Westside on this Santa Monica bike tour. The route includes pit stops at creameries, chocolate shops and bakeries for tastings of small-batch ice cream, handmade truffles, tart lemon bars and more. The best part? You don't have to feel guilty about all the calories you're consuming—after all, you'll burn them off as you cycle from stop to stop! $89
7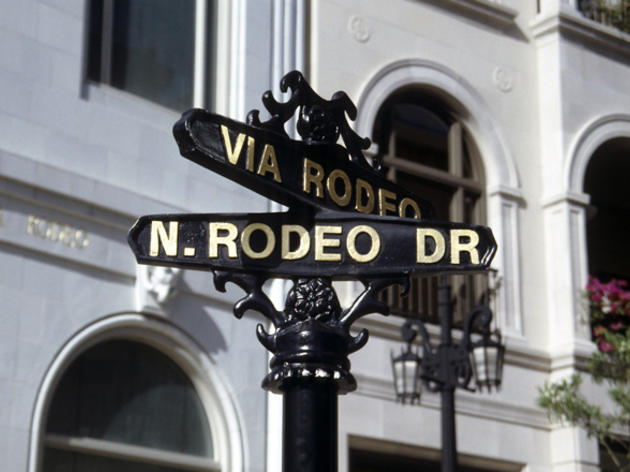 Photograph: Torsten Bolten
Beverly Thrills Bike Tour
Get a taste of what it might be like to live in Beverly Hills on this bike tour of the star-studded nabe. You'll cycle past the ritzy shops on Rodeo Drive, take in sweeping views of the city from Greystone Mansion, sneak a peek at celebrity homes on Carolwood Drive and cruise through Bel Air before the journey ends. $115
If you really want to feel the burn, sign up for this 25- to 35-miler that summits some of the L.A.'s tallest hills and mountains. The route takes you along the L.A. River, through Griffith Park to the Old Los Angeles Zoo and up Mount Hollywood for a 1,625-foot elevation gain. Don't forget your camera: The sweeping views of Los Angeles are well worth the climb. $100
9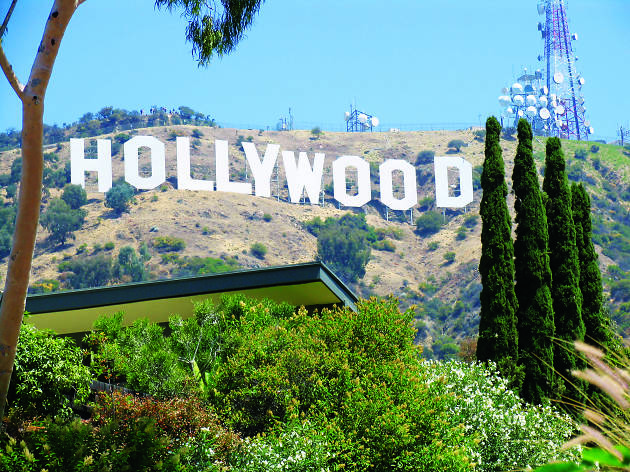 Photograph: Courtesy Shutterstock
Skip the touristy sightseeing bus and get your fill of Hollywood landmarks on this three-hour bike tour. Peep the gorgeous mansions in Hancock Park, walk through the Original Farmers Market and the Grove, pedal past the Capitol Records Building and, of course, check out the Walk of Fame and Grauman's Chinese Theatre. $76
Looking for more Los Angeles tours?
Things to do, Walks and tours
When you're visiting a city as vast as Los Angeles, tours are the best way to explore as many neighborhoods as possible