December 2018 events calendar for Los Angeles
Plan your month with our December 2018 events calendar of the best activities, including free things to do, holiday festivals and our favorite concerts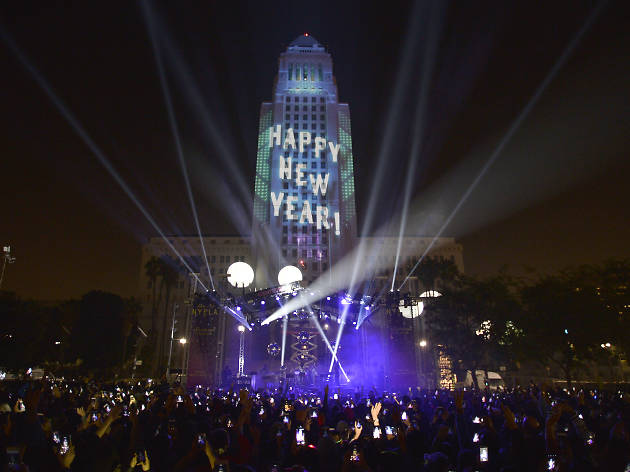 After endless, premature teases from retailers, the holidays are here for real and they've taken over our December 2018 events calendar. Dive into the spirit of giving with a stop at one of the best gift shops in L.A. or channel your altruistic side with these volunteer opportunities. If you're not stuck showing your visiting relatives around town, maybe consider making an escape to one of our favorite weekend getaways. Whatever your plans are—even if you're feeling like a bit of a grinch—you'll find plenty of activities to take advantage of in our December events calendar.
RECOMMENDED: Full events calendar for 2018
Movies
Palace Theatre, Downtown Historic Core
It isn't summer in L.A. until the first cemetery screening brings hoards of movie-lovers to Hollywood Forever, toting folding chairs, picnic blankets, snack spreads and lots of booze. Each year, Cinespia brings classic cult favorites to the hallowed resting place of such Hollywood greats as Rudolph Valentino and Bugsy Siegel. This year's first batch of screenings includes The Neverending Story, Drive, Almost Famous and Casablanca. Angelenos line up for hours to partake in the concept—and to enjoy DJ sets, dance parties, sleepovers and more magical mischief otherwise strictly forbidden behind the cemetery gates. It's an L.A. rite of passage, a quintessential summer experience and one of the best film venues in the city. Just be sure to get your ticket early, arrive early (doors open at 6:45pm), pee early... it's getting a bit overcrowded, to say the least.
The masters of alfresco rooftop movie viewing have returned for another season of screenings in Hollywood and Downtown L.A. Known for excellent film choices and a steady supply of snacks and booze, Rooftop Cinema Club is your snazzy, comfortable and less stressful alternative to other outdoor movie screenings. You don't even need to bring your own blanket or camping chair—Rooftop Cinema Club provides you with your very own comfy lawn chair, as well as blankets on request for the ultimate cozy experience. And instead of listening to the movie over loudspeakers, you'll get a set of wireless headphones so you never have to miss a word.
Organized by The Museum of Modern Art and presented by the Hammer Museum, "The Contenders" series presents 10 influential, innovative films made in the past year that MoMA's Department of Film believes are bound for big things (whether that means awards season glory or cult classic status). In addition to screenings of all ten films, most will be accompanied by a director or actor from the project. This year's picks include Roma, Black Panther, Widows presented by Steve McQueen, Sorry to Bother You with a Q&A with Boots Riley, The Front Runner with a discussion with Jason Reitman and more. "The Contenders" isn't strictly an awards season spoiler; MoMA considers its picks as movies that will stand the test of time. But the series has turned out to be a pretty good Oscars predictor, with 7 out of the 10 featured films grabbing nominations in 2017, and 8 out of 10 in 2016. Tickets for the screenings and post-film panels are available November 19 for $20 (or $10 for Hammer members).