A guide to Star Wars: Galaxy's Edge
Here's everything you need to know about the Star Wars-themed outpost inside Disneyland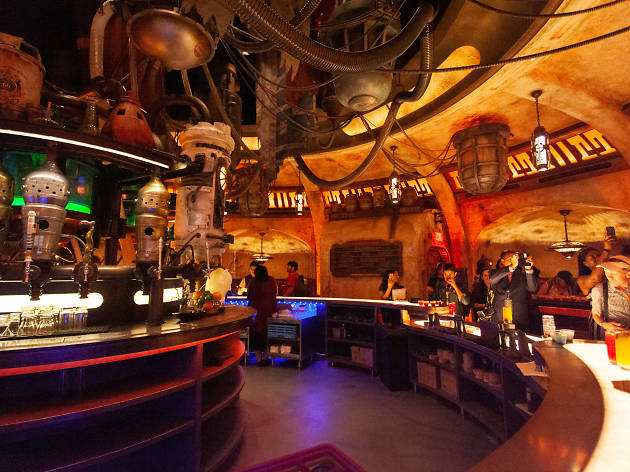 Whether you're a smuggler, an evil emperor, some Rebel scum or an ewok, it's finally here: After years of planning and teases, Disneyland's ambitious and transportive new land, Star Wars: Galaxy's Edge, opened on May 31 in a galaxy right here.
Sure, there are fantastic rides within the larger park already, but Disneyland's Star Wars: Galaxy's Edge is a whole other world—literally. The immersive new section brings the Star Wars universe to life with a new planet—Batuu—transporting you to it with a whopping 14 acres of immersive, painfully detailed terrain. Here's our guide to all things Galaxy's Edge, so you can make the most of your Disneyland visit.
Is Star Wars: Galaxy's Edge an entirely separate theme park?
No, it's tucked into the back corner of Disneyland, near Frontierland. It's not a separate park, but entering it should theoretically feel like you've stepped into a different world (er, galaxy).
Is there an extra admission charge?
Nope, access to the Star Wars area is included with a Disneyland park ticket, though prices vary by day. Single-day Disneyland-only tickets begin around $104, while "park hopper" passes—which provide access to both Disneyland and the California Adventure park—begin around $154.
Though typically you can stroll right into the land, if the park is particularly busy you'll need to join a virtual queue, in which you're assigned a "boarding group"—as needed—via the official Disneyland app. As soon as you enter Disneyland, open the app and simply scan the tickets for everyone in your party, then sign up for a Galaxy's Edge group. Turn on push notifications or keep checking the app to see when it's your party's turn to enter Galaxy's Edge—and don't worry, you'll have two hours before your entry window expires, so you've got time to grab a snack on your way in. Note: The fact that you've been assigned a boarding group doesn't guarantee your admission to Galaxy's Edge; the land is subject to capacity so our best advice is to enter Disneyland as early as possible, then join a digital boarding group that gets you in before the rest of the crowds can sign up.
How can I skip the lines?
Unless you're some sort of Jedi master with a command of mind tricks, there's sadly no way to skip the lines here. Disney isn't offering its timed ride vouchers (FastPass or MaxPass) for the two rides in Galaxy's Edge, though they may change that policy in the future.
What can you actually do there?
Star Wars: Galaxy's Edge drops you right into a new world, specifically planet Batuu and its trading hub, Black Spire Outpost. You'll be surrounded by droids, aliens and smugglers as you wander through the immersive new section of the park.
You can choose the path of darkness and align with the First Order, or join up with the Resistance and choose the path of light, at two very different recruitment and supplies outposts. Those looking to explore some of the fuzzier corners of the galaxy can head to the Creature Stall, to cuddle and even take home a new pet from another planet. For the most part, you'll simply want to explore—with 14 acres of shops, attractions and plenty of costumed characters, there should be more than enough to keep you busy.
What are the rides?
While there will be plenty to see within Galaxy's Edge, there are only two conventional attractions. Millennium Falcon: Smugglers Run, which opened with the land, puts you in the pilot's seat of Han Solo's infamous ship, the Millennium Falcon. From your chair in the cockpit, you'll be able to jump hyperspace in the fastest ship in the galaxy, then deliver—OK, smuggle—goods for Hondo Ohnaka. Just try not to get shot at, will ya?
On January 17, 2020, the second ride is set to launch with a very special mission: Defend the galaxy. Star Wars: Rise of the Resistance is expected to bring you behind First Order lines and up close and personal with the likes of AT-ATs and more. Long live the Resistance.
What about the shops?
Try not to spend all your galactic credits all in one place, tempting as it may be. Star Wars: Galaxy's Edge promises exclusive and collectible merch unlike any other, so budget accordingly. For a fee, you can build your own lightsaber at Savi's Workshop, where you'll hand-assemble your weapon guided by themes of peace and justice; power and control; elemental nature; and protection and defense.
Savi's is already proving one of the most popular destinations in Galaxy's Edge, so starting up to 14 days in advance (and later 60 days), you'll be able to make a reservation for you and your friends if you want to visit. Check availability through disneyland.com or through the app, then enter a credit or debit card—you'll be charged the full $199.99 if you're a no show. At least one member of your party should be 14 years or older, and all members should be present at check-in. You'll need to provide your confirmation, as well as photo IDs and the same credit or debit card used to book the reservation, then you'll be ushered into a hidden alcove where you can assemble your lightsaber safe from the gaze of the First Order.
Want to add lightsaber accessories? Wander over to Dok-Ondar's Den of Antiquities, where you'll find more lightsabers, plus jewelry, statues, collectible merch and other trinkets worth bringing back to your home planet. And if you need a change of clothes (hey, you might be on the run), there's the Black Spire Outfitters attire shop.
Is there an intergalactic cantina?
You'd better believe it, and you'd also better believe that it's the only spot serving alcohol in Disneyland proper that's open to the public (as opposed to, say, the members-only Club 33).
Just like the Savi's Workshop lightsaber experience, you'll want to make a reservation for Oga's Cantina via the website or the app, starting 14 days in advance (and soon 60 days). Remember that all members should be present at check-in, and keep your confirmation handy. Once in, it's all gurgling, foaming, bubbling intergalactic cocktails and non-alcoholic concoctions in one of the coolest settings in the park.
What other food and drink is there?
The Galaxy's Edge teams went all out to build an immersive land, and the food is no exception. Is that a pork spare rib you're eating, or some kind of Kaadu? Find out inside Docking Bay 7 Food and Cargo, a working starship hangar that's also home to Tugg's Grub restaurant, which serves food from all over the galaxy (think: salads, cakes and even some Ithorian garden loaf, a plant-based take on meatloaf.)
Wander the rest of Black Spire Outpost to find smaller vendors such as the blue-milk stand—you're just like Luke!—who'll be hawking eclectic snacks.
More about Star Wars: Galaxy's Edge