Dragon boat festivals in and around L.A.
Steeped in Chinese tradition, dragon boat festivals across L.A. combine fierce competition with rich cultural history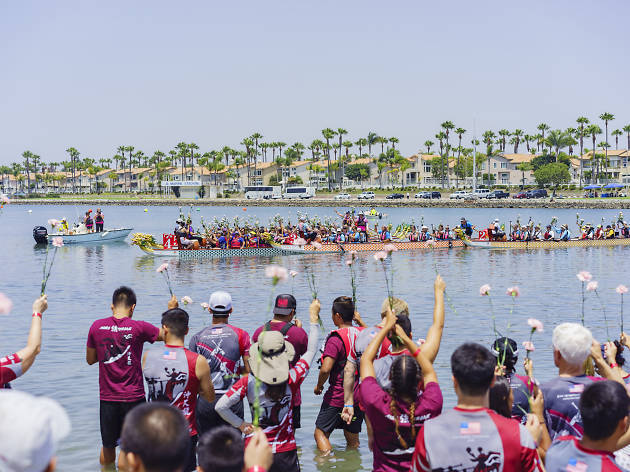 Traditional Chinese dragon boat festivals go way back—about 2,296 years, in fact. The tradition began as a celebration of Chinese poet Qu Yuan, after his death in 278 BCE. Legend says that he died by drowning; the local fishermen rushed to their boats to save him, then upon finding his body, drummed and splashed with their paddles to protect it from evil spirits. That evolved into launching rowers and drummers into boat races every summer to mark the anniversary of his death. Contemporary festivals honor the tradition with races, art, music and food, so even if you don't paddle through the water yourself, it's worth enjoying the spectacle from the comfort of dry land.
If you're looking for things to do outside in Los Angeles, these annual traditions offer a far more unique experience than an ordinary day at the beach or on a hiking trail. From Echo Park Lake to Mission Bay in San Diego, check out our guide to the dragon boat festivals in and around L.A.
Dragon boat festivals to check out this season
Looking for more free happenings around town?
Explore the city beyond the usual weekend hikes, gratis yoga, bargain jazz and cheap eats with our guide to the best free things to do and places to visit across the city, for tourists and locals alike.
Read more