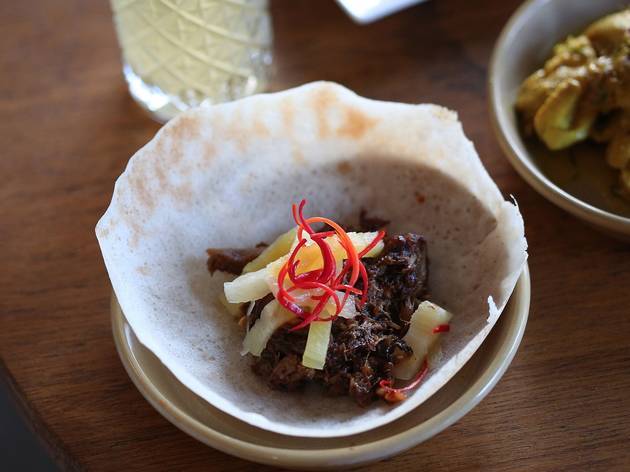 1/11
Photograph: Graham Denholm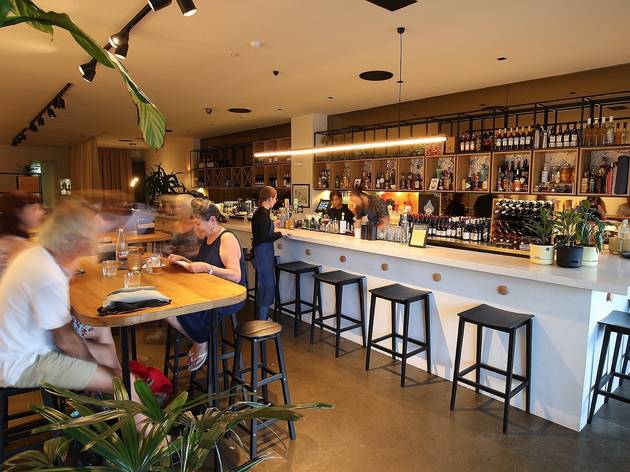 2/11
Photograph: Graham Denholm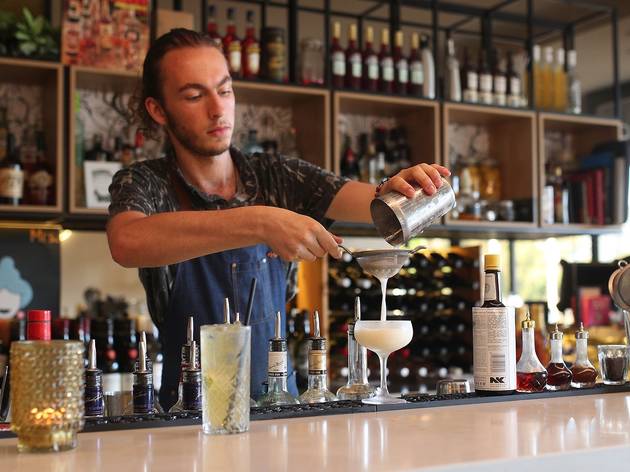 3/11
Photograph: Graham Denholm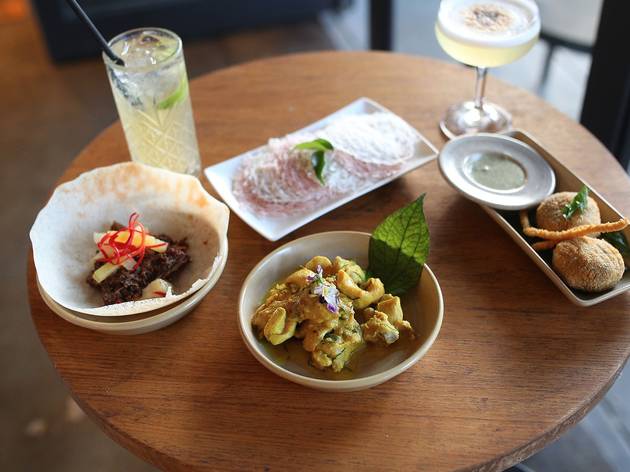 4/11
Photograph: Graham Denholm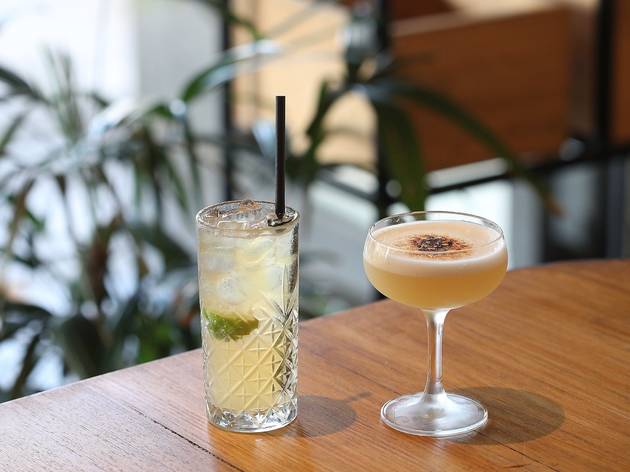 5/11
Photograph: Graham Denholm
6/11
Photograph: Graham Denholm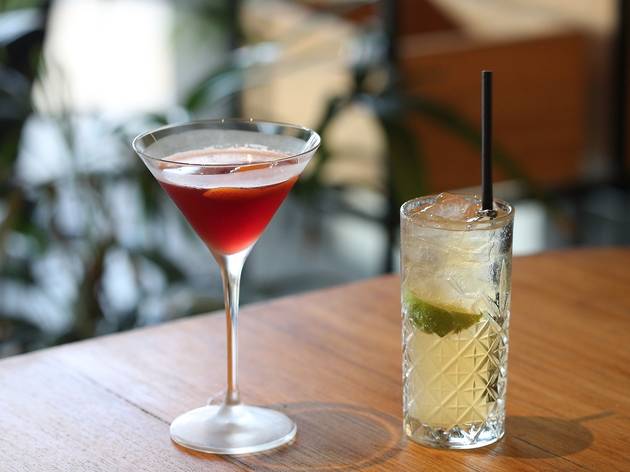 7/11
Photograph: Graham Denholm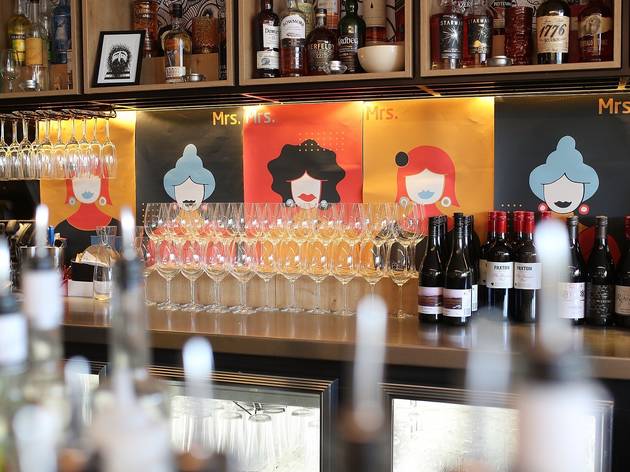 8/11
Photograph: Graham Denholm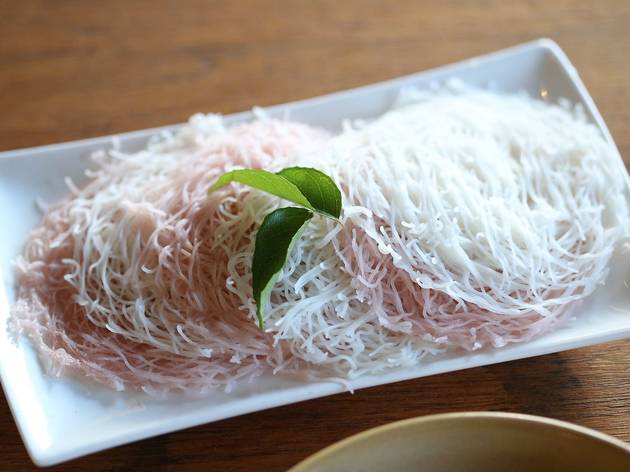 9/11
Photograph: Graham Denholm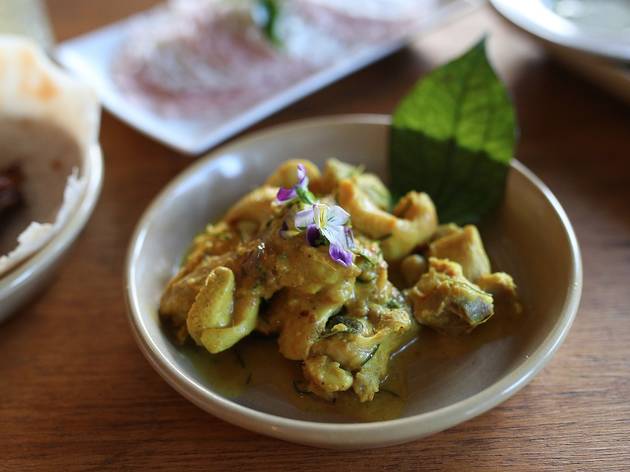 10/11
Photograph: Graham Denholm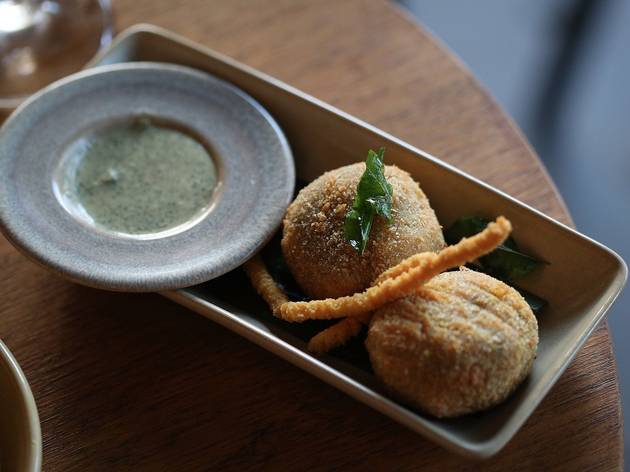 11/11
Photograph: Graham Denholm
PSA: this Sri Lankan cocktail bar is bringing back lychees in cocktails and we're really into it.
The original Hawthorn outpost of Araliya has been operating for over thirty years, serving outstanding food in a smart-casual environment. Next came the St Kilda edition, adding to the list of places in the city for kick-ass Sri Lankan. And now they've added a bar concept to the pared-back blonde wood and filament bulb filled space.
It's big, so their idea to screen off the back as the dining room, add some high tables up front, and use the long bar for its intended purpose makes a lot of sense. Enter Mrs. Hopper, the cocktail and small plates offering that now occupies the front half of the room. The name comes from the traditional Sri Lankan street food, a rice flour and coconut milk (vegan and gluten free) crepe moulded into a bowl shape and used as a vehicle for all sorts of aromatic delights.
A short hopper, its edges a crisp and delicate lace, miraculously holds together to convey shredded pork, sticky sweet with tamarind, to your eager face. A snack of lamb frikandels shows up as two perfect little breaded parcels, stuffed generously with lamb mince and singing with pungent spices. The build-your-own section lets you choose your curry and a hopper on the side; plain, egg, or string, and we have no regrets about selecting the chicken molee, sour with lime juice and flavoured with fresh turmeric root. The string hoppers, recommended as accompaniment buy the helpful bartender, are a sort of steamed noodle patty version rather than the crisp pancake. They're perfect for soaking up the remnants of your curry, none of which you'll want to leave behind.
A Sri Lankan restaurant may not seem a likely cocktail destination but the drinks here are creative, well-executed and make use of traditional ingredients with ace results. The Sri Lankan Mule punches up spicy ginger beer with plenty of fresh lime and arrack. It's a catch-all term for spirits produced in South and South-East Asia, and arrack (not to be confused with the anise flavoured Middle Eastern liquor of the same name) can be made from coconut, sugar cane, grains or fruit, depending on the country of origin. The Sri Lankan version is made from the fermented sap of coconut flowers, and the DCSL Extra Special they serve at Mrs. Hopper recalls an inexpensive but super-smooth dark rum.
The "Highball #1" combines limoncello with dry vermouth, lychees and salty preserved lemon. Imagine if lemon Gatorade was made fresh by a really talented bartender. And got you drunk. Despite the lychees, this is not a fruity fantasy drink, but rather a sophisticated modern cocktail, garnished with dried leaves of real wormwood - the key bittering agent in vermouth. The Australian cocktail scene is still a little embarrassed by its lychee-and-passionfruit-past. But let's be honest, those fruits are delicious, so it's nice to see them being used again by bartenders with the chops to back it up.
Drinking at Mrs. Hopper can feel a little like sitting at the bar of an upscale cafe: the sleek, modern space is both clean and austere. And while very much on trend design wise, it might need a little more personality to work as a stand-alone bar. But for the sheer quality and enjoyability of what's on the plate and in the glass here, not to mention the awesome service, this bar deserves to hold your elbows up for hours on end.
Venue name:
Mrs. Hopper [closed]
Contact:
Address:
157
Fitzroy St
St Kilda
3182

Opening hours:
Mon-Thu 5pm-late; Fri-Sun noon-1am