Bars & Pubs
Navigating Melbourne's best bars, pubs, breweries and drinking holes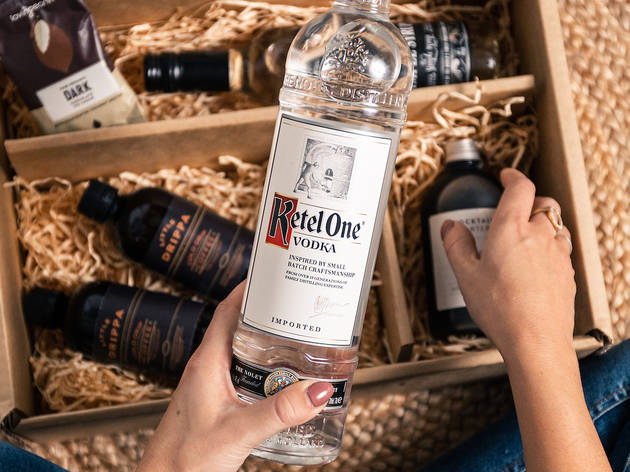 Alcohol delivery services in Melbourne
Look, we all have those days when even a trip to the shops or the bottle-o is just that little bit too much to handle. Which is why we're thanking the entrepreneurial types who came up with the idea of delivering booze straight to our doorstep. Food delivery services have hopped on board with the idea, making it that much more convenient to have a glass of vino or a beer with your delivery lunch or dinner. And if you sign up to a subscription service, you won't be caught without something to pour your dinner guests. Just remember to have your ID with you. Need something to line your stomach? Check out the best restaurants now doing delivery in Melbourne.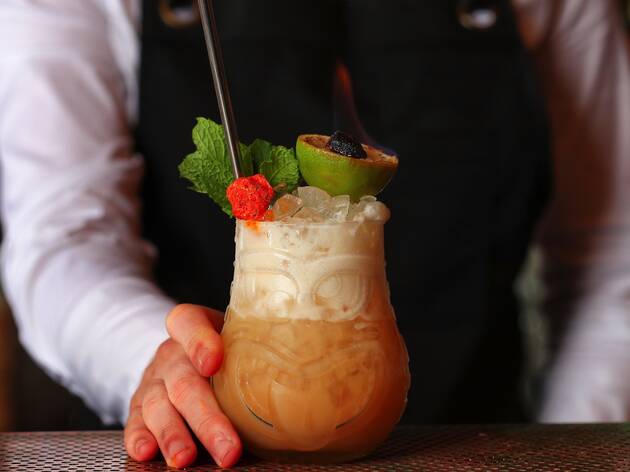 Black Pearl is now delivering cocktails to your door
Words we previously thought we would never see together: tiger and king; Bondi and closed; exercise and kebab; Black Pearl and delivery. But hey, now we have it. You read that correctly, Black Pearl is now delivering. For the first time in 18 years, Black Pearl will personally walk a cocktail to your door for contactless delivery if you're lucky enough to live within four kilometres of the venue.  The theme of Black Pearl's isolation cocktail list is all about escape. Think Mojitos on a rainy day, a Piña Colada in a Melbourne winter and an ice-cold Martini for your steaming hot shower. Individual cocktails will start at the $15 mark, but you will also be able to purchase 'Wine Serves' which is the equivalent of a 750ml sparkling cocktail, starting at $40 and a Luxury Manhattan at $60 for two serves. The menu will change weekly and can be visible on its website.  If you're out for your iso-walk, swing past for some takeaway booze as well. The doors will still be open for you to drop by for a drink, you'll just have to drink it at home instead. Delivery is $5, but it is free if your order is $50 and above. Want more booze delivered? How about this awesome package from Carwyn Cellars? Wait, you need some food as well. Pick up some takeaway from these restaurants while you're at it. 
Rascal is now a bottle shop and community store
You may have noticed something different about Rascal the last time you walked past the restaurant. Yes, you're right, they're not allowed to trade as a sit-down restaurant anymore, but it's something else. It has transformed into a community hub and bottle shop. In times like these, it is important to support local businesses if you want to see them again on the other end, so Rascal has put together a Support Local campaign to make sure Brunswick survives. Aside from switching its business model to an affordable bottle shop which gives you access to premium, local wines at affordable prices (with a free book nook), it is providing a retail space for others including one of our favourite bakeries, Wildlife, the small-batch, hand-crafted chocolates from Ratio, and organic soaps from Brunswick Soap House. These businesses have each been hugely impacted by the new government restrictions, and through the sales at Rascal are able to retain 100 per cent of their takings. Please note that while Rascal is running as a community hub, strict physical distancing rules will still apply. Want to support more local businesses? Check out these restaurants now offering takeaway. Need groceries instead? Head here.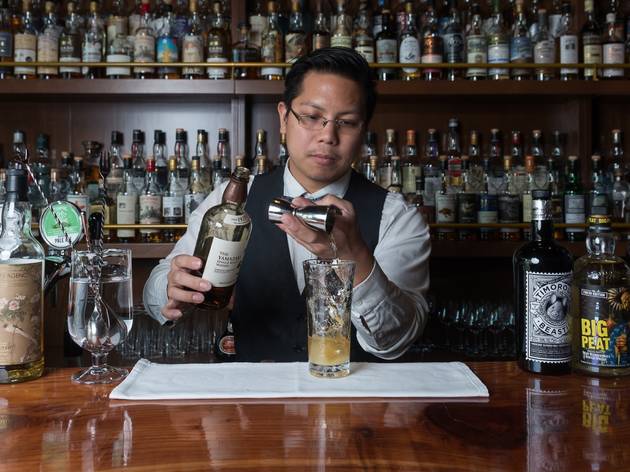 Yao Wong of the Elysian is feeding out-of-work hospitality staff
They say that in hard times is when you get to see a person's true colours. Well, clearly, Yao Wong of the Elysian has a heart of gold, because he's feeding hospitality workers who have been let go, or are financially struggling, out of his own pocket. Photograph: Yao Wong Wong is not asking for anything in return but is giving back to people who show him some kindness every time he walks into a venue that is not his own. When he has the time and means to, Wong posts on his Instagram and Facebook meals that he is making in bulk, packaging in single serves, and offering them to anyone who can't feed themselves for free. His meals so far have been anything from Japanese curry to Sunday roast with all the trimmings to luxe sandwiches.  Photograph: Yao Wong In his own words, "Don't be shy and to reach out if you want to be fed". What an angel. Keep an eye out on his social accounts for updates. Want to show restaurants your support? Try these things. Want to make sure restaurant workers are getting by? Buy this zine.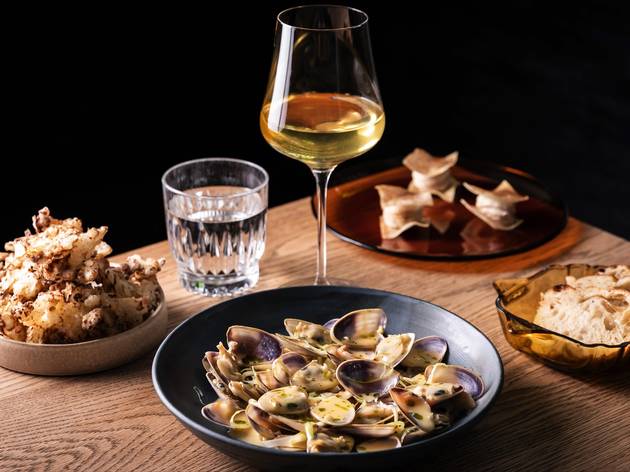 You can now get Bar Liberty takeaway at Falco Bakery
Time Out Melbourne crowned Nick Tesar Bartender of the Year for 2020, and since Bar Liberty closed its doors, we have learnt that even though Tesar is a jack of all trades, you cannot let the man behind a coffee machine. And how did we come across this hard-hitting bit of investigative journalism? Well, Tesar is currently behind the counter at Falco with his signature smile, repping Bar Liberty's wares from its sister bakery. But his stint behind the coffee machine confirmed the age-old fact that bartenders can't make coffee (and inversely, baristas can't make cocktails). Luckily, he's going back to what he's good at: selling incredible food and booze, but now it's available for you to eat at home.  Admittedly, you cannot order the original Liberty menu from Falco, but head chef Zac Furst has been working on take-home items you can heat and eat, like braised duck and fennel ragu with slow-roasted haricot beans; shimeji mushroom fettuccine; scalloped potatoes with a burnt lemon cream; and a steamed cider and hazelnut cake. If you don't want to miss out, you can order these items on Bar Liberty's website for pick-up at Falco. These items have been insanely popular and selling out, so you better hop to it. The million-dollar question is: is Bar Liberty selling booze, since that is what makes Bar Liberty, well, Bar Liberty? The answer is yes. There is a range of wines from across Bar Liberty's list available for pre-purchase on the website. Tesar is on the ground to offer some ad
Where to drink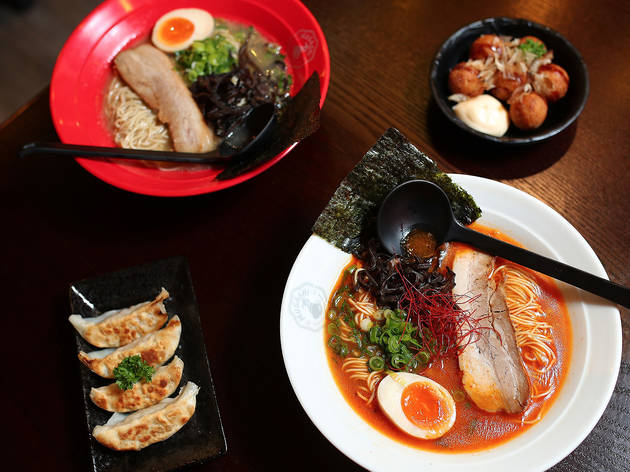 The best-late-night eats in Melbourne
Our fair city wears the mantle of 'Late Night Champion' with pride. Nowhere else in the country can you party at all hours, and then go out for a civilised meal into the bargain. These are the best late-night eats to keep the pep in your party step for nights when you need to soak up some of those high spirits, or maybe you're just not ready for the night to be over. For more late-night antics, peruse our guides to Melbourne's best late night bars, nightclubs and bars for dancing.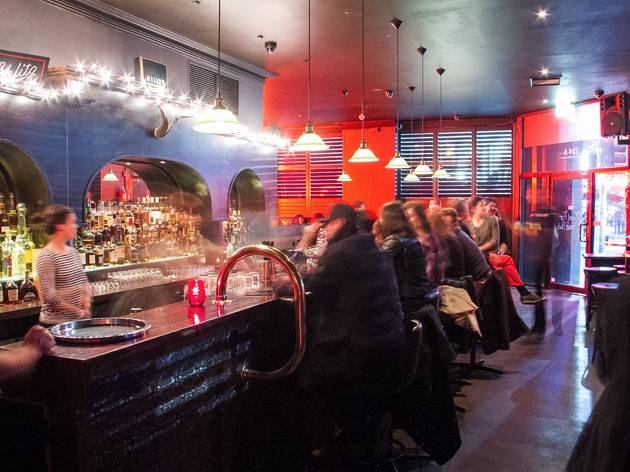 The best late-night bars in Melbourne
Just because it's the small hours and you're up for a drink, it doesn't mean you want to be yelling over the music in a nightclub. Thankfully, there's plenty of places in Melbourne to enjoy a quiet(ish) beverage until sunrise – and with the 24-hour public transport network operating on weekends, it's easier than ever to get home.  For more nocturnal fun, check out our guide to late-night bottle shops and late-night dining.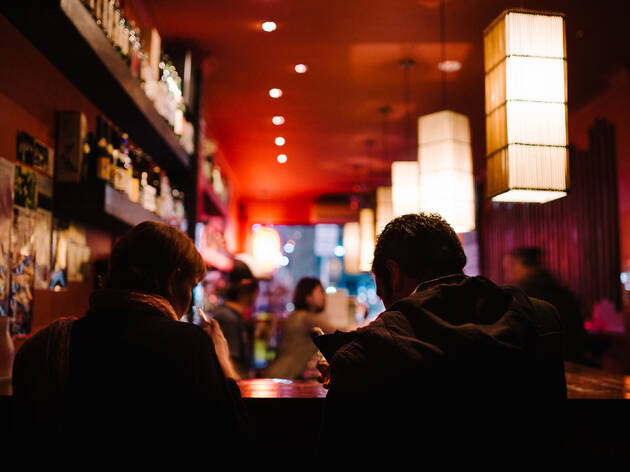 The best bars for drinking alone in Melbourne
Look, we're not here to judge. Maybe you just want to treat yourself to a little alone time and a good bottle of wine, or maybe you've clocked off early and need to kill some time before meeting up with friends. Maybe you're freelancing and coffee just isn't going to cut it any longer (oh yeah, we've been there). Whatever the reason, here's where to get a cheeky bevvy on your own in Melbourne. For more ideas, check out our guides to Melbourne's best wine bars, cocktail bars and hidden bars.
See our latest bar and pub reviews
Choose your favourite drink
Melbourne's drinking hotspots