Travel
From Melbourne's best-kept secrets to last-minute road trips to major international jaunts, we've got your travel needs covered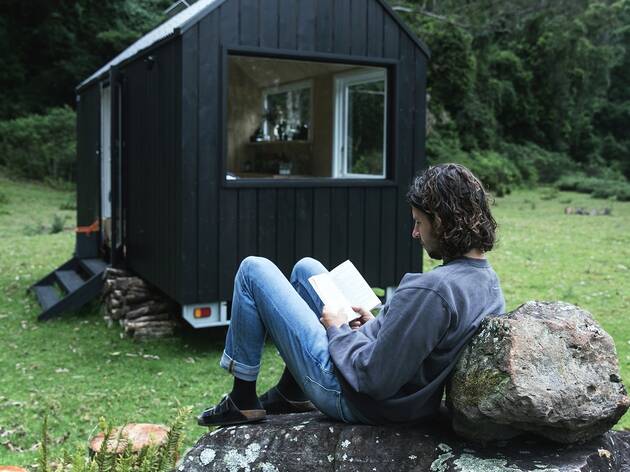 Cosy cabins you can stay in near Melbourne
Cabins are an ideal solution for when you want to get off the beaten track without having to sacrifice access to indoor plumbing. Whether you wanted to head north to the mountains, west to the spa country, east to the Yarra Valley or south to the sea, there's a cosy cabin ready with a comfy bed and wilderness to explore. Take a staycation: these are the best boutique hotels in Melbourne.  
The first airport brewery in the southern hemisphere is coming to Melbourne Airport
Nothing says "Melbourne" like throwing in craft beer at unexpected places. It seems this is also the case for our airport. Yes, you heard that right. Collingwood's Stomping Ground Brewing Company will be opening a brand-new airport brewery inside the international terminal at Melbourne Airport.  It will officially be known as the southern hemisphere's first-ever airport brewery. As the Stomping Ground team will be brewing on-site, you'll get to choose from (and taste) a wide range of craft beer, plus a selection of food from the brewery's Collingwood menu. Maybe having your flight delayed isn't so bad after all... As part of a new hospitality upgrade, Melbourne Airport will also be opening new outposts by some of Melbourne's most loved cafés and bars. Chef Scott Pickett will open a second Pickett's Deli & Rotisserie (you'll find the original at Queen Vic Market); TV personality Shane Delia will open Moors by Shane Delia; popular café Cobb Lane will bring their famous pastries, plus there will be new outposts for Axil Coffee Roasters, Proud Mary and heaps more. New venues will start to open in September while full renovations of Terminal 2 and 3 are expected to be completed by December 2019. Stay tuned. Get excited: the 8 most exciting thing coming to Melbourne by the end of 2019.
Where to find Victoria's pink lakes
No, your eyes aren't playing tricks on you. That lake is that pink. And before you ask – it's a completely natural phenomenon and not some camera trickery done to get more Instagram likes. Pink lakes are rare, and only a handful are found around the world. There are a couple in Western Australia (including maybe the most famous, Spencer Lake) and in South Australia, but Victoria is actually home to a few of its own rosy-hued lakes. Keen to see these liquid fairy floss lakes IRL? Here's where to find Victoria's best pink lakes. (Plus! Scroll down to the end to find out when is the best time to visit!) Check out more of Victoria with our guide to secret gardens, national parks and romantic getaways.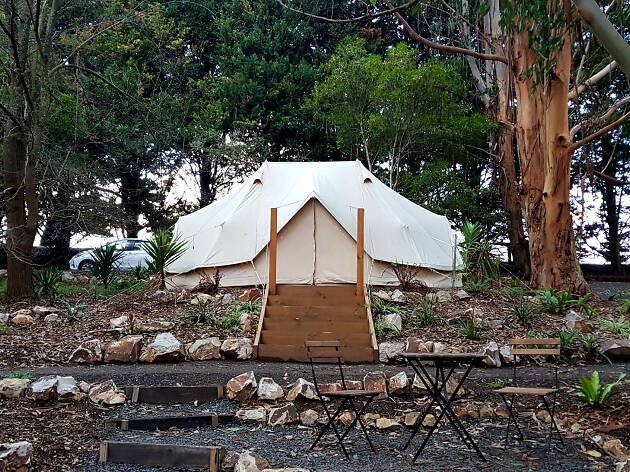 Glamping at Mirador Springs
Mirador Springs isn't all that far from the M1. But in the short, winding distance between the highway turnoff and the blessedly well-signposted retreat, you'll go from flat farmland to a mountain of densely wooded eucalypt forest punctuated by laughing kookaburras and warbling maggies. On arrival take your immediate right, following the narrow track signposted "cottage and tent". Yep, Mirador Springs offers both, though we can only speak for the tent. This is glamping as it should be – that is, as far removed from camping as possible. Sure, you'll be staying in a canvas tent (which is a roomy twin-bell design), but it has pretty much all the comforts of your standard hotel room. That means you get a mini-fridge, microwave, pod coffee machine and kettle. If you forgot to bring food it's no problem, with a stack of menus for local restaurants and takeaway shops provided. Or if you're prudent you can arrange for a breakfast hamper to be delivered for a little extra moolah. No compost toilets here; Mirador's amenities take the form of a luxe outhouse complete with deep dish hot water tub, polished stone basin and a real toilet in all its flushing glory. Plus, with enough pot plants to make a gen Y weep, this washroom is better than a number of hotel loos. You might be wondering about the heating situation. Just as those who live in glass houses should not throw stones, those who stay in canvas tents should not expect central heating. But Mirador Springs has taken steps to
Book online
An insider's guide to Melbourne travel
Short escapes from Melbourne
Interstate trips from Melbourne
International escapes from Melbourne