Restaurants & Cafés
Your guide to breakfast and brunch, fine dining and cheap eats in Melbourne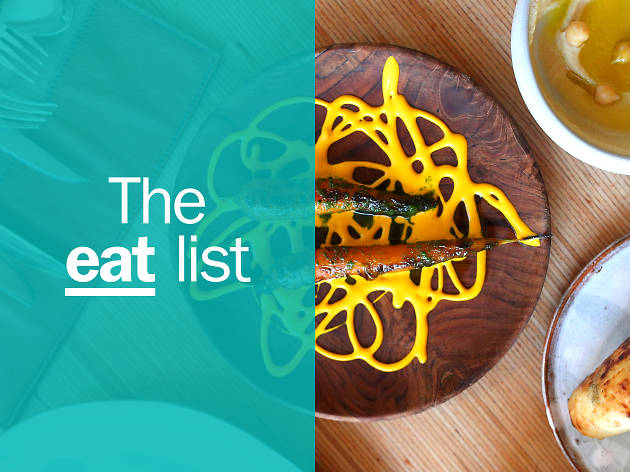 The 50 Best Restaurants in Melbourne Right Now
Welcome to the Time Out EAT List, our handpicked 'best of' Melbourne's food scene. These are the best places to eat in this city right now: the freshest, most inventive and memorable venues, ranked by our expert local editors. Unless you have the metabolism of a nine-year-old, and the finances of a Kardashian, you never stand a chance against Melbourne's ferocious dining machine. The openings just don't stop and ain't nobody got time to keep on top of what's what. Except us, that is.  Time Out's local experts scour the city every day for great eats, great value and insider info (like these off menu items). We value fun, flavour, creativity – and value at every price point. So behold, our eat-and-destroy list – a guide to Melbourne's best restaurants.  Eaten somewhere on this list and loved it? Share it with the hashtag #TimeOutEatList Find out more about how Time Out makes recommendations and reviews restaurants. And when you're done eating, start working your way through our guides to Melbourne's best cafes, 50 best bars and 50 best pubs. Bon appétit!   // (function(d, s, id) { var js, fjs = d.getElementsByTagName(s)[0]; if (d.getElementById(id)) return; js = d.createElement(s); js.id = id; js.src = "//connect.facebook.net/en_US/sdk.js#xfbml=1&version=v2.3"; fjs.parentNode.insertBefore(js, fjs); }(document, 'script', 'facebook-jssdk')); //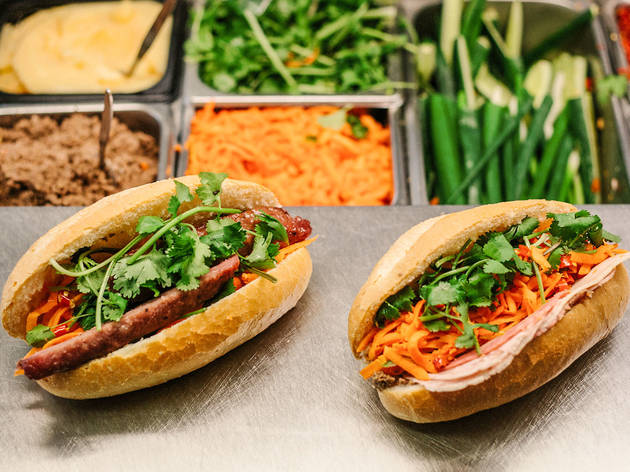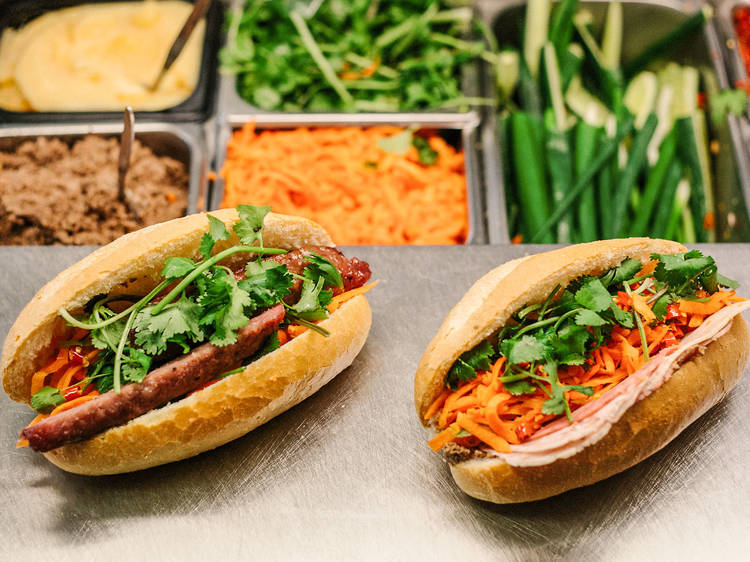 The best banh mi in Melbourne
The best bánh mì has bread with crunch, but not so much it scrapes the roof of your mouth. It's fluffy and light, but not so flaky it completely disintegrates into your lap. It's the perfect vessel for liberal amounts of pâté and a Vietnamese condiment called egg mayo butter – either egg mayo is spread on one piece of bread and butter is spread on the other, or the two are spread on top of each other – fresh cucumber, pickled carrot (and daikon if you're lucky), generous sprigs of coriander and chilli massaged into its crevices, a dash of Maggi seasoning and the protein of your choice.  The traditional bánh mì thịt nguội (bánh mì filled with cold cuts) was eaten as a control wherever we could alongside one other roll for variety, which has produced our rankings for the top 13 bánh mìs in Melbourne. Love things between bread? Here are our favourite sandwiches in Melbourne. Prefer those sandwiches toasted? Look no further.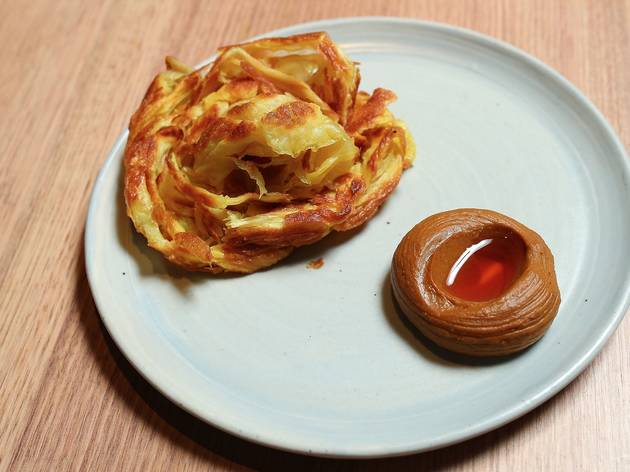 34 must-eat Melbourne dishes
It doesn't matter if you're a local or a visitor: Melbourne is at its absolute best when you go in face first and let your tastebuds lead the way. Make sure you put these 34 Melbourne dishes on your hit list. While you're in town you should check out these 25 tourist attractions that don't suck and in between grab a drink at Melbourne's 50 best bars. Recommended: The 50 best restaurants in Melbourne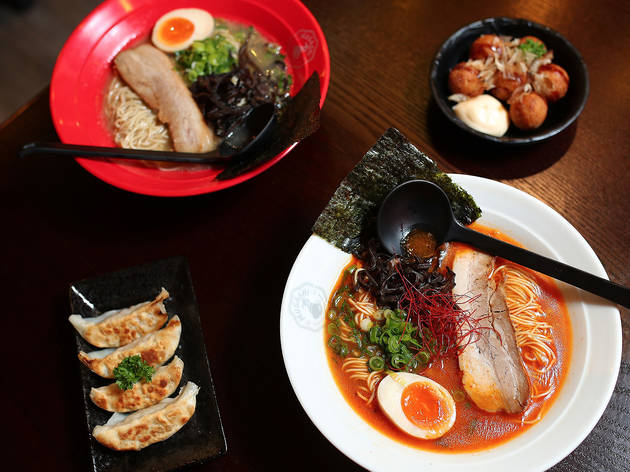 The best-late-night eats in Melbourne
Our fair city wears the mantle of 'Late Night Champion' with pride. Nowhere else in the country can you party at all hours, and then go out for a civilised meal into the bargain. These are the best late-night eats to keep the pep in your party step for nights when you need to soak up some of those high spirits, or maybe you're just not ready for the night to be over. For more late-night antics, peruse our guides to Melbourne's best late night bars, nightclubs and bars for dancing.
Latest restaurant and cafe reviews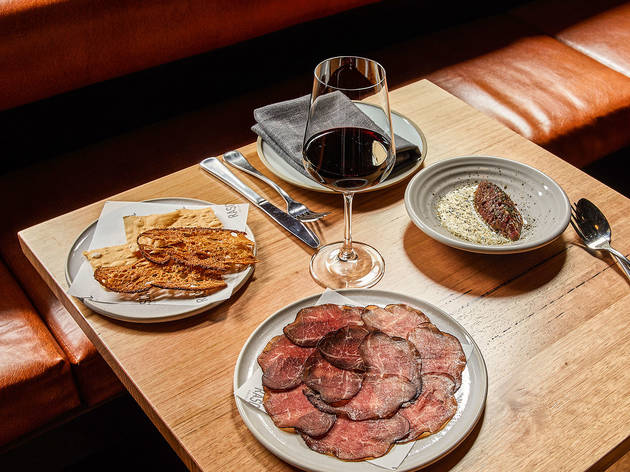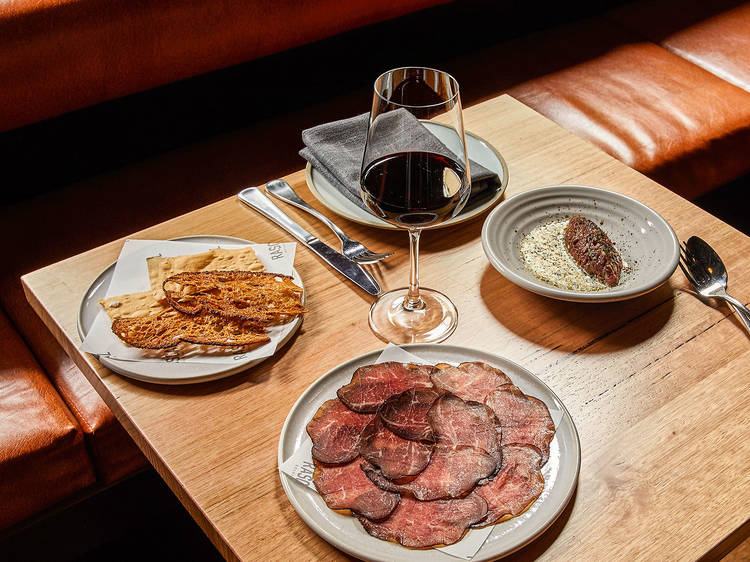 Rascal
A moody wine bar on Sydney Road offering a menu of rich drinking food and perhaps the suburb's best wine list
Book online
See more of our latest reviews
Melbourne's foodie hotspots