A Visit with Nan in a Caravan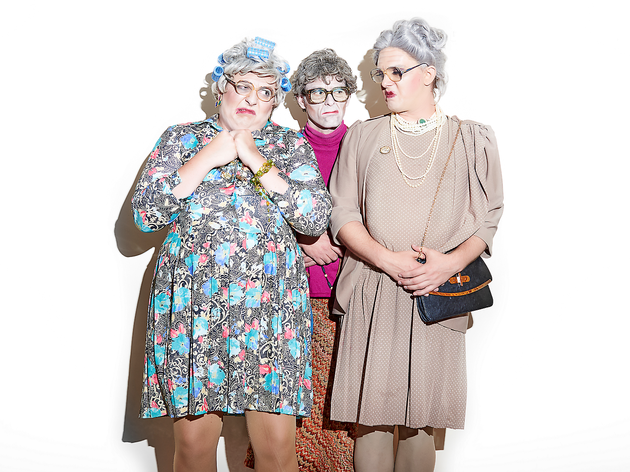 Step inside this caravan for a quick chat with Edith Vale and Maureen McGillicuddy
Since 2004 the Golden Gibbo has been awarded to an independent, local show at the Melbourne International Comedy Festival pushing the boundaries of the comedic form. Last year it went to A Visit with Nan in a Caravan, which is enjoying a return season and is exactly what it sounds like: an audience of 11 people is ushered into a retro caravan by three elderly Australian women (played by Thomas Jaspers, Kyle Minall and Scott Brennan) for a 15- to 20-minute chat over a cuppa.
Like plenty of nans, they're a fair bit nastier and naughtier than their appearance might suggest, and BFFs Edith Vale (Jaspers) and Maureen McGillicuddy (Minall) are hilarious in gently ribbing their audience with the casually offensive remarks only an old lady can get away with. The third nan is Caroline Springs (Brennan), a mute woman who has been left by her sister Alice in Edith and Maureen's care. She's a wonderfully creepy presence – and her backstory is clearly explained – but the dynamic between the three could be developed a little further.
But the story that Edith and Maureen tell their captive audience (in more than one sense) is very funny. It seems when Queen Elizabeth II and Prince Philip visited Toowoomba in 1954, they had a run-in with the pair that altered the course of Her Majesty's reign for several months.
It may well be that these characters prove so popular in a few years that a move to a bigger venue is necessary – or at the very least a bigger caravan. If and when that happens, you'll want to be able to say you experienced their charms in this most intimate of settings.