Pax Assadi: Raised by Refugees review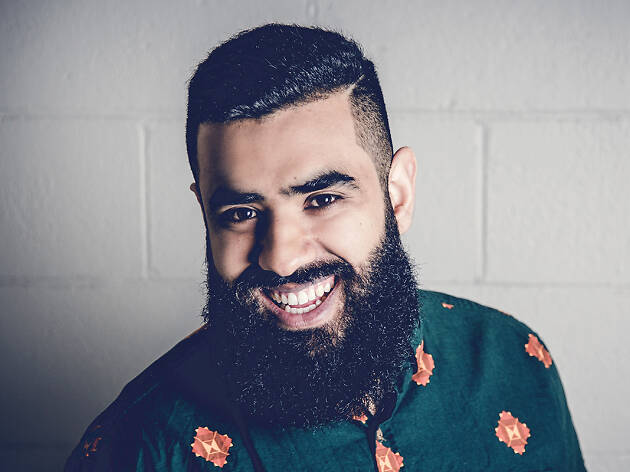 Time Out says
This clever, feel-good show makes us wonder how this is Pax Assadi's first time at MICF
Pax Assadi's family must be either willing or unknowing sacrificial lambs because absolutely no one gets a pass in his show. But even though he pokes fun at his father, mother, wife, children and hirsute, gold chain-wearing grandfather (insult the chains at your own peril), Assadi's particular style of comedy is more heart-warming than soul-destroying.
Assadi is the son of refugees who immigrated to New Zealand before he was born. But even if his background is dissimilar to your own the beauty of Assadi's comedy is in subtly (and sometimes not so subtly) pointing out that we all have much more in common than we have apart. Much of Raised by Refugees presents like an interpretation of Gerald Durrell's My Family and Other Animals – from getting too invested in roleplay characters to his three year-old wishing she was, specifically, a Chinese man.
The show isn't about race per se, but Assadi is able to cleverly poke at racial discrimination without losing laughs. When Assadi jokes about Middle Eastern men being emotional ("you've seen them on the news") it's a grinning jab at poor representation of people of colour in the mainstream media that actually segues into a sweet tale about his genuinely over emotional Dad, a phone call, and a street in Chicago, Illinois.
Raised by Refugees is a wholesome show with the majority of swearing stemming from stories about Assadi's mother (who ironically was trying to teach him a lesson about not swearing – maybe it worked?).
Assadi paints a picture of life in suburban New Zealand, specifically what it's like to live in South Auckland. It's a tale of KFC and literal bitches with floor-length teats that climbs to one of the comic's silliest jokes and reminds Australians that they should probably peek across the pond once in a while, lest they miss what New Zealand's funny men and women are up to.
Details
Users say