PO PO MO CO in Nosfer-Arse-Tu: A Cheeky Vampire Pantomime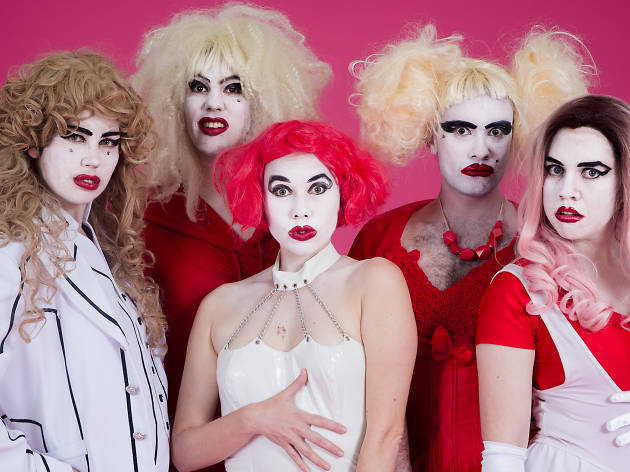 Take your love of strange physical comedy to the next level with this rambunctious queer Melbourne comedy troupe
If you'd prefer to preserve your wholesome childhood memories of pantomimes, then it's best you don't see the new show by PO PO MO CO (Post-Post Modern Comedy). But if you're into the idea of your "he's behind you!"s served with generous helpings of camp, bum sex, cunnilingus and arse puppetry, then get yourself to Trades Hall as quickly as possible.
We mean it: you better book tickets ASAP, because this Melbourne indie comedy troupe has become one of the cult hits of MICF. It's easy to see why: this is joyfully queer, masterfully camp and unabashedly weird comedy at its best.
There's no easing into the madness, either. The show is a re-imagining of the 1922 German Expressionist vampire film Nosferatu, stuffed with all the spooky castle and exploitation film clichés you can think of. We begin by meeting our guide for the evening, sexy Nurse Ragina (Amaya Vecillio), before being introduced to the sprightly and ill-fated Doctor (David Maney), who is gleefully embarking on a "frivolous homosexual adventure". What follows are encounters with some kooky and spooky locals, the doctor's wife having some frivolous homosexual adventures of her own, and finally, a meeting with a devilishly charming arse-faced vampire.
A conceit like this lives or dies on the strength of the performances and the cleverness of the script; and in both respects, PO PO MO CO more than delivers. There are no weak links in the ensemble, from Lily Fish's grovelling servant Gustav to Claire Sullivan's physical comic prowess as Nosfer-Arse-Tu. There is no limit to how silly or surreal they're willing to take things (smart, weird character-driven comedy like The Mighty Boosh comes to mind) – which means that there's a sense that anything can happen.
No one is delivering what this Melbourne troupe is serving; and with their new show Nosfer-Arse-Tu, PO PO MO CO cement their place as one of the country's hottest rising talents.