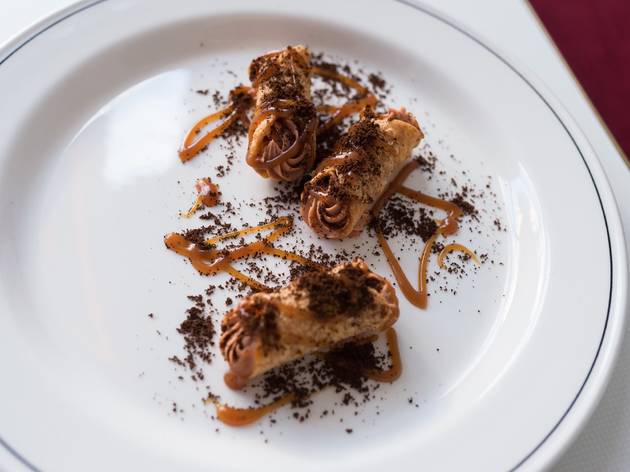 1/7
Photograph: Vince Caligiuri
2/7
Photograph: Vince Caligiuri
3/7
Photograph: Vince Caligiuri
4/7
Photograph: Vince Caligiuri
5/7
Photograph: Vince Caligiuri
6/7
Photograph: Vince Caligiuri
7/7
Photograph: Vince Caligiuri
Time Out says
We've grown accustomed to southern US barbecue but Bedford Street plumbs new depths of trailer park depravity. Enter the pickled franks...
Ladies and gentlemen, introducing Bedford Street… the latest sibling of Brunswick café Wide Open Road and Carlton bar Heart Attack & Vine, that is busy carving its own niche in the overpopulated Collingwood eating 'hood. It's part dinner, part Texas Chainsaw Massacre, with unrelentingly meaty good times from sunrise to late in a room with good bone structure, nosebleed-high ceilings, a red brick floor and a penchant for natural light that is all too rare in this part of town.
Food-wise, Bedford Street is playing to its own script. A Southern-US barbecue joint might have become a bit of a cliché, but Daniel Dobra (ex-Brutale, Royal Mail, the Brix) has proven himself a unique kind of fellow, even when he's throwing chickens in the deep fryer. He's no friend to the garnish, to frippery, to the tweezer work that's become endemic among his peers. Plus he's completely upfront about his carnivorous proclivities.
Start your day with a true heart stopper: fried chicken and waffles with thick-cut belly bacon, roasted sauerkraut and fried eggs. See if you can stay alive 'til lunch. Come night-time there are bar snacks to put hair on your chest: those pickled franks, mild Viennese numbers steeped in vinegar and a host of aromatic spices, served sliced, cold, and speared with toothpicks. Or a grilled cheese sandwich made from fat slices of high-GI white bread (baked in-house) smothered in butter and slapped around three types of cheese and truffled mayo. So wrong, yet so right.
Cocktails match the theme. There's kangaroo jerky in their Bloody Bedford Street – a Bloody Mary riff with gin instead of vodka – and bacon-washed bourbon in the Bacon and Eggs (with thyme syrup, lemon, egg white and a dash of bitters). Not game enough? There's a tight fallback list of five whites, four reds and a rose – mostly Oz, pretty good value – and a rotating list of local beers.
The dinner menu steps back to the good old days when people ordered for themselves and didn't have to heed this sharing business. Even the snacks are built for solo chowing. There are oysters with strawberry mignonette (mascerated berries and red wine vinegar) or fried with ranch-style dressing and a sharp, house-made green pickle.
It's a little disappointing the "carrot bacon" on whipped goat curd and toast isn't bacon disguised as carrot but the other way around. Boo! The carrot has been cured and slow-baked into a dark, strangely textured, meat-like thing. It's a fine snack without being transcendent in the way one reasonably hopes of high-calorie, two-bite things. The duck cannoli, on the other hand, wins the World Series with its duck liver parfait centre, crisp pastry shell and oozy salted caramel offset by a judicious sprinkle of fresh coffee grounds. Two words: crazy good.
There's technique behind the unabashedly naked whole-fried chicken, cleaved in half and draped over white bread like a supermodel at an orgy. Dobra brines, dries and fries whole free-range chooks in a laborious two-day process that is too long to go into here. All you need to know is the end result is golden-crisp skin (seasoned with chipotle, paprika, Tabasco and more) and juicy tender flesh. You'll need a side – the coleslaw will help allay guilt. Sorry to be the deliverer of bad news, but the apple and blueberry pie-cut – like a fried fruit turnover, with cola ice-cream – will do no such thing.
---
Details
Address:
11-13 Johnston St
Collingwood
Melbourne
3066

Contact:
Opening hours:
Mon-Fri 7am-11pm; Sat, Sun 8am-11pm
Users say