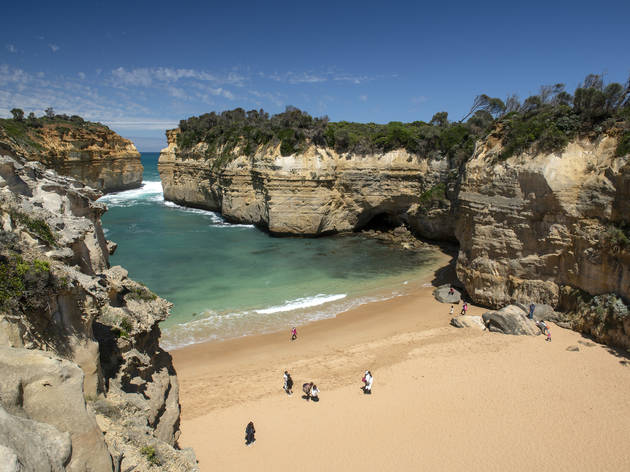 14 simple rules for enjoying the outdoors and remaining COVIDSafe
Stay safe with this guide to outdoor protocols this summer in Victoria
We're finally seeing some warm weather this summer – and with it the chance to enjoy the outdoors again.
To get back to doing the things we love, we have to be smart and keep an eye on the COVIDSafe Summer restrictions that are in place across Victoria. And while we're naturally going to be very cautious when it comes to indoor activities, what exactly are the guidelines regarding COVID-19 when you're bushwalking, camping, fishing, or heading to the beach?
In association with the Department of Environment, Land, Water and Planning, we've compiled a list of 14 tips for enjoying the outdoors and remaining COVIDSafe. By following these simple tips, you're helping Victoria to stay open.
1 Have the test
You know the drill: get tested if you have even the mildest symptoms, and stay home until you receive your results. If you become sick while you're away, stay in your accommodation until you get the all-clear.
2 Stay up to date
Check Victoria's restriction levels in case these change while you're travelling. Contact the Coronavirus Hotline on 1800 675 398 or TIS National on 131 450 and dial 0 for an interpreter. Information in other languages is available on the DHHS website.
3 Mask up
Carry a fitted face mask with you whenever you leave the house and know the current Victorian Government advice on when and where to wear it.
4 Sanitise frequently
Bring hand sanitiser with you. It ought to be second nature by now to have some in your bag.
5 Check with Parks Victoria
Plan your trip using advice from Parks Victoria before you leave. The website tells you exactly what restrictions are in place for specific destinations. Don't leave it till you've arrived at your outdoor spot and it's too late!
6 Be patient
Things may take a little longer over summer with additional health measures in place. Allow extra time and expect the odd delay.
7 Give others their space
Always stay 1.5 metres apart from people who don't live with you.
8 Skip the crowds
Consider visiting popular locations at quieter times.
9 Book or phone ahead
Remember that limits may apply to the numbers of people who can be at campgrounds, hotels, restaurants, cafés and tourist attractions at any one time.
10 Cara-plan
If you're camping or caravanning, plan your trip before you leave so you understand the rules, and remember you may need to book your campsite before you travel. For unmarked sites, use the length of a car, a tent pole or a paddle to separate your camp from others and always clean barbecues or any outdoor cooking surface before and after use. Read the general camping safety advice that always applies before you go.
11 Walk this way
Stay COVIDSafe while bushwalking, or visiting parks and gardens. Keep left for physical distancing and stay on designated tracks. Always have a mask with you. Remember that leaving tracks is illegal, dangerous and may damage sensitive areas.
12 Measure by blanket
When gathering outdoors, use a picnic blanket as a guide for keeping 1.5 metres from others.
13 Be seaside smart
For beach trips, make sure the bit of coastline you're visiting is open before you head out. Check the VicEmergency app for beach closures. The Beachsafe app and the Play It Safe by the Water website have information on alternatives if your favourite beach is too crowded. Use the length of a large beach towel to help you stay 1.5m from others. For general beach safety advice, use the Beachsafe app. Beach safety and water safety information are also available in languages other than English.
14 Watch out on the water
Whether we're talking the ocean, inland waterways or water catchments, remember hygiene and physical distancing when you're getting fuel, buying bait, on a jetty or at the boat ramp. Don't share fishing equipment, and prepare a list of ramps to use in case your favourite is too crowded. COVIDSafe boating activity restrictions must be followed. Follow general water safety advice using the Boating Vic app for iOS or the Boating Vic app for Android. Check the weather and ramp conditions and the VicEmergency app. Water safety information for multicultural communities is also available.