The 25 best free things to do in Miami
The ultimate guide to free things to do in Miami, from free museums and attractions to free tours, classes and more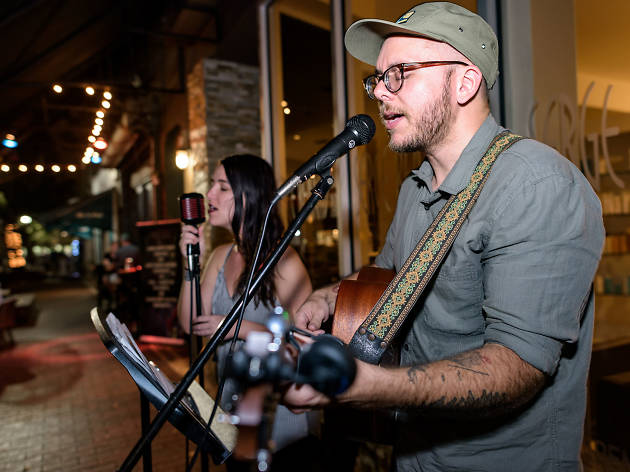 There's so much to blow a wad on in the Magic City: prix-fixe dinners at the best Miami restaurants, bottle service at the glam-est Miami clubs, yacht rides, boutique shopping, amazing spas. The list goes on—even if your budget is finite. Luckily, there are equal amounts of fun to be had at no cost at all. Why not learn to dance? Or hit one of the city's best museums? Or, if you're feeling flexible, get all bendy at a free outdoor yoga class. If you're looking to live it up in this city—without spending a damn cent—look no further than our list of the best things to do in Miami for free.
Best free things to do in Miami
1
Before Wynwood made local art cool, Miamians would scoff at the notion of spending Saturday night trolling galleries. But on the second Saturday of each month, when the neighborhood's studios, galleries and showrooms open their doors to the public, perusing paintings is infinitely more fun than popping bottles. Stretching into up-and-coming areas (read: not yet safe for pedestrians), Wynwood Second Saturday happenings converge between Miami Avenue and Northwest Second Avenue, where you'll also find pop-up shops from local artisans and a battery of food trucks swarmed by crowds of all ages. Traffic moves at a snail's pace but the range of street art is enough to keep you entertained.
Read more
2
The Little Haiti Cultural Center's flagship event—a monthly party thrown on the third Friday of the month—is always a blast. Music, dancing and delicious food all combine for one killer block party. Previous acts have included Wyclef Jean (as in the former Fugees singer) and Haitian supergroup KLASS. Performances typically begin at 7pm and go late at the free event. Donations are welcome.
Read more
3
Between housing a renowned restaurant (Verde), offering some of the most unobstructed views of Watson Island and the MacArthur Bridge, and providing plenty of fun, artsy seating in the form of fiberglass and polypropylene swings, the Pérez Art Museum Miami makes a strong case for its outdoor offerings. If you're ever inclined to explore its remarkable collection of modern art, however, the time to do it is on the second Saturday of each month (1–4pm). Not only is admission waived for this monthly event, visitors also have the opportunity to enjoy hands-on activities, guided tours and guest performances, among other programming.
Read more
4
From exhibits that underscore responsibility and pet ownership, to hands-on activities that teach about sustainability, to an interactive bank used to educate children on financial literacy, the Miami Children's Museum is brimming with fun—and educational—experiences. Browse them free every third Friday of the month (3–9pm), when Target picks up the tab for admission. The museum's art studio is also open during Target Fridays, giving kids the opportunity to explore different media through frequently changing programming in the arts.
Read more
5
There's plenty of artistic ground to cover in Wynwood, so seeing it on foot may take longer than you've got on a weekend afternoon. To make the most of your time (and actually learn something about what it is you're looking at), opt for an hour-long bike tour led by Ryan the Wheelbarrow of Wynwood Mural Tours. You'll BYO bike and meet on the sidewalk just outside Panther Coffee (2390 NW 2nd Ave). The tour is free, though Ryan's extensive knowledge of the neighborhood's influential pieces as well as hidden gems warrants a nice tip.
Read more
6
Yoga in parks and on rooftops
Like the Instagram hashtag goes, in Miami, the forecast calls for #yogaeverydamnday—well, most days. The best part? It's often outdoors and free. On Mondays and Wednesdays at 6pm, make your way to the Tina Hills Pavilion in Bayfront Park (301 Biscayne Blvd) for Yoga in the Park, popular among locals for the unique closing prayer you'll remember long after you've left—something calming along the lines of "peace to your right, peace to your left." Tuesdays and Thursdays at 6pm, Vinyasa-based classes are held at Peacock Park in Coconut Grove, and led by Dharma Studio instructors (2820 McFarlane Rd). For a two-a-day of Zen, start at the Mayfair Hotel rooftop (3000 Florida Ave, 305-461-5506) for an 8am class and follow it up with a 9am at Tina Hills.
7
This monthly event, held in more than 120 places around the world, is like going back to college for an hour—in a good way! Each installment, which takes place on the second Thursday of the month, is themed (think environmental initiatives and citizen science), features a lecture and includes free beer.
Read more
8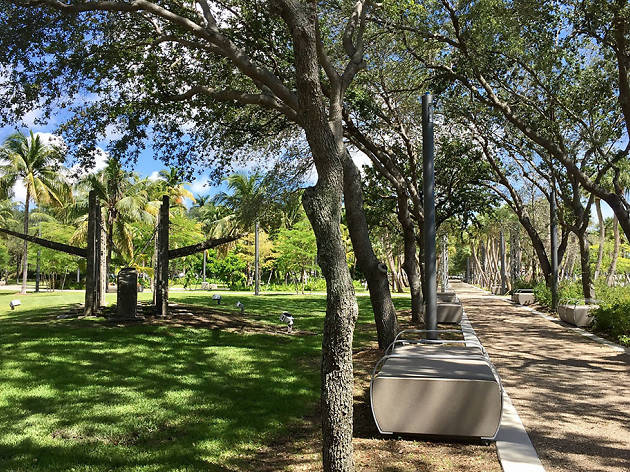 Coconut Grove historic bicycle tour
There's plenty of history to discover in Coconut Grove, Miami's oldest community, and historian Frank Schena is just the person to tell you all about it. Join him and Royal Palm Tours of Miami on the first and third Saturday of the month (9:30am–noon) for a free bicycle tour of the area, which begins at City Hall (1500 Pan-American Dr) and includes stops at Trapp Avenue, Alice Wainwright Park and other areas of North Coconut Grove. Riders must pre-register to participate (bidoffice@grovebid.com, 305-461-5506).
9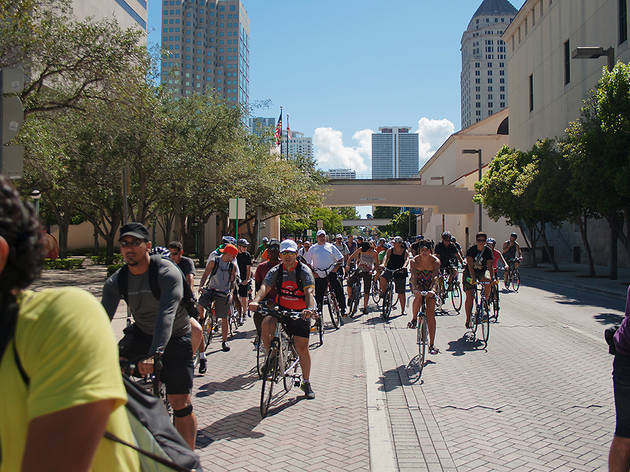 Critical Mass
Cyclists in Miami ride in expert mode at all times, dodging jaywalking pedestrians and bobbing and weaving through traffic. But on the last Friday of each month, Critical Mass, organized by the Miami Bike Scene, gives novices and experienced riders the opportunity to explore different parts of town unencumbered, as roads are blocked and volunteers help block major intersections for riders. Routes change monthly but always begin in Downtown Miami (Fri 7:30pm) and range from 10 to 20 miles, taking riders through Coral Gables, Little Havana and Coconut Grove, among other neighborhoods. Participants must bring their own bikes, and helmets and lights are recommended.
Photograph: Courtesy Creative Commons/Flickr/Christopher Neetz
10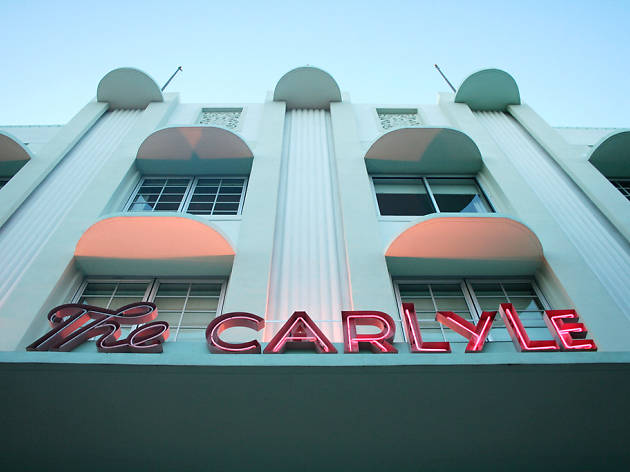 Art Deco District walking tour
There's more to South Beach than clubs and beaches, like its historic Art Deco District, recognized by the National Register of Historic Places. There are approximately 800 structures with historical importance all along Collins Avenue and other neighboring streets. You may not immediately understand the significance of pastel facades, neon signage and sleek curves, so you'll need to visit Greater Miami Convention & Visitors Bureau for info before heading out from Ocean Drive and 5th Street.
Photograph: Courtesy Creative Commons/Flickr/Alfredo Aponte
11
Double your dose of culture on the last Friday of the month, when the Museum of Contemporary Art, North Miami hosts free outdoor concerts (Fri 8pm). Previous acts have included the lively Batuke Samba Funk, mixing Brazilian rhythms with soul and funk, and the internationally influenced jazz group Carlos Gomez and the Jazz Leaders, blending Cuban Son with traditional jazz. Admission to the museum on jazz night is by donation (7–10pm) but North Miami residents, city employees, veterans and children under the age of 12 are always free.
Read more
12
One of the best things about Ball and Chain is that there's never a cover. But the Little Havana bar's monthly Pineapple Sunday concert is hands down the best time to take advantage of free entry. From 2–8pm, a steady rotation of bands take the stage, playing everything from Latin jazz to Brazilian funk. Feel free to buy a drink. Or keep that wallet in your pocket and just dance. There's no minimum purchase required. Pineapple Sunday doesn't have a recurring date, so keep an eye on the Facebook page for the announcement (which is usually posted two weeks before the party).
Read more
13
From October through May, the façade of the Frank Gehry-designed New World Center doubles as a movie screen, while adjacent Soundscape Park, a 2.5-acre public space, serves as its alfresco theater. While the 2017/18 has yet to be announced, previous films have included popular titles like Back to the Future and Brooklyn, as well as special New World Symphony performances, which are also projected on the 7,000-square-foot wall in the off season. All screenings are free (schedule available here) and begin promptly at 8pm, rain or shine, and patrons are encouraged to bring blankets, chairs and refreshments.
Photograph: Courtesy CC/Flickr/paniko.cl
Read more
14
For a different kind of Friday-night happy hour, head to the Woflsonian-FIU, where access to art, music and revelry are free of charge. Each week, the museum waives admission to patrons between the hours of 6pm and 9pm and offers free, guided tours that vary in theme (Halloween is on the docket for October). The Wolfsonian Café sweetens the deal with half-price beer and wine from 4pm to 9pm and live music on the third Friday of each month.
Read more
15
Even if you're not nostalgic for locomotives (or count yourself as a Thomas the Tank Engine fan), you'll agree there's certain magic surrounding trains. You'll have the opportunity to judge for yourself on the first Saturday of every month (save for March) when admission is free to the Gold Coast Railroad Museum, a must-see for train enthusiasts. There are trains to explore, Thomas the Tank Engine tables to play on and model exhibits and rare collection pieces to admire, including "Ferdinand Magellan," the private railroad car built for President Franklin Roosevelt.
Read more
Show more
Find more things to do in Miami
Find more fun things to do on a budget
For a city experience that includes amazing culture, good eats, great cocktails and exciting things to do on the cheap
Read more