The coolest things to do in South Beach all year round
Let us guide you through the best things to do in South Beach, so you can do this classic neighborhood the right way
April 2019: One new addition to our South Beach guide that we're quite excited for: Time Out Market. We know we're a little biased but we think you'll agree with us when the doors finally open this Spring.
There are no shortage of things to do in South Beach—but finding things to do in South Beach that are actually, well, fun? That's a little more challenging. Like any tourist-heavy area, the neighborhood has its share of underwhelming attractions. Sure, South Beach holds some of the best restaurants in Miami and the best bars in Miami. But it's also home to some of the worst. You've got to be careful out there—especially if you're looking for more things to do than just lay out at the beach (not that that's a bad choice). So take a look at some of our favorite South Beach activities below. And see South Beach the right way.
RECOMMENDED: Full guide to South Beach, Miami
Best things to do in South Beach
What is it? Something we've been working on for a long time now: our very own market! We've asked 17 local concepts to come make a new home in Time Out Market, and serve the very food you read us raving about on a daily basis (like Kush, Three, Coyo Taco, Ariete, Stubborn Seed and more). It's all happening this Spring and we better see you there.
Why go? Where else can you find Miami's best ice cream, burgers, fried chicken and Cuban sandwich all under the same roof?
Things to do, Cultural centers
What is it? Don't discount the bitty museum for its size—The Bass is a renowned contemporary art institution that packs incredible collections and traveling exhibitions into its diminutive edifice. Patrons should also keep an eye out for the colorful public art that constantly moves through the museum lawn.
Why go? Time it right and you can hit up Sweet Liberty's happy hour after having yourself a cultured afternoon.
Shopping, Shopping centers
What is it? One of the country's first pedestrian malls, Lincoln Road is continuously overrun with tourists in search of the quintessential South Beach shopping experience. To wit, it makes for fantastic people-watching if you're a local. Expect a ton of sidewalk cafes, big brand stores and a weekly farmers' markets on Sundays.
Why go? Because this is just about the only place in Miami made for pedestrians.
What is it? South Beach's southernmost tip and a really pretty waterfront park with plenty of green space for picnics or lounging as you watch the cruise ships sail by. It boasts ample metered parking, plus the park features access to both the beach and a walkable pier.
Why go? It's walking distance from Joe's Take Away, in case you're interested in having the ultimate Miami picnic.
Things to do, Performances
What is it? Home to America's only full-time orchestral academy. Fellows from around the world regularly put on concerts. Looking to keep it casual? Adjacent SoundScape park hosts free WALLCAST concerts throughout the season.
Why go? New World's concerts are often fun collaborations with local DJs, famous composers and more, so things don't feel as stuffy as normal orchestras.
Things to do, Cultural centers
What is it? Whether it's browsing modern-age artifacts or perusing midcentury propaganda, visitors exploring Wolfsonian-FIU's permanent and traveling exhibitions learn about the myriad ways art and design have helped shape the contemporary world.
Why go? The Art-Deco–era building also houses youth programs and offers free guided tours every Friday at 6pm.
Things to do, Cultural centers
What is it? The nearly 20-year-old museum explores thousands of years of sex through classical art, ancient artifacts and a trove of sex toys. In addition to housing a huge collection of erotic art, WEAM features a sizeable collection of antique penises.
Why go? Did you hear us? We said antique penises!
What is it? The Jewish Museum of Florida tells the story of Miami's large Hebrew community. You can breeze through this small cultural center in less than 30 minutes.
Why go? The museum's core exhibit, "MOSAIC: Jewish Life in Florida," features more than 600 photographs and artifacts that capture the group's settlement across the peninsula.
What is it? There's a lot of history to soak up in South Beach, specifically in the city's Art Deco district. Start your day in the colorful neighborhood with a stop here and make the most of your visit. The center will send you off armed with maps and suggestions for DIY walking tours.
Why go? Scared to do it on your own? Book a guided excursion and let one of the League's certified historians lead the way.
10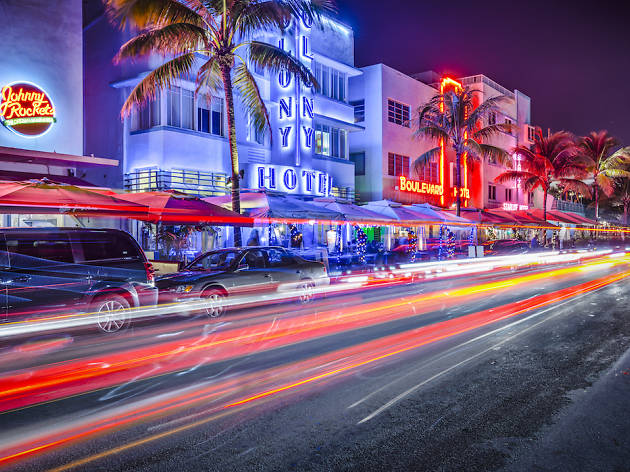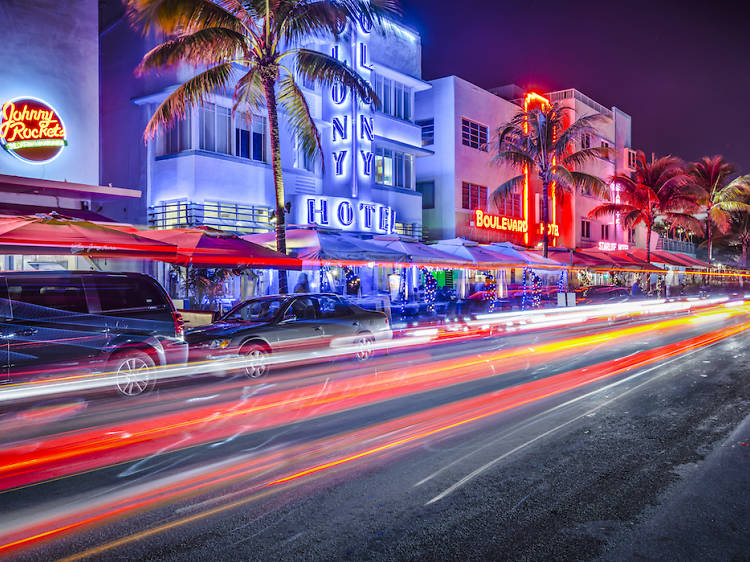 Photograph: Shutterstock
What is it? Bear with us here: Ocean Drive is fun. The touristy strip gets a bad wrap for its overpriced drinks (hello, $65 margarita) and we wouldn't really advocate eating or drinking at one of the sidewalk cafes, but this is the absolute best place for weird Miami people watching.
Why go? To check out the Versace Mansion, as well as visit its new, exclusive omakase, Sushi By Bou, if you really want to ball out.
What is it? A hotel—yes—but also a hangout for South Beach scenesters. Monthly memberships hover in the hundreds of dollars and a day pass will set you back $75 to $125 but neither one keeps the locals from filling its loungers or sipping rosé poolside.
Why go? You can still eat at the Standard's waterfront restaurant, Lido, to soak in the vibes without paying for a pass.
What is it? A charming pedestrian boulevard. Aside from drinking and dining at its sidewalk cafes, Española Way offers yoga on Saturday mornings and salsa classes on Thursday nights, both free, plus outdoor flamenco shows on Friday nights.
Why go? Española is also home to one of our favorite South Beach bars, Kill Your Idol.
What is it? Part beach club, part nightclub and part lounge, Nikki Beach ticks off all the boxes of what you want in an over-the-top South Beach spot. If you can afford it, book a cabana, order some rosé and see where the night takes you.
Why go? The brunch/day party is the best place to party on Sunday mornings.
14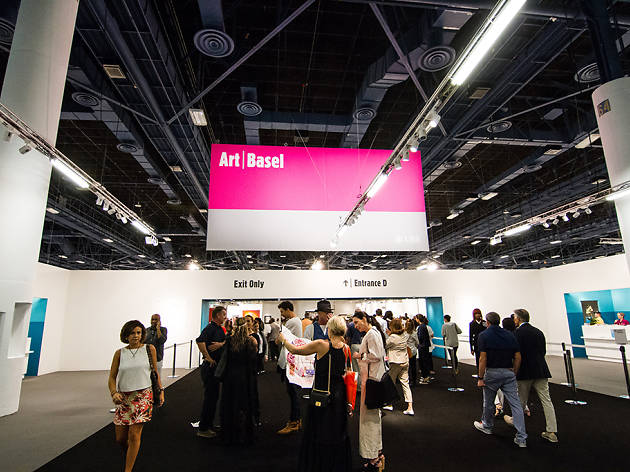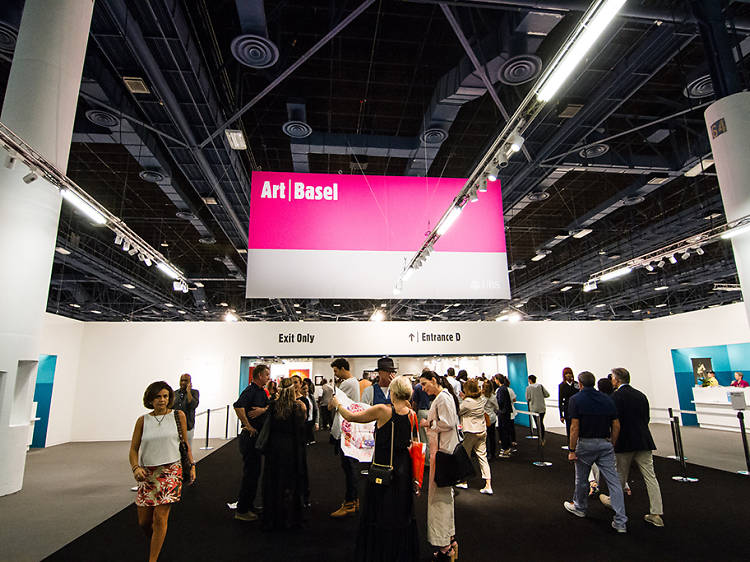 Photograph: Wei Shi
What is it? It happens but once a year, though once it's over you'll feel like a thousand years of partying happened to you. The hangover is worth it to experience Art Basel Miami Beach and the surrounding fairs that are known collectively as Miami Art Week.
Why go? Art Basel has become so much more than just an art week. Now you'll find concerts, parties and so much more.
Hungry after all that sightseeing?
Finally, South Beach has serious culinary contenders