Heads up! We're working hard to be accurate – but these are unusual times, so please always check before heading out.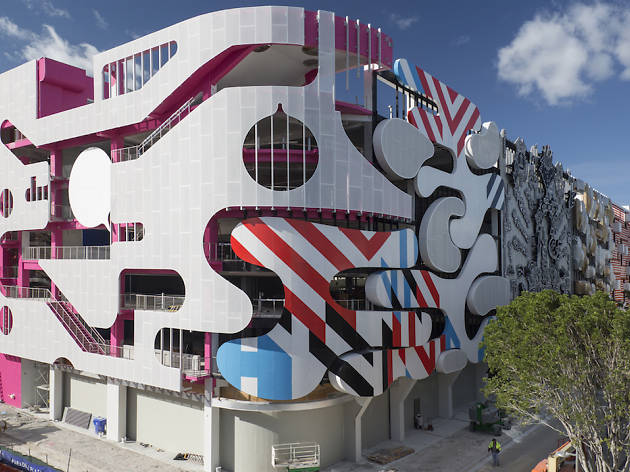 The most beautiful buildings in Miami everyone should see
These are the most beautiful buildings in Miami that you need to see before you leave town and snap for the 'gram
When most people think about the most beautiful buildings in Miami, perhaps their mind immediately goes to Ocean Drive Art Aeco. And they wouldn't be wrong, of course, but they'd also be excluding a whole bunch of other architecture that makes Miami special. Beyond Ocean Drive, you'll find Miami's most stunning buildings among the best Miami hotels, the best museums in Miami and the best Miami attractions. There is historical significance to many of these buildings (one is over 100 years old). But some also serve a practical purpose to our city, like providing a place to park or snap a selfie. But at the end of the day, no matter their context, these buildings are just really, really fun to look at.
Beautiful buildings in Miami
Often referred to as the Ellis Island of the South, the Freedom Tower is perhaps the most historically significant building in Miami. In the '60s and early '70s, it functioned as the Cuban Assistance Center, helping refugees seek political asylum. Today it stands a proud and beautiful monument to Miami's diversity and Cuban heritage. Inside, an exhibition dedicated to the Cuban diaspora is free and open to the public. 600 Biscayne Blvd
This downtown contemporary art museum hosts world-class exhibitions but its architecture also draws a crowd. The airy modern building has an absolutely stunning back patio that's open to the public. It's an ideal spot to crack open a good book and watch the boats go by. 1103 Biscayne Blvd
Photograph: Shutterstock
The great architect Morris Lapidus built the Fontainebleau Hotel with a singular goal in mind: to turn heads. And since 1954, it has been doing just that with every detail. From its 11 different pools to the famous "staircase to nowhere"—this is a true example of classic Miami Beach opulence. 4441 Collins Ave, Miami Beach
Photograph: Courtesy Fontainebleau Miami Beach
From the outside, the Arsht Center's tiered architecture almost looks a bit like a wedding cake. Inside, the theater's multiple floors jut out overhead to create a striking sense of depth. It's a jaw-dropping building that makes finding your seats almost as fun as the show itself. 1300 Biscayne Blvd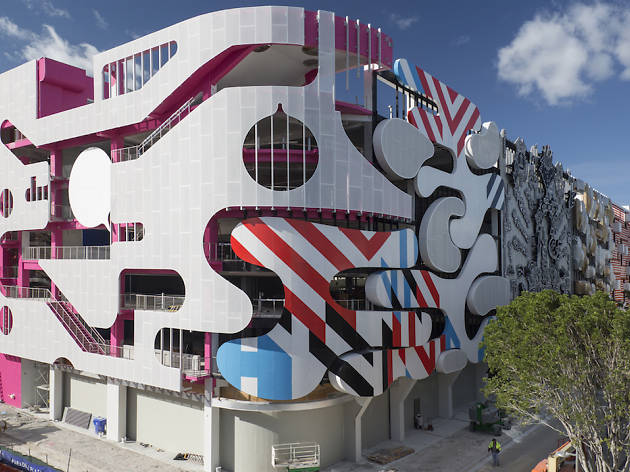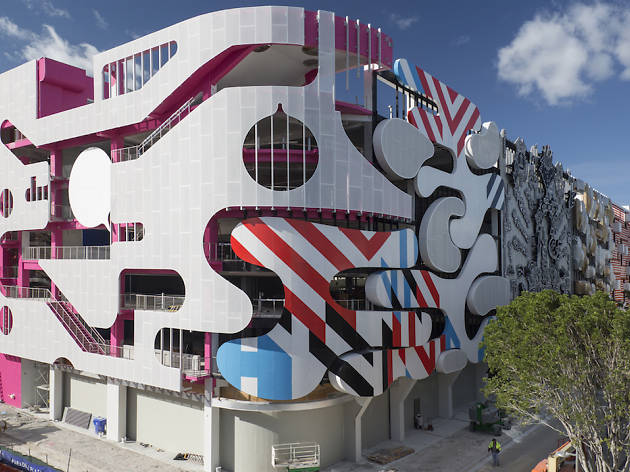 Photograph: Robin Hill
Miami has a thing for beautiful parking garages and—as a city that drives just about everywhere—we ain't complaining. The newest and, arguably, most remarkable entry into our roster of stellar parking garages is the Museum Garage in the Design District. Five different architects collaborated on this cartoonish (and we mean that in a good way) structure. At the corner of NE 1st Ave and NE 41st St
Upon walking up to the huge Vizcaya estate, it's natural to wonder: How the hell did this get here? It doesn't scream Miami but we're sure glad the 100-year-old building has stuck around. Now we can enjoy its huge grounds, colorful gardens and waterfront views whenever we want. 3251 S Miami Ave
The atmospheric theater was built in 1926 and has somehow withstood time and wealthy developers to remain a true relic stuffed smack in the middle of Downtown Miami. Arrive early for any performance here to take in the Moorish architecture and simulated night sky. It's truly a throwback experience you just don't see anymore. 174 E Flagler St
The Biltmore takes all the glamorous history of Coral Gables and stuffs it into one sprawling, dazzling property. If you're not lucky enough to be staying in the gorgeous hotel (and swimming in its 23,000-square-foot pool), it's worth a trip to eat or stroll the grounds. 1200 Anastasia Ave, Coral Gables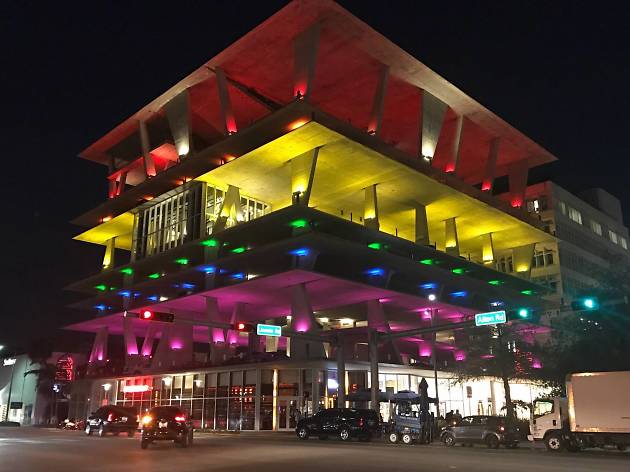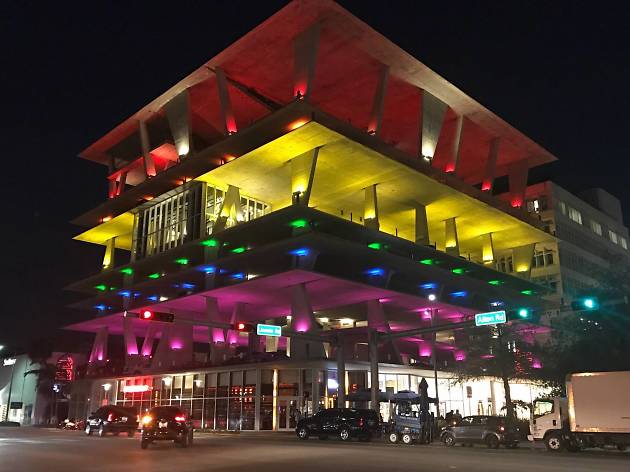 Photograph: Courtesy Lincoln Road
The sharp, angular corners of this parking garage let you know you've arrived at the popular tourist spot Lincoln Road. Parking is fun enough but if you really want to take advantage, head to Juvia for a drink. The restaurant is located at the top of the garage and has arguably the best view in Miami Beach. 1111 Lincoln Road
Photograph: Courtesy Lincoln Road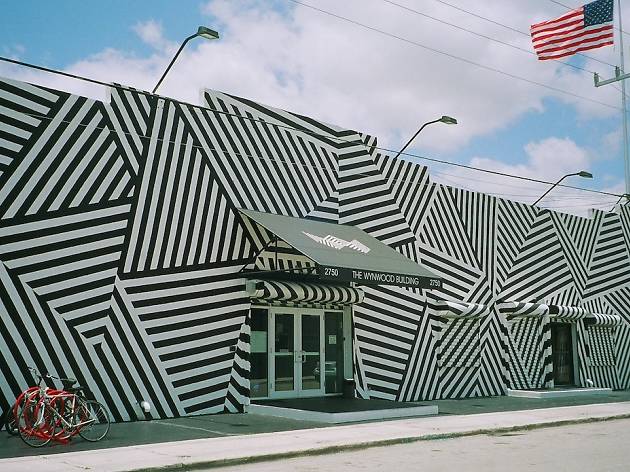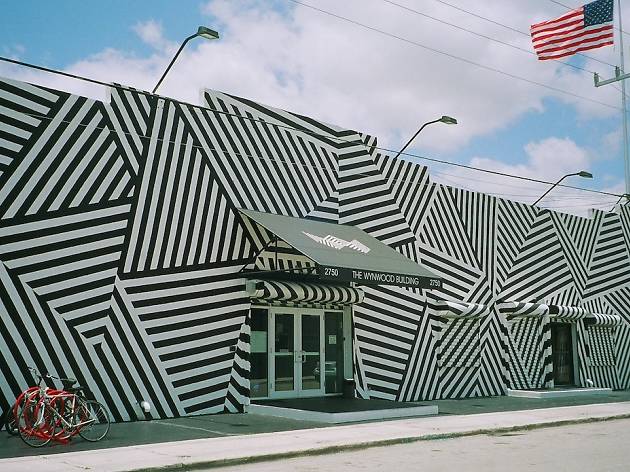 Photograph: Flickr CC/ Phillip Pessar
One of the few buildings in Wynwood that doesn't get a fresh coat of paint annually, the Wynwood Building's zebra stripes are a reliable landmark in a neighborhood that changes colors like a chameleon. It's also one of the most popular Instagram spots around. 2750 NW Third Ave
Photograph: Flickr CC/ Phillip Pessar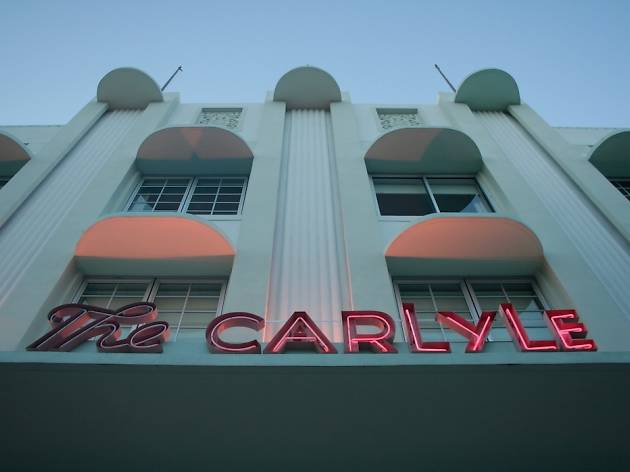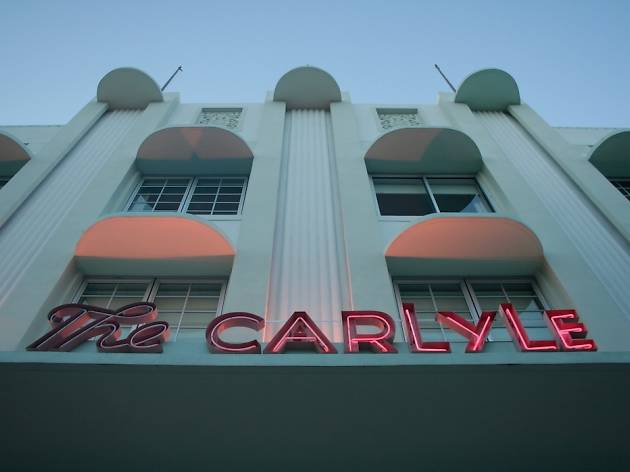 Photograph: Courtesy Flickr CC/Alfredo Aponte
There are no shortage of art deco gems along Ocean Drive, but we're partial to the Carlyle. Maybe it's because of the building's appearances in Scarface and Bad Boys II. But there's just something about that pink neon sign that gets us in a South Beach mood. 1250 Ocean Dr, Miami Beach
Photograph: Courtesy Flickr CC/Alfredo Aponte
Looking for more great views in Miami?
Enjoy cocktails with a view at one of the best rooftop bars in the city.