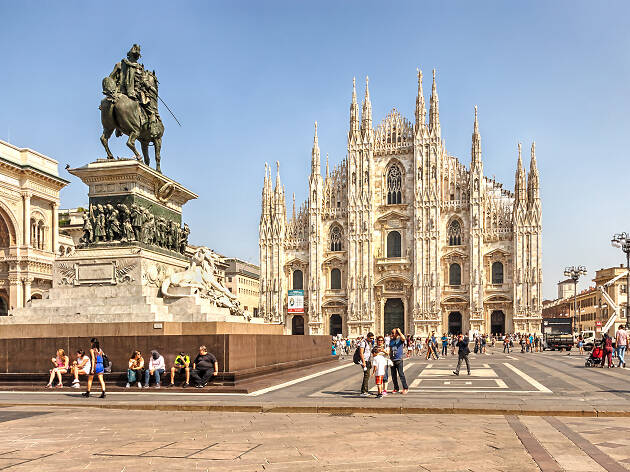 20 travel tips to follow while visiting Milan
No tipping! Free museum days! Never order a cappuccino after noon! Learn this and more on our list of basic travel tips.
Sure, you know you should eat all the pizza you can get your hands on, enjoy an aperitivo at the city's best bars and shop until you literally drop, but there's much more to Milan than what your average travel guide tells you. To uncover it all, you're going to have to behave like the locals do. To that intent, we've gathered a list of straight-forward travel tips (read: Bible) that you should follow whether it's your first or tenth time in the Italian metropolis.
RECOMMENDED: Your essential Milan travel guide
Travel tips for first-time Milan visitors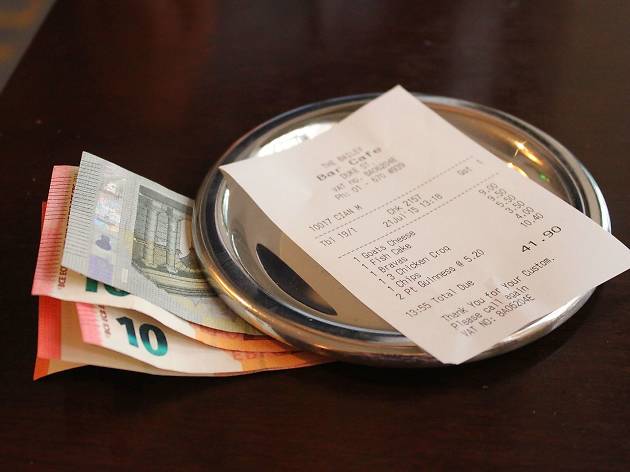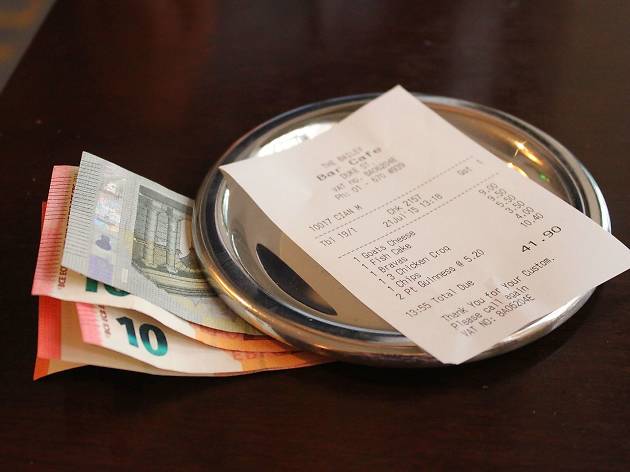 Photograph: Courtesy CC/Wikimedia Commons/Benreis
1. No need to leave extra
If you don't want to look like a clueless tourist, don't worry about adding any tip onto your meals. Hourly wages for servers are higher than in the U.S., so gratuities are not expected – giving you more dough to use for things like that extra Aperol spritz.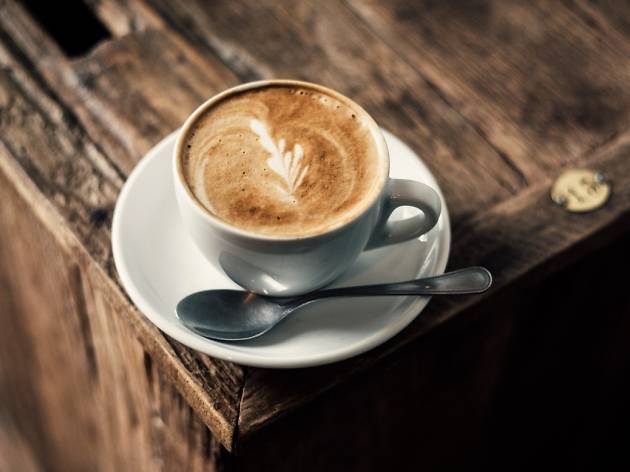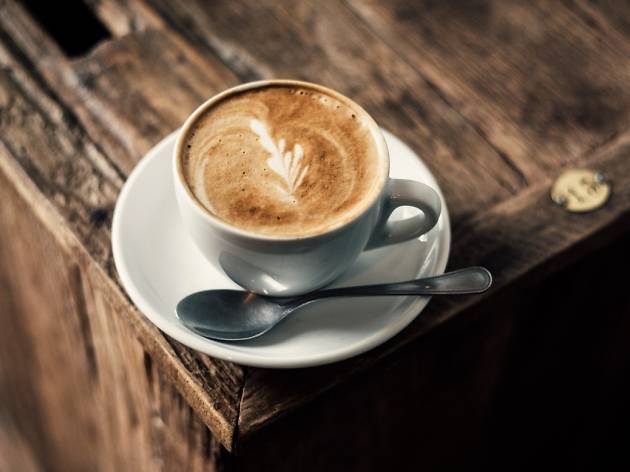 2. Never order a cappuccino after lunch
Italians are convinced that drinking anything with milk after the morning will hamper digestion. So, to blend in, be sure to order that cappuccino (or other coffee drinks with milk, see below for more on that) only before 11am, or risk looking like a foreign fool.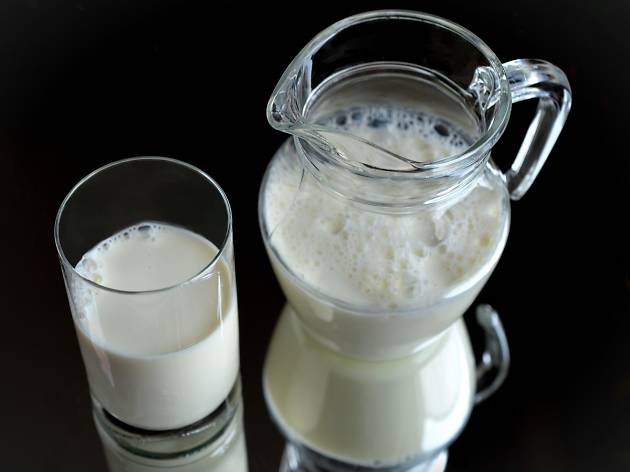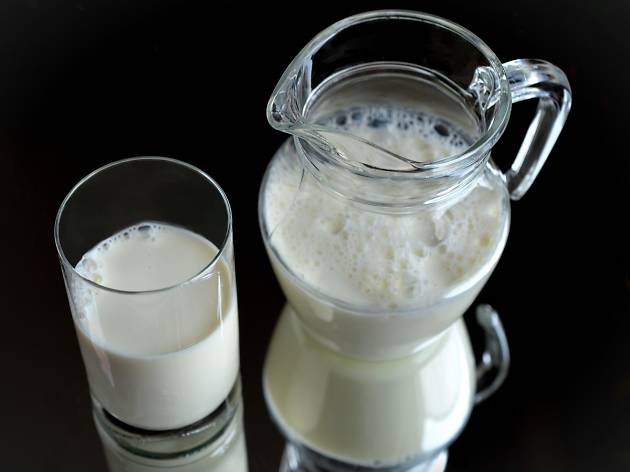 3. We take latte literally
If you want a coffee with milk, make sure you order a cappuccino (more foam) or caffé latte (less foam), a caffé macchiato (espresso with a little milk), or a latte macchiato (hot milk with a little coffee) instead of just a "latte" – or you'll only get a glass of milk. If you just want an espresso, order "un caffé" to avoid strange looks.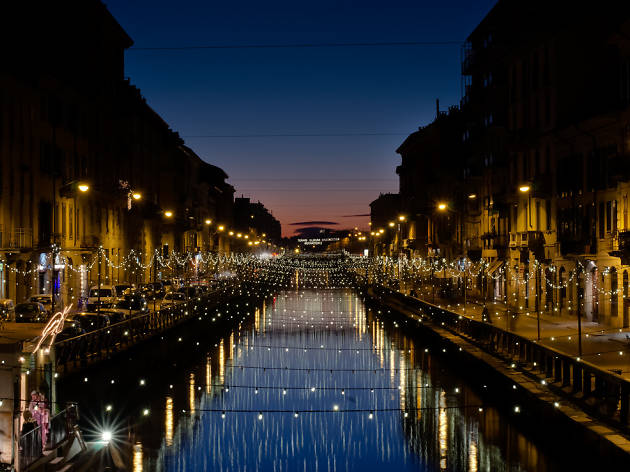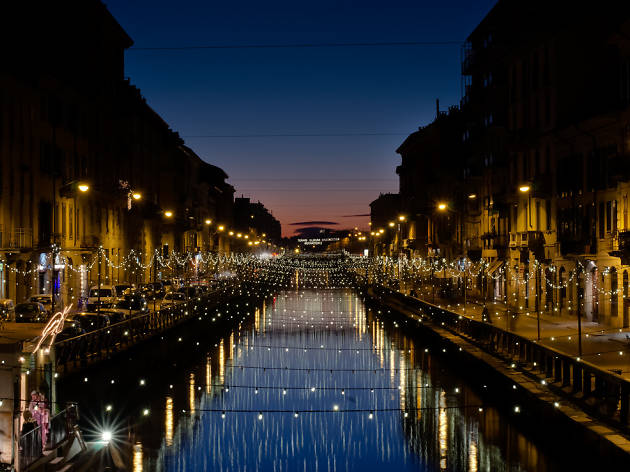 Photograph: Courtesy CC/Flickr/Harmishhk
4. Head away from the Duomo at night
Though several of the major sights you'll want to see will be around the Duomo area, for a cooler nightlife experience, venture out to some of the more local haunts in such neighbourhoods as Isola, Porta Venezia or Navigli. You'll get away from some of the tourists, save money and likely have more fun.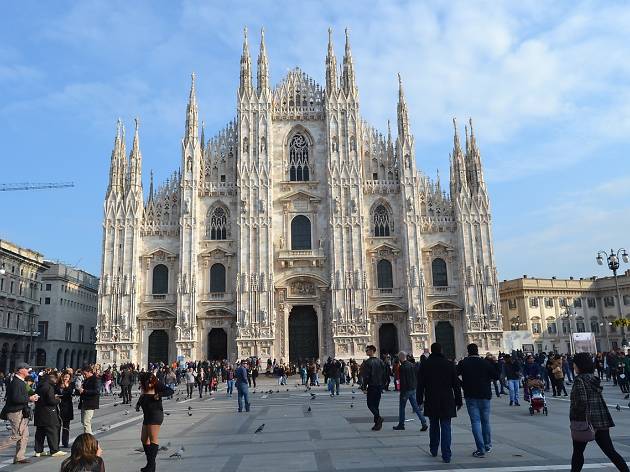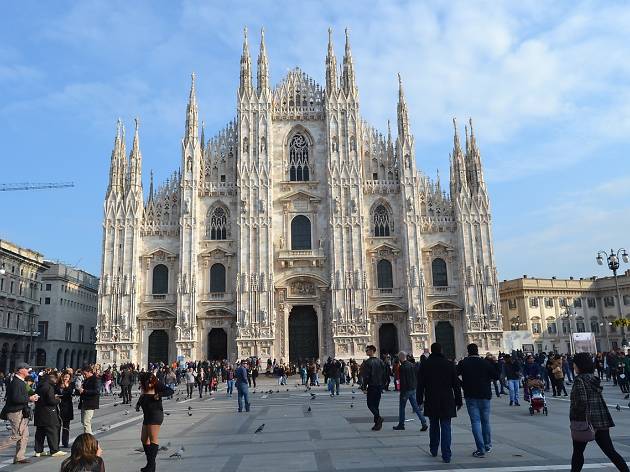 5. …and even during the day
After exploring the Duomo, the Galleria and La Scala, take a bus or tram out to some of the farther reaches of Milan for truly unique museums that never feel as crowded as the centre city attractions. Fondazione Prada, Pirelli HangarBicocca and MUDEC are all housed in interesting buildings and feature both permanent and rotating exhibitions well worth your time.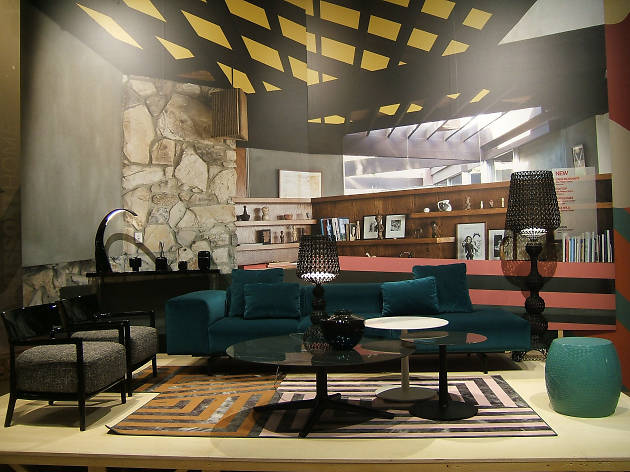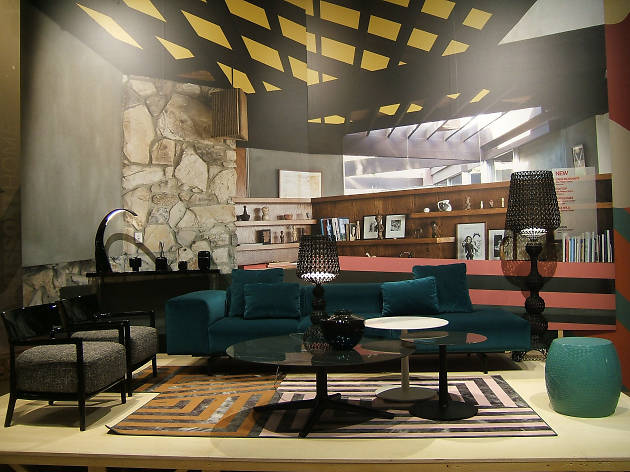 Photograph: Courtesy CC/Flickr/Carole Mariani
Though arriving during the Milan Furniture Fair, called Salone del Mobile – which runs for six days in mid-April – can be super fun as there are loads of parties and events happening, the city becomes super crowded and expensive. Hotels jack up their prices to stratospheric levels and get booked up months in advance. Ditto during Milan Fashion Week. Unless you're a diehard furniture design fan, it may be a better idea to visit at a time when the city's a bit more relaxed.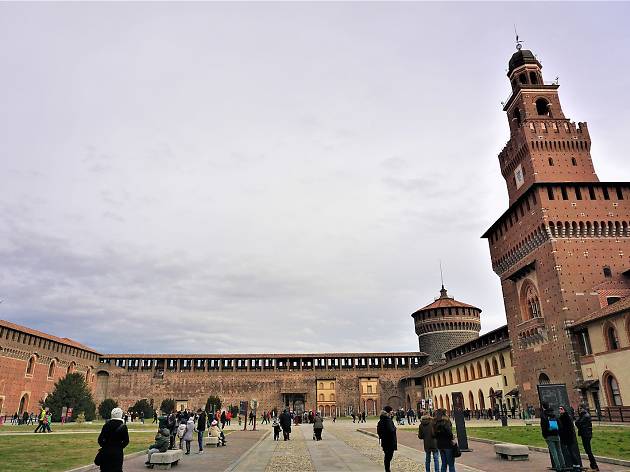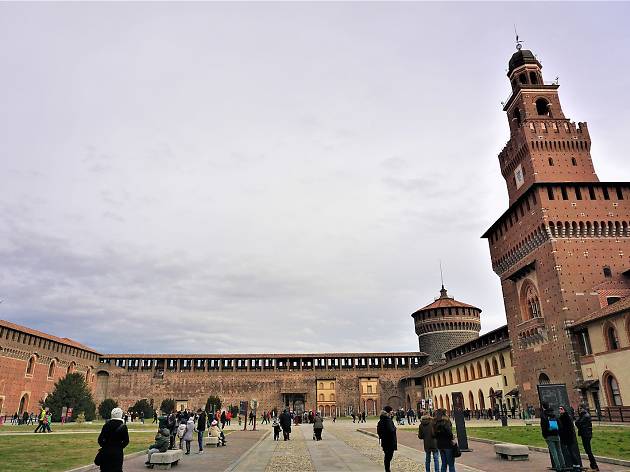 Photograph: Courtesy CC/Wikimedia Commons/Joyofmuseums
7. Visit museums for free
On the first Sunday of each month, all of Milan's civic museums – including Museo del Novecento, Sforza Castle museums, Galleria d'Arte Moderna, Casa Museo Boschi di Stefano and MUDEC, among others – offer free admission. Though they tend to be more crowded then, it's still a good chance to squeeze in some more culture without spending a cent.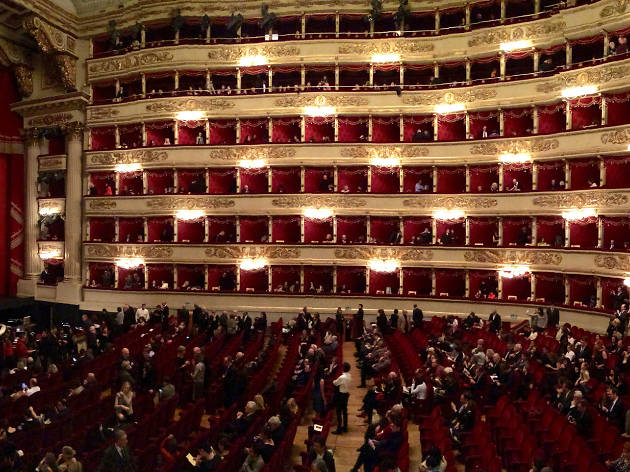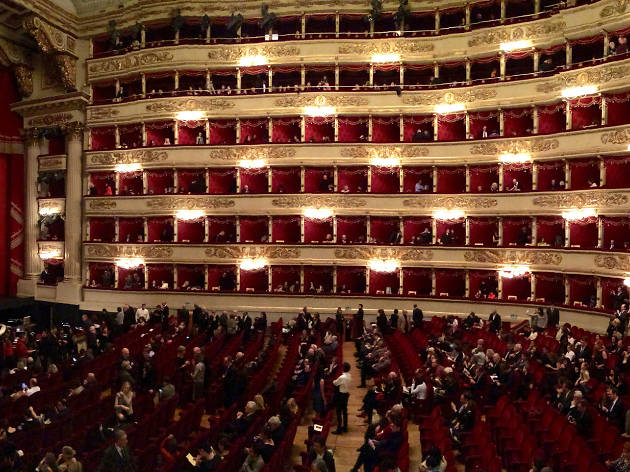 Photograph: Courtesy CC/Flickr/Anna & Michal
8. Go to La Scala on the cheap
Even if you're not a huge opera-lover, catching a performance at Teatro alla Scala is a once-in-a-lifetime experience. The problem is, not only are tickets super-pricey, but they sell out months and months in advance. However, if you visit the box office an hour before a show starts, any leftover or returned tickets are sold at a 25% discount – perhaps not cheap-cheap, but definitely worth the splurge.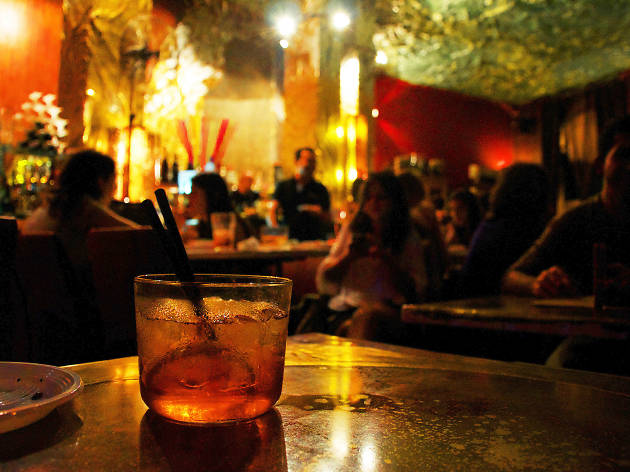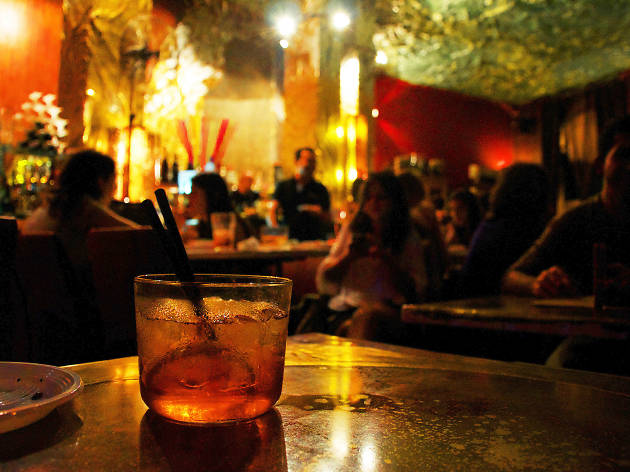 Photograph: Courtesy CC/Flickr/Luca Volpi
No visit to Milan is complete without partaking in the pre-dinner (or instead-of-dinner) tradition of aperitivo: basically cocktails served with all manner of free nibbles, often a buffet with enough food to constitute a meal. Though the Navigli neighbourhood is home to many bars offering aperitivo, you'll find it served throughout the city – so go ahead, sample a few different kinds.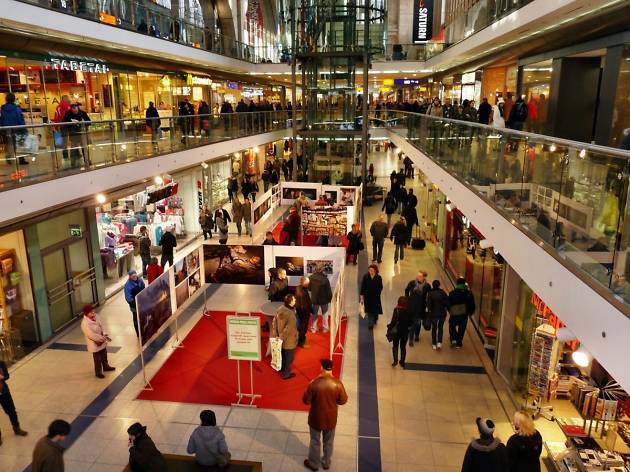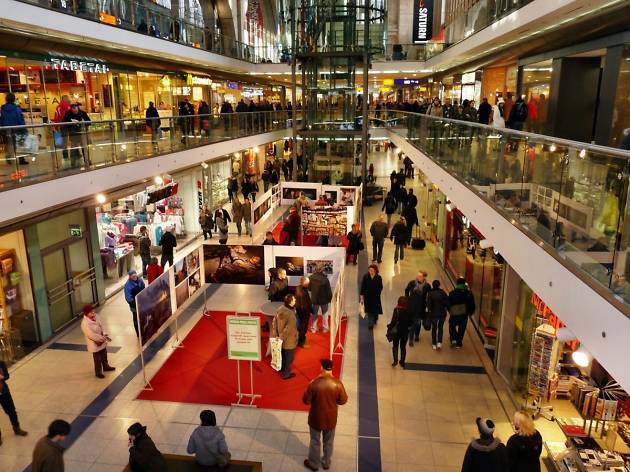 10. Embrace discount fashion
Yes, many of the clothes, shoes and accessories on sale in Milan are through-the-roof expensive – after all, this is the home of Prada and Versace. But if you just can't bear to visit this fashion town without a purchase, head over to DMAGAZINE outlet. You'll find three locations showcasing discounted Italian and international luxury brands, so perhaps you can head home with those Miu Miu boots you've been eyeing after all.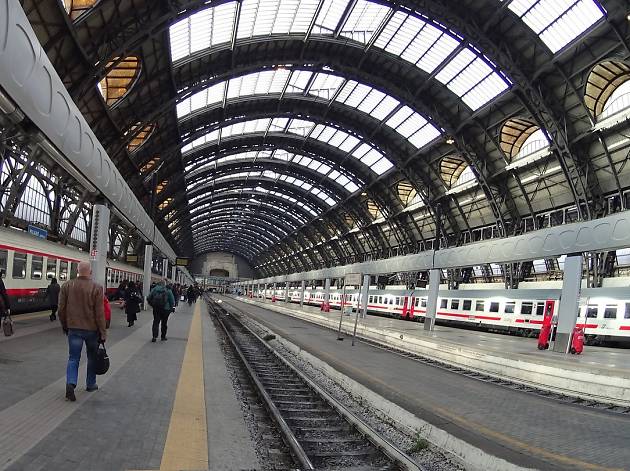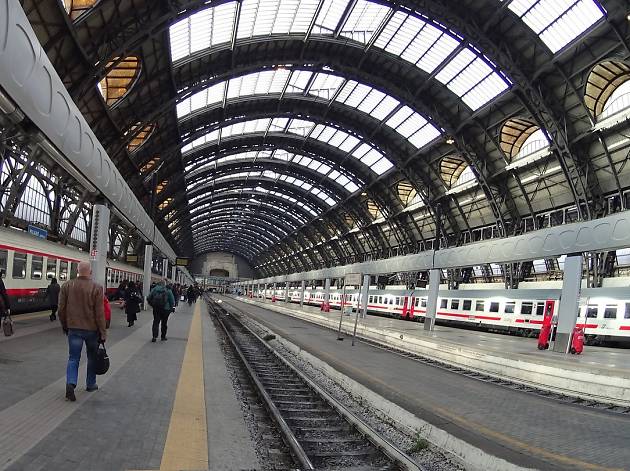 If you need an escape from Milan's urban hustle, there are some fabulous destinations just a train ride away. Bergamo, less than an hour by train, boasts a lovely medieval hilltop old town, while the Italian Lakes – Como, Garda and Maggiore – are also close by (half an hour, an hour-and-a-half and an hour by train, respectively), and offer some of the most romantic settings in all of Italy.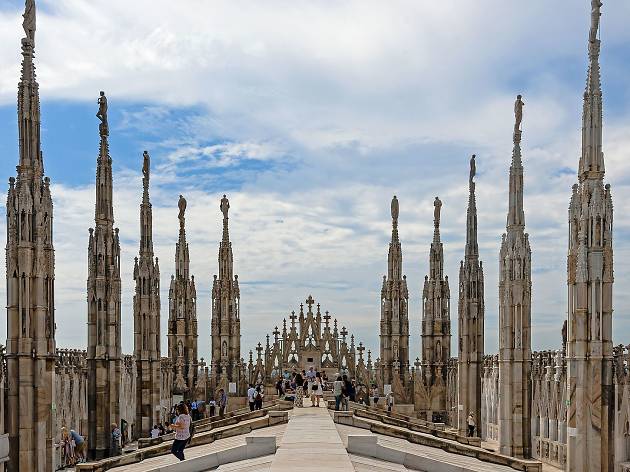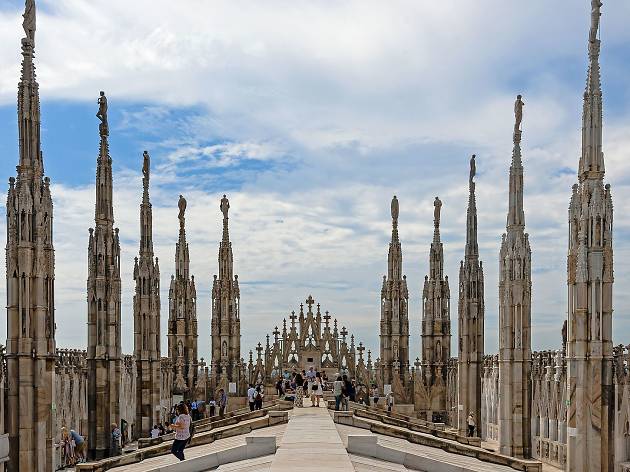 Photograph: Courtesy CC/Wikimedia Commons/Daniel Case
Milan boasts loads of vantage points where you can enjoy prime views of the city skyline. The rooftop of the Duomo, Torre Branca inside Parco Sempione and the terrace on the seventh floor of the Rinascente department store are fabulous places to get an eyeful. Prefer a drink with your vistas? Try the Radio Rooftop Bar or Ceresio 7 Pools & Restaurant.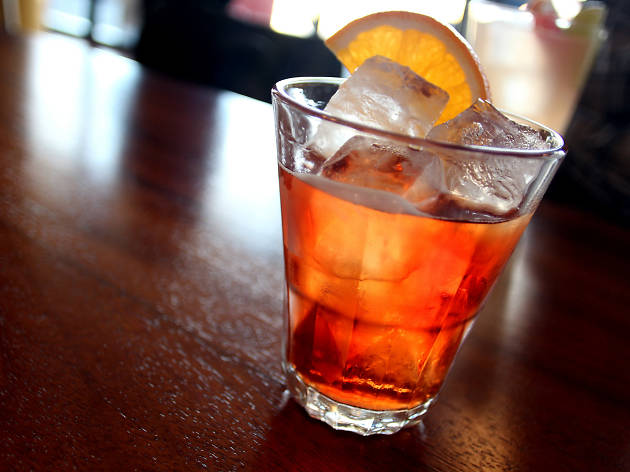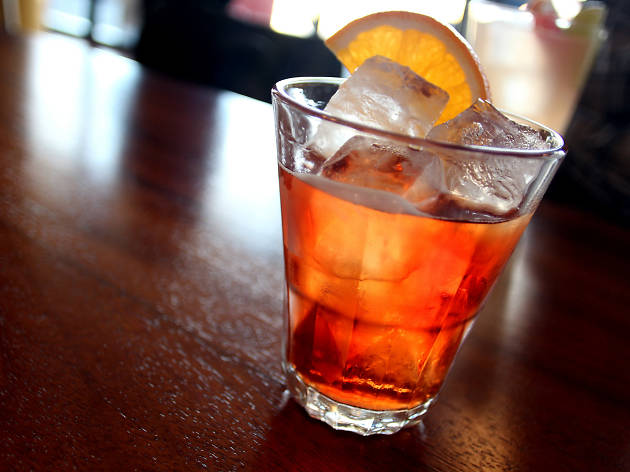 Photograph: Courtesy CC/Flickr/Bex Walton
13. Try a Negroni sbagliato
While a classic Negroni – gin, Campari and sweet vermouth – is always a good idea, when in Milan don't miss the change to sample a Negroni sbagliato, literally a Negroni "mistake." It was born at Bar Basso in the '70s when a bartender added sparkling wine to a Negroni instead of gin, and you can still try it there (amongst other places).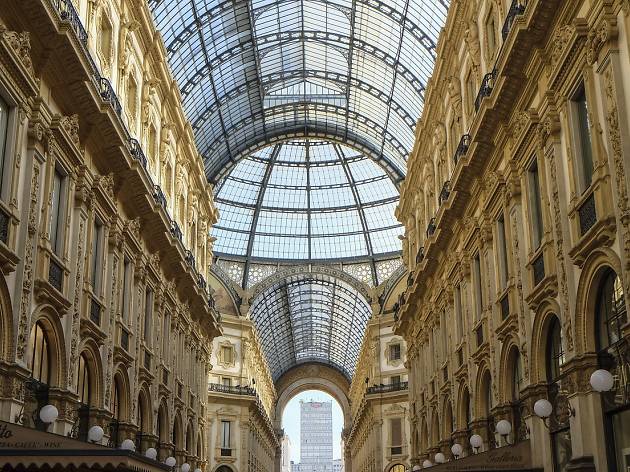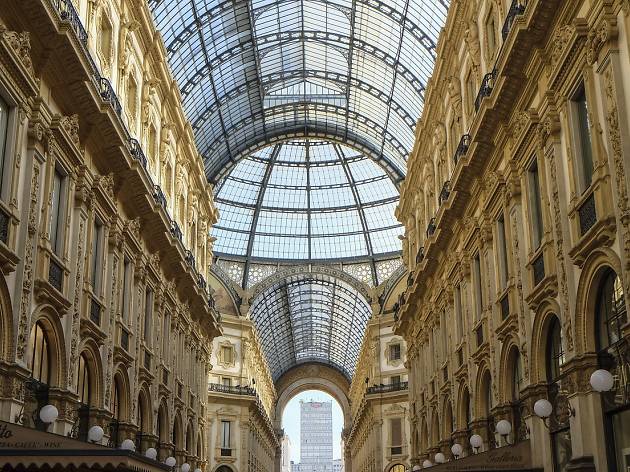 14. Shop outside the fashion district
Sure, you'll want to window shop and stroll in Milan's premier fashion area, Quadrilatero della Moda. But for some fun and unique purchases, head north of the Duomo to the pretty Brera district. You'll find appealing boutiques, galleries and design stores where shopping doesn't feel like it will bankrupt you.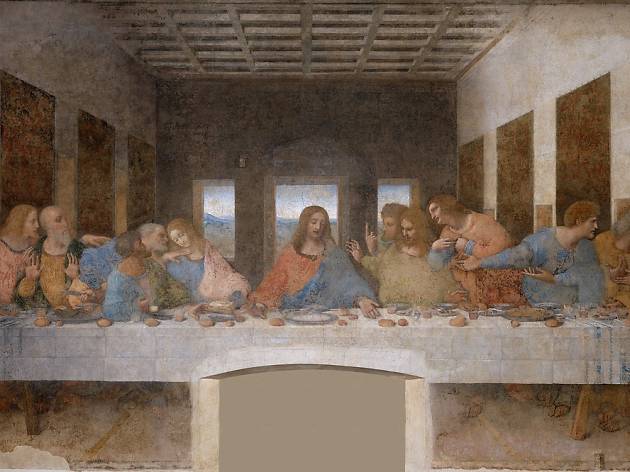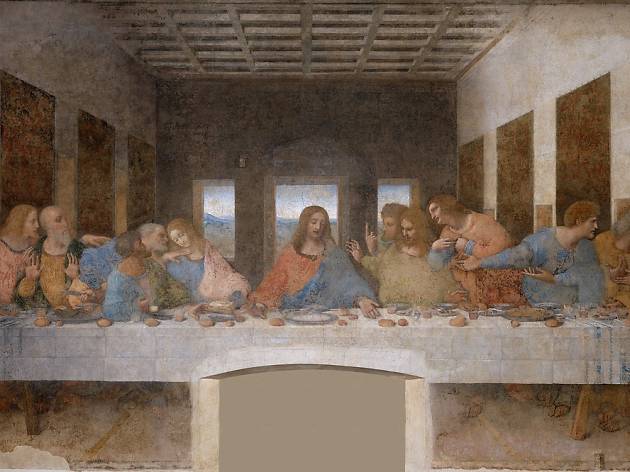 15. Plan ahead to see Leonardo
If getting a glimpse of Leonardo da Vinci's The Last Supper is on your list but you haven't made reservations months in advance, all hope is not lost. Even if online reservations show no tickets are available, try calling the ticket hotline (02-92800360), as some are kept aside for phone callers. Another option is to book a guided Milan tour that also includes a visit to the painting, these are sometimes more likely to have spots left.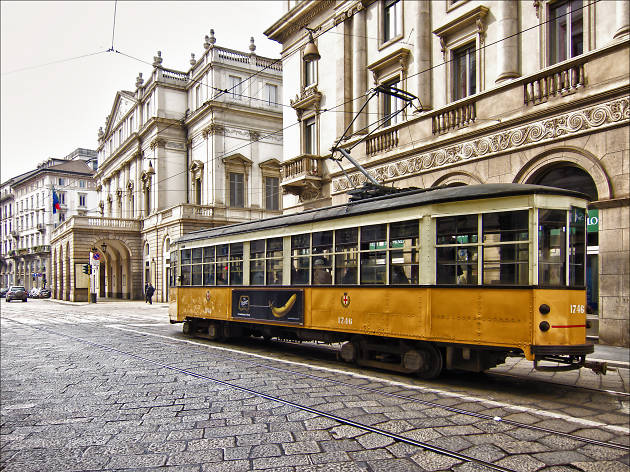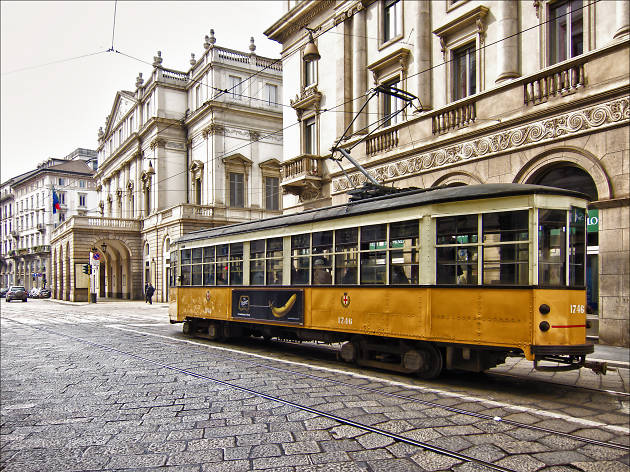 Photograph: Courtesy CC/Flickr/Bert Kaufmann
Though many of Milan's trams have been modernised, for a unique experience, the ATMosfera lets you ride a 1930s tram on a sightseeing trip through the city while enjoying a multicourse dinner with wine. It's a very romantic way to catch a glimpse of Milan's past inside while peering at the city's present right outside the windows.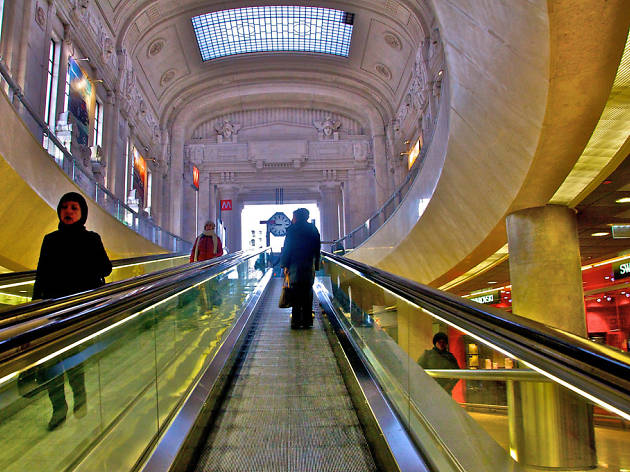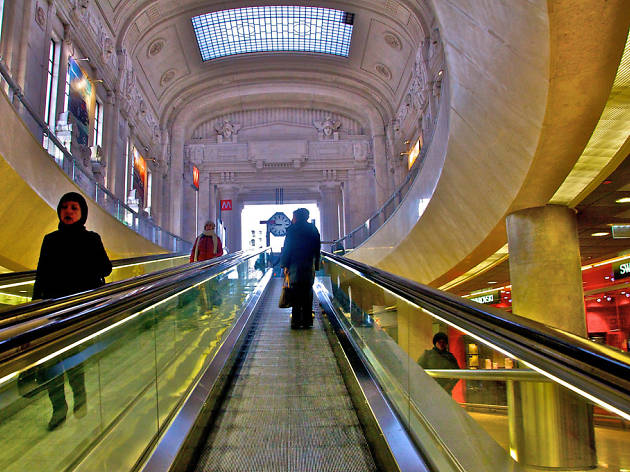 Photograph: Courtesy CC/Flickr/Luca Volpi
17. Buy a RicaricaMI card
If you're in Milan for more than a few days and want to be environmentally conscious, instead of purchasing paper tickets for the city's public transportation system (the metro, buses and trams), go ahead and get a RicaricaMI card. Like London's Oystercard, there's a small initial fee (€2.50), but then you can top up the card as you go along. You can buy it at ATM Points, located inside the metro stations.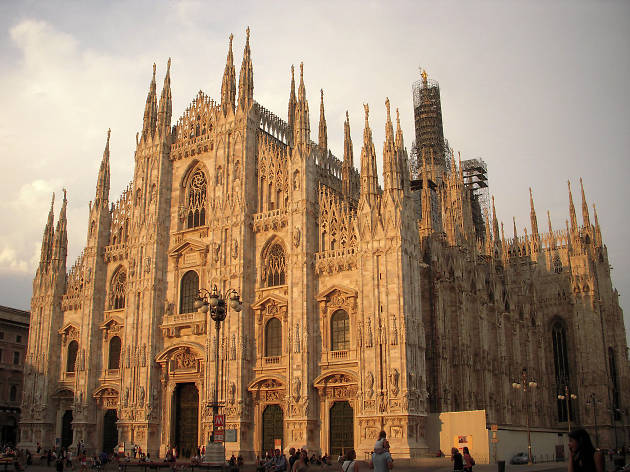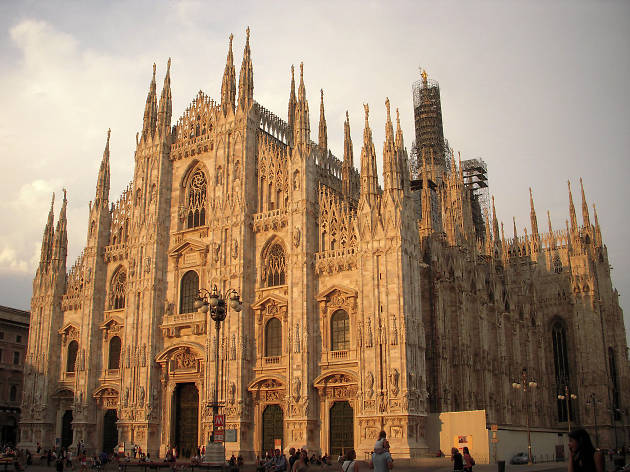 Photograph: Courtesy CC/Flickr/An Mai
18. Consider avoiding August
Milan can be extremely (and sometimes unbearably) hot in August. Plus, this is when many Milanese take their coastal vacations, so many shops and restaurants shut down for the month. If you can avoid making an August visit, it might be better to come at another time when temps are more pleasant and everywhere you want to go is open.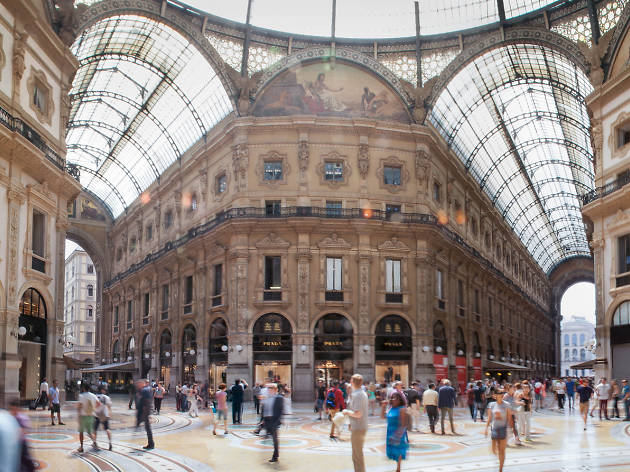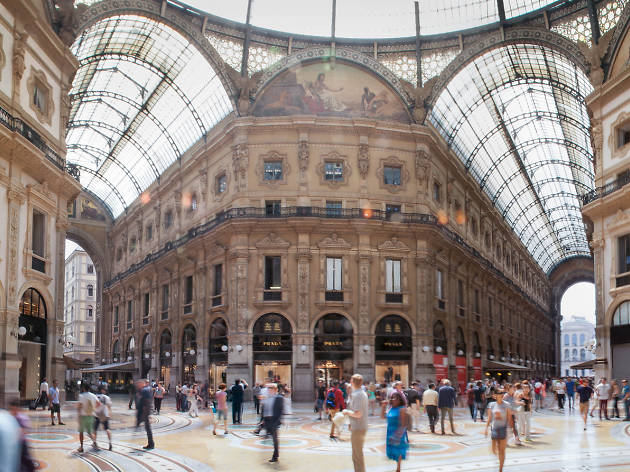 Photograph: Courtesy CC/Flickr/Mike Beales
19. Plan around the sales
If you're a serious fashion fiend, consider timing your Milan visit to coincide with one (or both!) of the two yearly sale (saldi) periods. The winter sales generally run from early January through early March, and the summer sales from early July through early September – though check online for the exact dates, which vary slightly each year and are announced about one month before. Sale prices can be up to 70 percent off the original, making it well worth a trip.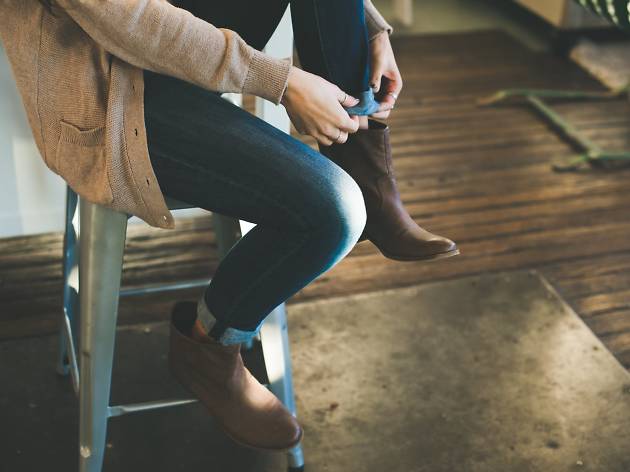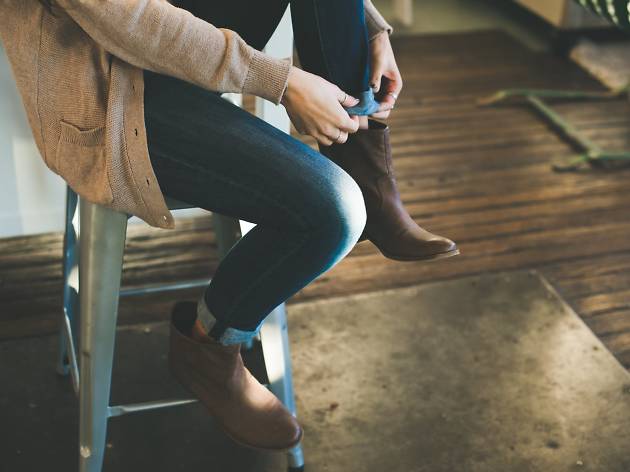 20. Wear your snazziest shoes
The Milanese take their footwear very seriously. Women may want to bring a pair or two of high heels to wear out at night – or even during the day, if they dare. (You'll see plenty of locals traipsing effortlessly along the cobblestones wearing stilettos.) Men can often get away with cool sneakers. If you happen to catch the locals checking out your shoes, you've probably done well.
Now for some dining tips...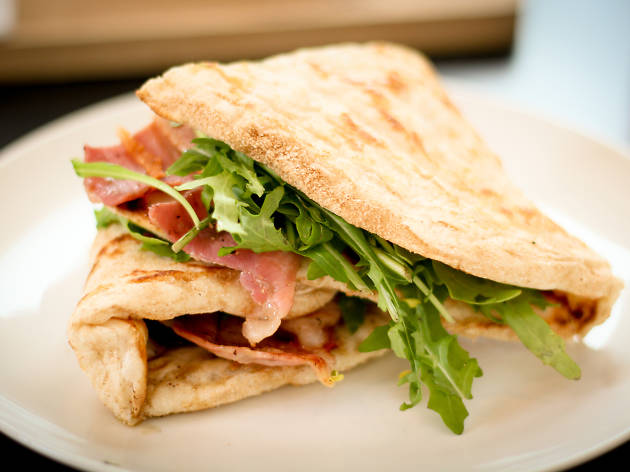 Photograph: Courtesy CC/Flickr/Kim Laurenson
The city's restaurants are at their best when they embrace the local rustic fare of Lombardy, originally made for the region's stolid, hard-working mountain folk. That's why some of the city's best food isn't found in the most fashionable restaurants but rather in unpretentious trattorias that have perfected Milanese comfort food.
Best selling Time Out Offers