Heads up! We're working hard to be accurate – but these are unusual times, so please always check before heading out.
The best vegan restaurants in Montreal changing the plant-based game
You won't find any animal products at the best vegan restaurants in Montreal, but you will find amazingly tasty food
The best vegan restaurants in Montreal aren't always on everyone's minds. Traditionally speaking, the most iconic Montreal food isn't the most vegan-friendly. There are some vegetarian restaurants, sure, but this is is a city where fat, greasy foods—poutine, delis dishing out smoked meat, foie gras—reign supreme. Still, Montreal's diverse range of restaurants wouldn't be complete without some solid plant-based, animal-free options. Whether you're after a full fine dining experience or a quick breakfast, these are the vegan eateries at the top of the game right now.
RECOMMENDED: Full guide to the best restaurants in Montreal
A vegan restaurant we love so much that we welcomed them into Time Out Market
We're willing to bet money that this vegan-vegetarian stalwart's lightning-quick service and delicious flavour combinations are sure to convert any ravenous meat eater looking for a greener snack. Built by local game-changers in cooking, baking, design and branding, their combined efforts have built an amazingly fresh and healthy concept that turns fast food on its head: Raw vegetables are sliced, diced and paired with a dressing that's specially crafted to each recipe's flavour profile. You don't know what a salad can be until you've eaten at Foodchain.
Where to find the best vegan restaurants in Montreal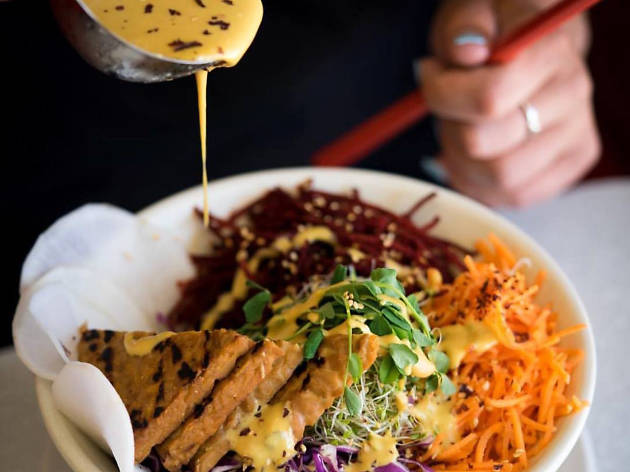 Photograph: @auxvivresplateau
This vegan Montreal mainstay has been serving up plant-based treats since the late 90s when its first location opened in Saint-Dominique. It's been a local icon since relocating to the Plateau a few years later, now with a long-awaited second location in Westmount. Aux Vivres' signature takes on healthy, fresh fare including bowls, sandwiches, salads, smoothies and juices makes it an ideal hangout for the health-conscious, both vegan and otherwise. Proving that nutritious, plant-based cuisine can also be flavour-packed in a diner setting, Aux Vivres also does great desserts; their "cheese" cake (or "gateau au Faux-mage") is especially delicious and will fool any carnivore.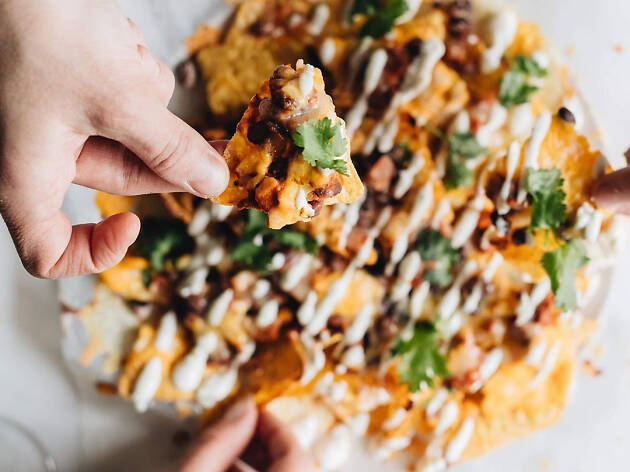 Photograph: @lovrestaurant
Vegan, eco-friendly food doesn't have to be all grain bowls and greens. This stylish eatery with multiple locations proves that vegan eats can be flavour-packed comfort food with their BBQ jackfruit burgers and creamy kale mac and cheese. Everything on the menu is plant-based, but there's no shortage of gooey, cheesy goodness: LOV takes the fear out of toying with vegan cheese (a sometimes risky bet even for longtime vegans) with its nut-based alternatives. Vegan poutine, anyone?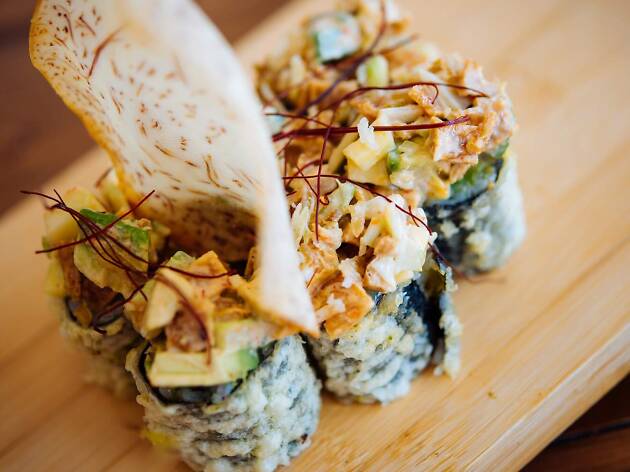 Photograph: Courtesy Sushi Momo
Montreal isn't especially known for its sushi, which makes this cozy Plateau restaurant stand out all the more. The rolls at Sushi Momo aren't just good for vegan sushi; it's one of the best sushi restaurants in Montreal, period. Order a set menu for the best sampling of the creative dishes they have to offer, including a beautiful display of pieces that incorporate a number of unique ingredients you won't find on sushi menus elsewhere in Montreal. Their work with turning tomatoes into faux tuna alone—a closely protected recipe—is worth the trip.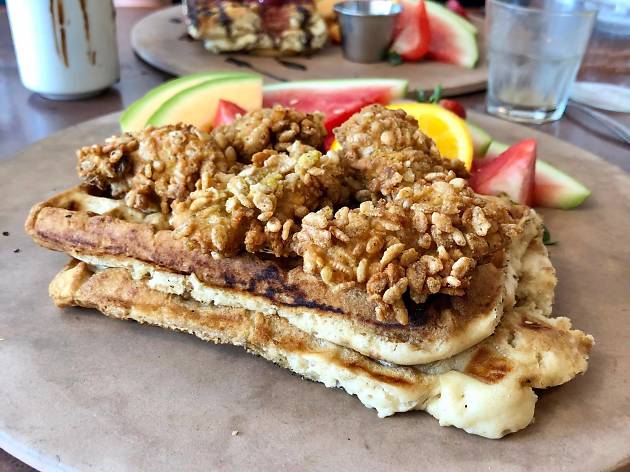 Photograph: Matthieu Casanova
Gone are the days of a city having one or two token vegan restos; nowadays, vegans have the choice of different styles of cuisine when eating out. At Italian restaurant and café Vegano, everything—including the pizza and the mouthwatering, mile-high cakes—are plant-based. You won't find any rabbit food here; Vegano does classic North American-style comfort foods alongside solid Italian offerings, with generous portions to boot.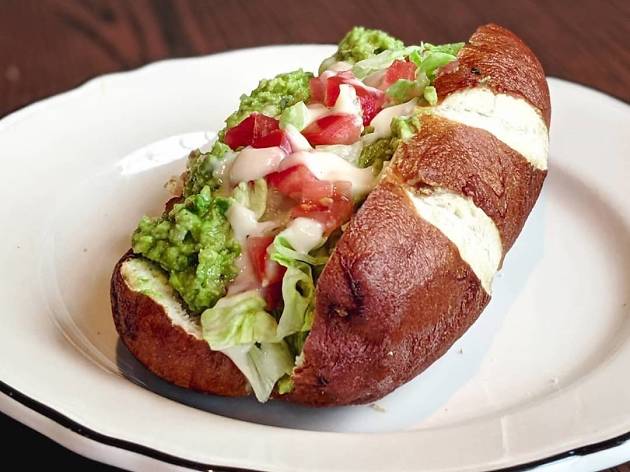 Photograph: Courtesy Bowhead Pub
These days, vegan fare is often found trying to beat its bad rap as a non-stop carousel of salads, acai bowls and smoothies. Where's the beef, right? This new all-vegan pub venture that took up prime real estate at the corner of Saint-Laurent Boulevard and Pins Avenue proves the food need not always be so green. Hamburgers, hot dogs, Frito nachos; it's all totally vegan at spot and then some. Even the liquor and beer on tap's animal-free. If there's one place to try to lure friends to the green side, it's all this comfort food mecca. It's a hit. We'll take that to the bank.
Photograph: Courtesy Le Kitchen
Bringing fresh, healthy fare to Griffintown, Le Kitchen offers a mostly vegan, gluten-free menu, with salmon/chicken substitutions available for those who prefer their protein to be of the animal-derived variety. Le Kitchen's salads and hot meals prove that quick, inexpensive health food can still feel like a treat (the naturally-sweetened baked goods help on that front). We've got regular hankerings for their Le Petit Mac, a lip-smacking facsimile of a McDonald's Big Mac.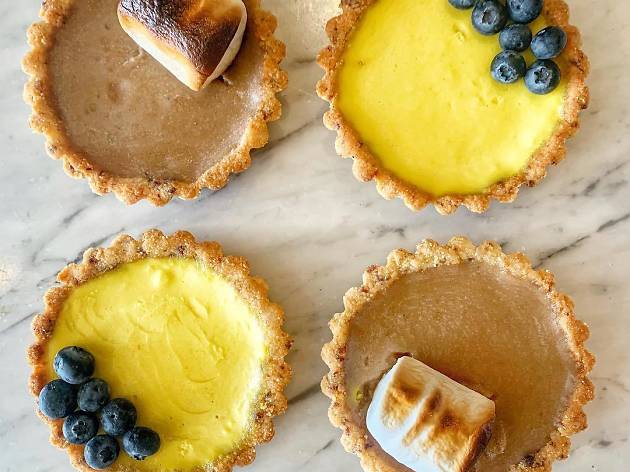 Photograph: Kleine Shoppe
A Saint-Henri café made quaint and homey with comforting parlour vibes, Kleine Shoppe is most perfect for a leisurely brunch, midday snack or light lunch. While this spot specializes in gluten-free goodies, a menu full of tasty baked goods made in-house and sustaining dishes also happens to be almost entirely vegan. The quality's unmistakable, and they're clearly vying to have some of the best coffee in Montreal.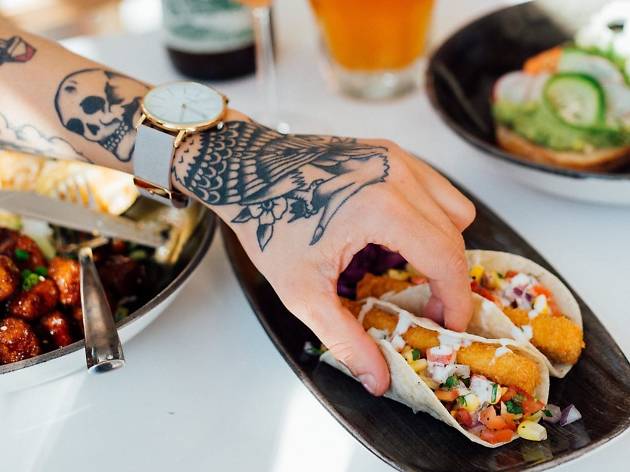 Photograph: Courtesy Tendresse
Trendy Gay Village newcomer Bistro Tendresse does vegan cuisine in a setting that's a bit more upscale than your classic plant-based salad counter, and the effect's been immediately tantalizing. The chic interior and playful, internationally-influenced menu make Tendresse ideal for a night out in the Village, no matter what your dietary preferences are. Be sure to dig into the cocktail list if you're dropping in for dinner. They've also got a killer brunch service as well.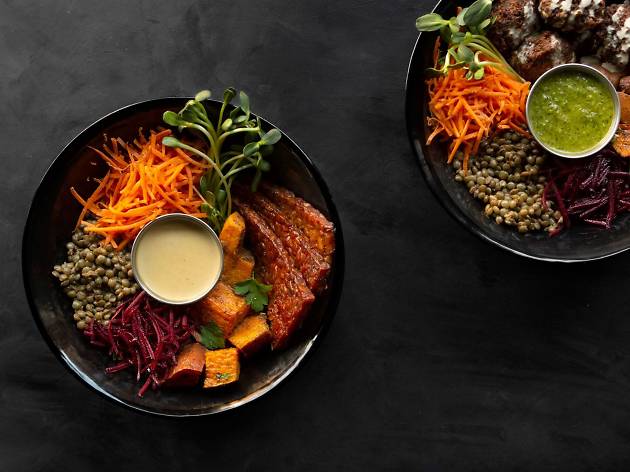 Photograph: La Panthère Verte
Falafel, the go-to late night staple of vegans and vegetarians everywhere, is the star of the show at this casual eatery. In addition to the killer crispy goods—some say it's the best in town after cheap eats like Nilufar—featured in wraps, bowls and served solo with tahini sauce, there's also a lot of jackfruit and tempeh-turned-meaty on the menu. Eco-conscious vegans can enjoy an especially guilt-free meal thanks to Green Panther's dedication to sustainability.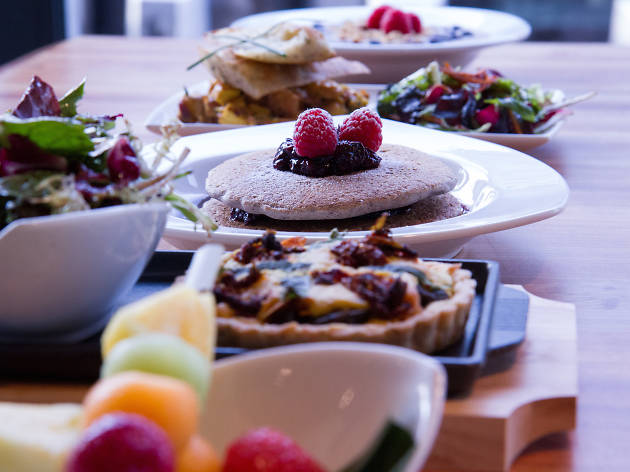 Photograph: Invitation V Bistro Vegan
This hip vegan bistro serves up brunch, lunch and dinner in a bright, stylish space in Old Montreal. The vegan omelette is a particular favourite with the brunching crowd, but there are fresh takes on comfort food classics with notable vegan flair to be found at any time of the day.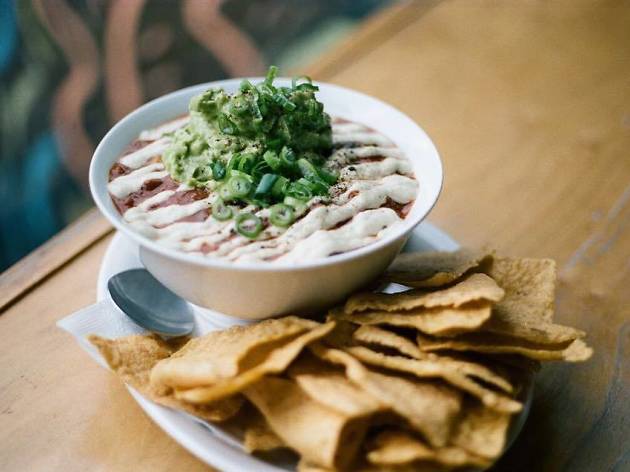 Photograph: Café Résonance
The coffee, music and tasty plant-based plates are all in top form at this Mile End café which regularly features live music performances that are a reason to go in their own right. Tuck into a bowl of chiliguacamole or a kimchi grilled cheez made with sunflower 'cheese' while listening to local artists in this cozy, intimate sub-basement spot's surroundings.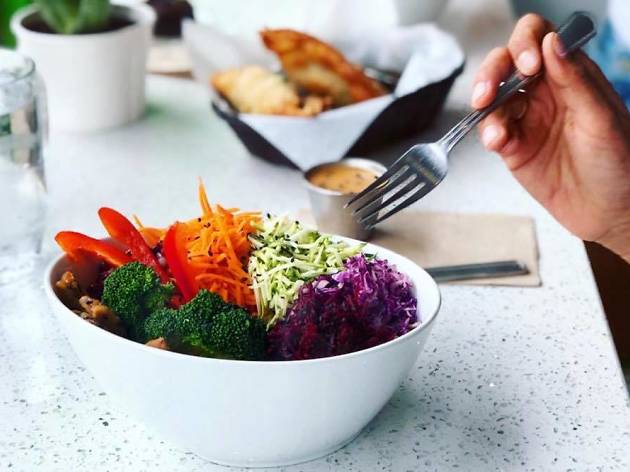 Photograph: Courtesy Délicieux Veg Fusion
Mile End is blessed with a disproportionate number of Montreal's best casual vegan spots, but the healthy, hearty dishes at this Park Avenue spot make it noteworthy even among the other iconic contenders in its neighbourhood. Burgers, bowls and breakfast feature heavily on the menu, but the best time to visit is when the buffet is available; get a taste of the best that Délicieux has to offer and disprove the myth that the so-full-you-have-to-undo-a-button feeling is exclusive to non-vegan restos.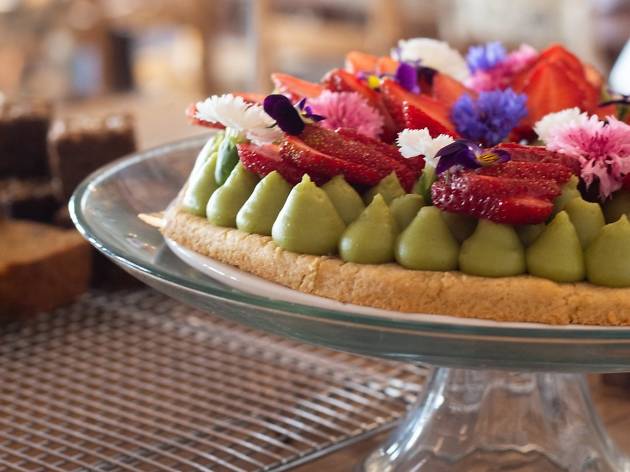 Photograph: Café Tuyo
This adorable Plateau cafe is first and foremost about ambiance and coffee for Montrealers, but don't skimp on the menu of simple, comforting plant-based food. That makes it a must-visit spot for vegans, the place to go for a bowl of soup and a sandwich or a mug of coffee alongside a vegan pastry. Genuinely delicious vegan croissants can be elusive, but this place does them especially well.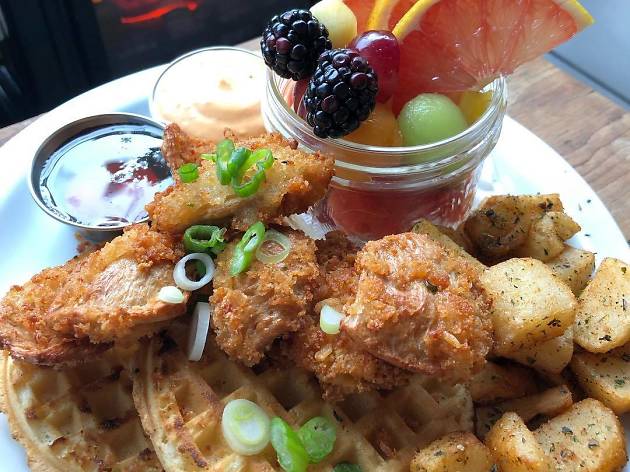 Photograph: Antidote Bouffe Végane
14. Antidote Bouffe Végane
Sometimes even the most ardent vegans just aren't in the mood for a salad or grain bowl, and on those days there's Antidote. That's where the highlights of the menu include vegan takes on meaty Montreal staples like smoked salmon and smoked meat. There's also a vegan poutine, as well as other faux-meat and faux-cheese dishes such as ginger beef, grilled cheese and a BLT loaded up with seitan.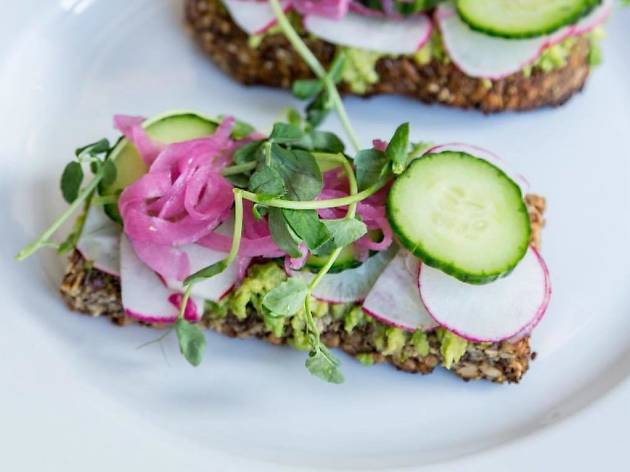 Photograph: Kupfert & Kim / @kupfertandkim
Kupfert & Kim's colourful, veg-filled bowls and boxes—which are free of both animal byproducts and wheat—were already popular in Toronto before the chain opened its first Montreal location, and lucky for local veg-lovers, the reception has lived up to the hype. Fresh veggies, seeds and gluten-free grains are staples on the lunch and dinner menu, and the quick-service Old Montreal resto also offers simple breakfast menu, smoothies and baked goods.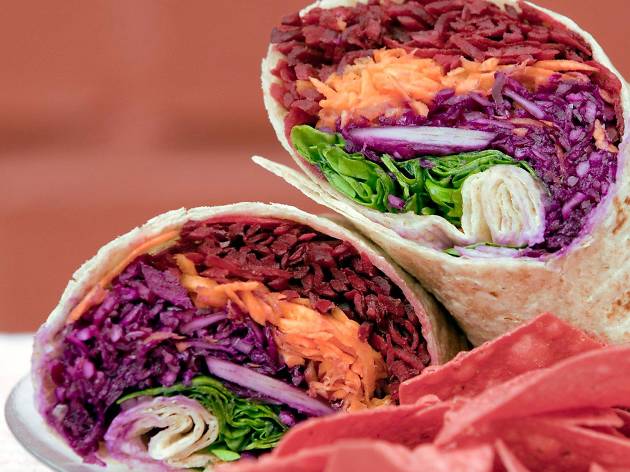 Photograph: La Lumiere du Mile End
16. La Lumiere du Mile End
Artsy, aesthetically pleasing La Lumiere du Mile End is a beloved source of vegan eats in the neighbourhood. In the summertime, the cute terrasse in the back acts as a cool, shaded oasis to enjoy your loaded vegan burrito or burger. Keep them in mind when looking for vegan burnches on the weekend, and be sure to grab a brownie or two on your way out.
More fresh eats in Montreal
Vegetable-forward options never tasted so good when eating at the best vegetarian restaurants in Montreal.
This list of the best brunches in Montreal is all you'll need to find the booziest, sweetest most savory weekend meals.
Uptown to downtown, filter to lattes, these are the top-tier roasters and grinders of the best coffee in Montreal.