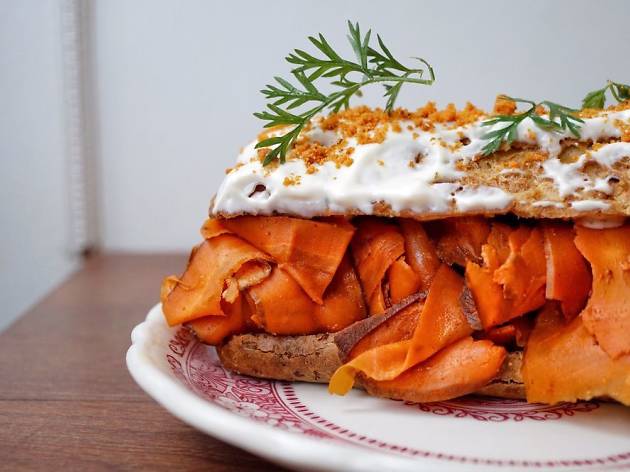 The best vegetarian restaurants in Montreal you need to try
Vegetable-forward options never tasted so good when eating at the best vegetarian restaurants in Montreal
Vegetarian restaurants in Montreal are becoming less and less of a subculture in the city with every passing year. Some of Montreal's tastiest and most innovative addresses, from fine French restaurants to high-end Michelin-calibre restaurants, are just as skilled at meaty fare as they are with veg-heavy dishes; most of the time, all you got to do is ask when making a reservation (but not after, that's just rude). However, while any restaurant worth its salt can cook some seriously delicious veggies, some are better than others among this collection of spots ranging from casual spots with poutine and the best cheap eats to finer dining. Consider these our favourites, and if you're looking for strictly plant-based menus? Our list of the best vegan restaurants in Montreal have you covered.
RECOMMENDED: Full guide to the best restaurants in Montreal
Where to find the best vegetarian restaurants in Montreal
1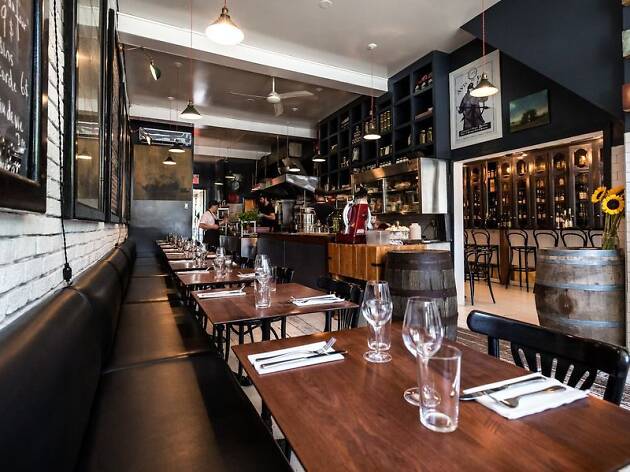 Photograph: Le Vin Papillon
While Le Vin Papillon's sister resto and neighbour Joe Beef is not particularly veg-friendly, this Little Burgundy wine bar pairs a largely plant-based menu with its impeccable selection of wines. Presented in chalk on boards behind the tables, the ever-evolving menu of small plates is always exciting and very easy for vegetarians to navigate; smoked carrot eclairs are a beloved mainstay. If you're not feeling particularly choosy, simply tell your server your preferences and wait for the veg-based delights (and glass after glass of wine, natch) to appear.
2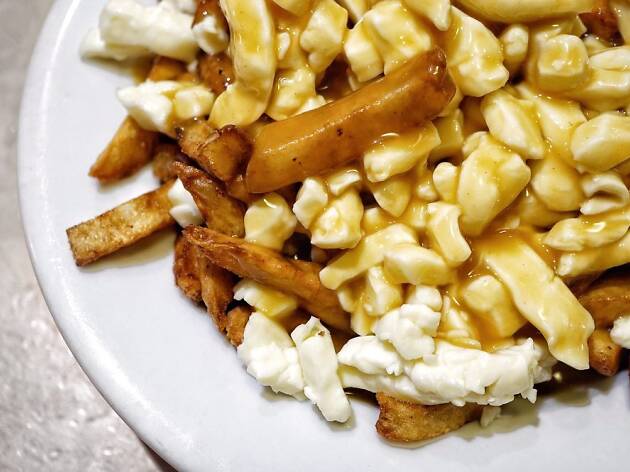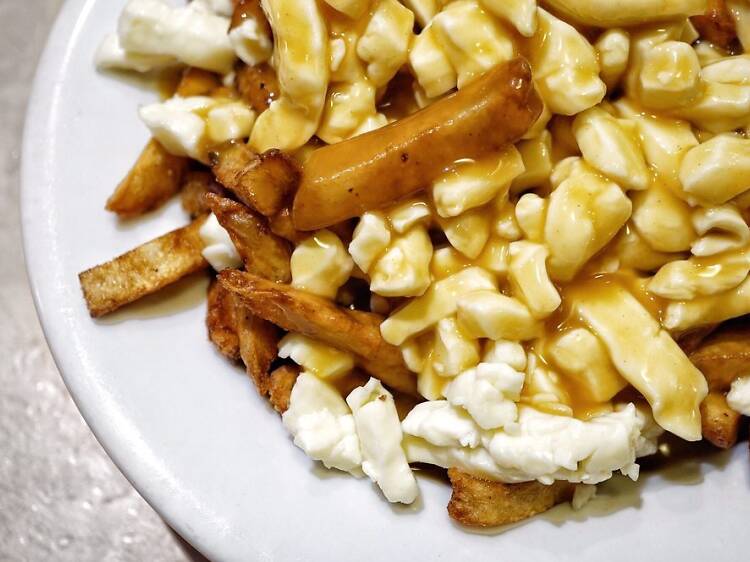 Photograph: Courtesy Yelp/Min C.
Legendary Montreal poutinerie La Banquise may not be what springs to mind when locals think of quality vegetarian fare, but with its vegetarian poutine gravy and vegan veggie dogs, the Plateau fave of tourists and locals alike makes greasy, late-night dietary choices possible regardless of one's dietary restrictions (they even offer vegan cheese, but it's hard not to go for the real deal curds). Who says vegetarian food can't be a delicious, greasy mess? You'd do well to visit this spot: It's making some of the best poutine in town and is essential eating when digging into iconic Montreal food.
3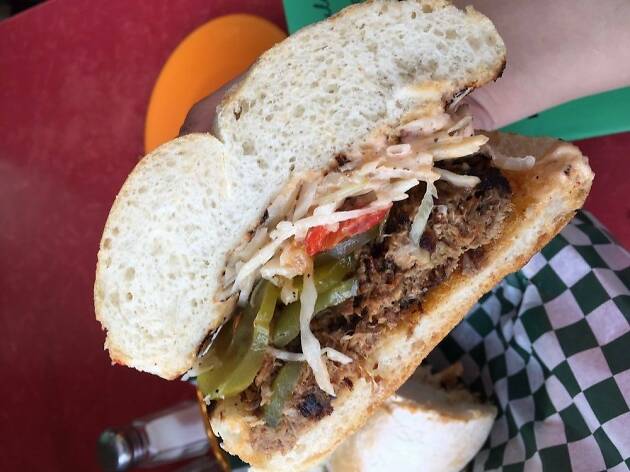 Photograph: Courtesy Yelp/Katie Z.
This quirky, unique dépanneur-diner serves up a small, delicious menu of sandwiches and other small items including a beloved vegetarian jackfruit "pulled pork" sandwich. Their classic deli-style counter in Mile End doesn't stop with that messy, delicious goodness either, as Le Pick Up's veggie cubanos and grilled haloumi sandwich are also worth a try. Not nearly as prized, mind you, but no one can argue with gorging on a fried cheese sandwich with a frothing tallboy in the heat of summer.
4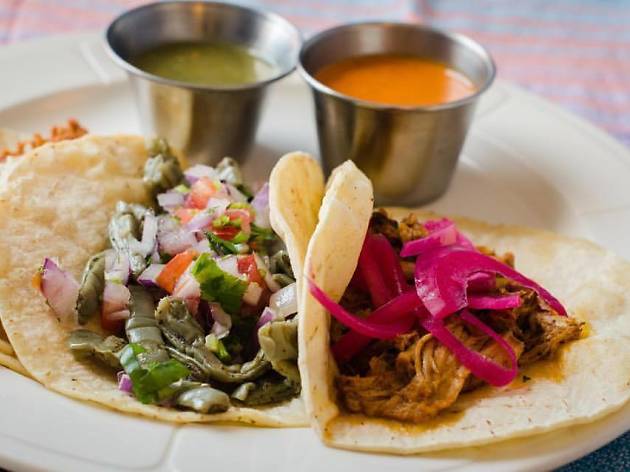 Photograph: Tacos Frida
Frida's tacos are a hit with Montrealers regardless of dietary preferences, but the plentiful veggie options that include grilled cactus with pico de gallo and sautéed mushrooms—plus some hearty vegetarian Mexican brunch options—make this Saint-Henri cantina a popular spot with the meatless crowd. You'd be remiss not to cap your meal off with some churros as well. Best of all, this Mexican must is showing signs of constant expansion, so they'll be spreading the love to other corners of the island.
5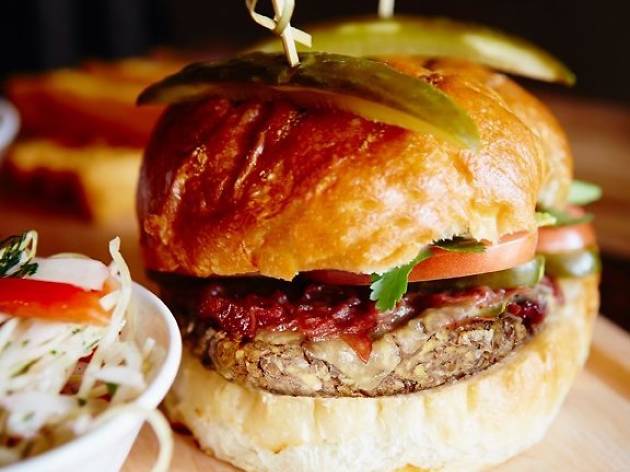 Photograph: Lola Rosa
With its hearty, Mexican-inspired dishes and impressive portion sizes, Lola Rosa is a great bet to satisfy hungry vegetarians and diehard omnivores alike. The local chain has four outposts in the city, including a brasserie, a bistro, a service counter and a lounge restaurant. All of these serve the signature menu items that include a smoky BBQ hemp burger, a bursting-with-flavour sweet potato burrito, and a plate of nachos that could easily be shared by a table of four and still leave them too full for mains. Cheese features quite heavily on the menu, so if you're looking for something strictly plant-based, check out the best vegan restaurants in Montreal.
6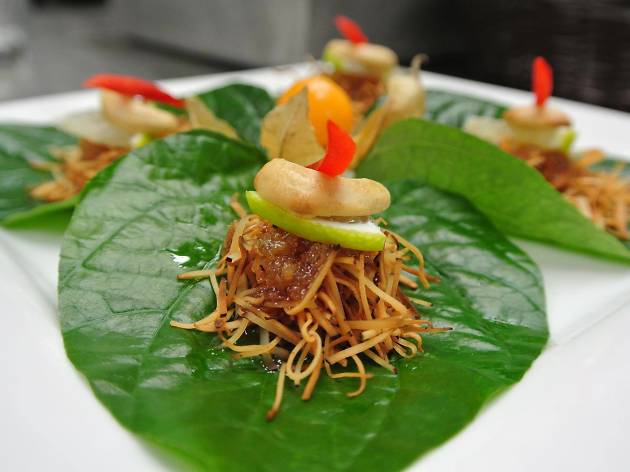 Photograph: Courtesy ChuChai
Meat replacement products aren't for everyone, but if you're in the camp that has given up meat but still craves a bit of fried duck from time to time, Thai-inspired eatery ChuChai is for you. The Saint-Denis restaurant offers familiar Asian favourites like chicken skewers with peanut sauce, shrimp curry and steamed fish with ginger, but as ChuChai's menu clarifies, all of the "meat" listed on the menu is actually vegetable-based—the best of both worlds. It's incredibly similar stuff too in both texture and flavour, so much so that plenty of carnivores find themselves pleasantly surprised.
7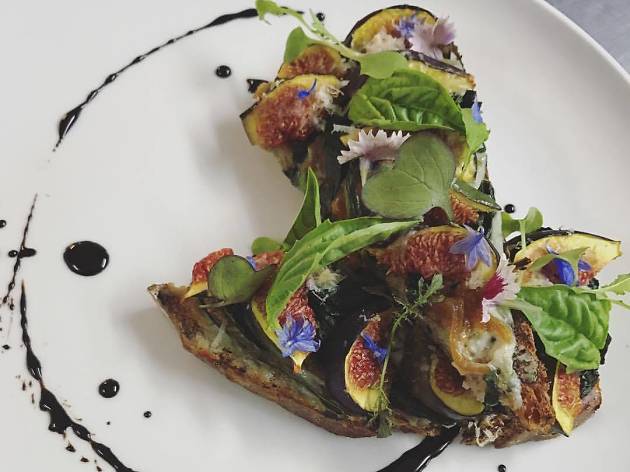 Photograph: Courtesy Santa Barbara
Santa Barbara in Little Italy keeps things simple with a small, mostly vegetarian menu that utilizes fresh and colorful ingredients. Billing itself as a "vegetarian forward and carnivore-friendly" spot, Santa Barbara caters equally well to strict vegans, flexitarians and meat-lovers alike. The brunch offerings here are especially strong, but be prepared to wait for a table. Then again, a line-up isn't the worst sign of things to come if you're arriving too late. In this city, that's testament to how well-accepted a place is... So long as it's not some bullshit pop-up.
8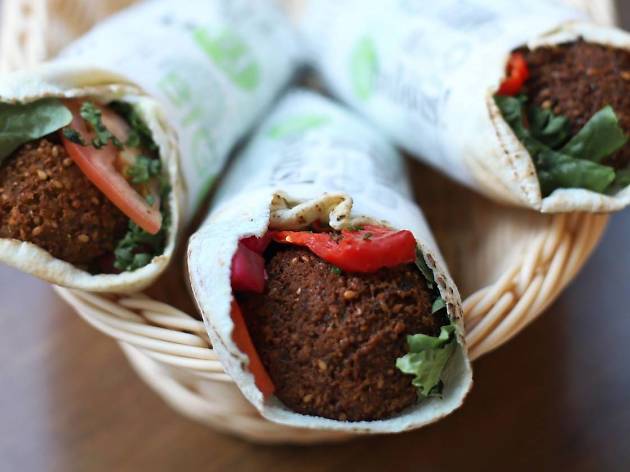 Photograph: Falafel Avenue
This Downtown Montreal-based falafel fave is vegan-friendly by virtue of its falafel alone, but this counter service fast casual spot specializes in (vegan) sauces and fillings in its falafel-centred pita wraps, sandwiches, salads and pizzas. There are a number of places to get tasty, traditional falafel in Montreal, but Falafel Avenue's interpretation puts a fun, fresh spin on the deep-fried dish like ones stuffed with a decent pull of mozzarella.
9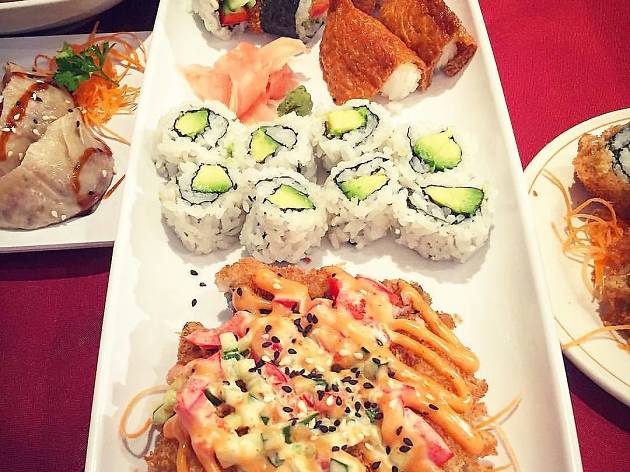 Photograph: Restaurant Yuan Vegetarian / @YuanResto
Considering how popular ChuChai is, Saint-Denis certainly isn't lacking in the "vegetarian takes on Asian classics" department. Yuan's all-you-can-eat buffet includes vegetarian General Tao vege-chicken, stir-fried vege-duck and—trust us on this one—sesame vege-eel. All that comes with a number of tofu-based dishes and inherently vegetarian classics like edamame, Chinese broccoli and stir-fried veggies for those who aren't eager to find out what plant-based eel tastes like, but that just means there's more of it for us. You snooze you lose.
10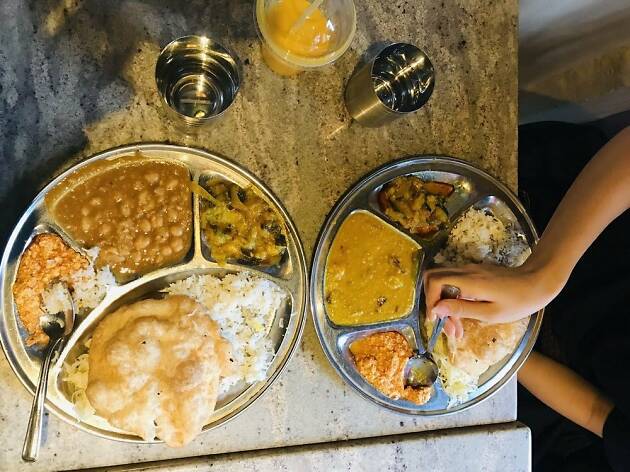 Photograph: Courtesy Yelp/Yao W.
Indian eateries are generally a great bet for non-meat eaters, and that's especially true at Pushap where the menu's strictly vegetarian-friendly. Vegan eaters can get by with a visit here, but the best stuff to eat at Pushap comes stuffed with paneer. The small, popular spot in Côte-des-Neiges is known for having some of the best cheap eats in the city with their thalis that go for a song, but the rest of its extensive menu is equally delicious. Be sure to grab some treats from their desserts counter on the way out.
11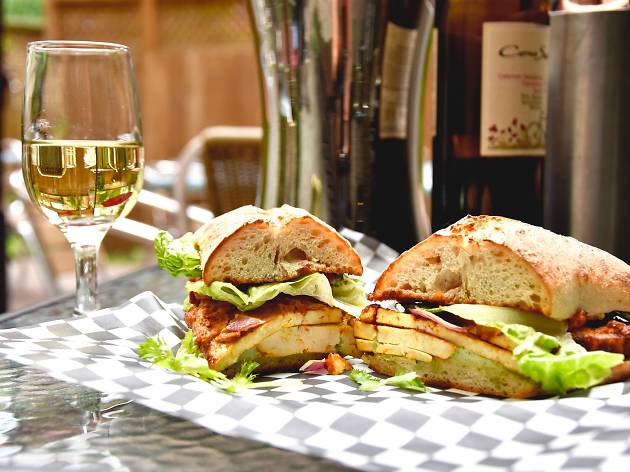 Photograph: Azocar Rafael
This casual vegetarian buffet, where you can purchase either a la carte items or salads and hot food by weight, caters to hungry vegetarians on a budget. Enjoy sandwiches, salads, pizza or noodles with a beer or a glass of organic wine. The selections at the buffet-style counters don't wildly change that often, but the variety here is considerable enough that it merits several visits before you feel like you've scratched the surface.
12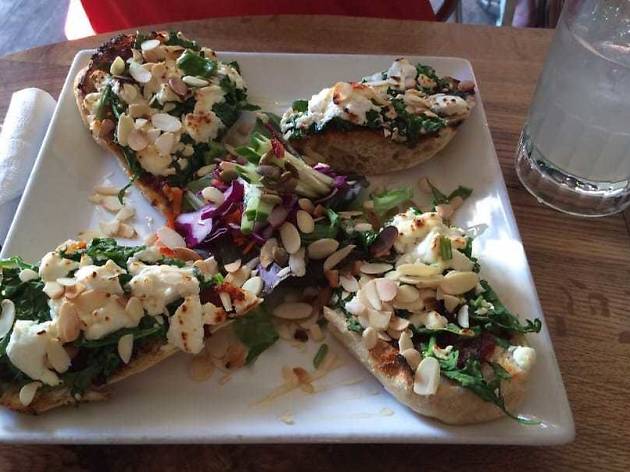 Photograph: Courtesy Yelp/WhiteFeather H.
This cultural icon, known for its events and its presence in the local arts scene, came back as strong as ever in Little Italy after being forced out of its original location due to rent hikes. Best of all, the homey café continues to offer its simple, tasty veggie food as well as coffee and baked goods in cozy surroundings. You come for a working space in the day with breakfast and lunch at the ready, or you come in the evening to catch some erudite act by night; either way, you're going to have a good time and a full stomach here.
13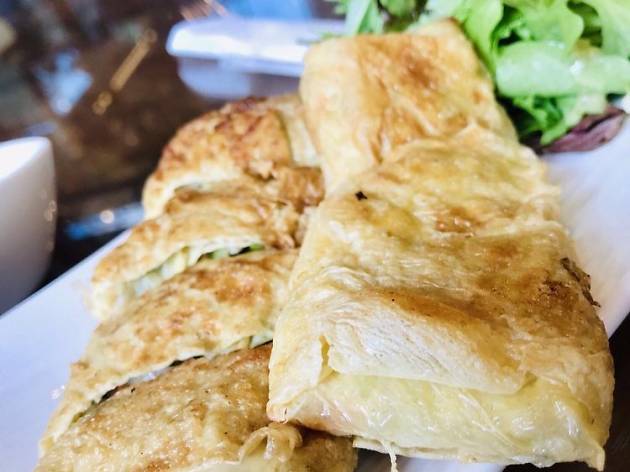 Photograph: Courtesy Yelp/Wil S.
Chinese teahouse Ming Tao Xuan offers a light, meatless menu alongside its extensive menu of loose-leaf teas. While the tea is the focus at this Old Montreal spot, the vegetarian fare offered here makes for a nice accompaniment like fluffy bao and mock chicken skewers. The warm, wood paneled space makes the shop especially comforting, with or without a cuppa, particularly in the winter when nothing can beat a hot cup of tea.
14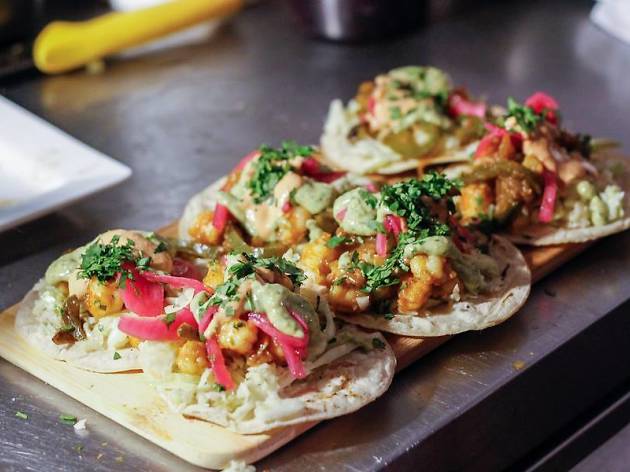 Photograph: Courtesy Else's
Fun and casual Plateau pub Else's emits its cool vibe without falling into the trap of trying too hard, and the food is much the same. Classic pub fare has been given an update at Else's, where signature items include tacos (with meat and veggie options) and some of the best veggie sliders in Montreal. If you still have room after devouring your main and sampling Else's selection of craft beers, there's often a vegan-friendly dessert to be found.
15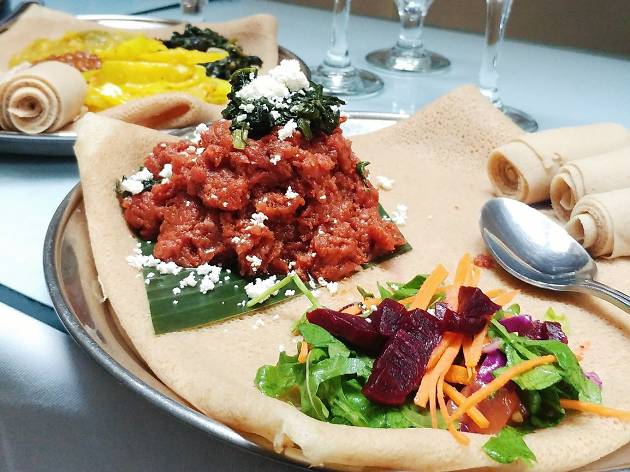 Photograph: Courtesy Le Nil Bleu
Another not-strictly-meatless vegetarian fave, Saint-Denis' Le Nil Bleu offers something different to variety-starved vegetarians with its tasty Ethiopian cuisine. Both the à la carte and tasting menus are available in meat or vegan varieties; chickpeas, yellow peas, lentils and veggies feature heavily in both sides of the menu. Don't come here alone, though; Ethiopian eats are best eaten communally, the spice-laden aromatic bites shared with torn slices of sourdough-risen injera flatbread.
16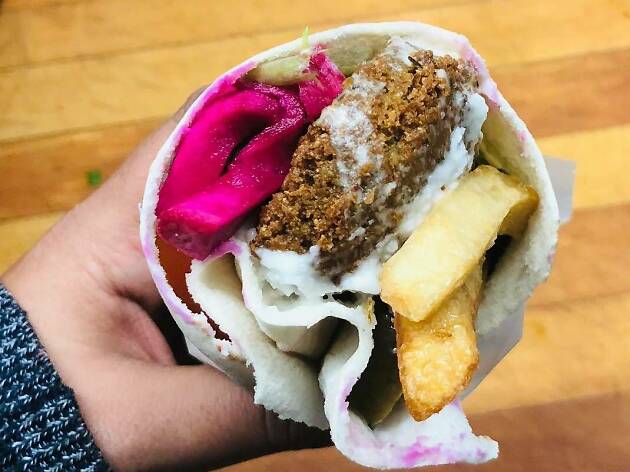 Photograph: Courtesy Nilufar
Falafel, a perennial vegetarian favourite, is the star of the show at Restaurant Nilufar, which offers the classic falafel wraps (a late night veggie staple) as well as grilled tofu wraps, "tofu-taouk" and "mushwarma." The vegan garlic sauce is a notable game-changer for junk food-loving veg heads, and whether or not you make a point of eating vegetarian or vegan, no Montrealer will deny that this place is making some of the best cheap eats in the city in a convenient central location.
17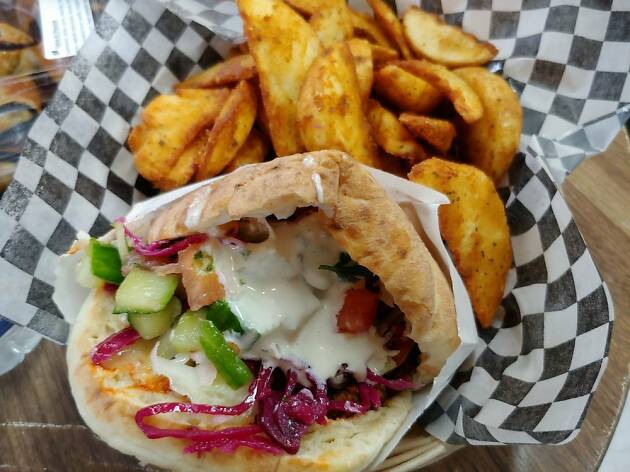 Photograph: Courtesy Yelp/Steff D.
While this spot's a bit of a trek for anyone with their sights set on Downtown Montreal and other immediately surrounding hoods, we can assure you that the trip here is worth it. The shiitake mushroom shawarmas alone, stuffed with toppings until brimming, make for a solid cheap eat that you'll be hitting up time and again after that first taste. Just make sure to try more than just that, as the menu here is surprisingly full of other equally delicious choices.
18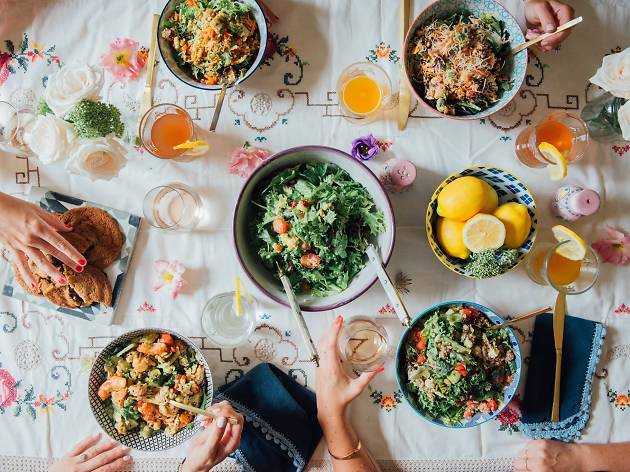 Photograph: Mandy's / @mandyssalads
Sometimes all vegetarians do want is a big salad, but finding one that's heavy in protein but light in animal products can be a challenge. Gourmet salad bar chain Mandy's does exactly that with enough flavour to make eating healthy the preferable lunchtime choice. In addition to a variety of colorful, fresh veggies, salad ingredients at Mandy's include tamari citrus tofu, beans, and cheese, as well as toasted seeds and nuts.
Get even greener at these plant-based restaurants
You won't find any animal products at the best vegan restaurants in Montreal, but you will find amazingly tasty food.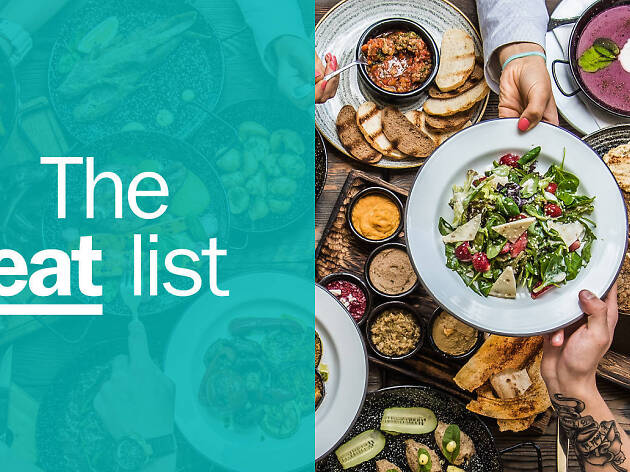 You'll find a full range of local legends, groundbreakers and under-the-radar ops with the best restaurants in Montreal; and most will adjust their menus for you.