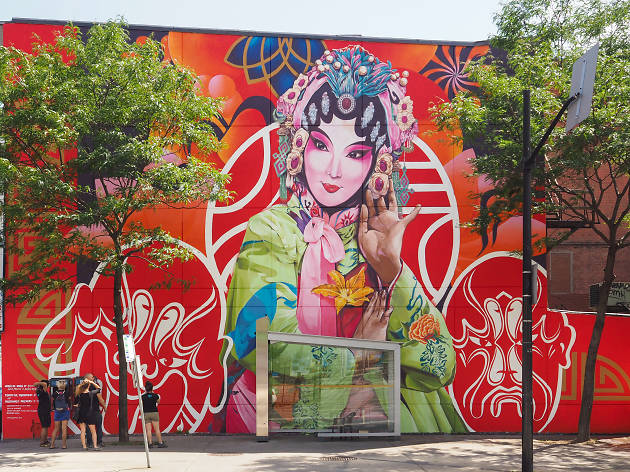 The best things to do in Chinatown, Montreal
The best things to do in Chinatown, Montreal include late night feasts, shopping hubs and more—here's the best of it
Don't get us wrong: While the best Chinatown, Montreal restaurants are a highlight of this densely packed neighbourhood, its best things to do go beyond stuffing your face. Taking the time to comb through its stacked addresses reveals there's enough to keep you hooked for both brief stopovers and multiple visits, making it one of the best things to do in Montreal. Whether you're looking for some of the city's best cheap eats, an Instagram-worthy cocktail before hitting up some karaoke bars or you just want to stroll through some serene settings, the neighborhood of Chinatown, Montreal has what you need and so much more.
RECOMMENDED: Full guide to Chinatown, Montreal
Where to find the best things to do in Chinatown, Montreal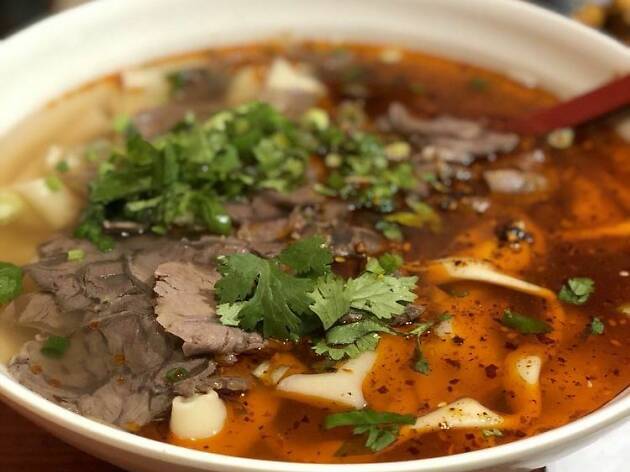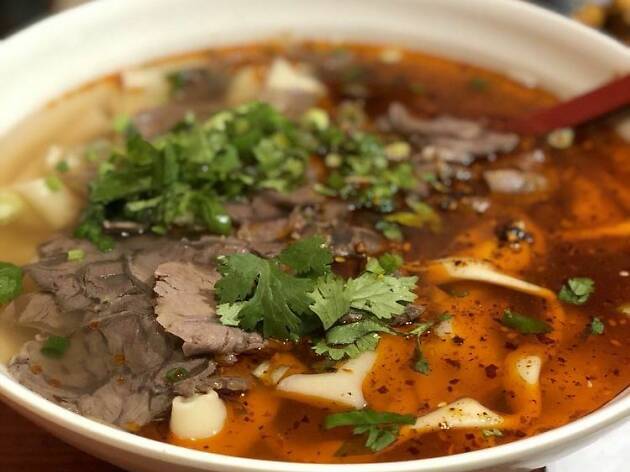 Photograph: Courtesy Yelp/Christine T.
If you only have time to eat one thing in Chinatown, make it a piping hot bowl of noodles. While the downtown core has done a bang-up job in the ramen department, Chinatown still reigns supreme when it comes to Vietnamese pho, Korean jigae and hand-pulled Chinese noodles. Head to Pho Bang New York for some of the best rice noodles in the city, Chez Bong for noodle-heavy soups, or make your way to Nouilles Lao Tz, where visitors can watch the chefs carefully pull noodles in the street window before coming in for a bowl. Whatever you pick, these options are among the reigning champions for having the best cheap eats in the city.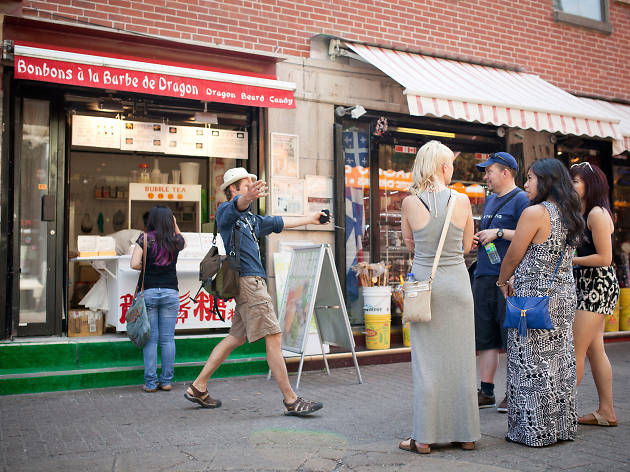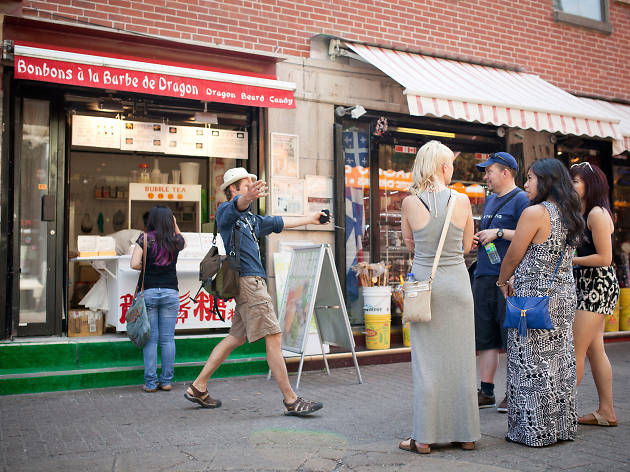 Photograph: Fitz & Follwell Co.
If you've never tasted dragon's beard candy, now's your chance. The Chinese cotton candy originated in Hong Kong and is notably hard to find outside of Asia. Montreal's Chinatown was one of the first in North America to offer the ancient confection back in the nineties, and the original stand still exists today. The stand's owner is Johnny Chin, whose passion for the candy stems back to his childhood in Hong Kong where he learned the art from his older brother. The best way to describe it is sticky floss wrapped in incredibly fine threads around crushed peanuts, but really, you should just try it yourself.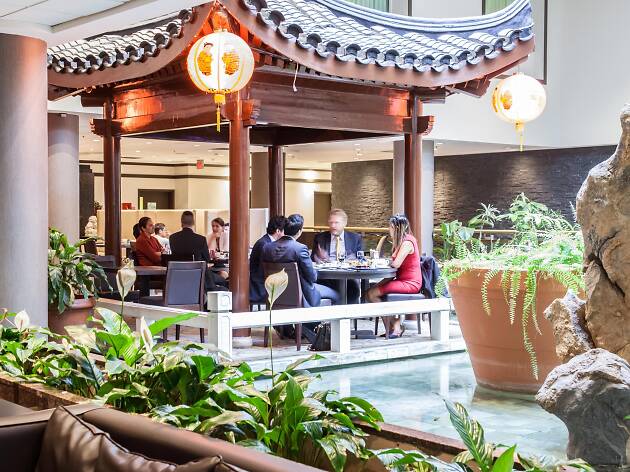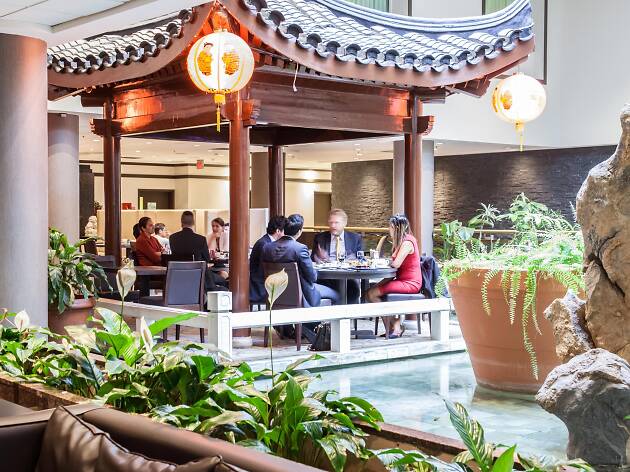 Photograph: Tourisme Montreal/Marie Deschene
Locals know it, but the only way an out-of-towner would know would be if they stayed in Chinatown's Hilton Garden Inn. Located on the lobby level of the Holiday Inn, one of the city's best cheap hotels, urban explorers will find a sizeable yet serene koi pond. Grab a seat by the water for a chance to relax, but the best spectating's done from a table at the hotel's restaurant Chez Chine, known for having some of the best dim sum in Montreal. It's best to reserve ahead if you want to nab a waterfront table beneath the decorative pagoda.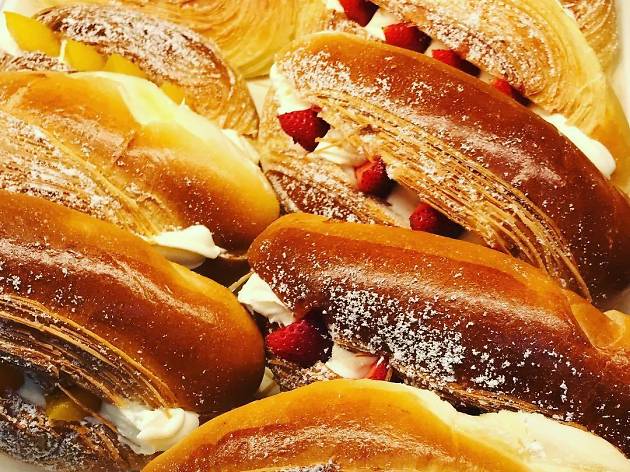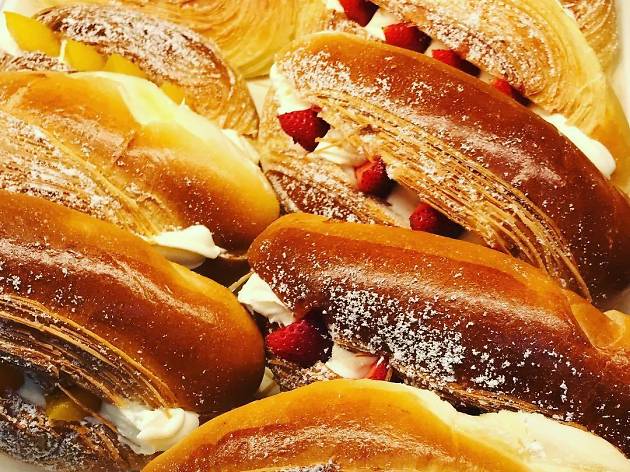 Photograph: Pâtisserie Harmonie 麵包蜜語
Chinatown is home to handfuls of cheery spots to grab a decadent sweet treat, with Harmonie being one of the most well-loved. The Hong Kong-style bakery outpost boasts some of the best buns and egg custards in the city, with Bao Bao Dim Sum not far behind. Another excellent option for a sugar fix is Chow Pastry, a small bakery serving sesame balls, bean paste and more. Note that only Chow Pastry is equipped with seating to enjoy your picks, but you can bring your snacks around the corner to enjoy al fresco at Sun Yat Sen Park when it's warm out.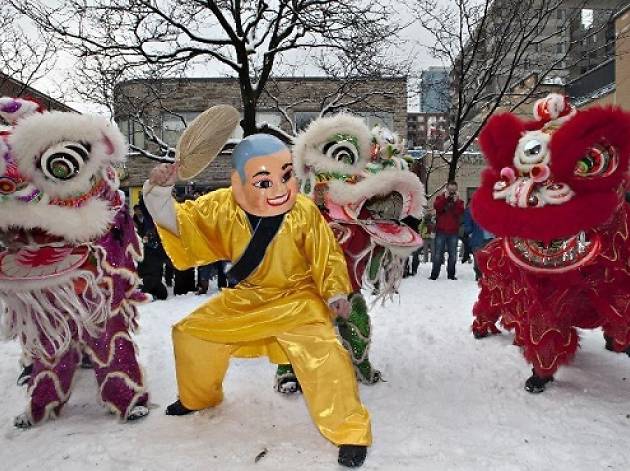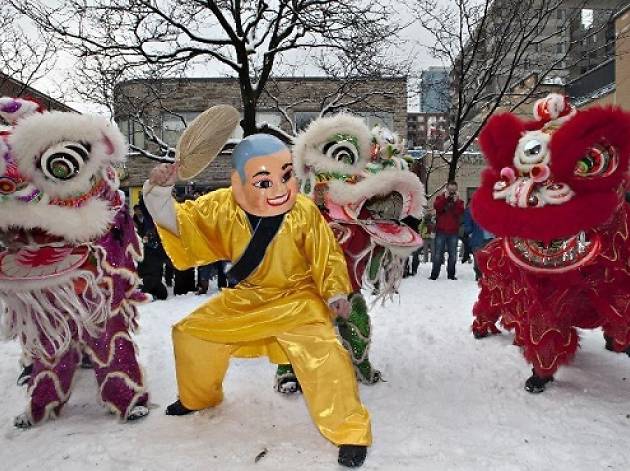 Photograph: chinesenewyearblog.com
5. Watch the dragons dance
Where else to look for Chinese New Year than the central hub in the city for Chinese Montrealers? Provided you're around for the annual event, the Lunar New Year Parade is performed by local kung fu schools who don dragon costumes and parade through the streets. You'll be lucky if you manage to grab a bite in the neighbourhood that day, however; if it isn't closed for the festivities, it's likely been booked up by families. Mark your calendars: The next Chinese New Year (2020) is set for Saturday, January 25th.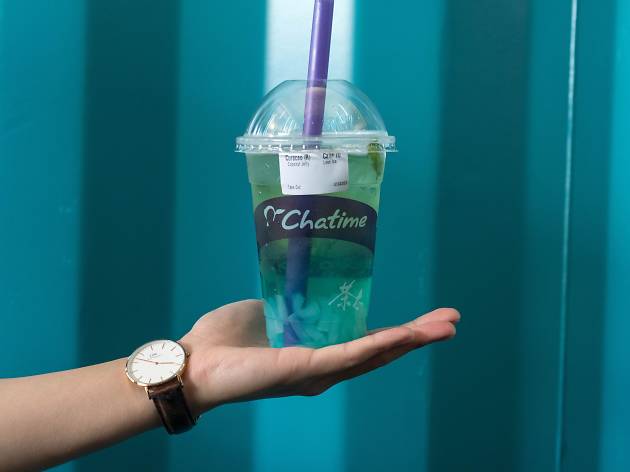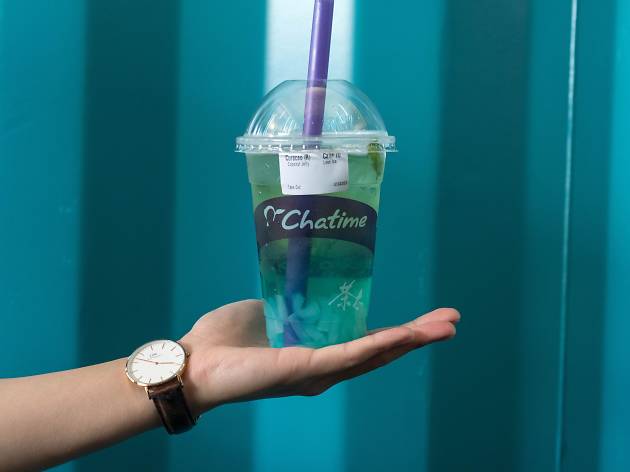 Photograph: Moujib Aghrout
It wouldn't be a trip to Chinatown without a bubble tea in hand. There's a high concentration of options available, including the Tawainese global franchise Chatime and Kabiga Thé Chinatown (also known as Dessert De Taiwan) which acts as another excellent option directly across from Chatime and offers exceptional boba out of its independently run walk-up window. If you prefer to sit down and sip your tea slowly, head upstairs to L2 Lounge where you'll find a crowd hanging out playing foosball and sucking back pearl teas and fresh juice.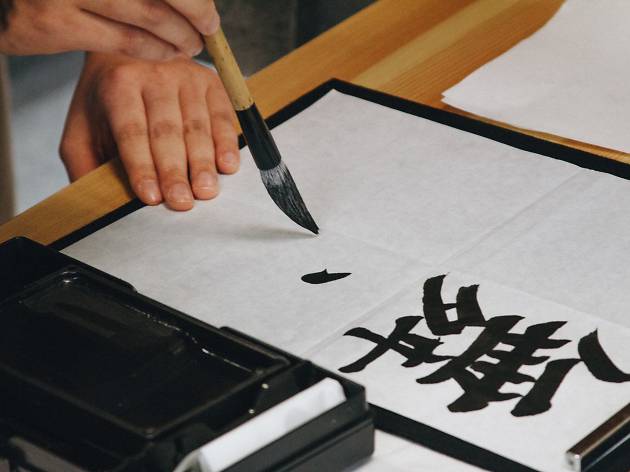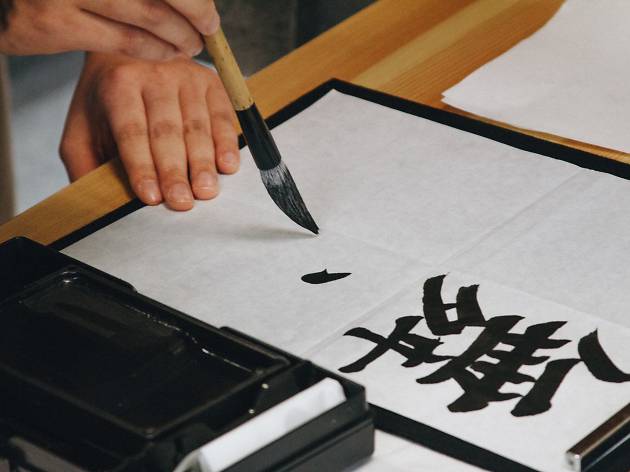 Photograph: Niketh Vellanki
The pedestrian-only section of De la Gauchetière is primarily looked to for shopping, but an often-overlooked gem of this stretch is the upstairs art supplies store and calligraphy school run by the Ngan Siu Mui Art School. Run by the Hong Kong-born woman of the same name, Ngan Siu-Mui was trained by Chinese and Taiwanese calligraphy masters—as well as tea masters—before coming to Canada to start her school. Today, classes in watercolors, calligraphy and seal carving are taught in both group and individual classes. Check out the website for the schedule of what's happening and how much it'll cost; while classes don't run cheap, it's an incredible opportunity to learn from a true master of her craft.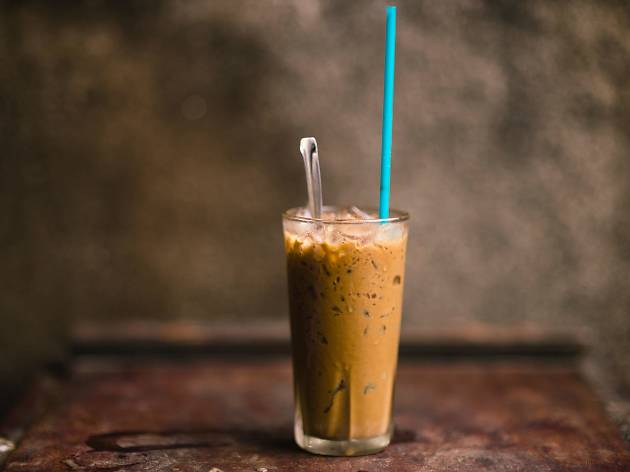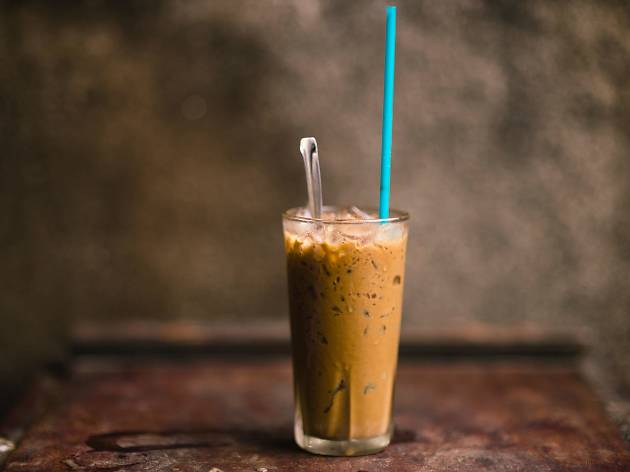 Photograph: Frank McKenna
Skip your usual latte and beeline to Pho Bac instead. The no-frills, cash-only soup joint is the furthest thing from a barista-forward café, but their iced coffee is out-of-this-world good. Don't mess with the recipe though and order it without a single extra request, substitution or some other such nonsense: Take it plenty sweetened with condensed milk to balance out the strength of the coffee from the traditional Vietnamese drip filter, then lightly mix the two ingredients together with the spoon in the sundae glass it's served in. That's the real deal.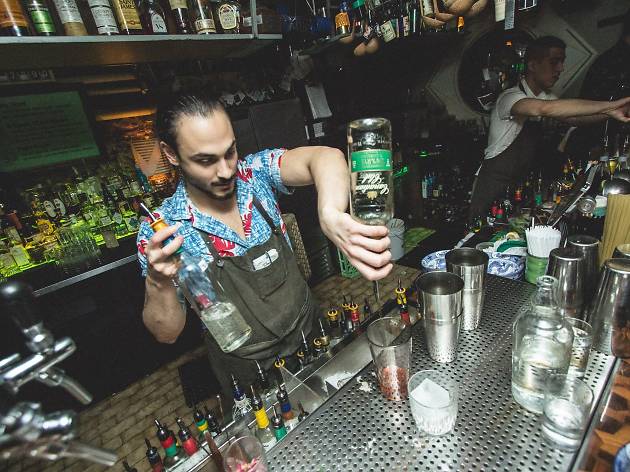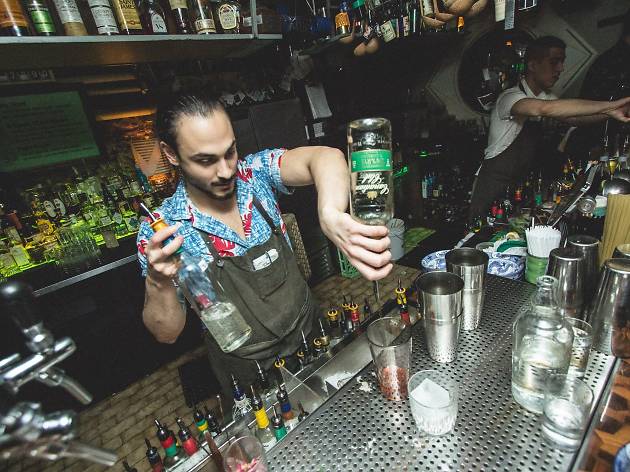 Photograph: Marie Rosenbluth
The nightlife in Chinatown is admittedly small in comparison to the neighbouring areas of Old Montreal or Downtown Montreal, but it's a solid spot to start or end the night before diving into a late night bowl of noodles or banh mi. Check out Le Mal Necessaire, which has become a time-honored spot for locals and visitors alike to enjoy its tiki-style setting and cocktails—if you're around from 5pm to 7pm, visit for the happy hour cocktail pitchers available. If you're looking for more of a dive bar, head into Bar Macao for some of the cheapest bottles of beer you'll find anywhere and feel free to bring in food from elsewhere.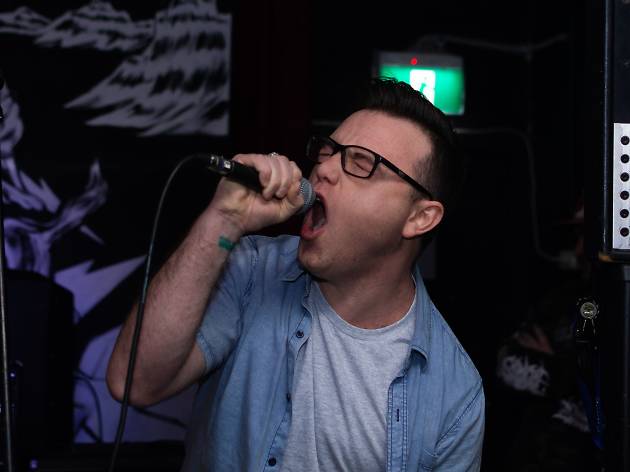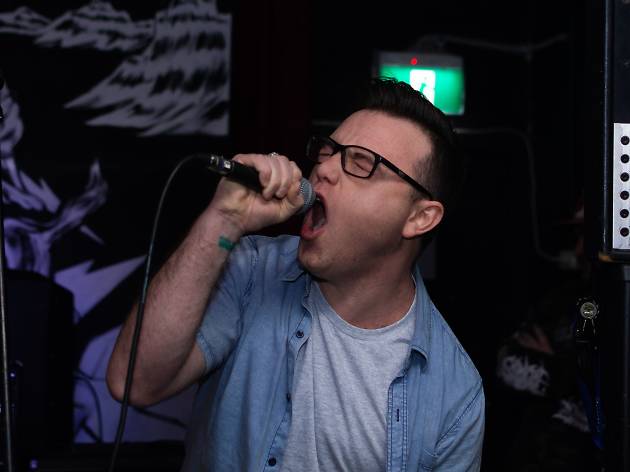 Photograph: James Dominko
If you've always wanted to try your hand at karaoke but don't exactly care for the pressure of a stage, it's imperative that you go to CEO Karaoke to belt out a few tunes while you're in the neighbourhood. Following the standard of the karaoke box found throughout Asia, visitors can book karaoke rooms at an hourly rate to perform their favourite tunes with friends in private. The unassuming karaoke bar is quietly tucked into the basement, below the Ruby Rouge restaurant on Clark Street and is arguably one of Montreal's best hidden gems.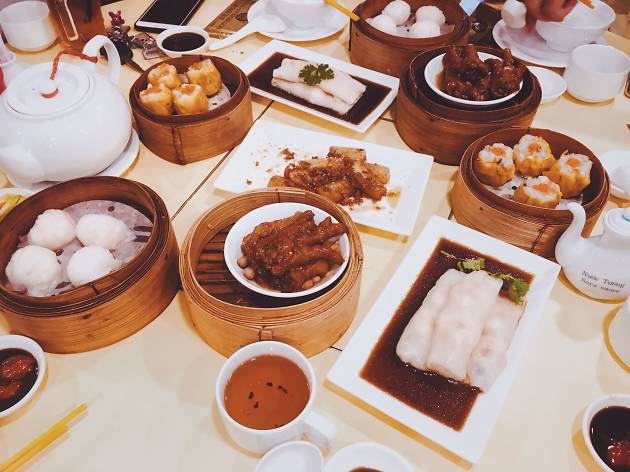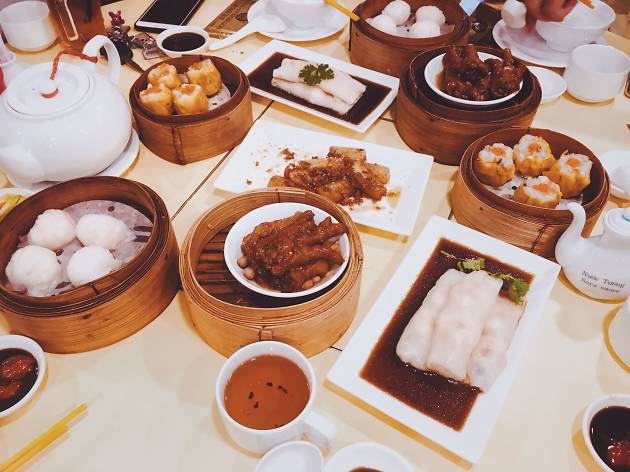 Photograph: Van Thanh
Skip the French toast and mimosas in favour of the best dim sum in the city. The savory, family-style meal is available from a handful of long-time establishments in Chinatown that do it well. Head to Kim Fung for Cantonese-Sichuan fare served on circulating trollies in the Place Du Quartier mall's top floor. While the dining room is vast, it can fill up quickly, and for that reason we also recommend the neighbouring Restaurant Impérial that's just as well-loved and serves dim sum classics like preserved egg and congee with roast pork. The only catch with Impérial is that it can be slightly more expensive than Kim Fung.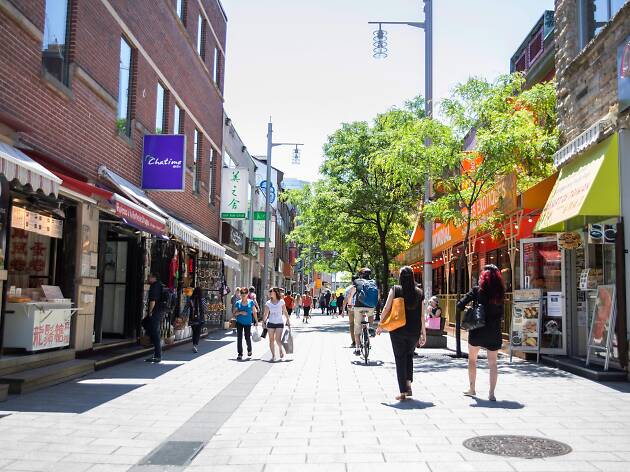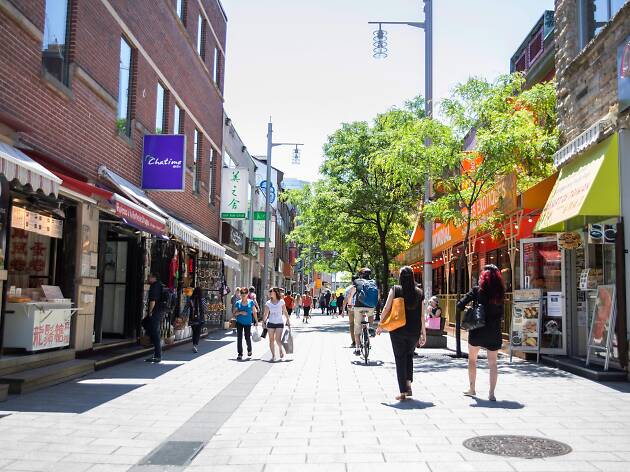 Photograph: Tourisme Montréal/Marie Deschene
Shopping in Chinatown can easily take up an entire afternoon. While there are no high-end boutiques or big brand name stores, expect plenty of novelty shops selling trinkets and stuff that'd make an anime fan's heart burst. There's most notably L'expression de la Vie, a well-curated anime shop with everything from vintage Pokemon toys to cosplay costumes. Korean and Japanese skincare boutiques have also become more prominent in the area, with C&C Korean Cosmetics and C'est La Peau reigning supreme in terms of selection and staff knowledge. Marché G&D is also worth the visit—the underground grocery store is packed with everything from imported Japanese candy and dry tea to fermented duck eggs and vegan salmon fillets.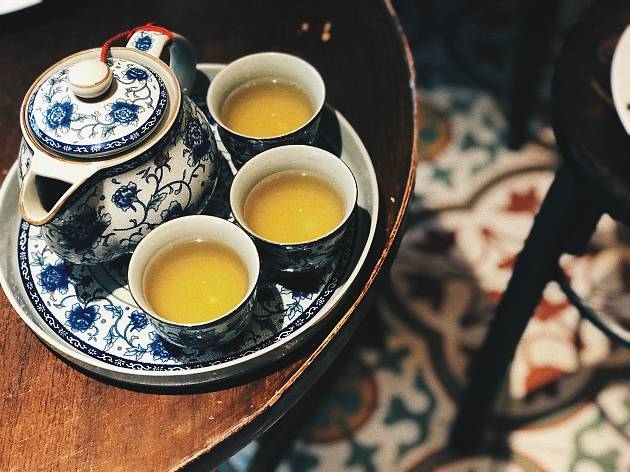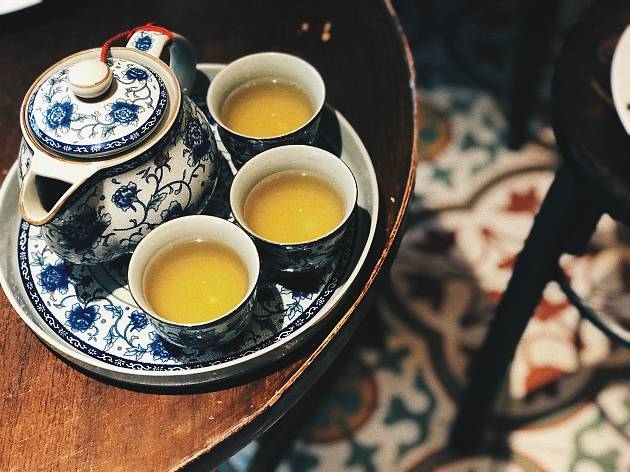 Photograph: PTMP
Those on the hunt for authentic Chinese tea should look no further than Commerce Ming Wah Hong Inc, a tea shop found on the corner of Clark and René-Lévesque. The owner of the shop, Howard, has decades of experience in teas and traditional medicine and will gladly assist you with whatever product you're seeking. A worthwhile stop just off the main drag, we encourage anyone to stop in and dive into any tea selection. Be adventurous with this one; you won't regret it.
Where to eat in Chinatown, Montreal
Consider these Chinatown, Montreal restaurants your bucket list of where you need to earn some serious dining cred.
More of the best things to do in Montreal
Here's your list of essentials for the best things to do in Montreal, from fantastic attractions to cultural powerhouses.