Best of New York for families
NYC is full of cultural options---some would argue too full---which is exactly why we've filtered out the city's best museums, bookstores, playgrounds, theaters, music and more so your family can stop choosing, and start enjoying!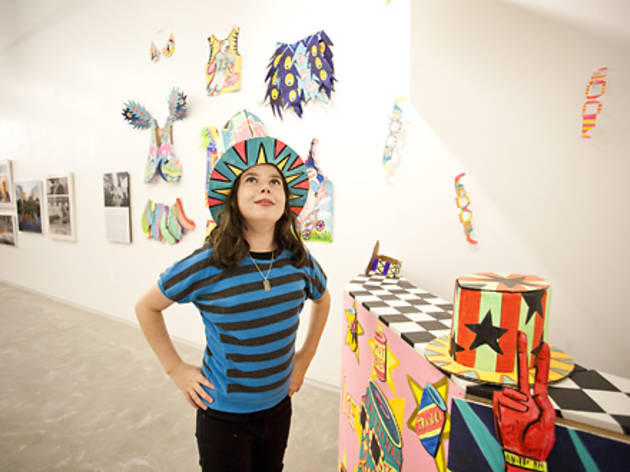 1/15
Photograph: Virginia Rollison
Children's Museum of the Arts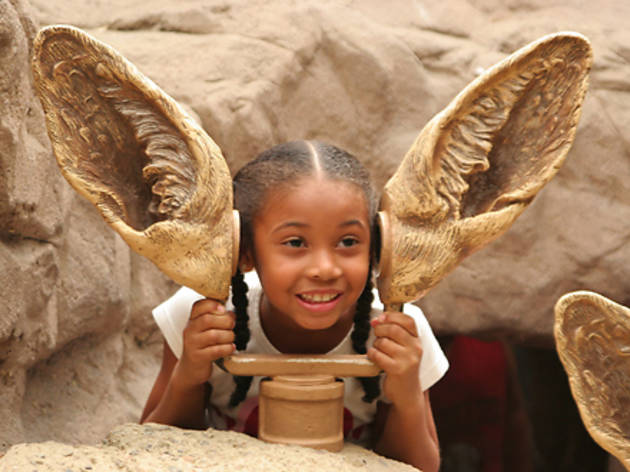 2/15
The Bronx Zoo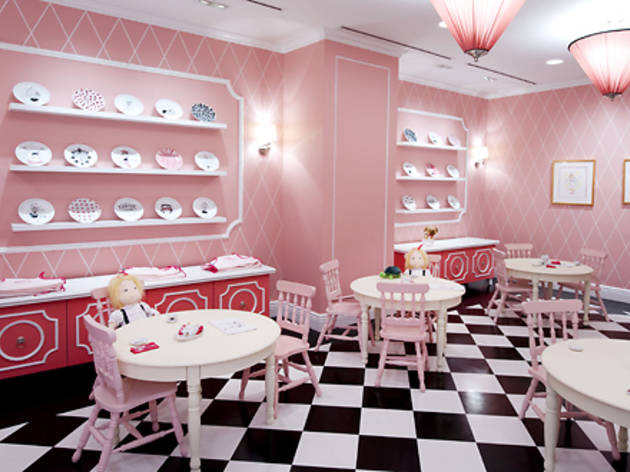 3/15
Photograph: Evan Sung
Eloise Room at The Plaza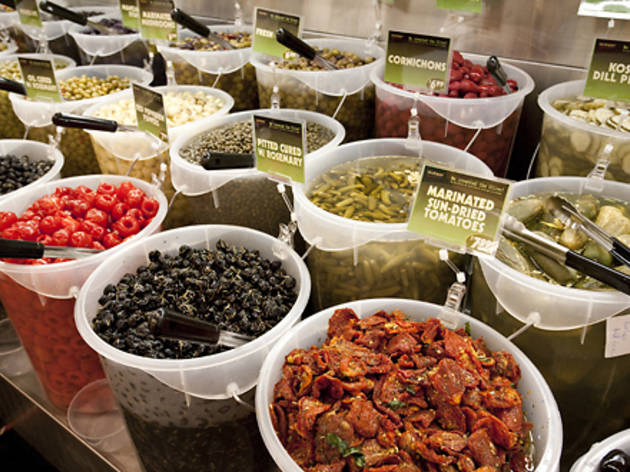 4/15
Photograph: Cinzia Reale-Castello
Fairway Upper East Side- 86th Street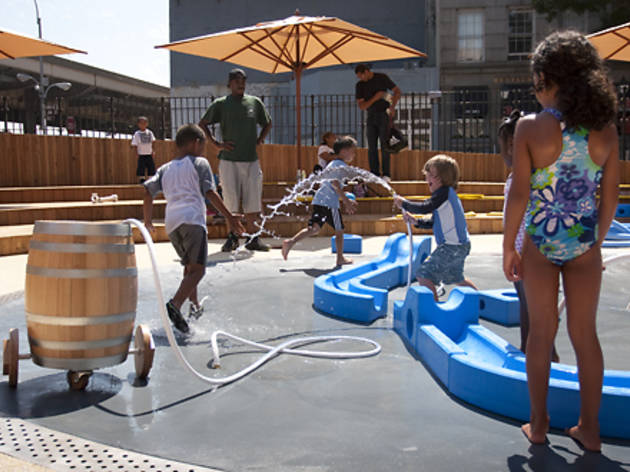 5/15
Photograph: Danielle Parhizkaran
Imagination Playground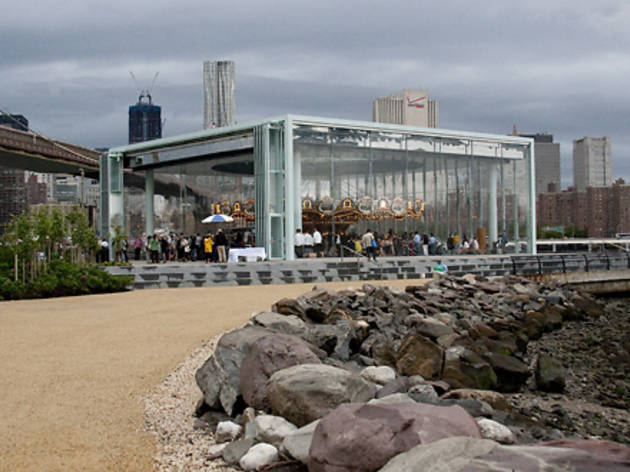 6/15
Photograph: Lee Magill
Jane's Carousel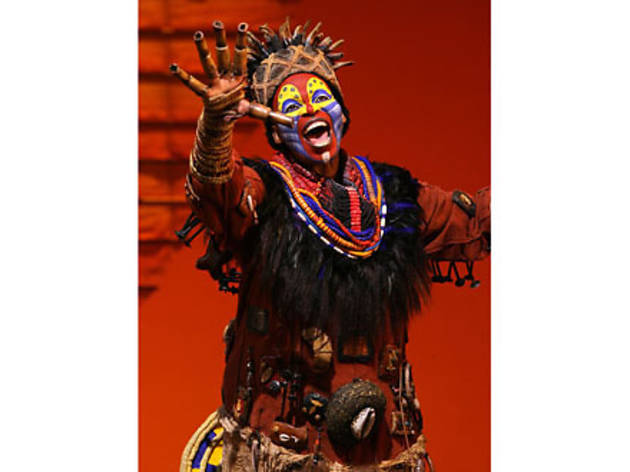 7/15
Photograph: Joan Marcus
Tshidi Manye (Rafiki) in Disney's THE LION KING. The production is celebrating...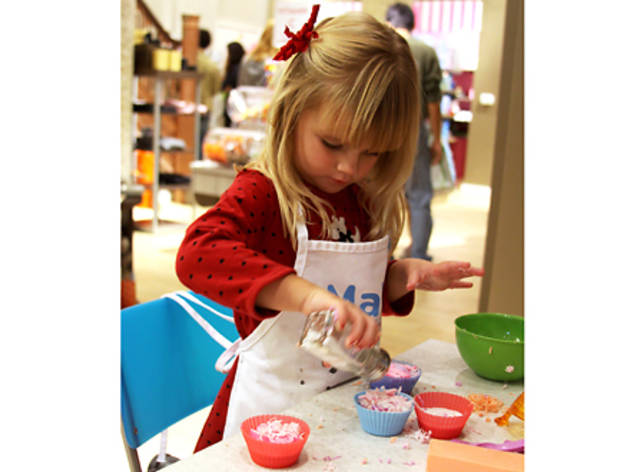 8/15
Photograph: Courtesy Make Meaning
Soap Making at Make Meaning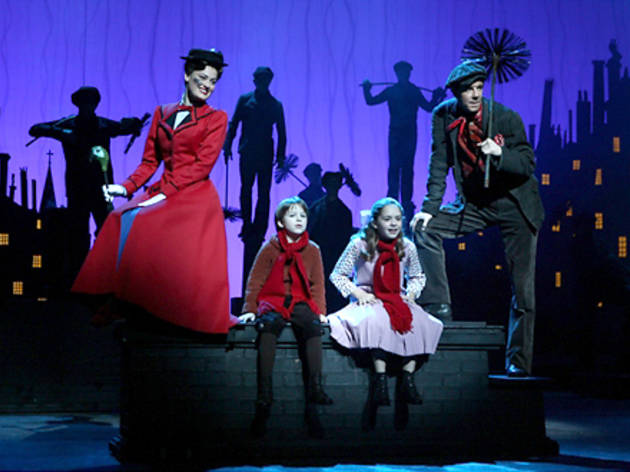 9/15
Photograph: Disney 2006/CML/ Joan Marcus
Mary Poppins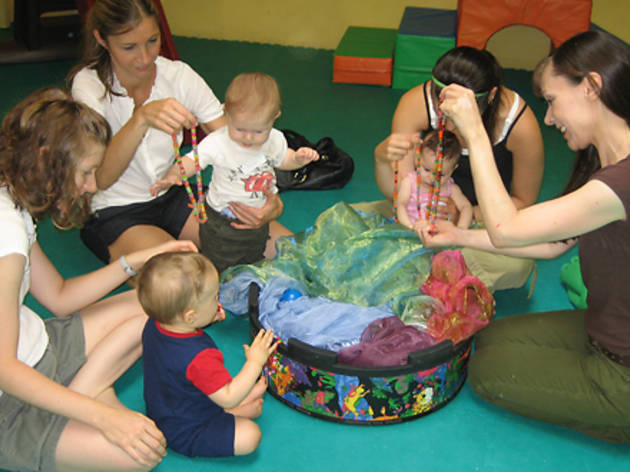 10/15
Moon Soup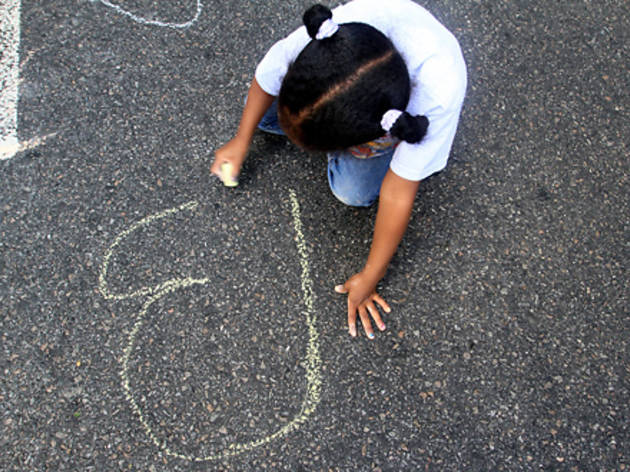 11/15
Photograph: Carucha Meuse
Museum Mile at El Museo del Barrio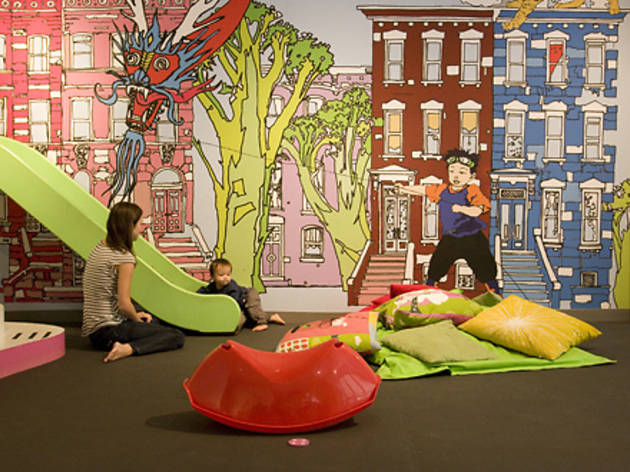 12/15
Photograph: Marielle Solan
Play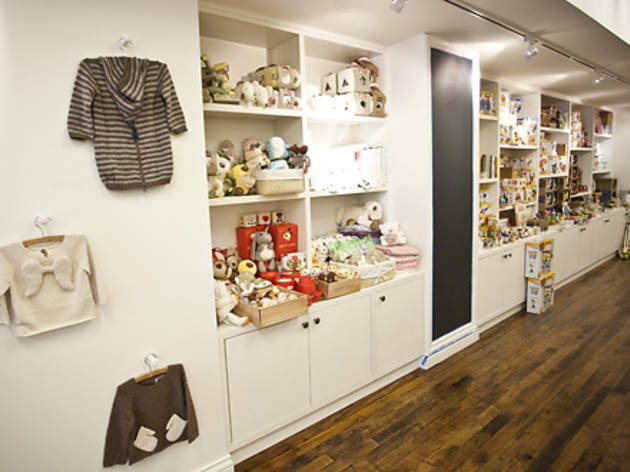 13/15
Photograph: Virginia Rollison
Sprout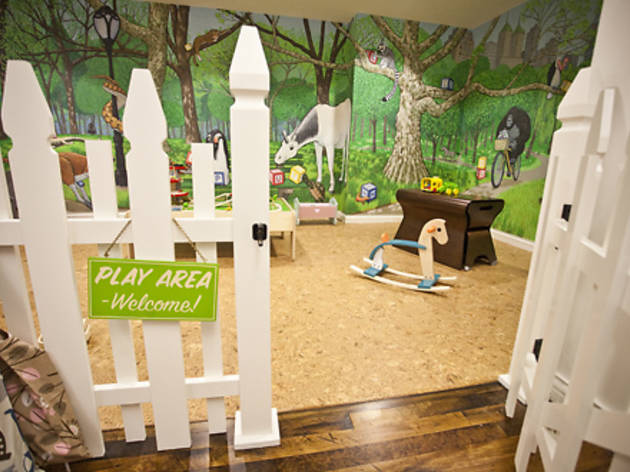 14/15
Photograph: Virginia Rollison
Sprout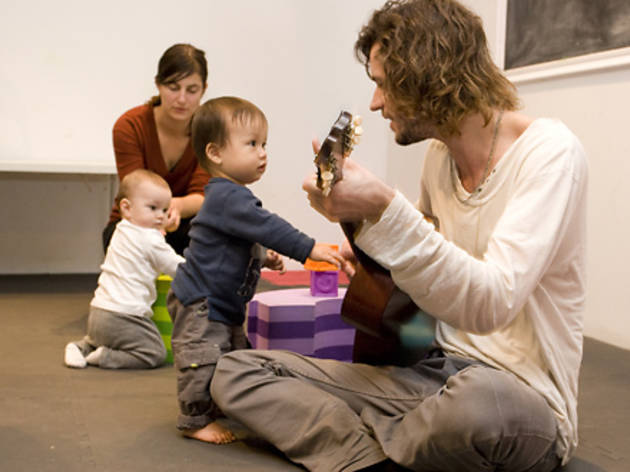 15/15
Photograph: Marielle Solan
Play
BEST THEATER EXPERIENCE
Disney sure knows how to do Broadway—and there's a reason why its current Great White Way shows, The Lion King and Mary Poppins, are must-sees for all city kids. Both productions razzle-dazzle audiences with their amazing sets and high-energy musical numbers; showstoppers like Mary Poppins's "Step in Time" and The Lion King's "Circle of Life" are sure to turn first-time theatergoers into life-long fans. The Lion King plays at Minskoff Theatre, 200 W 45th St between Broadway and Eighth Ave (866-870-2717, disney.go.com/theatre/thelionking). Mary Poppins plays at New Amsterdam Theatre, 214 W 42nd St between Seventh and Eighth Aves (866-870-2717, disney.go.com/theatre/marypoppins)
BEST MUSEUM REDESIGN
The Children's Museum of the Arts has always been one of our favorite spots for inspiring kids' creativity. And its new, 10,000-square-foot home in Hudson Square does not disappoint. At more than three times the size of the original Soho location, the institution sports an enormous 2,000-square-foot gallery, a media lab complete with a sound station and video-making exhibit, a ball pit and plenty of work spaces for kids to sculpt, paint and draw in. 103 Charlton St between Greenwich and Hudson Sts (212-274-0986, cmany.org)
BEST PLACE TO TAKE A CAROUSEL RIDE YEAR-ROUND
Imagine a tiny, antique toy carousel in an elegant glass music box. Now blow it up to life-size proportions, plop it down amid several bright-green lawns along the East River in the new Empire--Fulton Ferry section of Brooklyn Bridge Park, and you'll have a good idea of what Jane's Carousel is like. The elegant vintage spinner took its owners, Jane and David Walentas, about 25 years to refurbish in total, from its 48 hand-painted horses to its scenery panels and crests. The glass box—made out of Plexiglas and steel by ultra-modernist architect Jean Nouvel—opens on the side, not the top and was designed to withstand any type of weather Brooklyn may have in store for it. That means the carousel will not only be protected from the elements but open year-round for families to enjoy. Empire--Fulton Ferry section of the Brooklyn Bridge Park, enter at Main St, Dumbo, Brooklyn (janescarousel.com). $2 per spin, kids 3 and under or under 42 inches free with a paying adult.
BEST BOOKSTORE
The iconic Chelsea shop Books of Wonder, the oldest and largest independent children's book store in New York City, has also become one of the best places for kids to meet their favorite authors. This year alone, children have listened to readings by such popular names as Jon Scieszka (Spaceheadz 3), Matthew Van Fleet (Moo) and Taye Diggs (Chocolate Me). The store also hosts a free storytime every Sunday at noon; budding bookworms sit cross-legged on the carpet and listen to a staff member read familiar and lesser-known tales. 18 W 18th St between Fifth and Sixth Aves (212-989-3270, booksofwonder.com)
BEST NEW SUPERMARKET
Earlier this year, UES families got their wish—Fairway moved into the spot on 86th Street left vacant by Barnes & Noble and Circuit City. The iconic grocery is, by far, the closest thing the neighborhood has to a suburban supermarket; neither Trader Joe's nor Whole Foods has ventured to the area yet. Inside the two-level store, parents encounter an enormous produce section, a fresh fish counter, a bakery, a butcher shop and more. Moms and dads will especially like the baby food section on the lower level, where they can stock up on everything from Plum Organics Super Puffs to Earth's Best formula and rice cereal. At the Fairway Caf to Go, located next store, kids can pick up a famous Fairway bagel while parents enjoy a fresh-roasted coffee. 240 E 86th St between Second and Third Aves (212-327-2008, fairwaymarket.com)
BEST ANNUAL FREE EVENT
Admission to city museums for a family of four can get pricey. That's why we love Museum Mile, the annual June night when major cultural hubs along Fifth Avenue, including the Met, the Guggenheim, the Museum of the City of New York and the Jewish Museum, open their doors to visitors free of charge. Besides checking out the institutions' latest exhibits, families can hit the closed-off Fifth Avenue for an extravagant evening street party complete with magicians, balloon artists, musicians and dance performers. The traffic-free roadway also doubles as a canvas for chalk-drawn murals; supplies are provided along the route for little artists. Fifth Ave between 82nd and 105th Sts
BEST PLACE TO MEET OTHER PARENTS
Three MoonSoup locations around the city (the Upper West Side, Upper East Side and Astoria) have something for everyone. While babies and toddlers get their motor skills moving during classes like Rock Tots! and Imagine Soup, moms and dads make friends with other neighborhood parents who have children the same age. Its frequent new-parent seminars, too, double as socializing events. Plus, kids enrolled in classes can hang out at the space's open-play sessions for free—creating yet another chance for you to interact with other families. Go to moonsoup.net for city locations.
BEST MUSIC SERIES
Families flock to the B.Y.O.K (Bring Your Own Kid) musical concert series at the downtown offshoot of the 92nd Street Y. And for good reason: Everyone from Moona Loona and Randy Kaplan to Astrograss and the Dirty Sock Funtime Band has performed in the Bowery Ballroom--esque concert hall. Bonus: Bagels, coffee and juice boxes are served. 200 Hudson St at Canal St (212-601-1000, 92ytribeca.org/byok)
BEST SPOT FOR GIRLY-GIRLS
Decorated in the mini troublemaker's favorite colors, pink and black, the Eloise Shop at the Plaza is a dream come true for little girls. Kids can try on tutus in a dress-up station, listen to a story, watch Eloise movie clips and play games at the computer station. There's even a tea room where tots can taste fancy drinks. Just be warned: The Eloise-branded merchandise at the boutique is on the pricey side. 768 Fifth Ave between Central Park South and W 58th St (212-546-5460, theplaza.com)
BEST ORGANIC-LEANING CHILDREN'S BOUTIQUE
After taking the Bay Area by storm with Sprout San Francisco, a children's store featuring cherry-picked natural and organic wares, New York City native and mom Suzanne Price has opened a location in her hometown. In addition to toys, baby gear and furniture from brands like Apple Park, Oeuf, Newport Cottages and Bink Link, the shop hosts weekly classes (Rockin with Andy music sessions, Playtime with Sammie and Tudie) for new parents and their offspring. It also sports a scale on which moms and dads can weigh their babies in between pediatrician visits. Our favorite feature, though, might just be the adorable in-store play space. Decorated with a white picket fence and a Central Park--themed mural, the spot is full of wooden toys for little ones to play with. 1375 Third Ave between 78th and 79th Sts (212-861-0670, sproutsanfrancisco.com)
BEST PERMANENT EXHIBIT
Home to the largest and arguably most fabulous collection of dinosaur fossils in the world, the American Museum of Natural History's fourth-floor dino halls have been blowing kids' minds for decades. Roughly 85 percent of the bones on display were actually dug out of the ground; the rest are casts. The thrills begin when you cross the threshold of the Theodore Roosevelt Rotunda; there you're confronted with a towering barosaurus rearing up on its hind legs to protect its young from an attacking allosaurus. The museum welcomed "The World's Largest Dinosaurs" earlier this year (on display through January 2, 2012) but the original exhibit is still tops with visitors. Central Park West at 79th St (212-769-5100, amnh.org)
BEST PLACE TO SEE GORILLAS AND GIRAFFES
All five city zoos are well worth visiting but for a wildlife immersion there's nothing like the Bronx Zoo. The 265-acre preserve is filled with close to 600 species, grouped in manageable themed exhibits, such as the indoor Jungle World—where kids will find a tropical rain forest filled with monkeys and otters, panthers, small reptiles and exotic fauna like the binturong (a.k.a. bearcat)—and the Congo Gorilla Forest, a ground-level, glass-enclosed passage where families come face-to-face with gorillas of all sizes, including, more often than not, adorable babies cradled in their moms' arms. The Asian monorail (May--Oct), which travels over the Bronx River and through the woods visiting Przewalski's horses, Siberian tigers, red pandas and elephants, is not to be missed. 2300 Southern Blvd at Fordham Rd, Bronx (718-220-5100, bronxzoo.org)
BEST PLAY SPACE
Owned by local parents and former fashion-world execs Katja Douedari and her husband, Wade Groom, Greenpoint center Play keeps kids ages five and under busy for hours. The littlest guests can head to the "quiet area," which is filled with soft play structures, mini hammocks and stuffed animals; it's also fully padded, so you don't have to worry about new walkers getting hurt. Toddlers and preschoolers will want to check out the farmers' market (complete with fake fruit and veggies), a diner with a pretend kitchen, and a play structure inspired by Brooklyn brownstone stoops. Adding to the fun are special classes throughout the year—everything from music and art to dance and movement—and a boutique that sells the pair's own clothing line, Phoenix and Nola. 33 Nassau Ave at Dobbin St, Greenpoint, Brooklyn (718-387-2071, playspacenyc.com)
BEST CRAFT SHOP
We've been fans of Make Meaning since the arts-and-crafts hub made its debut on the Upper West Side in the fall of 2010. The shop not only hosts all-ages classes and birthday parties but also walk-in offerings that revolve around different craft experiences, from jewelry, paper and candles to glass, soap and ceramics. The best part: Kids get to do the fun stuff (painting ceramics, designing pendants) while the store's experts tackle the tough aspects, like kiln firing. It's no surprise, then, that the company is expanding; on November 17, a second location is set to open across town on Third Avenue between 84th and 85th Streets. New features include a cake decorating station where kids can embellish preiced desserts with cookie cutters. 329 Columbus Ave between 75th and 76th Sts (212-362-0350, makemeaning.com)
BEST PLAYGROUND
There's a reason why Imagination Playground, the David Rockwell--designed spot at the South Street Seaport, is constantly one of the most viewed pages on our website: The downtown creation is awesome. The space's perimeter is a wooden runway in the shape of an infinity symbol; inside, kids find loose parts—mostly found objects such as buckets and rope —and a truckload of foamy blue shapes to play with. Parks Department--trained "play associates" oversee the goings-on, making sure that no one kid dominates the gear. Burling Slip, John St between Front and South Sts (imaginationplayground.com)