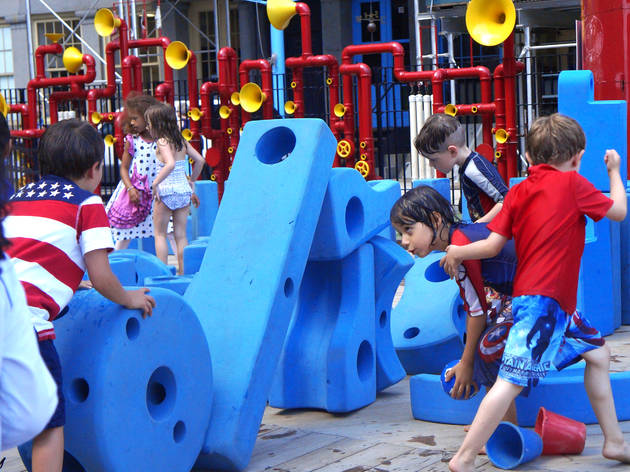 The best playgrounds with famous artwork in NYC
These epic playgrounds were designed by (or feature the artwork of) amazing designers, sculptors and graffiti artists
RECOMMENDED: Full guide to outdoor activities for kids in NYC
No need to visit museums to catch a glimpse of the best artwork in the city. Did you know some of New York's coolest kids' playgrounds feature the work of famous artists, designers and architects? If you haven't visited, now's the time—we're calling out some of our absolute favorites in the city. From moveable foam parts to playgrounds shaped like a person to suspended climbing structures in your favorite NYC parks, here's your ultimate guide!
Have your kids ever scaled a statue? The usual response is "Hey, don't touch that!" This time, climbing, swinging and sliding are actually welcome—Tom Otterness' whimsical public sculpture is made just for kids. It offers three slides, ladders and a tower. To check out more of the artist's famed works, you may want to ride over to the 14th St subway station or "The Real World" in Rockefeller Park. Silver Towers on 42nd St between 11th and 12th Aves (tomstudio.com).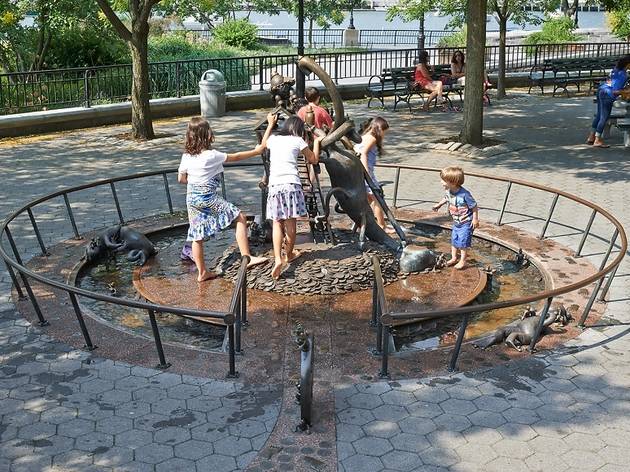 Photograph: Courtesy Tom Powel Imaging
Real World in Rockefeller Park
"The Real World" in Rockefeller Park is full of touchable (and climbable) statues that are super cool for kids and have deeper messages for adults. You'll find all kinds of creatures portraying Otterness' favorite themes in the shade of the World Financial Center: money, class and gender. You'll also find pennies in his sculptures throughout the park, which is why many refer to it as "Penny Park." River Terrace between Chambers and Warren Sts (bpcparks.org).
Photograph: Courtesy Paul Clark
Imagination Playground at South Street Seaport
Famed architect and designer David Rockwell designed a beautiful space where kids 12 and under can totally run the show. Around the perimeter, there's a wooden runway in an infinity-type symbol, and the playground itself is known for having moveable parts. There's sand and water, plus wheelbarrows, buckets, rope and blue foam shapes courtesy of Rockwell's design group. Kids who love to build and create their own worlds will never want to leave. Seriously. Burling Slip, John St between Front and South Sts (imaginationplayground.org).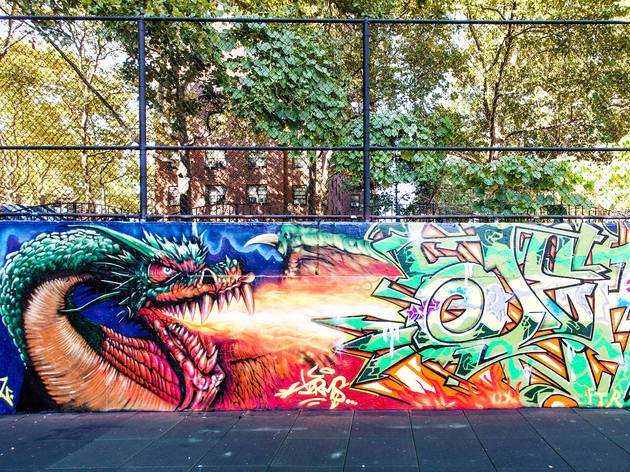 Photograph: Courtesy Robert Wright
Jackie Robinson Educational Complex Playground
The Graffiti Hall of Fame at the Playground is one of the coolest graffiti preservation spots in the city—especially after the sad loss of 5 Pointz near MoMA PS1. A wall with graffiti murals surrounds the playground (inside and out), usually displaying about 20 at a time. You and the kiddos will find monkey bars, a running track and benches, and it's open to the public when school is not in session. 106th St and Park Avenue.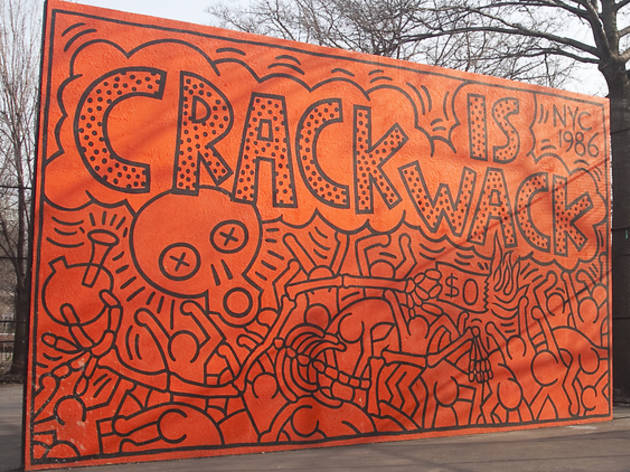 Photograph: Courtesy Melissa Sinclair
Named for Keith Haring's 1986 Crack is Wack mural, this cool playground offers handball and basketball courts for kids of all ages. The artwork itself is made in Haring's signature style, complete with bright colors, thick outlines and cool cartoon-like bodies. Second Avenue between 127th Street, and Harlem River Drive (nycgovparks.org).
Mimi Gross Playground at Robert Venable Park
This human anatomy-themed park offers four basketball courts, three volleyball/tennis courts, a running track and a kids' playground designed by New York-based artist Mimi Gross. Pint-sized folk can climb on eight-foot-long human feet, zoom down slides coming from two nostrils and visit steel panels displaying the ribcage, heart and brain, among other things. Belmont Ave to Sutter Ave between Grant and Sheridan Aves.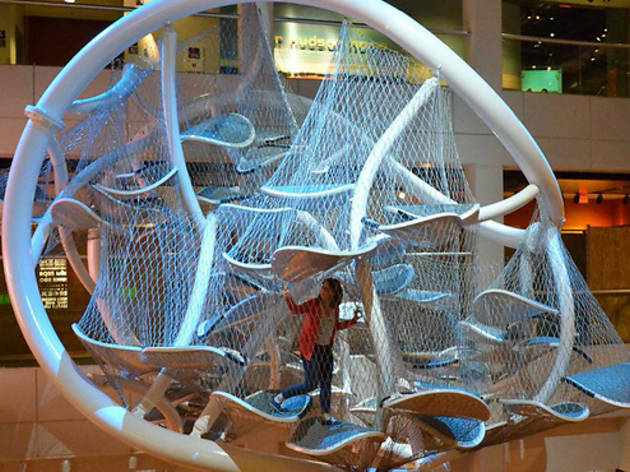 Photograph: Courtesy Liberty Science Center
Honorable New Jersey mention: Liberty Science Center Infinity Climber
The Infinity Climber at Liberty Science Center, a new addition as of 2014, was created by noted CT architect Spencer Luckey. With its highest point at 35 feet and a width of 26 feet, it offers three stories full of suspended twists and turns, all encased in some super solid netting. It's a must-see. Liberty Science Center, 222 Jersey City Blvd, Jersey City (201-200-1000, lsc.org).