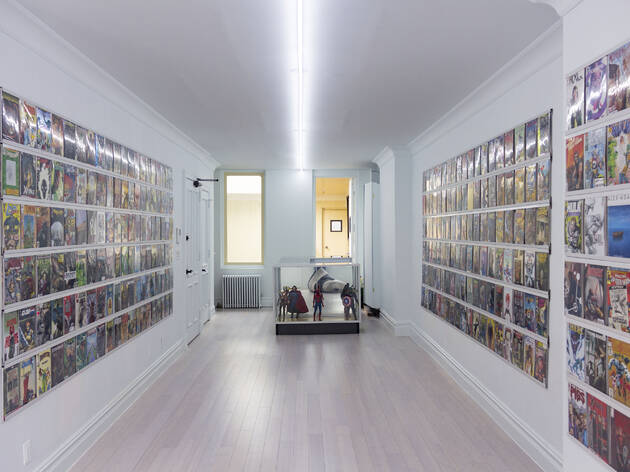 This new Brooklyn comic book shop is every kid's dream
Posted: Monday July 1 2019, 6:19pm
Attention little villains and vigilantes: Ready your capes! There's a new spot in Gotham that requires your attention. Allow the Bat-Signal to guide you toward Loot, a kid-centric comic book shop and creative space that just debuted in Carroll Gardens.
Joseph Einhorn, the founder of Fancy.com, is the mastermind behind the Brooklyn hotspot. Loot is certainly one of the coolest stores in NYC, but it is more than making purchases. Part shop, part activity center, the Court St outpost operates like a membership service in which youngsters receive unlimited access to over 3,000 bagged and boarded comics (one at a time) for $30 per month. If pint-sized patrons prefer, they can also snag a comic for $5. Classes for young comic enthusiasts will begin this August, so mark your summer calendars.
"We are hoping to promote reading and creativity with the kids and a little bit of nostalgia for the parents," Einhorn says about his business.
In order to inspire entertaining alternatives to screen time, Loot offers a comic book-inspired barter system. Kiddos can accumulate "loot" by purchasing or borrowing comics. They can also make and sell their own comics to earn loot (the shop only keeps 10 percent of sales for expenses such as credit card processing). Consider your little ones readers and creators!
"We think that the library system, classes and allowing kids to make and sell their own comics with us is a little different than a traditional comic shop," Einhorn adds.
Before you take a cue from the kiddos and venture off to snag the newest Marvel and DC goodies, plan ahead. Loot requires adults visiting without children to make a reservation by DM on Instagram.
This super-cool spot is open daily from 10am–6pm and is located at 465 Court St above Frank's. If your young readers can't get enough of these great stories, be sure to check out our favorite kids' library branches and storytime for kids locales in NYC.
Sign up to receive great Time Out New York Kids deals in your inbox each day.
Share the story