Best cookie dough in NYC
Eight places kids can enjoy the cookie in dough form.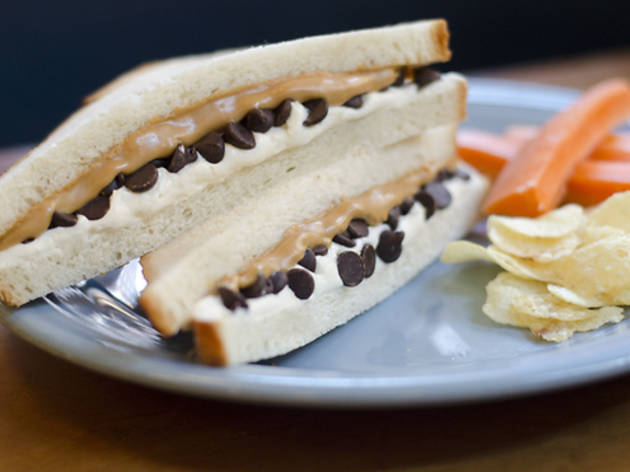 Hours, prices and other details are subject to change.
BENCHMARK RESTAURANT
339A 2nd St at Fifth Ave, Park Slope, Brooklyn (718-965-7040, benchmarkrestaurant.com). Subway: D, N, R to Fourth Ave--9th St. High chairs, booster seats. Cookie-dough egg roll: $8. Serving up succulent rib eyes and New York strips as well as juicy burgers and mac and cheese, this Park Slope steakhouse is perfect for little carnivores. The whole family should save room for the cookie-dough egg roll. Wrapped in a wonton and served with miso caramel sauce and ice cream, it's a sweet reinterpretation of the classic.
BIG DADDY'S
*239 Park Ave South between 19th and 20th Sts (212-477-1500, bigdaddysnyc.com). Subway: F, M to 23rd St. *1596 Second Ave at 83rd St (212-717-2020). Subway: 4, 5, 6 to 86th St. *2454 Broadway at 91st St (212-677-2004). Subway: 1 to 86th St or 96th St. High chairs, booster seats, kids' menu. Cookie-dough pancakes: $11. Parents will love the walk down memory lane at these 1980s-themed diners (think props like Trivial Pursuit and vintage lunch boxes), while kids will appreciate the crayons, coloring pads and balloons. Order fluffy omelettes to give kids a protein boast, but be sure to share the sinfully delightful cookie dough pancakes, too.
BLT BURGER
470 Sixth Ave between 11th and 12th Sts (212-243-8226, bltburger.com). Subway: F, M to 14th St; L to Sixth Ave. High chairs, kids' menu. Milk shakes: $7; spiked milk shakes: $11. Head to this bistro for juicy burgers and memorable dessert drinks. Kids can share a Cookie Monster shake—made with cookie-dough ice cream and Chips Ahoy cookies. Moms and dads may want to sample a spiked creation. We're big fans of Grandma's Treat, a concoction of Maker's Mark and caramel and vanilla ice cream, and the Aztec Mocha: tequila, coffee ice cream, cayenne pepper and chocolate syrup.
CUPCAKE KINGS
1613 Vorhees Ave between Sheepshead Bay Rd and E 16th St, Sheepshead Bay, Brooklyn (718-513-4747, cupcakekingsny.com). Subway: B, Q to Sheepshead Bay. High chairs. Mini cupcakes: $1.25 each. Order mini cupcakes at this South Brooklyn establishment so you can sample cookie dough as well as some of the other 33 flavors, ranging from peppermint to peanut butter and jelly. Let the younger set snag the hot-pink kiddie table and color while they munch.
FLAVABOOM
600 Sixth Ave between 17th and 18th Sts (212-414-0010, flavaboom.com). Subway: F, M to 14th St; L to Sixth Ave. Average cup of yogurt: $5. Parents can feel good about the nonfat frozen yogurt selections here—they weigh in at just 100 calories. Kids can top them with more than 40 offerings (one of them being cookie dough, of course). Stake out a spot on the cool purple bench seating and sip an organic espresso while little ones devour the creamy treats.
JOSIE'S RESTAURANT
*300 Amsterdam Ave at 74th St (212-769-1212, josiesnyc.com). Subway: 1, 2, 3 to 72nd St. *565 Third Ave at 37th St (212-490-1558). Subway: 6 to 33rd St. High chairs, booster seats, changing table, kids' menu. Chocolate-chip cookie-dough ice cream pie: $6.50. Start the family off with nutritious menu options like organic salads, free range chicken or eco-conscious seafood at this health-food restaurant. Then you won't feel guilty letting the kids sink their teeth into chocolate-chip cookie-dough pie—the vanilla ice cream base is topped with cookie dough, graham crackers and chocolate chips.
PEANUT BUTTER AND CO.
240 Sullivan St between Bleecker and W 3rd Sts (212-677-3995, ilovepeanutbutter.com). Subway: A, C, E, B, D, F, M to W 4th St. High chairs, booster seats. Cookie Dough Surprise sandwich: $6.75. Though not their typical, everyday lunch, kids will appreciate the special treat that is the Cookie Dough Surprise sandwich: peanut butter, vanilla cream cheese and chocolate chips layered between bread, then warmed on the grill. Balance the sweet stuff with the carrot sticks that come with every meal.
PUBLIC HOUSE
140 E 41st St between Lexington and Third Aves (212-682-3710, publichousenyc.com). Subway: 42nd St S, 4, 5, 6 to 42nd St--Grand Central. Cookie Dough Smash: $7. In addition to the extensive beer and wine list for moms and dads, this two-floor restaurant offers family-friendly menu options like macaroni and cheese squares, burgers and pulled-pork-sandwiches. Finish off the meal with the Cookie Dough Smash—a hunk of dough served warm in a skillet, with a dollop of vanilla ice cream on top.